Steam boilers selected by University of Arkansas to meet campus heat, hot water demands
NEW YORK, NY, Feb. 22, 2010 -- When it comes to generating steam to provide heat and hot water for a major university campus, load demands can vary greatly in a short span of time...
Feb 23rd, 2010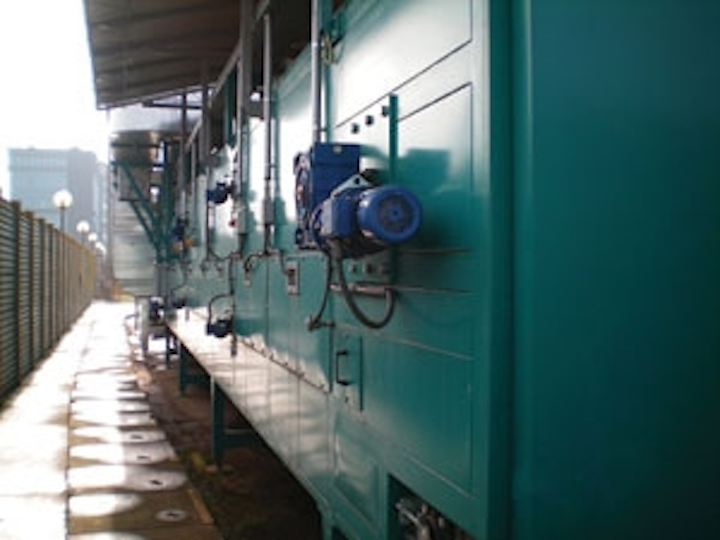 NEW YORK, NY, Feb. 22, 2010 -- When it comes to generating steam to provide heat and hot water for a major university campus, load demands can vary greatly in a short span of time. When that university is also a signatory to the American College and University Presidents' Climate Commitment Challenge, the need for a boiler system that combines reliable on-demand steam with a reduced environmental footprint becomes essential. This is why the University of Arkansas installed six Miura LX-300 natural-gas-fired steam boilers to handle the steam-generation needs of the many buildings on its 350-acre Fayetteville campus.
"Being in Northwest Arkansas, we have weather and temperatures that can vary widely," explains Scott Turley, the University's Director of Utility Operations and Maintenance. "Also, being a university campus, we have high morning warm-up loads when students are getting up for class and taking showers, but that drops off pretty quickly throughout the day. Trying to accommodate that varying load demand with old, large, central-stationed boilers is not the most efficient approach. Replacing them with Miura's modular, rapid-start, step-fired boilers that can match our load profile much more closely is more appealing to us."
Miura boilers feature an exclusive "once-through" vertical-tube design, a revolutionary advance that produces steam on-demand in just five minutes (or less) while also using less water and energy. Miura boilers can, on average, save as much as 20 percent annually on fuel costs over other boiler designs. Miura's exclusive technology also produces BHP outputs comparable to much larger units, but with and a more compact physical footprint that can reduce installation and new-construction costs and better utilize boiler-room space.
"On-demand steam is a great asset for us," Turley adds. "To be able to spool the boiler up very quickly, and then take it back down offline when the load dies down is really helpful. Another advantage of the Miura boilers is that if, by chance, we lose a boiler for some reason, we only lose a sixth of our production capacity. If you lose a large packaged boiler, you can lose it all. That additional reliability factor of a multiple installation of Miura boilers is also something we liked."
The University is not alone in its opinion. Recent guidelines issued by the Federal Energy Management Program recommend boilers that can operate efficiently during reduced-load conditions as well as meet peak heating demands when needed. The guidelines cite modular systems, which are more efficient because they allow each boiler to operate at -- or close to -- full-rated load most of the time, with reduced standby losses.
"The other nice fit that the Miura boilers provide is that through our performance contract with Johnson Controls, who installed the system, we added a centrifugal heat pump," Turley continues. "Part of the heating on campus is now being done by this heat pump, and since the Miura boilers have the ability to start up very quickly and get up-to-load fast, they are a great complement to that technology."
In addition to on-demand steam, Turley explains that the reduced environmental footprint of the University's six Miura LX-300's was also a major factor in the school's choice of the boilers.
"Being one of the first 100 signatories to the American College and University Presidents' Climate Commitment Challenge, the University of Arkansas is committed to do what it can within a definitive timeframe to reduce our environmental footprint," he says. "Going to a more efficient natural-gas-fired boiler like Miura contributes to helping us achieve that objective."
Because of their energy-efficient "green" design, Miura boilers output reduced levels of harmful emissions such as carbon dioxide (CO2) and nitrogen oxide (NOx). Miura's gas-fired/"low-NOx" LX Series steam boilers are designed to eliminate 75 percent of the harmful emissions of standard gas-fired boilers, and they meet or exceed current and proposed regulations for emissions. Current ratings for these boilers are as low as 12 parts per million for NOx, and Miura is working on improving that performance even further in advance of future government regulations.
Further contributing to their energy-saving, green performance is Miura's innovative use of precision computer technology that constantly monitors and optimizes boiler operation. Each Miura boiler is equipped with a BL Micro Controller Boiler Control System that measures multiple individual monitoring points and provides operational status on pressure, temperature, and other factors on an easy-to-read digital display. A self-diagnostic feature can identify issues, should they arise, and the Miura Online Maintenance feature that comes standard with every Miura boiler provides remote monitoring and control via the Internet. The system can also interface with Miura's Colormetry system, which monitors water quality to prevent the build-up of scale inside the boiler. (Users can opt to use Miura's own BOILERMATE® water-treatment chemicals, the main ingredient of which is silicate, an environmentally friendly corrosion inhibitor.)
"The Miura boilers have performed very well for us," comments Doug Moore, Plant Engineer at University of Arkansas. "They have been a very big plus. They are very easy for our maintenance crew to work with and are a nice, compact size."
With the installation of the six Miura LX-300 steam boilers, the University of Arkansas has not only upgraded its physical plant with the advantages of on-demand steam and a environmental footprint, it has also saved money. Preliminary measurement and verification of project savings conducted by Johnson Controls found that the University of Arkansas has saved approximately $280,000 since the installation of its six Miura boilers.
"Historically, boilers are pretty high-maintenance items," concludes Turley. "But with the high efficiencies, ease of operation, and the ability to fit the boiler to our load profile, Miura boilers have become very advantageous to us."
About Miura Boiler
Miura Boiler was founded in 1927 and has grown to become one of the largest industrial steam boiler manufacturers in the world. In 2009, Miura opened a new U.S. manufacturing facility in Polk County, Georgia. For more information on Miura Boiler, call in the USA 1-888-309-5574. In Canada call 1-800-666-2182. Visit Miura online at: www.miuraboiler.com.
###