New "Reagentless" Residual Chlorine Monitor
Analytical Technology Inc. (ATi) has introduced a new monitoring system for residual chlorine in municipal water treatment systems.
Apr 1st, 2005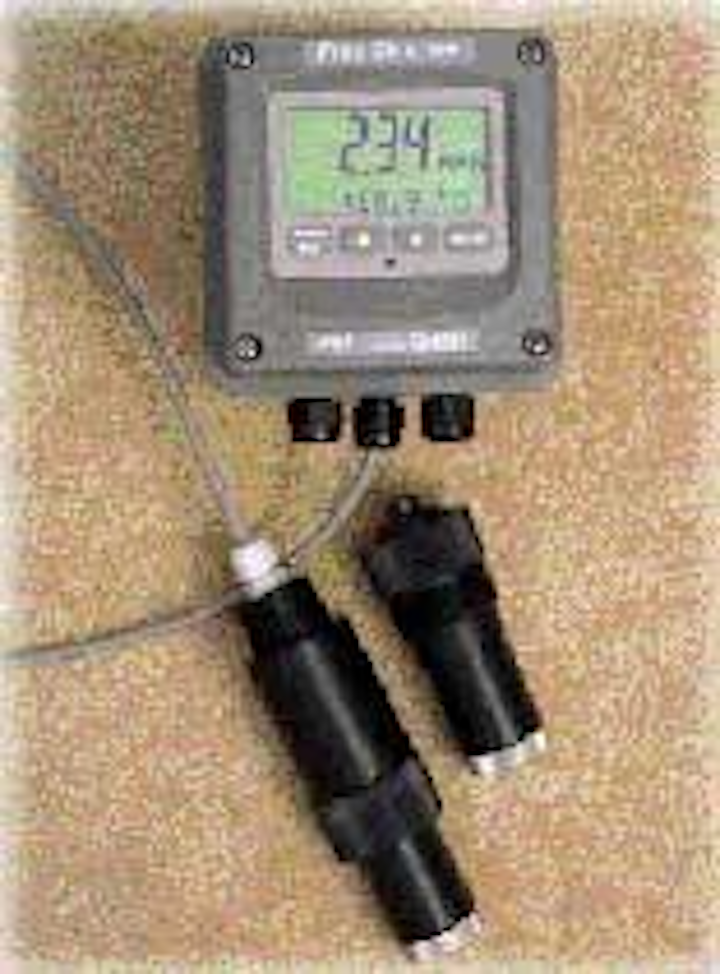 Analytical Technology Inc. (ATi) has introduced a new monitoring system for residual chlorine in municipal water treatment systems. The Q45H Residual Chlorine Monitor is available in two versions, a free chlorine monitor for potable water, and a combined chlorine monitor ideally suited for chloraminated water.
Traditional on-line colorimetric and most amperometric monitors require the addition of chemical reagents to detect residual chlorine. These reagents are pumped to a reactor vessel where the chlorine species are converted to a measurable form. This type of chemical addition system often requires a considerable maintenance effort to keep the system operating. Not only must the chemicals be replenished frequently, but as the motors and pump assemblies wear out, they become additional maintenance concerns. The process water is also altered by the addition of the chemicals, which creates wastewater that must be discarded.
The basic sensing element used in the Q45H Residual Chlorine Monitor is a polarographic membrane sensor which measures chlorine directly. This type of measurement does not require the addition of chemical reagents, so there are no moving parts that need to be maintained. The process water simply flows past the sensor and directly to drain, with the flow rate and pressure across the sensor controlled by a constant head flow cell assembly. The chlorine measurement does not alter the sample, so the water flow can return to the system, if desired.
For many free chlorine applications, the pH level in the process water is relatively stable, so the standard monitor and sensor are all that is needed. However, when the pH of the water stream varies regularly, a significant shift in measurable free chlorine concentration occurs. With the simple addition of an optional pH sensor, the Q45H will automatically correct for these changes, maintaining an accurate free chlorine measurement.
The pH sensor option also provides a second analog output that can be assigned to pH, converting the chlorine monitor into a two parameter system, providing isolated 4-20 mA outputs for both chlorine and pH. The pH sensor option is available with either the free chlorine or the combined chlorine monitors.
A standard feature of the Q45H is the PID control function. Control setpoint and variables for Proportional, Integral, and Derivative are entered using the front panel push buttons. The isolated 4-20 mA output can then be used as the control input to any metering pump with analog input capability.
Click here to enlarge image
The Q45H is designed to meet a variety of monitoring and control applications. In its simplest form, the unit is a loop-powered transmitter operating from standard 24 vDC power supplies. This allows for integration of the unit into many DCS, PLC, and SCADA systems. The loop-powered instrument includes the PID output function and automatic pH correction capability.
For applications where alarm relay functions are needed, an AC powered system is available. In this configuration, the dual analog outputs and dual relays can each be assigned to chlorine and pH, or for independent PID and chlorine outputs, or simply for chlorine and temperature.
For even greater versatility, a portable unit operating from a standard 9 V battery is available. This instrument can be supplied with in internal data-logger making it ideal for short term monitoring at remote sites. The portable unit will run for 10 days on a single alkaline battery, and the data-logger will store up to 32,000 data points, enough for 10 days of data at 1-minute intervals. A lithium-based battery will increase the operating time to approximately 30 days.
For additional information on the Q45H Residual Chlorine Monitor, call the Analytical Technology Sales Group at 800-959-0299. WW