Water Briefs
The first eight years of a comprehensive monitoring study to understand the effects of pulp and paper mill effluent discharges in four U.S. streams was reported in a special section of the April 2009 issue of Integrated Environmental Assessment & Management, a quarterly journal of the Society of Environmental Toxicology & Chemistry (SETAC).
May 1st, 2009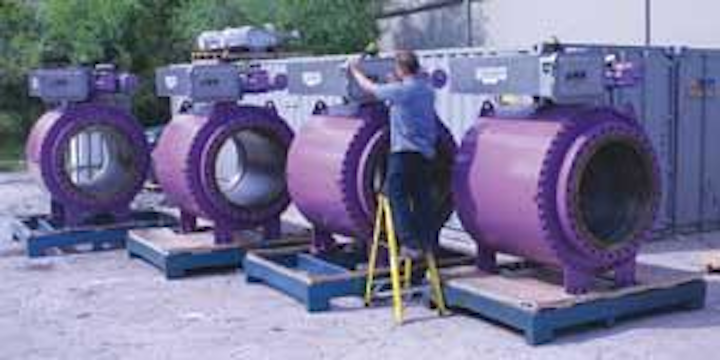 Paper mill effluent study examines U.S. waterways health
The first eight years of a comprehensive monitoring study to understand the effects of pulp and paper mill effluent discharges in four U.S. streams was reported in a special section of the April 2009 issue of Integrated Environmental Assessment & Management, a quarterly journal of the Society of Environmental Toxicology & Chemistry (SETAC). The study is a voluntary initiative funded by the forest products industry through membership in the National Council for Air & Stream Improvement. It's ongoing, and expected to continue for several more years as a research program involving 27 scientists representing eight U.S. universities and research institutions. The four waterways in the study – the Codorus Creek in Pennsylvania, Leaf River in Mississippi, McKenzie River and Willamette River, both in Oregon – have supported pulp and paper mills for several decades.
ITT study sees ozone as endocrine disrupter solution
Water and wastewater pumps and systems leader ITT Corp. released a comprehensive study showing that ozone oxidation is highly effective for treating micropollutants like endocrine disrupting compounds (EDCs). These potentially threatening substances, such as discarded pharmaceuticals, can be found in municipal wastewater effluents. Results were outlined in a presentation at the North American Regional joint conference of the International Ozone Association and International Ultraviolet Association in Boston by Dr. Achim Ried, R&D director at ITT's Water and Wastewater business in Germany.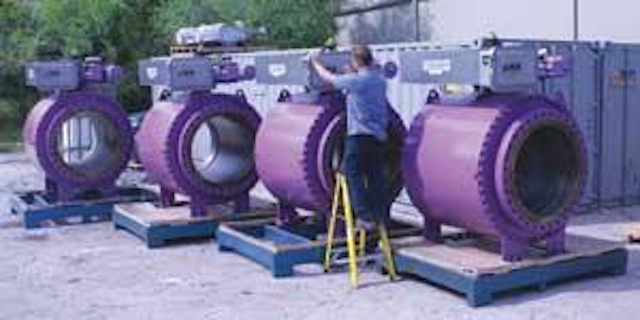 Mexican national oil company PEMEX chose four Hydra-PAK SE Series fail-safe electric actuators from Tulsa-based Flow-Quip Inc. for for an expansion and upgrade of the JPC Maya Crude Oil Dehydration Facility at Dos Bocas Marine Crude Oil Marine Terminal in Tabasco, Mexico.
Click here to enlarge image
Carlsbad desal project gets nod after court rejects suit
On the eve of the San Diego Regional Water Quality Control Board's unanimous approval of the Carlsbad Desalination Project, Poseidon Resources announced that the San Diego Superior Court rejected a lawsuit that challenged the California Coastal Commission's approval of a permit for the project. Opponents of seawater desalination were led by Surfrider Foundation lawyer Marco Gonzalez. Six legal challenges were filed since 2006; four dismissed and two pending before the same court. Poseidon has worked in partnership with the city of Carlsbad since 1998 to build the proposed 50-MGD desalination plant scheduled to begin construction this year and be operational in 2012.
CDG Environmental acquires chlorine dioxide product lines
KRWW LLC bought the assets of CDG Research Corp. and CDG Technology Inc., and changed its name to CDG Environmental LLC as of Apr. 9. Bethlehem, PA-based CDG Environmental supplies chlorine dioxide chemistries to various water treatment markets. It sells a form of sodium chlorite under the brand name CDG Saf-T-Chlor for onsite manufacture of chlorine dioxide, and CDG Solution 3000, a ready to use form of chlorine dioxide that can be blended into drinking or industrial water systems or used as a disinfectant.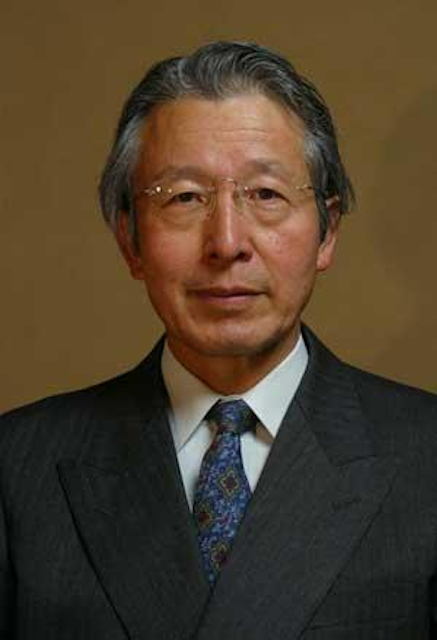 Hiroshi Iwahori, P.E.Jpn, IntPE(Jp), senior consultant in the Membrane Division of Nitto Denko Corp., Shiga, Japan – parent company of Hydranautics – is one of two people honored with the International Desalination Association's 2009 Fellowship Award.
Click here to enlarge image
Tampa Electric, district, city join forces on reclaimed water project
Tampa Electric announced the company has signed a Reclaimed Water Supply Agreement with the city of Lakeland to cost-effectively supplement future water needs at Tampa Electric's Polk Power Station. The Southwest Florida Water Management District (SWFWMD) is also working with the power utility on this innovative public-private project that will beneficially utilize reclaimed water that is currently being discharged to the Alafia River ultimately flowing into Tampa Bay. It also will help protect valuable groundwater supplies depleted due to overuse and suffering from seawater intrusion.
Energy Recovery Inc. devices head for high seas
Energy Recovery Inc., a leader in energy recovery devices for desalination, announced that Water Standard, a global vessel-based water desalination company, plans to use the PX Pressure Exchanger™ device in its first Seawater Desalination Vessel (SDV). Water Standard builds and operates vessels that deliver desalinated water to clients onshore and to the offshore energy industry in response to the world's growing water needs. They can produce from 20,000-200,000 m3/day (roughly 5-50 MGD) of treated water.
Severn Trent Services teams up to tackle offshore drilling industry
Severn Trent Services and Specific Equipment Co. are working together to offer a system that helps meet potable water needs of their customers in the marine and offshore drilling industry. Severn Trent's UltraDynamics® line of UV disinfection systems are used on potable water pressure sets built by Specific Equipment to pressurize the potable water supply for offshore drilling rigs, platforms, work barges and land-based camps.
In Other News:
The company establishes new or expanded representation for water disinfection and purification technologies in Idaho, Montana, Utah and several Midwest states, including for its ClorTec® line of on-site sodium hypochlorite generating systems.
The new OMNIPURE™ Series 55 marine sanitation system introduced by Severn Trent De Nora in March 2009 has received Bureau Veritas process attestation certification for International Maritime Organization Resolution MEPC.159(55) effluent standards.
The 5-MGD Fiesta Village Advanced Wastewater Treatment Plant in Lee County, FL, which uses Severn Trent's TETRA Denite(r) fixed-film biological denitrification process won the Florida Water Environment Association's 2009 Earle B. Phelps Award.
Artemis Project names water's top 50 'global gladiators'
The Artemis Project announced winners of its first annual Top 50 Water Companies Competition. A diverse group of companies – from Australia to England and New Mexico to New Jersey – won accolades for groundbreaking approaches to water management, addressing everything from water scarcity to infrastructure decay. The top three winners were Arizona's AbTech Industries Inc., Massachusetts' Oasys Water Inc., and Vermont's Seldon Technologies Inc. Seventy percent were from the USA, including MIOX, SolarBee, Aquarius Technologies and HaloSource. Also recognized was leading-edge innovation from five established companies, including Energy Recovery Inc., IDE Technologies and Schlumberger Water Services.
H2O Innovation lands industrial process water contracts
H2O Innovation Inc. signed several contracts totaling CAN$5 million in value to design and manufacture industrial process water treatment systems. Among them, TIC-The Industrial Company awarded it a power plant contract for systems to provide high purity water for combustion turbines and for makeup water to the combustion turbine intake air evaporative coolers. An Egyptian energy company also contracted for a water desalination and demineralization system to produce high purity industrial process water and drinking water. And three other contracts involve RO systems for industrial process water to companies in the energy and consumer staples sectors in the Midwest.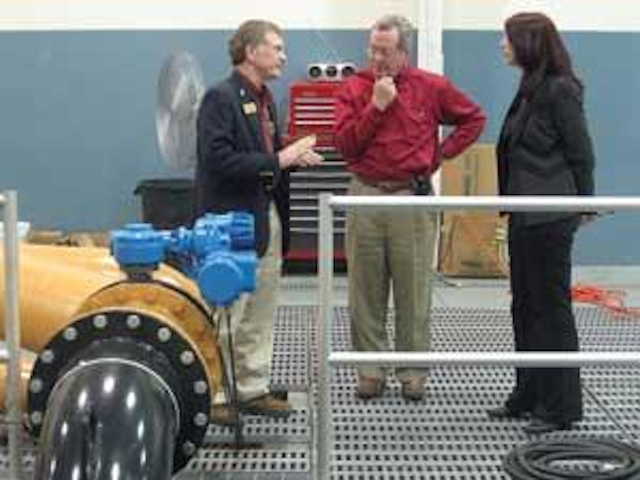 Art Ford, south Georgia region manager for the Enterprise Innovation Institute, discusses quality issues with Wilo-EMU's Terry Rouse and Paulina Tompea. Craig Cochran, a Georgia Tech quality specialist, assisted the Thomasville, GA, unit of WILO AG with developing and implementing its quality management system as part of the pump maker's ISO 9001 certification. [Photo Credit: Nancy R. Fullbright]
Click here to enlarge image
---

Among other recent headlines at www.industrialww.com, see:
IPEX Inc. PVCO pressure pipe first meet ASTM F1483, AWWA C909, says NSF
Siemens FGD wastewater system on East Coast to be 14th at U.S. power plants
Thompson Pump hosts 40 attendees from 13 states at Annual Pumpology School
GISmatters selects PCI Geomatics software to generate digital terrain products
Brooks Instrument acquires flow products supplier Key Instruments
Foster Wheeler wins solar steam generation equipment contracts in Spain
ANSYS Software enhances design to keep New Orleans flood waters at bay
WorldWater & Solar Technologies name, product line sold to Quentin T. Kelly
Parkson opens new water research facility in Pompano Beach, Fla.
PureLine Treatment Systems opens second production facility near Chicago
Accutest Labs acquires SouthWest Water's analytical testing operations
UN recognizes Milwaukee as global hub for freshwater science, technology
American Water unit to provide engineering, O&M for Laredo desal pilot plant
CH2M Hill debuts on FORTUNE 500, named leader in climate change consulting
MACTEC spearheading brownfield assessment efforts at former tannery
ABB relocates North American headquarters to Cary, NC, from Norwalk, CT
BioShaft completes installation of wastewater pilot plant in Nebraska
Biostyr biological aerated filter system starts up at Ontario wastewater plant
ROTEX signs contract with Tenova Takraf Italy for MEGATEX XD Screeners
Ashbrook Simon-Hartley acquires UK centrifuge maker Centriquip Ltd.
MIOX wins Japan Water Works Association certification
GE Water wins reclamation plant contract for Shanghai petrochem company
Nestlé launches major initiatives in nutrition, water and rural development
---

Correction
A New Products item on p. 36 of Industrial WaterWorld's March/April 2009 issue had the wrong web address listed. The website for Anue Environmental Inc., of Carlsbad, CA, is www.anueenv.com