Water Briefs
Collection of industrial water news headlines.
Feb 1st, 2013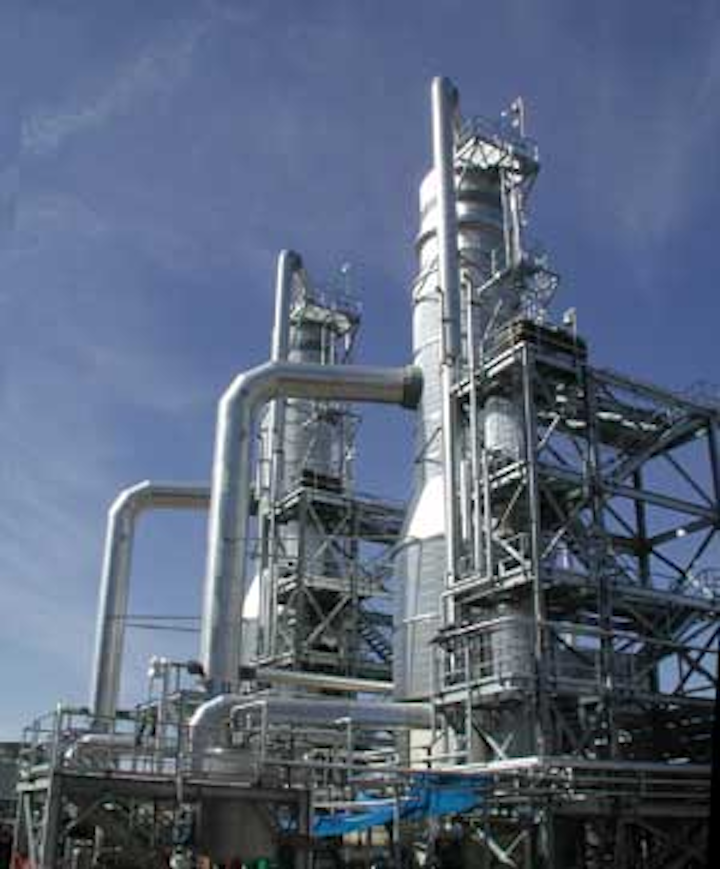 Power Plants Order ZLD Technology
Two Texas power plants will use zero liquid discharge wastewater treatment technology from GE.
GE has announced that its zero liquid discharge (ZLD) wastewater treatment technology will be installed at two new 758-megawatt natural gas-fueled, combined-cycle power plants in Texas. In recent years, Texas has been experiencing a drought and by using ZLD technology, the two power plants, located in Sherman and Temple, will be able to reduce incoming water needs by recycling and reusing more than 98 percent of their own cooling tower wastewater.
Once commissioned, the Temple Power Plant, located in Bell County, will use treated water from a nearby wastewater treatment plant, and the Sherman Power Plant, located in Grayson County, will use Lake Texoma as its cooling water source. The ZLD systems will treat 450 gpm for each power plant, more than 98 percent of which can then be reused in the process, reducing the amount of new water needed from the original sources.
Panda Power Funds owns the two power plants and Bechtel will serve as the engineering, procurement and construction contractor.
GE's brine concentrator and ZLD crystallizer technology were selected for the Sherman and Temple power plants based on a record of reliability, performance, high-quality materials and modularization, as well as GE's ability to meet the demanding schedule and reliability requirements for both Sherman and Temple.
Specifically, GE will provide a brine concentrator and crystallizer for the Sherman Power Plant and a brine concentrator for the Temple Power Plant. Panda expects both power plants to begin commercial operation by the end of 2014.
When complete, the Temple Power Plant will provide electricity for approximately 750,000 homes in the Central Texas area and the Sherman Power Plant will supply the power needs for approximately 750,000 homes in the North Texas area.
"Energy and water are two of the world's most precious resources, and they are interdependent; energy is needed to produce water, and water is needed to produce energy. GE's zero liquid discharge technology will enable these two power plants to reuse at least 98 percent of water, which is crucial in a region plagued by drought," said Yuvbir Singh, general manager, engineered systems—water and process technologies for GE Power & Water.
---
Company Wins Award to Commercialize Advanced Oxidation for Reuse, Remediation
MIOX Corp. has received a Technology Enhancement for Commercial Partnerships (TECP) award from the Small Business Innovation Research (SBIR) program of the National Science Foundation (NSF) in the amount of $100,000. This research grant allows MIOX to work toward the commercialization of lower cost Advanced Oxidation Process (AOP) technology for groundwater remediation and water reuse applications.
NSF's TECP program is specifically designed to provide bridge funding when a technology developed under the SBIR program stirs commercial interest. Partnering with global leaders in the Microelectronics and Aerospace industries, MIOX has identified and started developing applications for an economical AOP technology.
"This award from the NSF allows our project team to move the technology developed under the SBIR program out to a larger commercial arena," said Dr. Susan Rivera, MIOX Manager of Research and Development. "MIOX's AOP technology will be able to solve numerous water treatment challenges at a lower cost per gallon and with less environmental impact."
The new AOP technology combines MIOX's core technology of on-site generation of chlorine in a controlled environment with ultraviolet light to produce highly reactive hydroxyl radicals. These radicals are then harnessed to destroy a wide variety of organic contaminants found in water, including hydrocarbon chains, trichloroethylene (TCE), endocrine disrupting compounds (EDCs), pesticides and pharmaceuticals.
"On site generated chlorine-based AOP can be as effective as a traditional AOP at removing organics chemicals but has substantially lower operating expenses for many treatment scenarios," according to Dr. Andrew Boal, MIOX Senior Scientist and Project Leader for AOP technology development at MIOX.
---
Food and Beverage Industry to Focus on Water Footprint
The water and wastewater treatment market in the global food and beverage industry will continue as fast growing and future-oriented, remaining extremely positive towards innovations and technological upgrades that enhance water management. As the reduction of energy and water footprints becomes standard in this highly resource-intensive industry, services that limit production costs and tap into economic benefits linked to water conservation and reuse are preferred.
New analysis from Frost & Sullivan's CEO 360 Degree Perspective of the Water and Wastewater Treatment Market in the Global Food and Beverage Industry research finds that the market earned revenues of $2.86 billion in 2011 and estimates this to reach $4.65 billion in 2020.
The food and beverage industry's focus is increasingly on health and wellness as well as on smart and green production. This will result in a re-assessment of safe solutions, while promoting process efficiencies.
"Advanced water treatment solutions for closed loop systems are gaining in importance as they support lower operational costs and mitigate the effect of increasing water prices," said Frost & Sullivan Environmental Research Analyst Paulina Szyplinska. "Additionally, stringent environmental legislation will drive demand for all services related to high-end water and wastewater treatment."
The trend of water reuse practices is expected to push further developments and improvements in water recycling technologies, especially in the water-stressed regions of North America and Asia-Pacific. Opportunities for design and engineering, as well as operation and maintenance, are likely to expand as industrial customers increasingly turn to water specialists to improve their operational efficiency and meet stricter environmental standards.
"Many food and beverage manufacturers and industry groups, such as dairy and beverages, have already implemented sustainable water management practices," noted Szyplinska. "Such initiatives are set to reduce operational costs, enhance product quality as well as boost the brand perception and green credentials of these companies."
Large global corporations have taken up water conservation as a priority. They have set clear targets and are still on track to improve water use ratios and wastewater discharge levels. To stay competitive, small- and medium-sized companies will also follow the benchmark set by these market leaders.
The CEO 360 Degree Perspective of the Water and Wastewater Treatment Market in the Global Food and Beverage Industry is part of the Environmental Growth Partnership Service program, which also includes research in the following markets: CEO 360 Degree Perspective of the Global Mining Water and Wastewater Treatment Market, and Western European Water and Wastewater Utilities Market. All research included in subscriptions provide detailed market opportunities and industry trends evaluated following extensive interviews with market participants. For more information, visit http://www.environmental.frost.com.
---
Mining Waste Byproduct Capable of Helping Clean Water
A byproduct resulting from the treatment of acid mine drainage may have a second life in helping clean waters coming from agricultural and wastewater discharges, according to a recent study by scientists from the U.S. Geological Survey Leetown Science Center.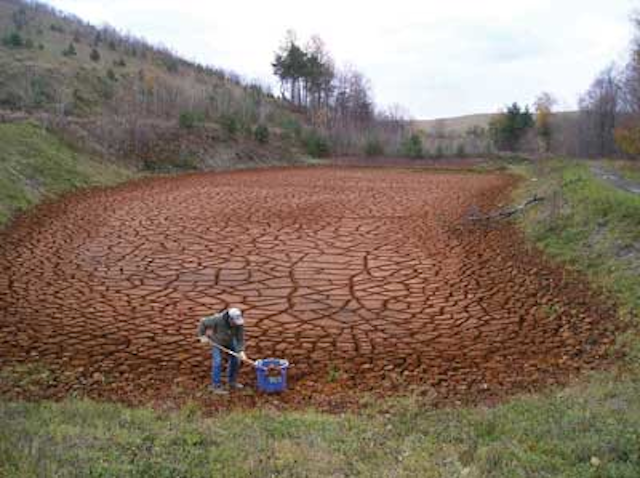 A researcher samples acid mine drainage residuals in Elk County, PA. The USGS has pioneered a new use for these residuals that are currently a disposal challenge, using them to filter phosphorus from agricultural and municipal wastewaters.
The report, published in the journal Water, Air, and Soil Pollution, shows that dried acid mine drainage sludge, or residuals that result from treating acid mine drainage discharges, can be used as a low-cost adsorbent elsewhere to efficiently remove phosphorus from agricultural and municipal wastewaters. The phosphorus that has been adsorbed by the mine drainage residuals can later be stripped from the residuals and recycled into fertilizer. The mine drainage residuals can be regenerated and reused for a number of additional treatment cycles. Application of this novel, patented technology has the potential to simultaneously help to decrease acid mine drainage treatment costs, prevent degradation of aquatic ecosystems, and recycle valuable nutrients.
"This wonderful result shows the inventive application of some very sophisticated environmental chemistry to create a new life cycle for what otherwise would have been some problematic waste products," said USGS Director Marcia McNutt. "It sets the bar high for future studies in environmental remediation."
Acid mine drainage is produced whenever sulfide minerals associated with coal and metal deposits are exposed to air and moisture. The resulting acid and dissolved metals are toxic to most forms of aquatic life, and untreated acid mine drainage has impacted more than 5000 miles of streams in the Appalachian region, with associated economic impacts of millions of lost dollars in the tourism and sport fishing industries.
When acid mine drainage is remediated, it is neutralized with a base, such as limestone or lime, and an iron-rich sludge is formed that must be disposed of, sometimes at considerable cost. The new process of using the sludge to filter wastewaters has the potential to reduce the need to dispose of the sludge, while providing an added and previously unknown benefit of using the residuals to effectively reduce phosphorus from wastewater discharges wherever needed.
Excess phosphorus releases to the environment from agricultural and municipal wastewaters have resulted in significant impairment of aquatic ecosystems such as the Chesapeake Bay and other bodies of water worldwide. At the same time, as depletion of high-grade phosphorus-bearing deposits continues, the possibility of future shortages of fertilizer phosphorus has been suggested.
Current technology for the removal of phosphorus from wastewater consists of addition of aluminum or iron salts to precipitate and adsorb phosphorus, but this is too expensive for the low concentrations and high volumes often encountered in many wastewaters. This new technology provides a more efficient and cost effective option.
"As environmental scientists, we kind of hesitate to use this analogy, but it really is like killing two birds with one stone," says Philip Sibrell, lead author of the study. "This new technology could reduce or eliminate the need to dispose of acid mine drainage sludge, instead making that same sludge useful in addressing the urgent need to reduce the amount of phosphorus going into aquatic ecosystems; it's a win-win situation."
---
EPA Releases Update on Ongoing Hydraulic Fracturing Study
The U.S. Environmental Protection Agency has released an update on its ongoing national study currently underway to better understand any potential impacts of hydraulic fracturing on drinking water resources. Results of the study, which Congress requested EPA to complete, are expected to be released in a draft for public and peer review in 2014.
The update outlines work currently underway, including the status of research projects that will inform the final study. While this progress report outlines the framework for the final study, it does not draw conclusions about the potential impacts of hydraulic fracturing on drinking water resources, which will be made in the final study.
The report includes updates on 18 research projects and details on the agency's research approach as well as next steps for these ongoing projects and analyses.
EPA expects to release a draft report of results from the study in late 2014. The study has been designated a Highly Influential Scientific Assessment, meaning it will receive the highest level of peer review in accordance with EPA's peer review handbook before it is finalized. The 2014 draft report will synthesize the results from the ongoing projects together with the scientific literature to answer the study's main research questions.
EPA's Science Advisory Board (SAB) is forming a panel of independent experts which will review and provide their individual input on the ongoing study to EPA. The SAB will provide an opportunity for the public to offer comments for consideration by the individual panel members. For more information on the SAB process, please visit: http://yosemite.epa.gov/sab/sabpeople.nsf/WebCommittees/BOARD
More information on the hydraulic fracturing study may be found at www.epa.gov/hfstudy.