OriginClear designates Progressive Water Treatment as complete system manufacturer
Completion of 2016 field study signals launch of full distribution plan.
Nov 21st, 2016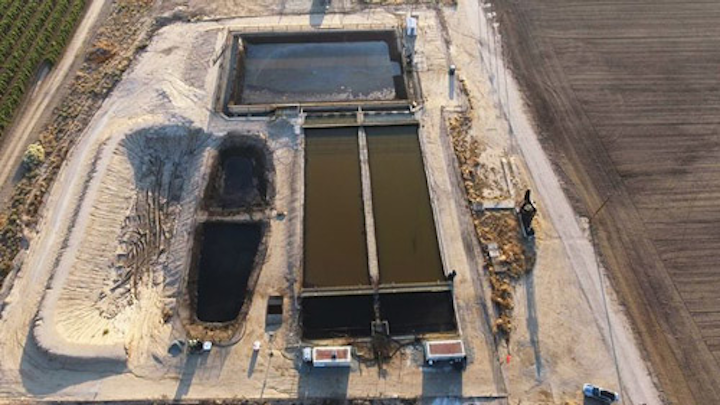 Aerial view of a demonstration site in Bakersfield, where OriginClear technology is cleaning oilfield water to drinking water levels.
LOS ANGELES and DALLAS, NOVEMBER 21, 2016 -- OriginClear Inc., a leading provider of water treatment solutions, today announced the designation of its subsidiary, Progressive Water Treatment (PWT), as its complete systems manufacturer. The decision comes on the heels of the completion of the company's fourth field study to date, in Kern County, California.
"A year ago, when we acquired the company, we were not ready to make PWT our systems manufacturer," said Riggs Eckelberry, OriginClear CEO. "PWT builds systems at the scale of regional power plants, and requires thoroughly field-proven technology. With the completion of our 2016 field study, we're confident that our technology is now ready for distribution. We plan to make PWT our first complete system manufacturer, for both licensees and end-users."
With help from its longtime suppliers of membranes and other components, PWT is building a showcase trailer-based system that incorporates OriginClear's patented Electro Water Separation™ (EWS) for a complete water treatment solution.
"I joined OriginClear for its technology," said Marc Stevens, President of Progressive Water Treatment. "I'm extremely happy to take it to market as a complete solution!"
"We have always been focused on licensing the technology, and this won't change," said Jean-Louis "JL" Kindler, President of OriginClear Technologies. "The difference is, licensees who aren't ready to manufacture our systems can now buy them from PWT. Of course, PWT will also be able to sell complete systems directly to end-users where we don't have a favored relationship with a licensee."
OriginClear's EWS with Advanced Oxidation (EWS:AOx™) effectively removes several organic contaminants and bacteria in water, preparing it for final polishing stages to operate efficiently and economically. It does this in a single pass, with minimal chemicals involved.
OriginClear commissioned a series of field studies to validate its technology, principally in the following locations:
Colorado's Western Slope
Texas Permian Basin
California's Monterey Basin
In 2016, OriginClear successfully demonstrated its ability to decontaminate produced water for reuse in agricultural irrigation in Kern County, CA. The field study employed OriginClear's latest Advanced Oxidation invention, which OriginClear announced in March.
RELATED ARTICLES
Northeast Ohio power plant gets boiler feedwater system upgrade from Progressive Water Treatment Inc.
OriginClear licensee unveils produced water cleanup site
OriginClear upgrades ultra-filtration system at Otter Tail Power Company in North Dakota
About OriginClear, Inc.
OriginClear is a leading provider of water treatment solutions and the developer of a breakthrough water cleanup technology serving the rapidly growing $500 billion world market. Through its wholly owned subsidiaries, OriginClear provides systems and services to treat water in a wide range of industries, such as municipal, pharmaceutical, semiconductors, industrial, and oil & gas. To rapidly grow this segment of the business, we strategically acquire profitable and well-managed water treatment companies, which allow us to expand our global market presence and technical expertise. To enable a new era of clean and socially responsible water treatment solutions, we invented Electro Water Separation™, a breakthrough high-speed water cleanup technology using multi-stage electrolysis, that we license worldwide to water treatment equipment manufacturers. Water is our most valuable resource, and the mission of the "Family of OriginClear Companies" is to improve the quality of water and help return it to its original and clear condition. To learn more about OriginClear®, please visit our website at www.originclear.com.