Potential Solution to New Steam Electric Power Effluent Guidelines
The Electric Power Research Institute is evaluating Purestream Service's AVARA water treatment technology for meeting the EPA's new discharge guidelines for steam electric power producers
Oct 1st, 2016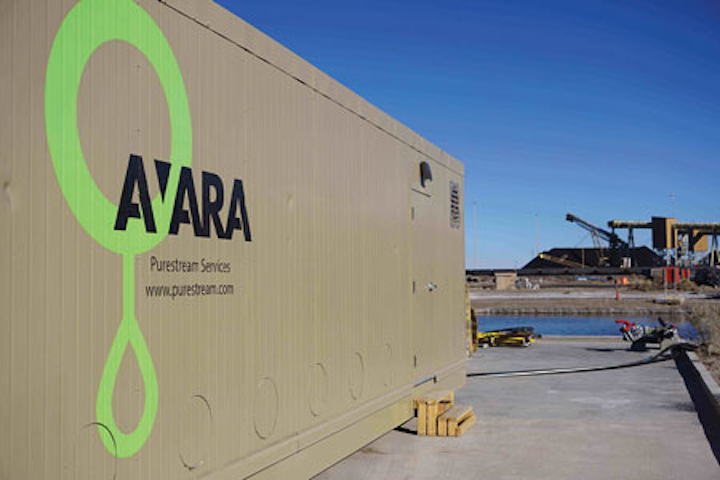 By Jeff Gunderson
Last year, the U.S. Environmental Protection Agency (EPA) issued new and significantly more stringent Effluent Limitations Guidelines (ELGs) for the steam electric power sector, tightening restrictions on wastewater discharges for metals, nutrients, and other dissolved pollutants. The EPA developed the ELGs largely in response to the introduction of new technologies for generating electric power and the broad integration of air pollution controls, which have either altered or created new wastewater streams at many power plants. The new guidelines require zero-liquid discharge (ZLD) of all pollutants for fly ash transport water, bottom ash transport water and flue gas mercury control wastewater in power plants that are at least 50 megawatts. New limits have also been set for specific contaminants in flue gas desulfurization and gasification wastewaters. With the yearly costs for complying with the new rule estimated at $480 million, effective, reliable and cost-efficient treatment solutions will be needed to enable steam electric power plants to meet the EPA's new limits.
Researching Viable Solutions
The Electric Power Research Institute (EPRI) is helping to address this need by evaluating emerging water management technologies that hold application potential for achieving a level of treatment performance mandated by the new ELGs. An independent, nonprofit organization that conducts research and development relating to the generation, delivery and use of electricity for the benefit of the public, EPRI provides in-depth research of promising technologies and their applicability to improving the sustainability of power generation operations.
In examining water treatment solutions, EPRI is assessing the treatment performance, thermal efficiency, and cost considerations of technologies by conducting laboratory bench testing, proof-of-concept pilot tests, and demonstration projects at or near commercial-scale. The results are anticipated to be immensely valuable as performance and economic data on currently-available options can help drive more informed decisions.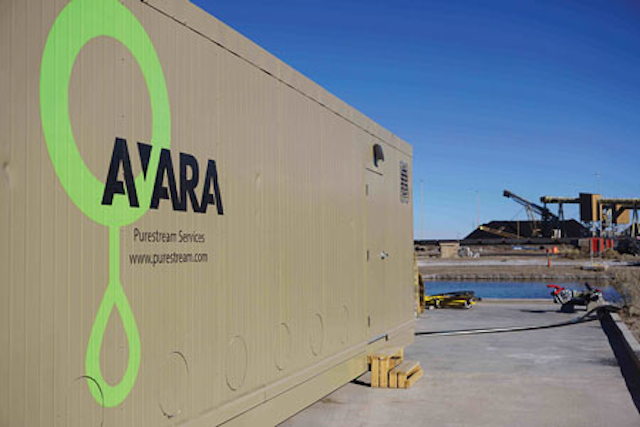 A pilot study in conjunction with Tucson Electric Power at the utility's Springerville, Ariz., facility has achieved 85% overall wastewater volume reduction using the AVARA system.
AVARA System Attracts Interest
Although the EPA's rule does not specify the use of certain technologies to comply, the new ELG's were still developed based on the performance of what EPA determined was the best available technology (BAT) for treating steam electric power discharges. Thermal evaporative technologies are included in this category but, while effective, these options can be costly, often difficult to operate, and may require pretreatment as well as post-treatment of solids, which adds further costs and operational challenges.
These issues have compelled EPRI's research into alternative thermal evaporative wastewater treatment, which have subsequently led to research of Purestream's Accelerated Vapor Recompression (AVARA) technology, a patented innovation of traditional mechanical vapor recompression science that provides advanced removal of contaminants - including heavy metals, chlorides, total dissolved solids (TDS), and total suspended solids (TSS) - from industrial wastewater streams, enabling for reuse or discharge.
The AVARA system is a modular, skid-mounted, and fully-automated water purification and brine concentration unit that easily integrates into existing treatment trains and enables for operation at lower pressure and reduced temperature, resulting in decreased energy costs, fewer maintenance cycles, and less induced corrosion.
While traditionally deployed for oil and gas operations to treat produced and frack water - processing reverse osmosis reject streams for maximizing water recovery, enhancing beneficial reuse and reducing waste volumes - the AVARA technology has attracted interest from EPRI as an opportunity to research the system's effectiveness at treating power plant scrub and cooling tower waste streams.
"EPRI is testing a number of different technologies that could be beneficial in helping power plants meet the new guidelines," said Amy Hansen, director of special projects, permitting and marketing at Purestream. "Interest in EPRI involvement with the AVARA solution is due to the potential of our patented technologies to make the treatment process streamlined, more efficient and economically viable."
Innovative Thermal Technology
One of the key, driving features of the AVARA unit relates to the unique, thermal-efficient capacity of the core components - a proprietary design made possible through a strategic collaboration with Utah State University's Space Dynamics Laboratory (SDL). Purestream partnered with SDL for engineering an advanced solution to overcome the prevailing cost challenges associated with operating thermal recompression systems, which have traditionally been cost-prohibitive for managing high wastewater volumes typical of the power generation industry.
Inspired by SDL's advanced thermal methods, the AVARA system is engineered with an innovative surface design that facilitates improved boiling and enhanced condensation heat transfer with minimal scaling. Compared to falling film evaporators and other mechanical vapor recompression units that are common in power generation, the AVARA system employs cores that remain fully immersed in process wastewaters at all times. This configuration helps optimize AVARA's process thermal efficiency, according to Todd Whiting, vice president of operations at Purestream Services.
"Due to exposure to wastewaters and air, falling film evaporators are more susceptible to scaling, and when this occurs, the infected surface is rendered ineffective for heat transfer," Whiting said. "But if scale starts to form on the AVARA system, the surface still retains its effectiveness for transferring heat since it is submerged. We believe this represents a major operational advantage."
During the vaporization and recompression processes, proprietary control algorithms facilitate optimum heat transfer by controlling fluid levels as well as compression and pump-induced flow rates into, throughout, and from the AVARA core. Since the AVARA cores are not subject to oxygen and oxidation processes, scale deposits are less likely to form on the surfaces. The vertical alignment of the core plates represents another scale mitigation factor (the horizontal surfaces on falling film evaporators tend to collect precipitated solids, increasing scaling potential). Additionally, the boiling process serves as a certain scrubbing function for the core plates, keeping the surfaces agitated and less likely to support scale buildup.

The AVARA system.
Reduced Downtime
While the physical design of the AVARA system helps inhibit scale buildup, scaling will still occur over enough time. However, through the use of a plate cleaning process that allows the system to be flushed without removing any components or shutting down, extensive downtime and costly maintenance cycles are avoided. "We have demonstrated this advantage repeatedly in the oil and gas industry with our ability to stay online, conduct cleaning processes, and be back to optimum performance in a relatively short time," Whiting said.
Purestream also has a procedure in place for dealing with "worst case" scaling scenarios - when a core plate is rendered inoperable. "The AVARA system was engineered in a modular sense, with three separate core banks that are like cartridges," Whiting explained. "If one of these cores becomes nonfunctional, it can be replaced without a lengthy downtime, usually in about a day. In comparison, other evaporator units can be offline for weeks or months when severe scaling or failures occur." The modular redundancy of the system is another beneficial feature that helps facilitate continuous operations, minimizing the potential for downtime. For example, if multiple AVARA systems are banked together for managing potentially larger volume wastewaters, one system can be taken offline for maintenance or repair with operations continuing.
Pilot Tests
EPRI is currently conducting a pilot study in conjunction with Tucson Electric Power at the utility's Springerville, Ariz., facility to evaluate the capacity of the AVARA system for reducing wastewater volumes. To date, around 85 percent overall volume reduction has been achieved. Additional pilot tests are being performed with a smaller AVARA system at the Water Research Center at Georgia Power's Plant Bowen in Cartersville, Ga. There, EPRI is testing the effectiveness of the AVARA system to treat varying power generation waste streams and achieve brine concentration levels consistent with ZLD standards.
About the Author: Jeff Gunderson is the founder of Waterstone Writing (waterstonewriting.com), a specialized content provider with a core focus in water, technology, energy and sustainable solutions. Jeff is also a part-time faculty instructor at Portland State University, teaching in the Professional and Technical Writing program. He holds a master's degree in Environmental Science and Engineering from the Colorado School of Mines and a bachelor's degree in General Science from the University of Oregon.