New Products
Collection of new products for the municipal drinking water and wastewater markets.
Sep 12th, 2013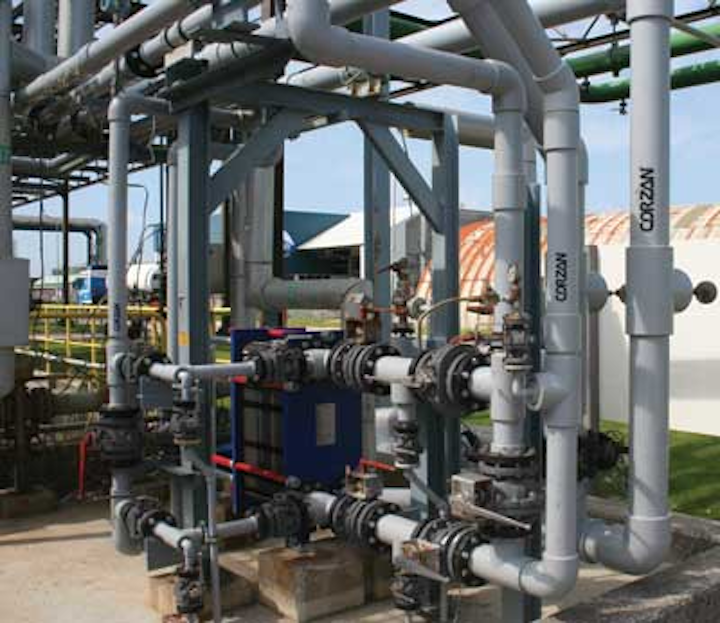 Pipe fittings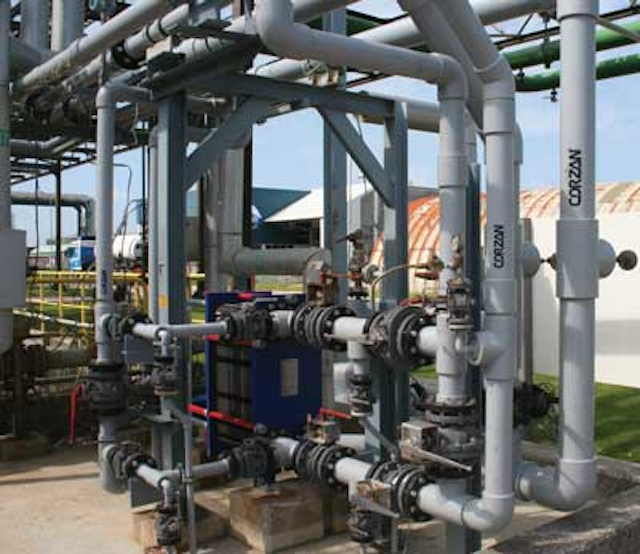 Made from non-corrosive, high-performance chlorinated polyvinyl chloride (CPVC), Corzan pipe and fittings work to resist the degrading effects of corrosion to pipes, valves and fittings caused by chemicals and microbes at water and wastewater treatment plants. Ideal for primary, secondary and advanced wastewater treatment, as well as wastewater odor control, desalination systems and water treatment, Corzan ensures optimal flow rate with excellent hydraulic capabilities and pressure ratings up to 200°F, which is nearly 80°F higher than PVC.
Corzan Industrial Systems, of Lubrizol
www.lubrizol.com
Capital planning software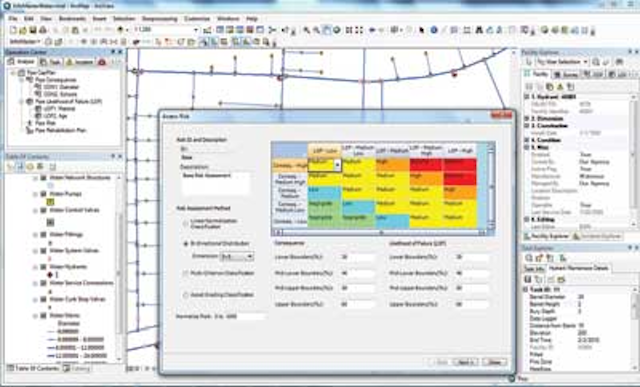 Innovyze's InfoMaster is a complete ArcGIS-based asset integrity management and capital-planning software for water and wastewater networks. It leverages existing GIS and IT investments to give utilities a cost-effective business intelligence and data collection platform for more informed, action-oriented decision making. With versions designed for the desktop, Internet and iOS mobile devices, InfoMaster provides for day-to-day operational management and long-term network planning for users throughout the organization.
Innovyze
www.innovyze.com
Reverse osmosis membranes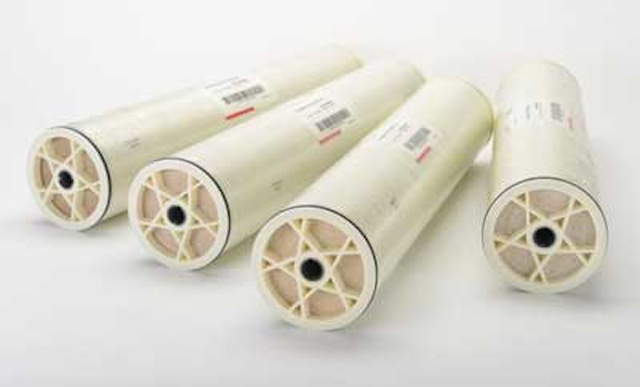 LANXESS has expanded its range of membrane separation elements for reverse osmosis (RO)-based water treatment to include new low energy (LE) elements. These are ideal for desalination of brackish water and can be used to treat both surface water and groundwater in industrial and municipal sectors, including the treatment of wastewater.
LANXESS
www.lanxess.com
In-Vehicle Computing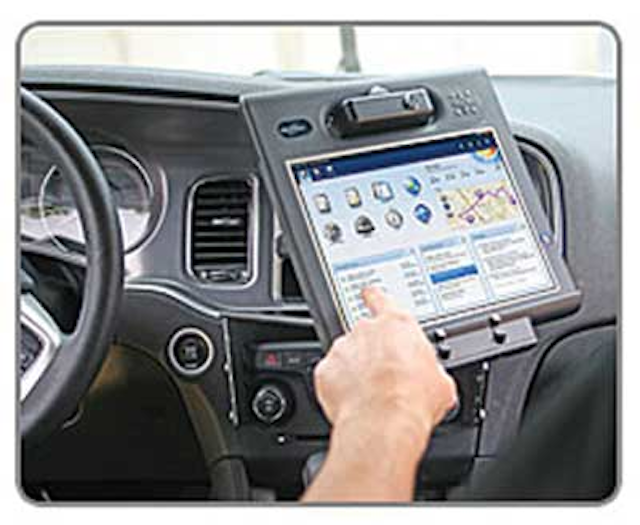 Motion Computing's In-Vehicle Computing Solution includes a range of docks, mounts, integrated features, and computing accessories designed to work with Motion Tablet PCs for maximized safety, reliable connectivity and increased productivity on the road. Motion docks feature built-in sensors that limit the use of computer displays while the vehicle is in motion. An admin tool allows the fleet manager to configure what applications are accessible by the driver. At its heart, there is a unique, patented Tilt & Rotate mount designed to save space through dashboard-mounting.
Motion Computing
www.motioncomputing.com
DP switch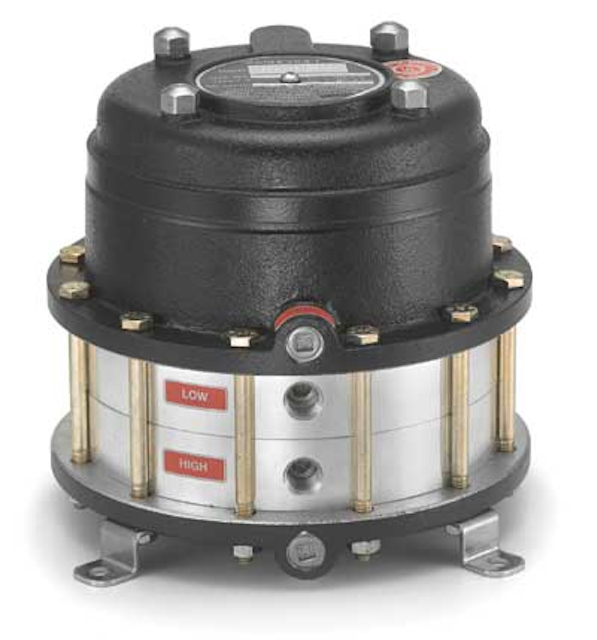 Measuring a low differential pressure across a restriction in a high-pressure line requires both a sensitive elastic element and a heavily-constructed containment vessel. The new Ashcroft® DDS-Series differential pressure switch combines both attributes, enabling it to control differential pressures from 0/6" to 0/150" of water on pressure lines up to 1500 psi. UL Listed NEMA 4 water-tight and NEMA 7 explosion-proof versions are available with a choice of electrical switches, wetted materials and set-point options.
Ashcroft Inc.
www.ashcroft.com
Agitator gearbox program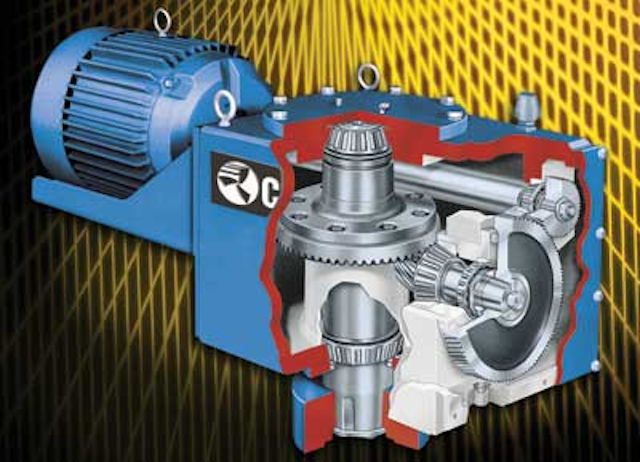 The Chemineer® Express™ Gearbox Aftermarket Program ensures that Chemineer HT and HS agitator gearboxes are ready for shipment. This quick-ship program maximizes process uptime and reduces associated maintenance costs. Available through Chemineer's proprietary Parts Online™ program, the Chemineer Express Gearbox Aftermarket Program combines an extensive inventory of pre-built, stocked gearboxes backed by a network of in-field and in-plant aftermarket service professionals.
Chemineer Inc.
www.chemineer.com
Skid system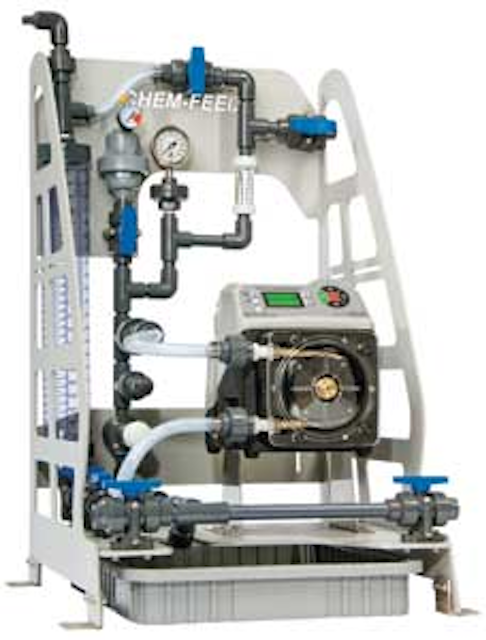 Blue-White's CHEM-FEED® Engineered Skid Systems are efficient, tough and lightweight. The systems are constructed of 6061-T6 powder-coated welded aluminum. Additional CHEM-FEED Skid System features include an exclusive flow indicator, which visually indicates that the pump is delivering solution; a self-filling calibration cylinder (flooded suction not required); Plast-O-Matic® ball valves, pressure relief valves and gauge guards; and a metal-free check valve that protects the operator from backflow during maintenance.
Blue-White Industries
www.blue-white.com
Handheld colorimeter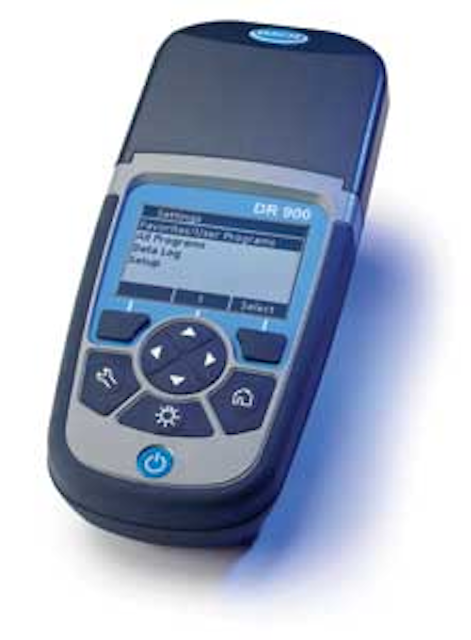 Hach Company announces the multi-parameter handheld instrument for testing water, the DR 900 Handheld Colorimeter. The DR 900 allows for quick and easy access to users' most-used testing methods and is completely field ready. The colorimeter provides the ability to test 90 of the most commonly tested water methods, while putting users' favorite methods at their fingertips. It is made for use in harsh and challenging field environments. Ruggedly constructed, waterproof, dustproof, drop-tested, and shock resistant, this colorimeter ensures reliability in all conditions. The DR 900 can store data from up to 500 tests and comes with a USB port for easy data transfer to a PC or laptop.
Hach Company
www.hach.com
Jet aeration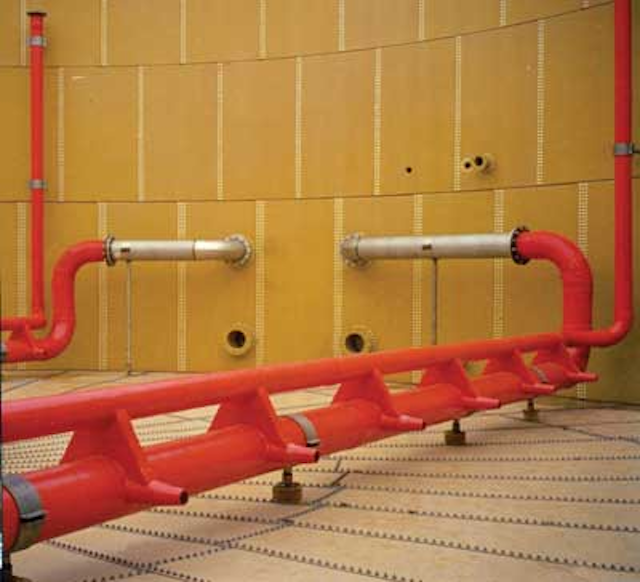 The MTS/Mass Transfer Systems' bi-directional jet aerators are designed with jet aeration nozzles installed on both sides of the liquid/air jet aeration manifold. This configuration is most applicable for square or rectangular tanks, larger lagoons and sequence batch reactors where directional flow patterns are not desired. MTS designs and manufactures its jet aeration products for municipal and industrial wastewater treatment.
MTS/Mass Transfer Systems
www.mtsjets.com
Loop brush aerator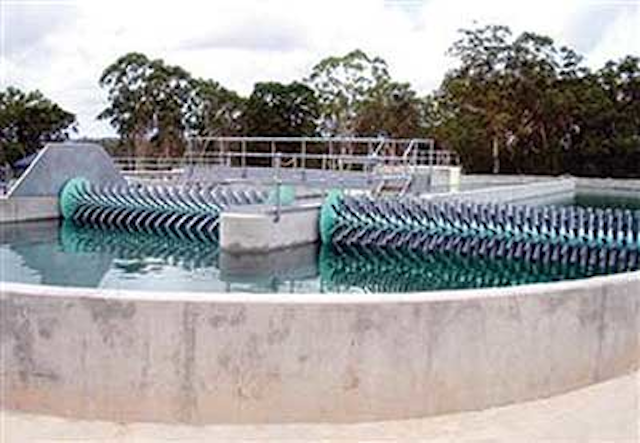 Smith & Loveless aeration systems deliver reliable treatment performance while minimizing energy demands. The company's horizontal LOOP Brush Aerators provide premium oxygen transfer and mixing over a wide range of flow conditions. An optional weir system effectively controls the aerator's immersion in the wastewater, allowing for increased oxygen transfer rates when required. A bolt-together construction eliminates the stress potential in the torque tube created by the welding, and keyed, tapered bushings eliminate shaft fatigue failures associated with welded stub shafts.
Smith & Loveless Inc.
www.smithandloveless.com
Portable WWTP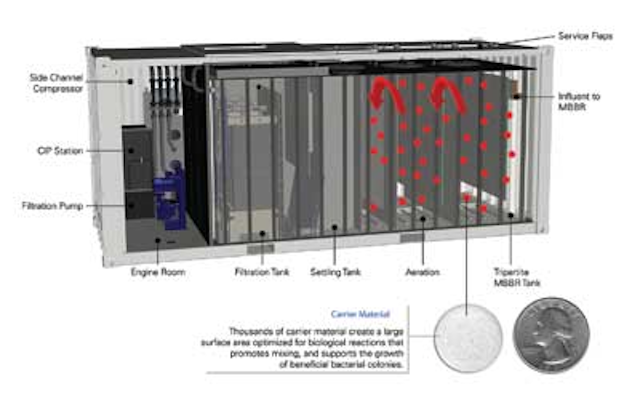 Cemen Tech's Wetworks portable wastewater treatment plant combines complete biological treatment via a moving bed bioreactor (MBBR) and U.S.-patented nano-coated flat sheet ceramic membrane filtration - all packaged within a single ISO (International Organization for Standardization) container. Wetworks is designed to achieve the lower nutrient levels demanded by new EPA Total Maximum Daily Load (TMDL) requirements. The resulting Wetworks effluent is free of solids and bacteria and allows for direct reuse of treated water for various purposes.
Cemen Tech Inc.
www.cementech.com
Mixing system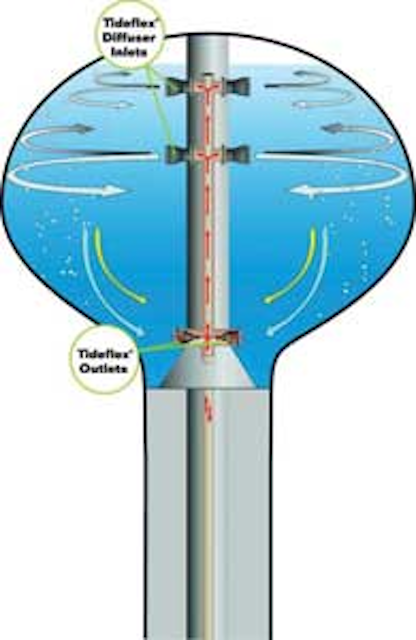 Tideflex® Technologies' Tideflex Mixing System (TMS) greatly improves the quality of drinking water in finished water storage reservoirs. The TMS is a combination of patented Tideflex Check Valve technology and a piping manifold that separates the inlet and outlet. The TMS can be installed in new or existing water storage tanks of all shapes and sizes to eliminate stagnation and short-circuiting. Operating on the differential pressure that is already in place, the TMS keeps energy costs low, while the all-elastomer construction of the Tideflex Check Valve renders the system virtually maintenance-free.
Tideflex Technologies, Red Valve Co. Inc.
www.redvalve.com
Loop/signal power meter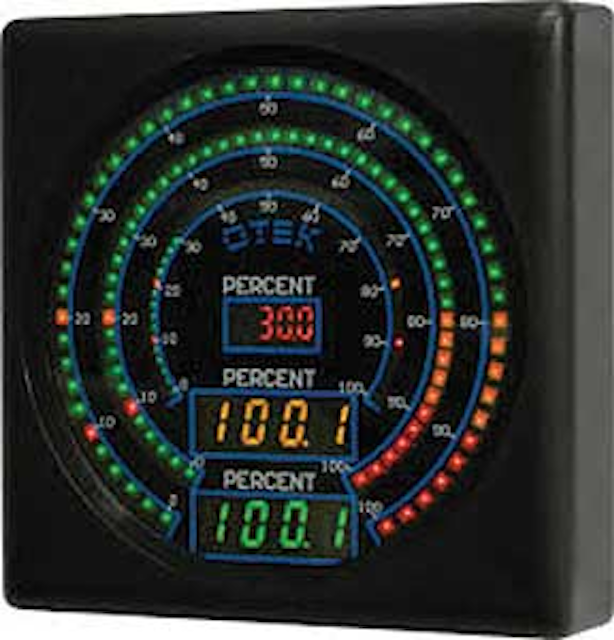 Otek Corporation has unveiled its new Loop or AC/DC Signal Powered Display (LPD Series) that uses minute amounts of energy in a current loop to brightly and consistently illuminate its 51 automatic tricolor (R/G/Y) bargraph and 4 digits. The LPD is 100% Ethernet, DCS, and SCADA compatible with its Serial I/O capabilities. In addition, the bargraph will tell the operator if and when the loop fails by flashing the display message "Loop Fail." It uses under 12 mW @ 4 mA (<60 mW @ 20 mA) to run its nanotechnology ASIC processor and highly-efficient bicolor display and isolated serial interface. The LPD requires only about 3V burden on the loop, compared to ~1V of the analog counterpart.
Otek Corporation
www.otekcorp.com