Solar Solutions: Utilities Harness Power of Sunlight to Reduce Costs, Save Energy
The sun is one of the most reliable and inexhaustible sources of energy - and water and wastewater utilities are incorporating new techniques to harness its power in order to conserve energy, reduce costs and minimize their carbon footprint.
Sep 26th, 2013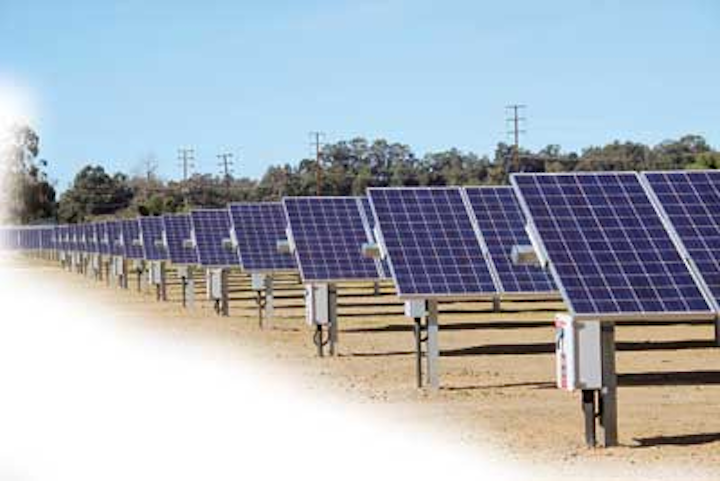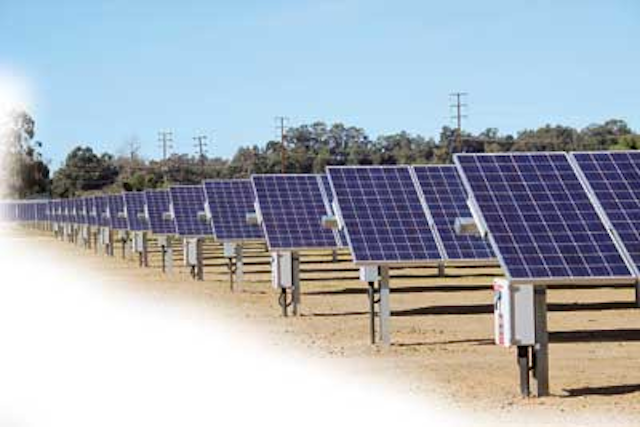 Moorpark's 1.1 megawatt PV solar panels were installed to meet nearly 80 percent of the facility's energy needs.
The sun is one of the most reliable and inexhaustible sources of energy - and water and wastewater utilities are incorporating new techniques to harness its power in order to conserve energy, reduce costs and minimize their carbon footprint.
By Art Haddaway, WaterWorld Editor
Solar power holds many sustaining benefits for facilities looking for a viable alternative to more conventional, non-renewable and cost-intensive energy sources, such as fossil fuels like coal, natural gas or oil. Likewise, utilizing sunlight as a means of conservation has grown more prominent across the water industry within the last several years. A recent National Geographic article indicates that solar energy has grown around 20 percent per year over the past 15 years, but it hasn't been fully understood or practiced until recently with the advent of new research and technology.
Compared to other customary methods of power that emit greenhouse gases and potentially contribute to pollution, climate change and public health hazards, solar energy has been proven as a safe and efficient resource that has little to no economic and environmental risks. Further, it is noiseless, inexpensive, can last nearly a lifetime, and is easy to install and has no moving parts, thus requiring very little maintenance.
The process of harvesting solar power takes place by collecting electromagnetic radiation produced by the sun through advanced semiconductors, like photovoltaic (PV) cells (solar panels), and converting it into a reliable source of energy that water and wastewater plants can use to improve their overall operations. Other forms include heating and cooling (thermal), concentrated power (utility-scaled) and passive methods, according to the Solar Energy Industries Association (SEIA), with PV systems being the most commonly-used in the water industry.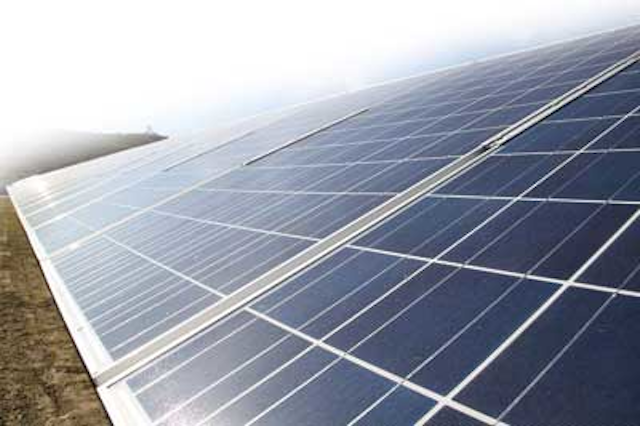 PV solar modules at Moorpark Wastewater Treatment Plant in Ventura, Calif.
SEIA indicates that PV, thermal and concentrated power are considered active techniques that use "mechanical or electrical devices that convert the sun's heat or light to another form of usable energy," whereas passive approaches are "designed and oriented to collect, store and distribute the heat energy from sunlight to maintain the comfort of the occupants without the use of moving parts or electronics." Accordingly, solar power is a highly versatile technology.
Many water and wastewater treatment plants require a significant amount of electrical consumption to perform successfully, and their needs also differ according to location, capacity and demographics. The adoption of solar energy - particularly PV technology - is an optimal, universal solution in that it can be harnessed, distributed and even stored in a variety of different ways, and it can adjust to any size, setting or application. "Solar PV is a technology that is robust, long-lived, easy to maintain, has a great track record, and has had cost reduction, making it a much more attractive option," said John Rogers, senior energy analyst at the Union of Concerned Scientists (UCS). "There's something beautiful about the simplicity of PV modules. You can take care of your water and wastewater needs and not have to worry about the power side of things."
Several facilities also operate at a relatively safe distance from residents and municipalities and thus are often surrounded by unoccupied or unused land. Consequently, there is much availability for implementation. "Depending on where treatment facilities are sited, there could be a good amount of land there that the city owns, which it can make use of to host this type of energy source," said Rogers.
There are also many opportunities for integration across the country, such as in the northeastern regions where the cost of traditional power is high, said Jamie Resor, CEO of groSolar, a company providing engineering, procurement, and construction (EPC) PV projects for municipal and industrial clients. "Generally, you want to build solar photovoltaic systems where energy is needed, where existing, conventional electricity is expensive, where it may be difficult to add additional capacity, or where an area of land is not being used for any other activity," he said.
Camden County Municipal Utilities Authority's wastewater treatment plant (WWTP) in New Jersey, for example, recently implemented a major PV system from groSolar consisting of 7,200 250-watt PV panels that produce 2.2 million kilowatt-hours of electricity per year - enough to provide power to 400 homes. The project has helped the facility meet its operational goals including significantly lowering its electricity costs and minimizing its CO2 emissions.
Arial view of Camden County Municipal Utilities Authority's WWTP solar PV system in New Jersey.
The project, however, was met with considerable space challenges. Contrary to those facilities with sufficient rooftop or land vacancy, Camden lacked the available room to install the technology. To combat this, groSolar specially modified the system to be built above the utility's eight-acre section of water treatment tanks, rather than adjacent to or alongside the plant as with conventional methods. As a result, Camden has conserved space while still maintaining positive production, demonstrating the efficiency and adaptability of solar and PV systems.
"One advantage of solar as an on-site source of energy - as the Camden project indicates - is we can build it in a way that does not interfere with the 24/7 operation requirement of the treatment facility," said Resor. "This was a challenging situation where there wasn't really any available land, and the rooftops that were available were pretty small, so we designed a system that spanned the open wastewater treatment tanks."
As with most PV systems, the guaranteed lifespan of the facility's new panels is 25 years. Resor added that, although it was an immensely complex project for the PV industry, the installment was seamless, there were many improvements and the "economics made sense to the particular location."
Another successful case of implementing solar and PV is the Moorpark Wastewater Treatment Plant in Ventura, Calif., where REC Solar, a company specializing in solar electric system design and installation, provided a 1.1 megawatt system to meet nearly 80 percent of the facility's energy needs. The $4.3 million renovation consisted of close to 4,000 solar panels that are expected to produce over 2.2 million kilowatt-hours annually and save the plant more than $200,000 per year.
Considered the largest publicly-owned solar PV system in the city, the project covers approximately six acres and was specifically designed to exceed the normal lifespan of two decades in order to meet Ventura's facilities investment criteria, according to REC. Further, the resulting energy savings have contributed to positive public policy and are meeting renewable portfolio standards, said Ryan Work, business development manager for the solar company.
"Along with the immediate cost reduction and savings, it [the project] also serves as a long-term hedge against inflating utility pricing," said Work. "By implementing a project of this nature, fixing those costs by supplying that power really gives a better forecasting, budgeting and accounting perspective for the district on their operating costs that ultimately goes down to the constituents."
REC's solar installation at the California plant has not only lowered overall costs and carbon emissions but has also helped create jobs and provide new opportunities for industry professionals as well. "Job creation is another very powerful piece to this," said Work. "With electricians working on solar projects, there's a lot of exposure for different labor trades, and the training that they receive translates into other industries very well."
These projects, along with countless more, are growing exponentially across the country, but their progression is still low compared to other energy sources. According to the National Academy of Engineering (NAE), roughly 85 percent of total power consumption is derived from oil, natural gas and coal, whereas solar still rests below 1 percent. However, the NAE indicated that the adoption of solar-powered technology can prospectively meet long-term energy demands far better than those conventional non-renewables.
The UCS found that sunlight consists of roughly 1,300 watts per square meter. "Averaged over the entire surface of the planet, 24 hours per day for a year, each square meter collects the approximate energy equivalent of almost a barrel of oil each year, or 4.2 kilowatt- hours of energy every day." The NAE also expounded, "Only a small fraction of the sun's output strikes the Earth, but even that provides 10,000 times as much as all the commercial energy that humans use on the planet."
While it's clear that the utilization of solar is a viable solution to the world's energy needs, it still costs a little over $155 per megawatt hour - a higher price than many non-renewable sources, according to the U.S. Department of Energy. However, the savings achieved over time will potentially far exceed any short-term expenditures. Further, the ongoing evolution of solar and PV technology is continuing to make the adoption of these programs easier and less stringent, said Work.
"The cost barriers have been reduced significantly, the cost of the equipment has come down, and there are multiple options for utilities to take advantage of the technology if the capital funds are not available - whether it's unique power purchase agreements with third party entities, municipal bond structures, grant funding, etc.," he said.
Across the board, industry leaders - especially those in the water and wastewater sector - are seeing and experiencing firsthand the many advantages that solar power and PV technology provide and are continuing to adopt and develop more programs to integrate it into their utilities. According to Rogers, solar installations across all sectors were around 76 percent higher in 2012 than they were in 2011, and they are continuing to increase.
"What we're seeing is solar taking off all over the place," said Rogers. "We're seeing it in terms of utility-scale installation all the way down to residential installations, and in between, you have these municipal installations that can be a very attractive option for cities and towns."