Products & Services: Wastewater Treatment
Collection of Wastewater Treatment products and services.
Apr 1st, 2013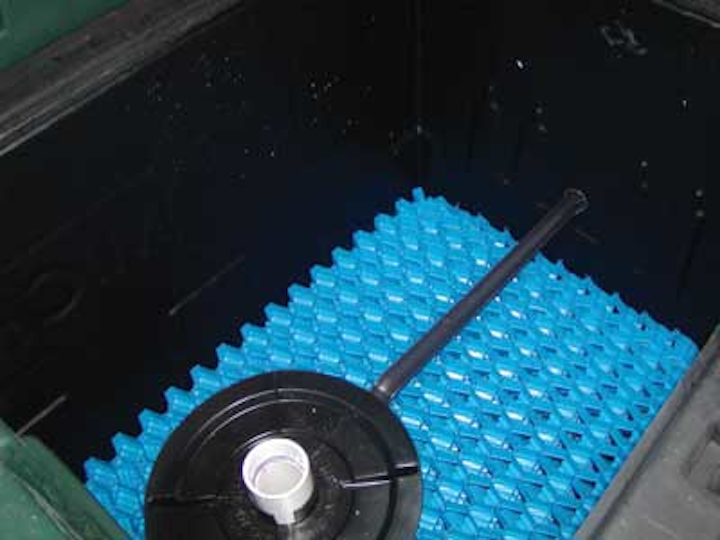 Gas infusion
Fortrans Inc. has announced new technology for aeration of wastewater. The new Dif-Jet™ gas infusion device is a less expensive alternative to ordinary diffusers, injectors and sparger designs for aeration of wastewater. The infuser does not make bubbles; instead, it infuses oxygen from air or pure oxygen into the water. Typical infusion rates of 90% to 95% dissolved oxygen are possible using air and well above saturation levels using pure oxygen. The patent-pending design also allows for mixing multiple gases into water when desired or required. The system reportedly requires less energy and can put more oxygen into water than blower systems or compressed air systems using diffusers.
Fortrans Inc.
www.fortransinc.com
---
Wastewater treatment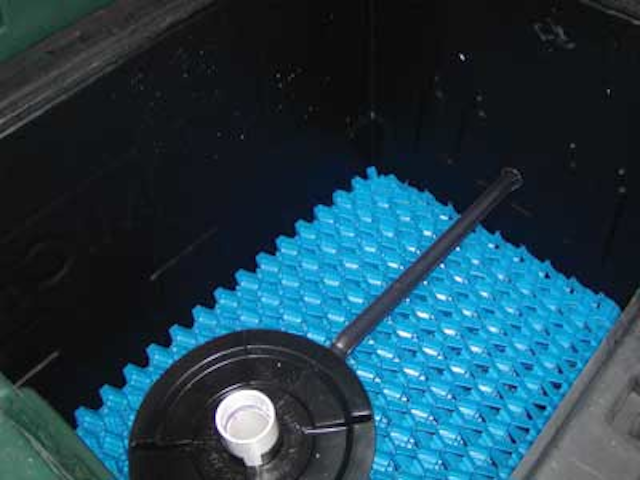 Designed for residential and commercial strength wastewater, MicroFast® wastewater treatment systems provide an option to centralized sewering or conventional septic systems. These alternative septic systems are suited for use in clustered residential developments, small communities, or commercial properties in eight specific sizes based on daily water usage. As Fixed Integrated Treatment Technology (FITT™), the system uses a submerged fixed-film process with a passive recycle system without the need for pumped recirculation. Nitrification and denitrification projects are simplified with the technology, which may allow additional variances to decrease the vertical separation requirements from groundwater, and/or minimize the area needed for dispersal.
Bio-Microbics Inc.
www.biomicrobics.com
---
Centrifugal blower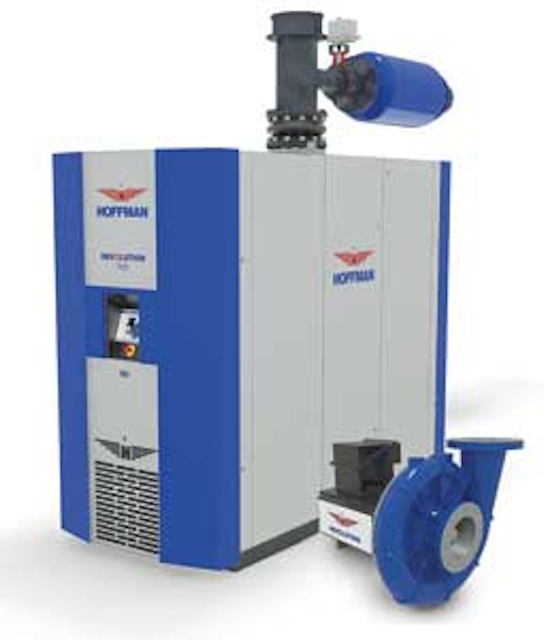 The Hoffman™ Revolution™ is a high speed centrifugal blower designed, built, and tested in the Unites States to provide improved efficiency, reliability and control. The precise performance window and range of the unit will vary depending on the flow/pressure combination, jobsite conditions and the application itself. The blowers are used in activated sludge, aerobic sludge and return-activated sludge pumping processes. They offer a smaller footprint, reduced installation costs and have a one meter certified sound rating below 80 dBa.
Hoffman, a Gardner Denver brand
www.hoffmanandlamson.com
---
Electric mixers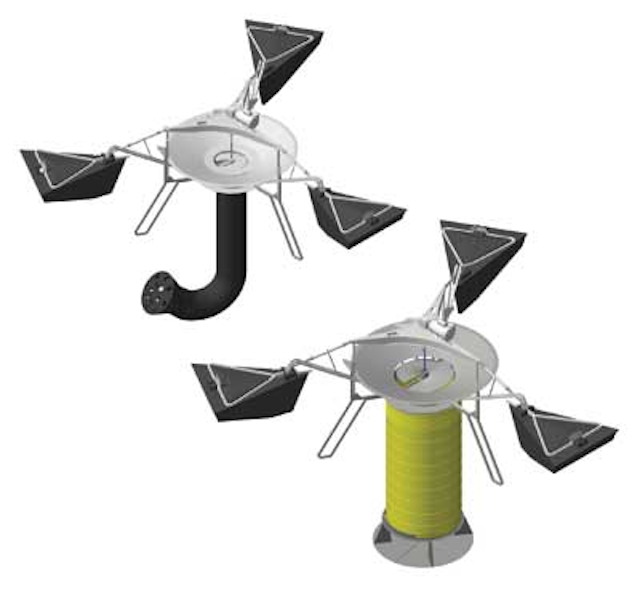 GridBee® GF electric mixers from Medora Corp. can displace 30 to 50 horsepower of aeration run-time, improve regulatory compliance and control odors. Applications include activated sludge system basins, lagoon systems, and water re-use ponds in municipal and industrial wastewater. Four GF models are available, providing a choice of single- or three-phase power and a choice of intake designs and mixing capacity.
Medora Corp.
http://wastewater.medoraco.com
---
Lime, sludge mixer
Sodimate's lime/sludge mixer has orientable paddle blades that efficiently mix lime and dewatered sludge. The unit can be combined with sludge conveyors, sludge pumps and lime feed systems for an effective sludge stabilization process (Class B). Its stainless steel construction makes it versatile for many harsh municipal applications. The mixer comes in different sizes and can mix from 0.5 up to 15 tons/hr of dewatered sludge and can also be trailer-mounted for remote treatment areas.
Sodimate, Inc.
www.sodimate-inc.com
---
Peracetic acid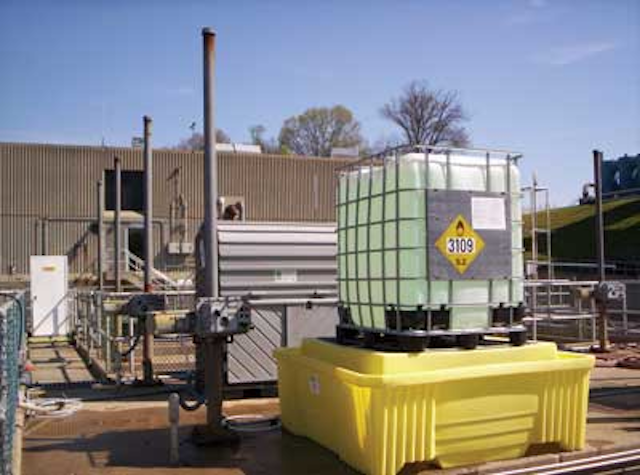 Proxitane® WW-12 Peracetic Acid (PAA) microbiocide from Solvay Chemicals is used for biological control in municipal wastewaters. An alternative to halogenated disinfectants such as chlorine-based chemicals, this EPA-registered wastewater disinfectant can have an immediate positive synergistic effect on an existing UV disinfection system by simply adding it into the wastewater. PAA is a more rapidly acting disinfectant than chlorine based disinfectants, does not generate harmful DBPs even if overdosed, and can be economically retrofitted and/or work in series with an existing disinfection system.
Solvay Chemicals Inc.
www.solvaychemicals.us
---
Screening, washing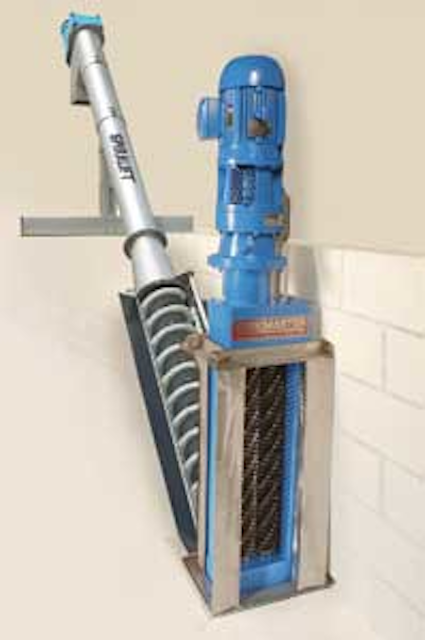 The Spiralift SL provides fine screening, washing, transporting and compacting of wastewater solids while leaving essential organics in the flow. It can be installed in existing channels, reduces solids disposal costs and protects downstream equipment. Provided as a fully integrated system, it includes a shaftless screw screen, a Taskmaster® Grinder and control system which coordinates the system's normal and special functions. The PLC driven unit uses flow level data to cycle the screw to minimize power and wear. These units are provided standard with stainless steel screens and screw housings.
Spiralift, Franklin Miller Inc.
www.franklinmiller.com
---
Oxidation ditch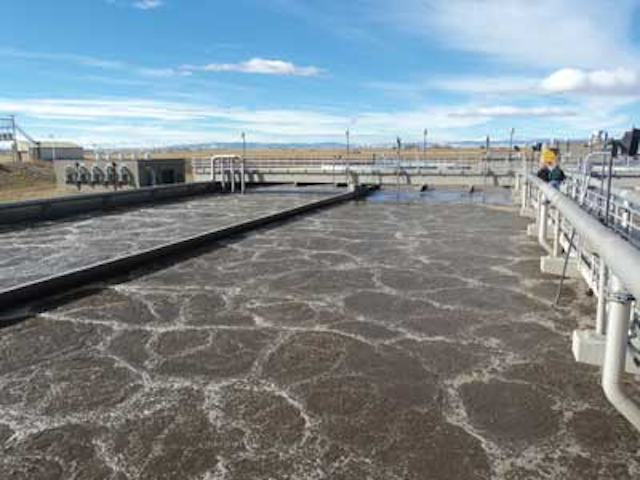 Xylem's Sanitaire Bioloop oxidation ditch features energy efficient aeration and mixing. The Sanitaire fine bubble diffused aeration delivers 6.0 – 8.0 lb O2/hp-hr. Employing a process solution approach, the Bioloop process typically includes aeration, submersible mixers, blowers, monitoring and process control systems with sludge age control, all designed to provide a flexible yet simple to operate system. It also can be designed to accommodate stringent nutrient removal regulations for nitrogen and phosphorus.
Sanitaire, a Xylem brand
www.xylemwatersolutions.com
---
MBR systems
As one of the nation's largest treatment plant contractors, Layne has the specialized wastewater treatment equipment knowledge to provide sustainable solutions. One of the company offerings is the POREFLON™ MBR system, which provides reliable removal of biological nutrients, nitrogen and phosphorus in a small footprint. The company's teams are responsible for managing water in every phase of its lifecycle – supply, treatment, delivery and maintenance. Throughout each phase, they work to ensure compliance with complex state and federal regulations, meet increasingly high standards for quality, reliability and efficiency while constructing projects in any delivery mode required.
Layne Co.
www.layne.com Circle No. 247 on Reader Service Card
---
Tank baffles
Director™ II Tank Baffles are designed for tank-based waste treatment operations. They are custom manufactured from heavy-duty reinforced geomembrane materials to improve flow patterns in new or existing circular or rectangular tanks. The baffles are a cost effective upgrade for activated sludge systems to provide dramatic savings in energy costs by reducing power requirements.
Environetics Inc.
www.environeticsinc.com
---
Nutrient removal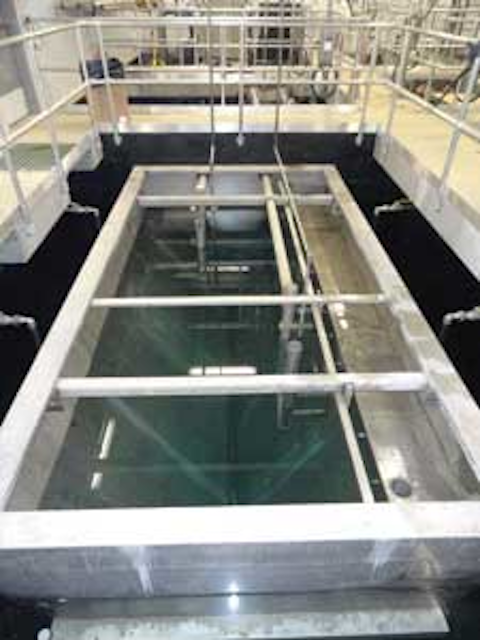 The BESST process is a patented biological nutrient removal system offered by Purestream ES. With over two hundred installations in the United States and throughout the world the package and Built-in-Place wastewater treatment plants are cleaning up wastewater on a global scale. Using an anoxic/aerobic recycle with a bottom feed clarifier the system is able to achieve over 95% reduction of BOD, TSS, ammonia, and TN; and significant removal of phosphorus through biological means. The system uses up to 70% less energy compared to some SBRs in the market today.
Purestream Inc.
www.purestreaminc.com
---
Oxidation ditch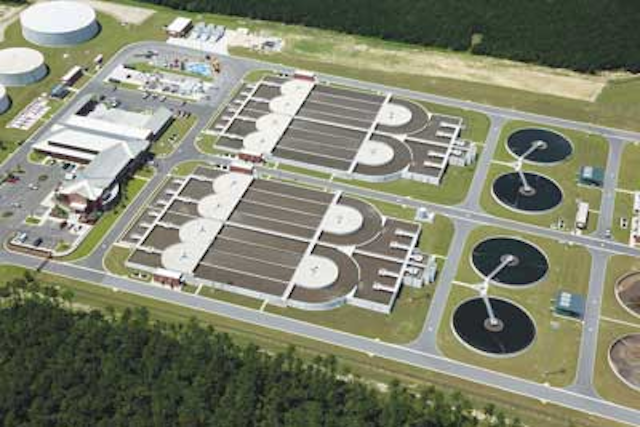 The OxyStream™ Oxidation Ditch from WesTech Engineering combines vertically mounted, low-speed surface aerators with an oxidation ditch design to maximize oxygen transfer efficiency while maintaining the greatest flexibility for power turndown. In addition, the system offers greater side water depths and fewer required aerators than a conventional brush rotor or disc rotor oxidation ditch.
WesTech Engineering
www.westech-inc.com
---
Headworks system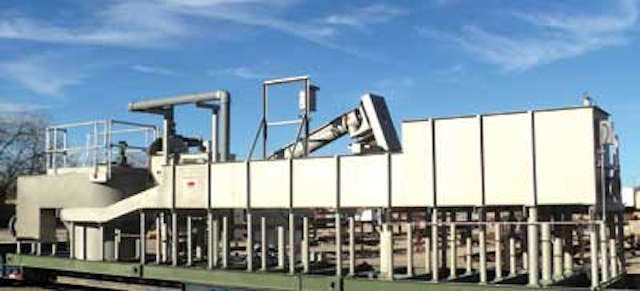 Smith & Loveless has shipped its first PISTA®Works™ Headworks System, which offers four headworks processes on one skid package. The system will service a governmental training facility in Minden, LA. The pre-engineered headworks system combines screening, grit removal and grit washing into one integrated system. The complete system is pre-assembled and shipped direct to the job site on one truck, significantly reducing field installation costs while allowing for a compact footprint.
Smith & Loveless Inc.
www.smithandloveless.com
---
UV disinfection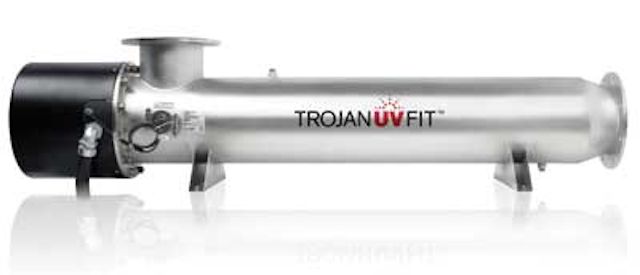 As more municipalities adopt wastewater reuse policies and practices, treatment plants are required to treat effluent to a higher quality. The TrojanUVFit™ is an energy-efficient, closed-vessel UV reactor designed to disinfect filtered effluent without breaking head in the treatment process. Its compact footprint provides installation flexibility and minimizes related capital costs.
TrojanUV
www.trojanuv.com/fit
---
UV disinfection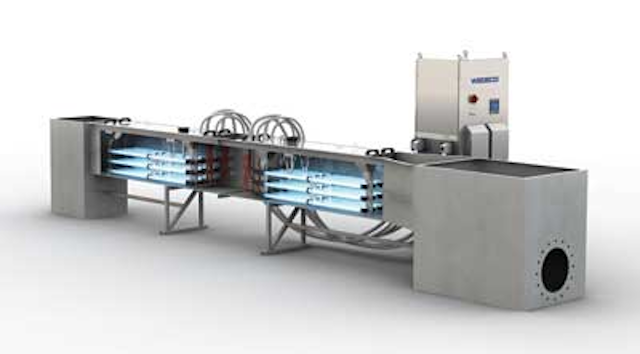 The Wedeco TAK 55 Smart UV system is suited for wastewater disinfection at small and midsize treatment facilities. Equipped with Ecoray® low-pressure high-intensity (Lo-Hi) UV lamps and ballasts, the system provides reliable performance while minimizing energy consumption. The system offers a low lamp count, coupled with the long service life of the lamps. To meet the highest UV disinfection standards, the system has been extensively tested in line with the recently published IUVA protocol for the disinfection of secondary treated effluents.
Wedeco, a Xylem brand
www.wedeco.com/us
---
Sludge level detector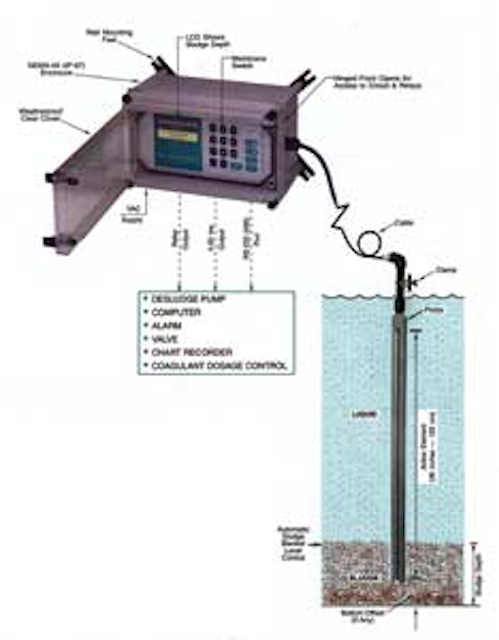 Markland's sludge level detector uses high-intensity infrared light beams to help monitor interface levels in clarifiers and settlement tanks (including dissolved air flotation thickeners and decanting tanks). When processing wastewater (including backwash sludge from sand/membrane filters), it allows users to program sludge removal pumps to operate only when necessary: preventing carryover; avoiding pumping thin sludge/large volumes of water; optimizing sludge density before subsequent processing; improving outflow for reuse.
Markland Specialty Engineering Ltd.
www.sludgecontrols.com
---
Wastewater treatment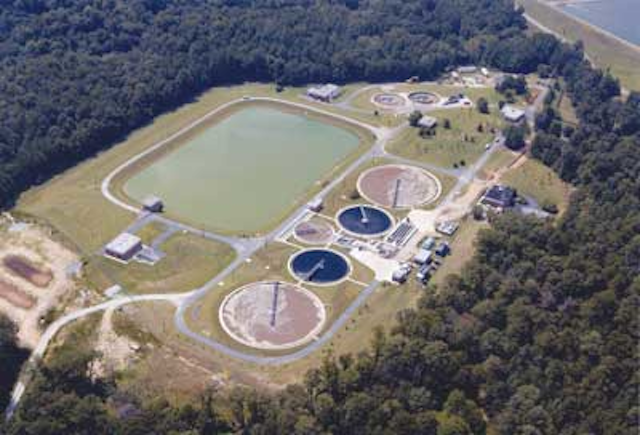 Schreiber provides complete wastewater solutions from headworks to filtration, through the application of energy-efficient, proprietary equipment/process technology. Screw pumps, screens, grit and grease removal, BNR/ENR, peripheral drive clarifiers, and tertiary filtration, all incorporate designs to accommodate servicing without dewatering. Technological innovations such as the Fuzzy Filter™, Schreiber's compressible media system, and the Continuously Sequencing Reactor (CSR™) have greatly improved cost effectiveness and energy efficiency in wastewater treatment.
Schreiber LLC
www.schreiberwater.com
---
Hypo pump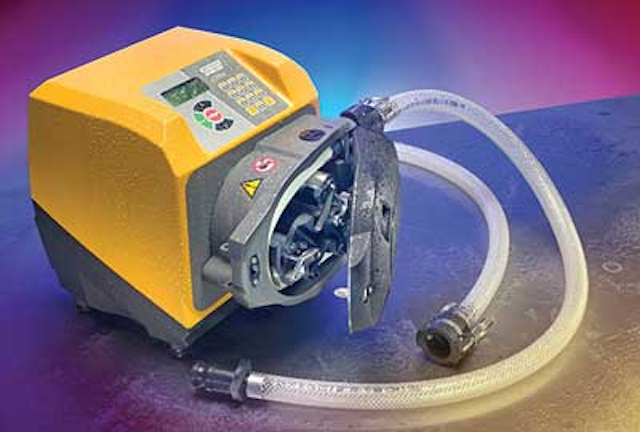 Watson-Marlow offers its 620 series pump for sodium hypochlorite for wastewater treatment applications. The pump can run dry so off-gassing chemicals will not cause the pump to vapor lock. By maintaining +/- 0.1% accuracy in hypo metering the pumps yield increased savings on chemical usage. The 620 can reliably deliver 50% more flow with one tube compared to other peristaltics. It reliably handles harsh chemicals in the water and wastewater treatment industry, including sodium hypochlorite, ferric chloride, sodium bisulfate, aluminum, fluoride, carbon and lime slurries, polymers, aqueous ammonia, potassium permanganate and caustic slurries.
Watson-Marlow
www.wmpg.com
---
Level controller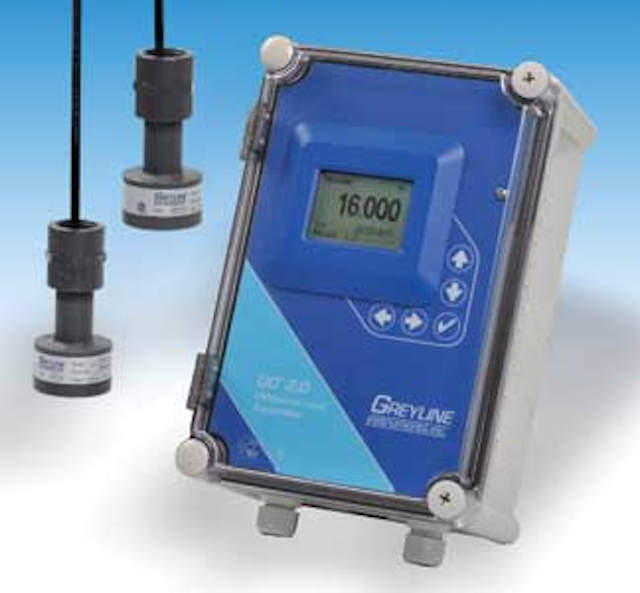 The new Greyline DLT 2.0 can measure both differential level at a barscreen, plus open channel flow through a flume. It works with two non-contacting ultrasonic sensors. One sensor is installed upstream from the barscreen and a second sensor downstream for differential level control. Or operators can install the second sensor in a flume to control and transmit differential level control plus flow. The controller includes relays for barscreen rake and level control as well as three, 4-20mA outputs (upstream level, differential level, downstream level or flow). The large backlit LCD display shows level, differential level, flow and total flow. Intrinsically safe sensors and data logger are optional.
Greyline Instruments Inc.
www.greyline.com
More WaterWorld Issue Articles
WaterWorld Articles Archives