New Products
Collection of new products for the municipal drinking water and wastewater markets.
Jan 1st, 2013
PVC check valves
Asahi/America has expanded its offering of PVC wafer check valves to include sizes 4", 6", and 8". Wafer check valves are installed on the discharge side of pumps to prevent back-flow flooding that could seriously damage pump systems. The valve's body, disc and stopper assembly are machined from solid PVC plate stock, which conforms to ASTM D1784 Cell Classification 12454A. This material was selected based on its chemical resistance and mechanical properties.
Asahi/America Inc.
www.asahi-america.com
---
Enclosures
Adalet now offers Division 1 / Zone 1 explosion proof enclosures constructed from 316L stainless steel. Designed for use in highly corrosive areas, the new cast stainless steel enclosures provide the perfect construction material for volatile areas where environmental conditions require additional corrosion protection. The XCESX series of enclosures provide an alternative to traditional cast aluminum explosion proof enclosures which may become compromised or could break down over time in highly corrosive areas.
Adalet, a Scott Fetzer Company
www.adalet.com
---
Environmental compliance
The American Water Works Association has announced the release of its new publication, the Environmental Compliance Guidebook: Beyond US Water Quality Regulation. Designed to help water and wastewater utility personnel understand and comply with the complex US environmental regulations pertaining to hazardous materials and other wastes, the guidebook clarifies these laws and regulations while making them easier to understand. Each chapter covers the laws, regulations, and compliance issues for one family of environmental pollutants.
American Water Works Association
www.awwa.org
---
Automated LC-MS
The Thermo Scientific™ EQuan™ Max Plus LC-MS is a turnkey, automated LC-MS system for water analysis designed to allow immediate user productivity and reduce human error by automating manual procedures. Key applications include analyzing water for trace amounts of pesticides, pharmaceuticals, personal care products, endocrine disrupters and perfluorinated compounds. The system now features Dionex Ultimate™ 3000 UHPLC pumps and accommodates multiple benchtop configurations, including single stack, multiple stacks, MS on left, MS on right.
Thermo Fisher Scientific Inc.
www.thermoscientific.com/equan
---
GIS iPad app
A new app available in the Apple Store is providing water districts and municipalities a new tool that puts their Geographic Information Systems (GIS) data to work in innovative ways. Nobel Systems' GeoViewer Mobile app allows field crews to access and interact with a virtual library of information and aerial maps, creating and integrating site-specific information at the touch of finger. And they can do it all with or without internet connectivity.
Nobel Systems
www.nobel-systems.com
---
Turbine meter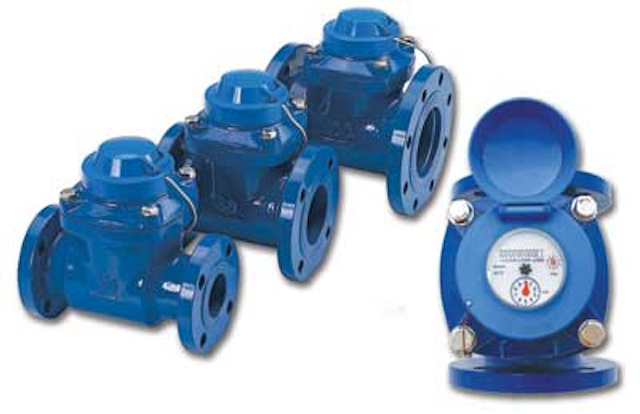 Omega has introduced its new series of turbine meters. The FTB-630 series features a non-resettable mechanical totalizer, 2, 3, 4, 6, and 8 inch pipe sizes and a rugged construction manufactured of tough cast iron and epoxy-coated for protection. The economical turbine meters have a pulse output optional and can be equipped with magnetic pulse reed sensors well suited for remote totalizing, pacing of electronic metering pumps, and water treatment applications.
Omega Engineering Inc.
www.omega.com
---
Chromate selective resin
ResinTech's chromate selective resin, ResinTech SIR-700, now meets NSF/ANSI-61: Drinking Water System Components - Health Effects for use in all potable water applications. The media has been used successfully at Superfund sites to remove hexavalent chromium from groundwater, in one case offering projected savings to the federal government of up to $20 million.
ResinTech Inc.
www.resintech.com
---
Device manger
Hach has received certification by the FDT Group for its multi-sensor DTM (device type manager), available on and as a free software download for the sc200 Universal Controller with Profibus DP. Covering 43 sensors and analyzers and 20 different parameters, the multi-sensor DTM represents the world's broadest portfolio of certified analytical devices for water and wastewater. A Device DTM is software used in FDT frame applications which provides users the ability to configure device parameters and access advanced diagnostic information from any location.
Hach Co.
www.hach.com/sc200
---
Chemical feed system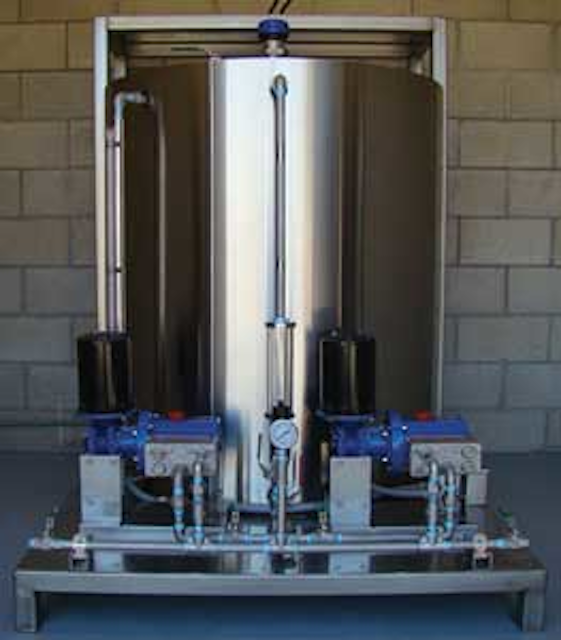 Superior Water Technologies has developed a new chemical feed and metering system to address needs in the drinking and wastewater industry. The Sure Feed system can be in-house designed or built to user specifications, and is constructed of the highest quality materials selected specifically for the chemicals to be injected. 316SS stainless steel, fiberglass, or plastic tanks are available, along with diaphragm, peristaltic, mag-drive, or progressive cavity pumps. The systems are available for any range of control.
Superior Water Technologies
www.superiorwatertechnologies.com
---
Peristaltic pump switch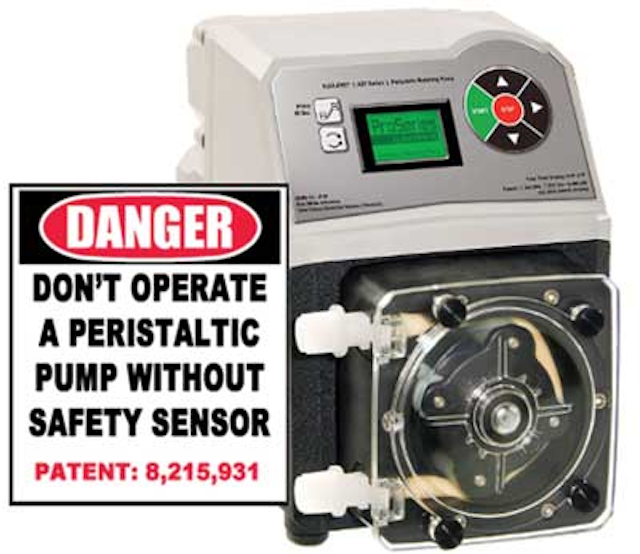 Blue-White® has been awarded a patent for its new Peristaltic Pump Safety Switch. The switch stops the pump when the front cover is removed, and the pump will only operate in maintenance mode (a set RPM) while the front cover remains off, protecting the operator while routine pump head maintenance is performed. This patented safety feature is included on all Blue-White Flex-Pro® and Pro Series-M™ Peristaltic Metering Pumps.
Blue-White Industries
www.blue-white.com
---
Industrial gases
Air Products offers a variety of gases, equipment, and technology solutions for the water and wastewater treatment industry. The company's Prism® Oxygen VSA and Nitrogen PSA systems are successfully operating at Camden County Municipal Utilities Authority (CCMUA) in New Jersey. Used in their wastewater treatment process, these onsite gas generation systems are providing CCMUA with improved energy efficiency, lower maintenance, and more reliable gas supply. The systems offer modular design, low power consumption, turndown capabilities, and minimal time from start-up to full production.
Air Products
www.airproducts.com
---
Aspirating mixer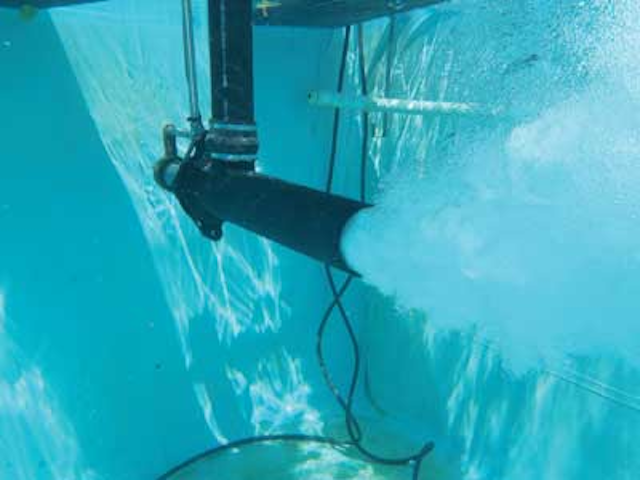 The redesigned Enterprise Aspirating Mixer by Air-O-Lator Corp. provides a more energy and cost efficient option for aerating and mixing. The retooled unit yields increased airflow, pumpage rate, and thrust, plus it is easier to install. The mixer uses a high volume, axial flow, propeller pump design that operates within a close tolerance throat. The water that is propelled from the throat and forced through a specially designed venturi nozzle more than doubles the velocity of the fluid pumped.
Air-O-Lator Corp.
www.airolator.com
---
Propeller pumps
The Flygt Slimline Propeller Pumps use smaller discharge column sizes resulting in a more compact pump station footprint which in turn minimizes civil construction costs. The state-of-the-art axial flow pumps deliver reliability and efficiency with increased clog resistance thanks to Flygt's unique N-technology. A self-cleaning propeller minimizes operational disturbances while delivering sustained high efficiency and reduced energy costs compared to conventional propeller pumps.
Flygt, a Xylem brand
www.flygt.com
---
Aluminum covers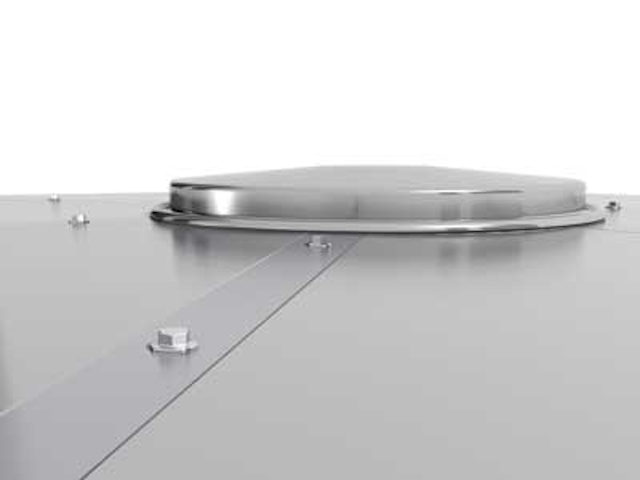 CST Covers, a division of CST Industries, has introduced a flush batten aluminum geodesic dome cover for drinking water and wastewater tanks. The OptiDome design features a double web I-beam for strength and stability, plus optimized patent-pending batten seal technology that eliminates environmental exposure and UV degradation. New hub cover technology removes the need for exterior sealant at the nodes, eliminating routine maintenance and inspection requirements.
CST Covers
www.cstcovers.com
---
Monitoring software
Exele Information Systems has announced the release of TopView® 6.14 and the TopView Mobile Web App. The web app provides access to TopView alarms and all monitored data values from mobile devices. Support for any platform with a modern browser allows phone, tablet, and desktop access to tag data and alarms. Users can monitor alarms and data values, acknowledge alarms, filter by alarm category, and even examine tag details. The app runs within the mobile browser but appears and operates like an installed mobile application.
Exele Information Systems
www.exele.com
---
Energy management software
The Beta release of BalanceNet, offered by Innovyze, is a real-time energy management and sustainability solution for drinking water distribution systems. The software can be used to manage water supply and distribution systems to maximize energy savings, lower carbon emissions, enhance water quality, and optimize system performance. It is designed expressly to assist water distribution system operators and train new operators in managing their energy consumption. Designed for online applications with existing SCADA systems, the software reads real-time field data, instantly updates the network model and determines pump and treatment plant operation schedules that will yield the lowest operating cost while satisfying the system's hydraulic and water quality requirements.
Innovyze
www.innovyze.com
---
RO membranes
Lanxess offers Lewabrane® Reverse Osmosis (RO) membrane elements for desalination and production of high quality water. The Lewabrane RO B090 HF 4040 product type consists of spiral-wound polyamide composite membranes with a surface area that exceed other commercially available elements by almost 6 percent. The bigger surface area results in higher water productivity and creates a superior permeate flow rate. HF (high flow) and HR (high rejection) membranes are available with surface areas of 370, 400 and 440 square feet. The high rejection versions offer more than 99.7% salt rejection measured under standard conditions.
Lanxess
http://lanxess.us
---
Progressing cavity pumps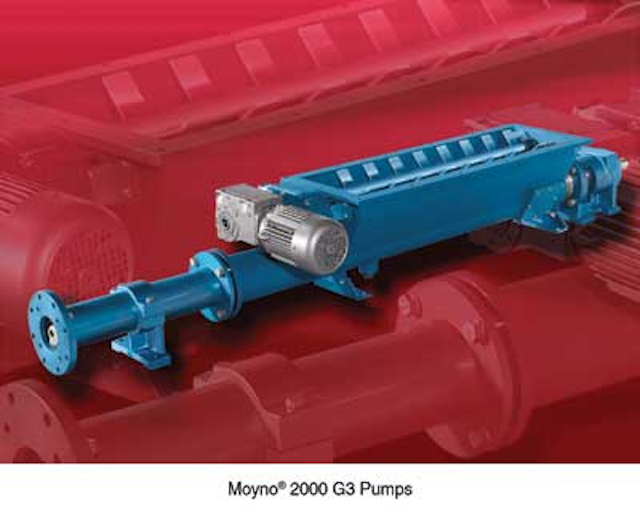 The Moyno® 2000 Model G3 Progressing Cavity Pump is suited for handling semi-dry, high solids content or caked substances. It features a series of finger mechanisms mounted on two counter-rotating shafts. Positioned above the pump's auger feed, this bridge breaker device prevents the accumulation of material in the throat of the pump. The bridge breaker is independently driven for flexibility in controlling pump and bridge breaker speed to meet specific application requirements. The pump features the company's crown gear-type universal joint. It offers flow rates to 400 gpm and pressure capabilities to 350 psi.
Moyno Inc.
www.moyno.com
---
Flow monitoring
Primary Flow Signal offers solutions for accurate open channel and sewage flow measurement in municipal water/wastewater facilities. Its PFS-HN nozzle is designed for open channel flows and provides accuracy even in excessive pipe slope conditions. Configuration of the PFS-HN also allows the nozzle to manage high velocity flows – handling open channel, sewage, or sludge flows. It is a self-supporting solution that can be used for a wider minimum to maximum flow rate range. The accuracy of the device is +/-2.0% of max rate. It can be used with a number of secondary readout devices.
Primary Flow Signal
www.primaryflowsignal.com
---
Turbocompressor
Sulzer Pumps offers the ABS turbocompressor HST 20, a direct-driven, air-cooled high speed turbocompressor. The new system offers exceptional savings from wire to air, providing more air output for every kilowatt put in. This efficiency comes from optimizing the turbocompressor as a whole. Magnetic bearings, a high-speed permanent-magnet motor, a newly designed impeller and a new labyrinth seal design all contribute to the balance. The turbocompressor also features an intuitive, process-optimizing control system, and it integrates silencers and other accessories for a smaller, quieter and more cost-effective installation.
Sulzer Pumps Ltd
www.abseffex.com
---
Tank lining system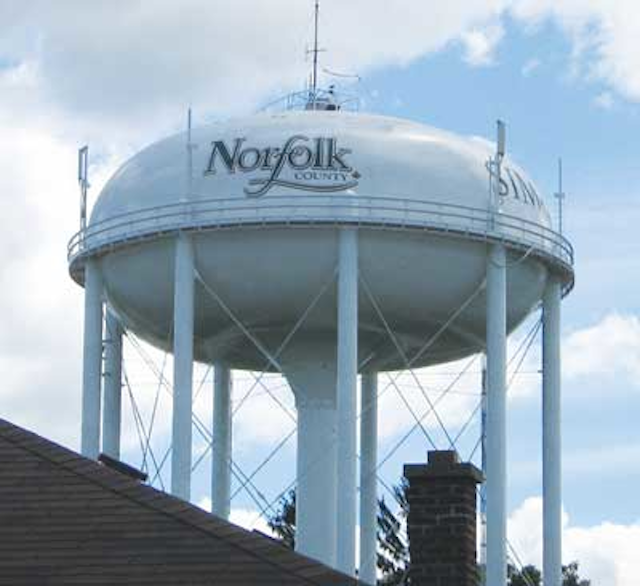 AkzoNobel's International Paint has introduced Devoe® Bar-Rust® 234P to the North American water industry. The solvent-free, epoxy, low-temperature potable water tank lining system is designed to meet the industry's need for low VOC compliance, without compromising performance. The 100% solids, high build system is suited for new construction and rehabilitation projects because of its fast cure, simple 2:1 mixing ratio, and single coat application capability even in temperatures as low as 35°F. The lining carries an NSF/ANSI 61 certification for potable water use and cures to a hard, high-gloss finish.
AkzoNobel
www.international-pc.com
---
Video security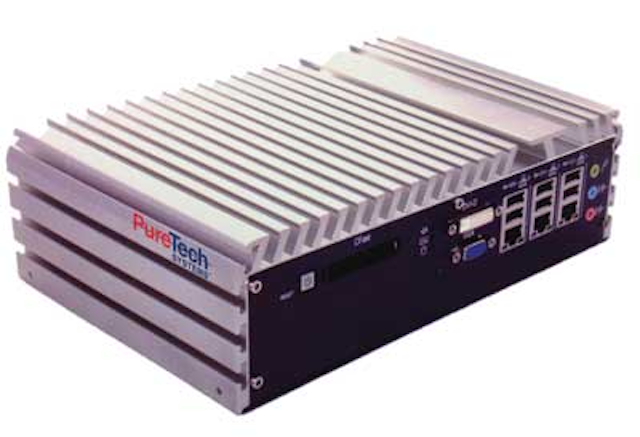 The new Scene Analyzer III is the next generation of intelligent edge device from PureTech Systems. The analyzer operates as a stand-alone remote sensor, turning normal security cameras into intelligent sensors. The new version of the scene analyzer includes all the new intelligent video algorithms that are provided with the company's server-based product, PureActiv, but on a smaller, more environmentally robust hardware platform. The edge device is designed to be seamlessly integrated into an existing enterprise surveillance solution, such as NVR based system, providing alarm and target information through a standard API and meta data associated with the video. It can also provide its own NVR and alarm management functions, using its on board video storage.
PureTech Systems
www.puretechsystems.com
---
PE Scraper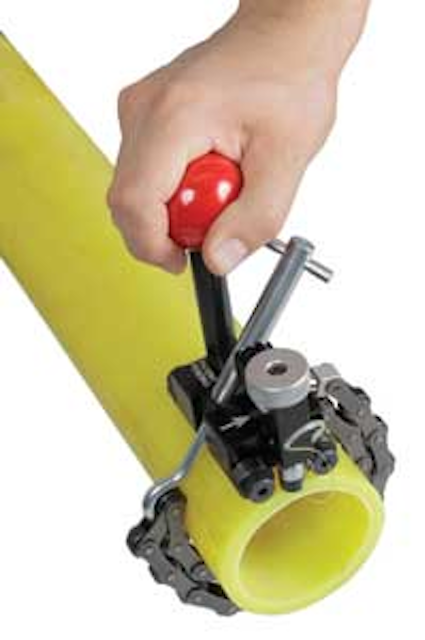 Electrofusion requires a clean surface. Reed's PE Scraper removes dirt and oxidation from the outside diameter of the pipe in preparation for the electrofusion process. Its spring-loaded blade does not skip as it keeps consistent pressure on the pipe to yield a smooth, finished surface. A minimal amount of PE is scraped away to reveal the clean pipe. The scraper can be used on the edge of the pipe and anywhere along the length. Six inch clearance is needed for turning the scraper around the pipe.
Reed Manufacturing Co.
www.reedmfgco.com
---
Double-wall tanks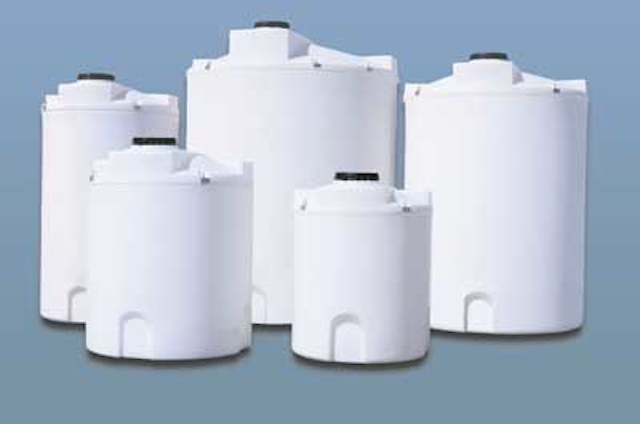 Cylindrical double-wall tanks from Assmann Corp. eliminate chemical spills without the expense of lined concrete containment. The company's molding process provides uniform walls with a heavier-top sidewall and dome for chemical and corrosion resistance, while the primary inner tank and a secondary locked-on outer containment ensures against chemical spills.
Assmann Corp.
www.assmann-usa.com