New Products
Collection of new products for the municipal drinking water and wastewater markets.
Nov 18th, 2014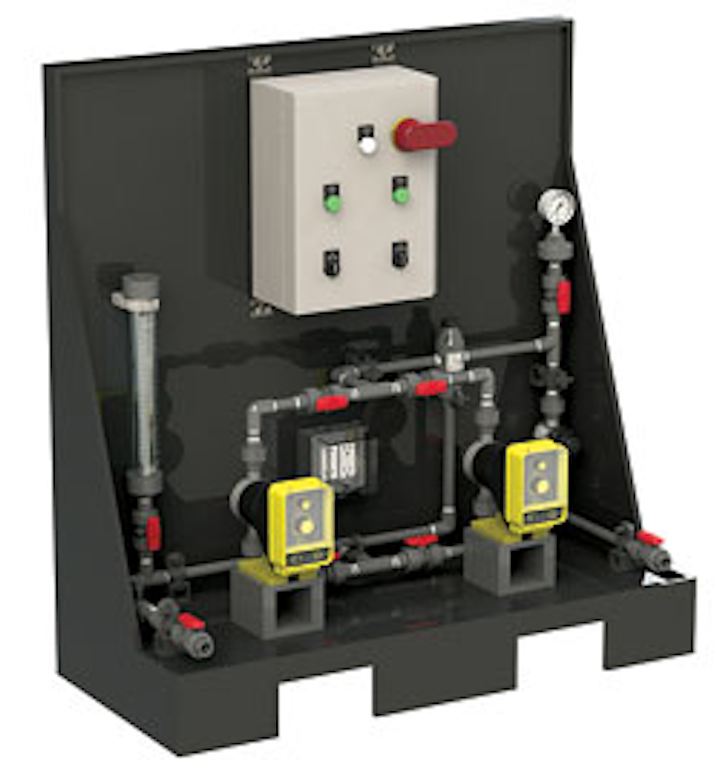 Chemical metering package
EquipSolutions has introduced the EZDOSE Series of metering pump packages. These field-proven systems offer flexibility, convenience and rapid delivery. They are ideal for bringing greater reliability to a wide range of water treatment applications at an economical price. The "Pick Your Pump" approach allows customers to select any brand of metering pumps for integration in a complete plug-and-play configuration. Control options allow users to select various degrees of sophistication, while customized configurations offer feed verification, automatic switchover and the addition of on-board controllers or timer packages.
EquipSolutions
www.equip-solutions.com
---
Universal cavity pump parts
Universal Parts for progressing cavity pumps are now available worldwide from the Process and Flow Technologies division of NOV. With a company focus on quality products, proven reliability and off-the-shelf availability, the Universal Parts range contains a wide variety of parts suitable for other brands of PC pumps. Universal Parts are manufactured in-house to exacting standards and offer a competitive alternative when spares are needed quickly.
Moyno Inc.
www.moyno.com
---
Smart meter technology
The plug-and-play feature of the new YSI® MultiLab DO/BOD Benchtop Meter Kits from Cole-Parmer lets users exchange sensors for optical dissolved oxygen (DO), biochemical oxygen demand (BOD) and pH measurements, as well as operate it as a conductivity meter. The technology complies with EPA regulations by meeting approved methods for DO and BOD, and with highly accurate measurements, it displays readings in large graphics on an easy-to-read backlit screen. The sensors digitally store their serial number, unique ID and calibration data, and transfer this data when moved.
Cole Parmer
www.coleparmer.com
---
Automation controller
Schweitzer Engineering Laboratories (SEL) has announced the release of the SEL-3505-3 Real-Time Automation Controller (RTAC) that adds connections for three digital outputs and eight digital inputs. The compact and economical SEL-3505-3 provides a fully-programmable IEC 61131-3 logic engine with several built-in function blocks, including recently released PID functionality. The automation controller's dimensions, 6.96" x 5.54" x 2.25", make it ideal for cabinet or DIN rail mounting. It is designed for data concentration, protocol conversion and control applications.
Schweitzer Engineering Laboratories Inc.
www.selinc.com
---
COD analyzer
JM Science's Quick COD Analyzer Model HC-607 provides fast, accurate analyses and is easy to use with coulometric titration. A revision of the electrode material frees the user from performing multiple blank measurements and speeds up and stabilizes measurement operations. Main functions include: Automatic checks for KMnO4, sensitive and accurate end-point detection; range settings that are user defined; automatic calculation of sample statistics; data storage for 99 sample determinations; automatic method conversion; uploading of data to a laptop or PC; automatic blank value compensation; and screen display of error messages.
JM Science
www.jmscience.com
---
Water purification cartridges
LabStrong now manufactures two new economical replacement water purification cartridges for Thermo Scientific Barnstead Mega-Pure Deionizer Accessories. The cartridges are suitable for operation in the Mega-Pure Single (D1) or Dual (D2) Cartridge Deionizer Systems and the MP-12A Glass Stills. They also enhance the performance of Mega-Pure Glass Stills by reducing scale buildup and increasing distillate purity.
Labstrong Corporation
www.labstrong.com
---
Break-off plugs
Flomatic has introduced a new 1/2" break-off plug for 8" submersible ductile iron and stainless steel valves, made in 303-stainless or a high-strength engineered composite material. A break-off plug allows for lighter lifting weight by allowing water to drain from pipes after the plug is broken by dropping a smaller pipe down the inside diameter of the pipe. It also eliminates water accumulating at the surface of wells, making for a clean and simple pull of riser pipe. Further, this new size allows for quicker drainage from the pipe verses the standard 3/8" size.
Flomatic Corporation
www.flomatic.com
---
Projection software
NanoH2O Inc., manufacturer of reverse osmosis (RO) membranes for seawater desalination, has released version 2.2 of its intuitive Q+ projection software. This new version allows users to output process flow diagrams, input pass-specific membrane aging and performance, select water types suitable for projections under brackish conditions, and model silica rejection and scaling. In addition, Q+ is now available in simplified Chinese (Mandarin).
NanoH2O
www.nanoh2o.com
---
Sewage pipe pre-liner
Valéron Strength Films has introduced Valéron IL to the North American marketplace. Valéron IL is a 100% polythene product successfully incorporated as a pre-liner by cured-in-place pipe system providers to refurbish sewage pipes. Its high dimensional stability, and tear and perforation resistance make it an ideal solution to ensure a strong and durable pipe network. While preventing the water from the soil entering the main liner, Valéron IL also shields the environment from non-cured resins used in the hardening process of the main liner.
Valéron Strength Films
www.valeron.com
---
Datalogger
CAS DataLoggers and Isodaq have partnered to offer the new Tadpole D GSM/GPRS Data Logger, a rugged IP65 telemetry device designed for standalone water and environmental monitoring in remote sites and in hostile environmental conditions. These battery-operated dataloggers connect to a wide range of single-input digital, analog and multi-parameter SDI-12 sensors. Tadpole's design enables users to fit the device into tipping-bucket rain gauges or slots inside a 50-mm-diameter piezometer tube. By transmitting data at user-set intervals or on alarm activation via GPRS to a telemetry server, the data loggers automatically deliver data directly to the desktop.
CAS DataLoggers Inc.
www.dataloggerinc.com
---
Diesel generator
Cummins Power Generation has introduced new high-horsepower diesel generator sets that meet EPA Tier 2 emissions regulations. These lower-emissions generator sets are designed to provide excellent emergency response, optimum steady state performance, reliability, and versatility for standby power applications at water and wastewater treatment facilities. Models operating at 60 Hz are rated from 1,250 kW to 2,250 kW. The sets are seismic-certified in accordance with the IBC and are pre-approved by California's OSHPD agency for ground and rooftop installations.
Cummins Power Generation
www.power.cummins.com
---
pH, conductivity meters
The new Oakton® Waterproof pH 150 and CON 150 meters offer at-a-glance readings on a large, three-line LCD, which also stores up to 150 measurements along with temperature. While the built-in memory offers convenience, the calibration alarm never leaves the user guessing when it's time to recalibrate. With automatic temperature compensation (ATC), temperatures do not influence readings, providing more accurate results. Both Celsius and Fahrenheit scales are available to best fit the application. Electrode status displays pH slope or cell constant directly.
Oakton Instruments
www.4oakton.com
---
Multi-channel controller
Bürkert's modular multi-channel MultiCELL transmitter/controller Type 8619 is a customizable measuring system with an extended range of functionalities that can work with multiple types of sensors. With this new variant, Bürkert will extend the scope of its Type 8619, which has been available only for panel installation. A new, separate housing version offering more flexibility in installation on walls, railings or pipelines, for example, is now available. The variant can be supplied with a 12-36 VDC supply, as before, or alternatively with 110/230 VAC supply.
Bürkert Fluid Control Systems
www.burkertusa.com
---
Control panels
SJE-Rhombus® is expanding its global product offering with the CE-approved Electromechanical Control Panels series EMD. Designed for international applications, the valves control one or two submersible single-phase or three-phase electric pumps in water and wastewater applications. The panels are provided with a thermal overload protection relay incorporated in an IP 55 weatherproof cabinet and operate pumps based on signals provided from liquid level floats or pressure switches. Four models are available -- EMD1S, EMD1T, EMD2S, and EMD2T -- and accommodate single-phase-voltage (240 VAC) or three-phase-voltage (400 VAC) 50Hz or 60Hz applications.
SJE-Rhombus
www.sjerhombus.com
---
Pressure transfer filler
KALPOXY® 911 from Kalenborn Abresist was developed as a pressure transfer filler for repairing high-pressure pipelines. The product has many uses as a general-purpose adhesive and repair material, used alone or with fiberglass reinforcement. KALPOXY 911 is supplied in equal amounts of white epoxy base and black curing agent. When applying and mixing, remove equal quantities of each from the cans, place side-by-side on a component's surface, and mix by folding the base and curing agent into each other. It is offered in pre-packaged 1/1-volume-ratio plural cartridges, available in 2 x 25 ml or 2 x 300 ml sizes.
Kalenborn Abresist Corporation
www.abresist.com

More WaterWorld Current Issue Articles
More WaterWorld Archives Issue Articles