WEFTEC Preview
The 2014 Water Environment Federation Annual Technical Exhibition and Conference (WEFTEC) -- considered the largest annual water quality event in the world -- will take place Sept. 27-Oct. 1 at the New Orleans Ernest N. Morial Convention Center in New Orleans, La.
Sep 23rd, 2014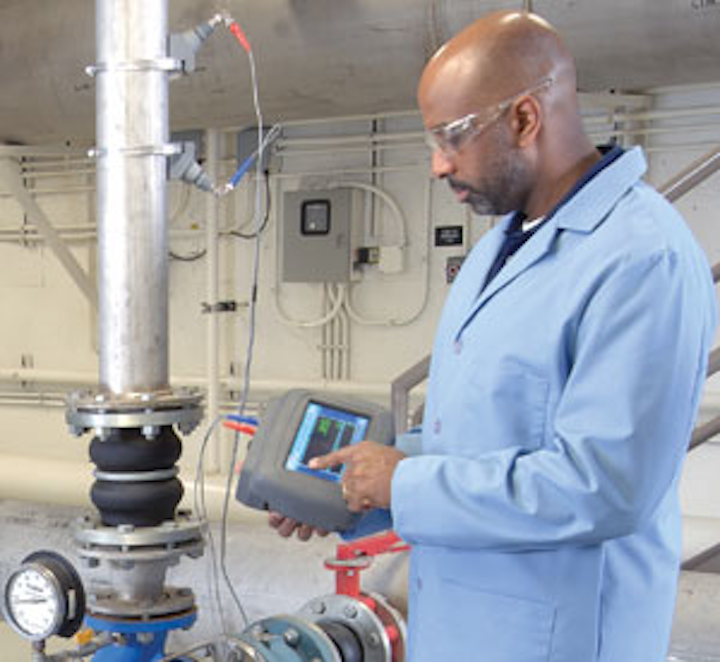 Sept. 27-Oct. 1 | New Orleans, La.
The 2014 Water Environment Federation Annual Technical Exhibition and Conference (WEFTEC) -- considered one of the largest annual water quality events in the world -- will take place Sept. 27-Oct. 1 at the New Orleans Ernest N. Morial Convention Center in New Orleans, La.
WEFTEC.14 is expected to attract more than 18,000 attendees and will feature 31 interactive workshops, 11 mobile sessions, eight local facility tours, and 145 technical sessions. The event will also feature more than 900 speakers presenting in both podium and poster formats, and nearly 1,000 companies will showcase their products across approximately 300,000 net square feet of exhibit space.
A wide range of workshops and technical sessions will provide participants an opportunity to learn and engage with others about specific topics relating to municipal and industrial applications, such as water and wastewater treatment, collection and distribution systems, laboratory practices, and water reuse and reclamation, along with oil and gas, food and beverage, mining and mineral processing, and power generation, to name a few.
Workshop topics include, for example, resource recovery, green infrastructure and stormwater management, taste and odor concerns, water quality trading, mapping and modeling, carbon removal and recovery, microbiology, collection systems basics, and more.
In addition, the technical sessions will cover research and innovation, industry issues and treatment technologies, future insights and global issues, and legislative and regulatory developments.
The exhibit floor will also showcase municipal and industrial services and technologies that encompass contract operations; safety equipment; treatment innovations; engineering and consulting; sampling and laboratory equipment; pumps, valves and motors; instrumentation, controls and automation; and more.
Here is a sneak peek at some of the products and services that will be on display at WEFTEC.14.
**************
Ultrasonic portable flow meter
Quickly monitor system performance with the Dynasonics® DXN portable clamp-on hybrid meter from Badger Meter. This powerful,
easy-to-use and highly-accurate meter allows users to obtain flow measurements virtually anywhere. Utilizing non-invasive ultrasonic technology for field verification and testing, the DXN helps to increase operational efficiency in the liquid process. Its portability makes it an ideal choice for measuring flows to verify sensor, pump and valve performance.
Badger Meter Inc.
www.badgermeter.com
Booth 6128
Ductile iron pipe corrosion protection
AA Thread's Polywrap is a cost-effective way to protect new installations of ductile iron pipe from exterior corrosion. The product is easy to install and requires little to no extra time to pull over the pipes. Further, it does not require any special training to use. Many versions are available to suit the environment it is being installed in and to meet the requirements of that region.
AA Thread Seal Tape Inc.
www.aathread.com
Booth 2012
Mapping platform
Esri's ArcGIS Platform enables users to create, organize and share geographic information and tools with anyone by using intelligent online maps and useful apps on desktops, the web, smartphones, and tablets. ArcGIS for Water Utilities is a pre-configured set of maps and apps designed to leverage geographic information to maintain comprehensive records, coordinate and plan projects and much more. It is open, scalable, interoperable, and complies with industry standards.
Esri
www.esri.com
Booth 3809
Cloth media filter
The new Aqua MegaDisk™ cloth media filter features 30% larger diameter disks than the original AquaDisk filter, and it is capable of treating up to 24 million gallons per day (MGD) in a single unit. This filter operates in 80% less space than sand filters with comparable hydraulic capacity. Further, the unit is an ideal solution for municipal tertiary treatment, recycle/reuse, phosphorus removal, stormwater, and deep-bed sand filter retrofits.
Aqua-Aerobic Systems Inc.
www.aqua-aerobic.com
Booth 7602
Composite access covers
Fibrelite's access covers are lightweight, durable and very strong. They are manufactured using high-technology Resin Transfer Moulding (RTM) production methods to create a highly-engineered, monolithic-composite product. This offers advanced strength-to-weight ratio, allowing for maximum load bearing strength and durability while remaining lightweight and easy to handle. Fibrelite's standard manhole covers also offer watertight solutions in a wide range of sizes and shapes.
Fibrelite Composites
www.fibrelite.com
Booth 7913
Mobile pumps
Selwood will be displaying a range of pumps with superb solids handling and environmentally friendly automatic self-priming. Selwood has been manufacturing, renting and selling mobile pumps for over 60 years, used by contractors around the world for trouble-free municipal water and wastewater applications.
Selwood Limited
www.selwood.co.uk
Booth 4263

Wastewater solutions
Managing operating and capital costs is among the top concerns in the wastewater industry. Baldor offers products and solutions to maximize energy efficiency and reduce operating costs. Motors, couplings variable frequency drives, gearboxes, and bearings can be packaged into one assembly, maximizing performance in harsh
environments.
Baldor Electric Company
www.baldor.com
Booth 2729
Bleach disinfection
Olin Chlor Alkali Products is a supplier of chlorine and sodium hypochlorite (bleach) for drinking water and wastewater disinfection. Olin makes delivered bleach reliable and cost-effective. Further, using trucks and hundreds of rail cars, the company can deliver bleach
coast-to-coast from 10 plants in the U.S. and Canada.
Olin Chlor Alkali Products
www.olinbleach.com Booth 3562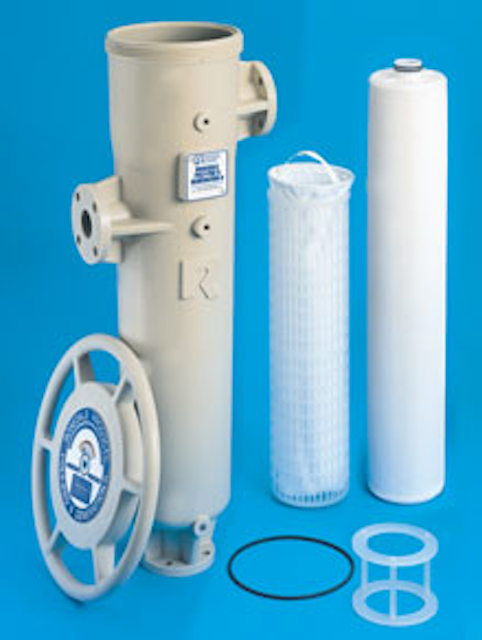 PVDF/Polypro bag housing
Ideal for use in pure, ultrapure and corrosive applications, Rosedale's Generation II filter housings incorporate a unique one-piece, seamless body with flows to 100 gallons per minute (GPM). It is rated to 100 psi at 150°F and offers excellent resistance to corrosion. An easy-to-remove cover and basket make bag change-out quick and clean.
Rosedale Products Inc.
www.rosedaleproducts.com
Booth 7703
In-line thickener
The In-Line Thickener from Prime Solution continuously and automatically increases sludge concentration for sludge and slurry to an exact solids level for further processing or disposal. Features and benefits include a small footprint, low purchase price, easy installation into existing piping, a contained airtight system, continuous and automatic operation, expandability, and minimal power requirements.
Prime Solution Inc.
www.psirotary.com
Booth 1917
AC drive
Yaskawa America's MV1000 is a medium-voltage AC drive that offers ease of application and installation. With Yaskawa's Smart Harmonics™ Technology input isolation transformer and 9-level output (17-level, line-to-line), the biggest traditional issues with the application of MV drives are eliminated for municipal wastewater applications. Available in 2.4 kV and 4.16 kV models through 5,000 HP, this compact, all-in-one package is ideal for new or retrofit installations.
Yaskawa America Inc.
www.yaskawa.com
Booth 1657

Industrial water treatment solutions
With 215+ installations and 30+ years of experience, ADI Systems meets industrial wastewater treatment needs. The company offers an extensive portfolio of proven aerobic and anaerobic treatment technologies, as well as waste-to-energy solutions. Design/build project delivery and technology packages are available for valued customers around the world.
ADI Systems Inc.
www.adisystems.com
Booth 2638
Pump disconnect system
Zoeller Engineered Products has announced the new Z-Rail Pump Disconnect System for threaded discharge submersible pumps. Engineered to outperform systems in high-head and/or high-pressure applications, the technology is constructed of durable ductile iron. Z-Rail will support a 300-lb. pump, and its epoxy powder coat finish will withstand harsh environments. With a grooved, machined fit for superior sealing properties, the Z-Rail is an ideal pump disconnect system for pressure sewer applications.
Zoeller Engineered Products
www.zoellerengprod.com
Booth 4011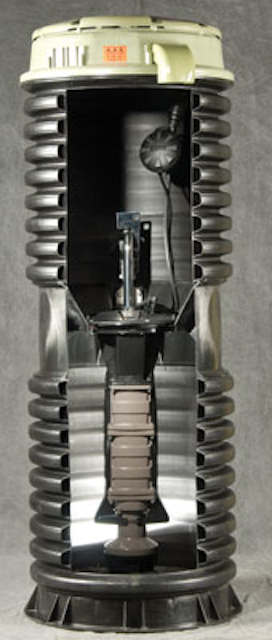 Grinder pump
The E/One EXTREME series from Environment One Corporation is an ideal solution for rocky, hilly, wet, and flat terrain. The technology provides a 10-year average mean time between service calls; no preventive maintenance; and a comprehensive sales and service network. E/One EXTREME features 185 TDH capabilities, superior corrosion protection and expanded communications capabilities.
Environment One Corporation
www.eone.com
Booth 5117
Portable water sampler
Campbell Scientific's PVS5120 portable water sampler uses the new vacuum sampler controller, the VSC100. The new controller allows a Modbus RTU master, SDI-12 master device, simple pulse input, or Campbell Scientific PakBus datalogger to control the water sampler. Also, the procedure for first sampler deployment will be more automated. For a typical deployment, simply push the auto-deployment button, and the calculation and programming will be completed.
Campbell Scientific
www.campbellsci.com
Booth 1844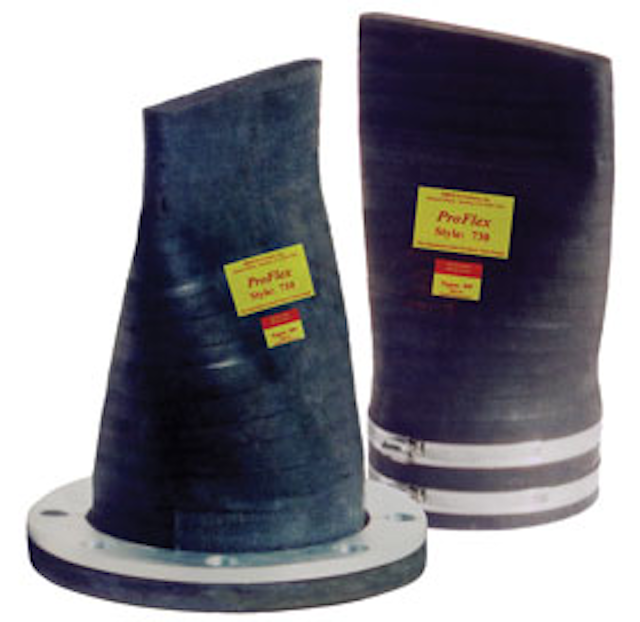 Rubber duckbill check valve
Proco Product's ProFlex® rubber duckbill check valve demands and supplies silence. The valve is offered in a large range of dimensions as well as in a flanged or slip-on-cuffed design. Further, it does not allow valve slam or water hammer, has very low head loss, offers excellent backflow prevention, and is barnacle-, algae- and fungicide-resistant.
Proco Products Inc.
www.procoproducts.com
Booth 4000
Pressure transmitter
The Valueline from Keller America is a high-accuracy, general-purpose pressure transmitter ideal for municipal water storage and distribution and industrial processes. It provides outstanding total error band (TEB) accuracy, custom pressure ranges, output signals, and electrical connections for easy integration into new and existing systems.
Keller America Inc.
www.kelleramerica.com
Booth 7109
Wastewater treatment plant
Smith & Loveless offers the TITAN MBR QUBE™, a complete packaged wastewater treatment plant producing high-quality effluent, including for water reuse. Constructed as a standard 40-ft-high cube shipping container, it is delivered directly to the job site, requiring minimal assembly and featuring a compact design for process flexibility and minimal footprints. It is available in three standard models based on capacity requirements from 2,500 to 20,000 gallons per day (9.5 to 75 m3/day).
Smith & Loveless Inc.
www.smithandloveless.com
Booth 3135
Electromagnetic flowmeter
KROHNE's TIDALFLUX 2300 F is an electromagnetic flowmeter featuring an integrated, non-contact capacitive level measurement for flow measurement in partially-filled pipes. The flowmeter is designed to provide reliable flow measurement for flow streams that fill between 10 and 100% of the pipe diameter. The accuracy in partially-filled pipes is <1% of full scale, while the accuracy in full pipes is <1% of the flow rate.
KROHNE Inc.
us.krohne.com
Booth 4651
Solar, electric and air-powered mixers
Medora's SolarBee® and GridBee® mixers solve water quality challenges in wastewater and potable water. In wastewater, SolarBee SB Series solar mixers and GridBee GF Series electric mixers can provide thorough mixing, energy savings, process improvement, and odor control.
Medora Corporation
www.medoraco.com
Booth 6909
Locking manhole cover
The FiberShield from McGard is constructed of a durable, fiber-reinforced polymer material with multiple security points. The FiberShield is lightweight and easy to handle and transport. Further, it eliminates the lifting and dropping injuries caused by heavy, cast-iron manhole covers. Weighing 80% less than cast iron, the FiberShield exceeds an H20 traffic rating.
McGard LLC
www.manholelocks.com
Booth 1250
Valves
Onyx's isolator rings measure pressure on slurries, wastewater and sludge and never clog or plug. The company's pinch valves are ideal for similar on-off and throttling applications and feature drop-tight shutoff and stable flow control. Onyx's duckbill check valves combine high capacity with low head loss and are ideal for stormwater discharge and tank-mixing. Its double-door check valves provide high capacity with a non-metallic rubber hinge that's immune to corrosion and fouling.
Onyx Valve Company
www.onyxvalve.com
Booth 5207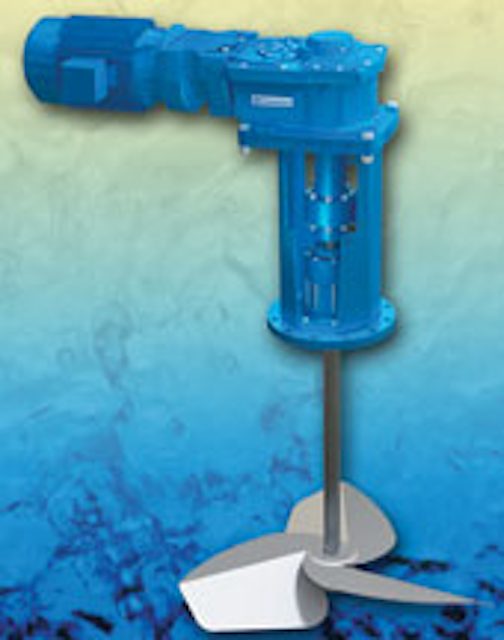 Agitator, impeller
Chemineer's Model 20 HT/GT Agitators incorporate a modular design package that reduces the number of replacement parts needed to be carried in inventory by the customer. Further, the company's RL-3 Ragless Impeller is designed to prevent fibrous material buildup on the rotating impeller of the agitator.
Chemineer
www.chemineer.com
Booth 3118
Spill containment scale
Scaletron Industries' Model 4042 ECO™ spill containment scale offers high-end functionality. With similar features as the Scaletron Model 4042 scale, the new ECO scale meets a broad range of governmental, industrial and municipal applications, and complies with secondary spill containment requirements as specified by EPA, OSHA and other regulatory agencies. The scale weighs containers up to 1,500 lbs. Accuracy is to either 0.5% or 0.1%-0.25% of full capacity.
Scaletron Industries Ltd.
www.scaletronscales.com
Booth 2845
Prestressed concrete tanks
DN Tanks specializes in the design and construction of AWWA D110 prestressed concrete tanks used for potable water, wastewater, chilled water, and other liquids. DN Tanks offers expanded construction capacity, technical expertise and proficiency in multiple types of proven tank designs to provide customized liquid storage solutions. The tanks are designed to meet varying project requirements with the ability to withstand seismic activity, extreme climates and severe site conditions.
DN Tanks
www.dntanks.com
Booth 2228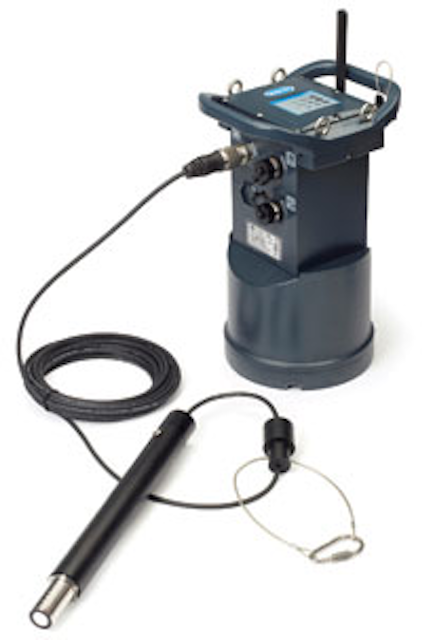 Wireless network extension
Painting the full flow picture of an entire wastewater collection system can be a costly endeavor, especially when there are hundreds of manholes and miles of pipe. With Hach's level-alarming solution, users can monitor and capture data from more sites in their network without exceeding their budget. Just pair a Hach US9001B Ultrasonic Sensor with a wireless Hach FL900 Series Flow Logger, and there is an intelligent, economical solution.
Hach Company Flow Products & Services
www.hachflow.com
Booth 6729
Backwash filter
Lenzing Technik's backwash filter OptiFil® is a fully-automatic, continuous system that has already been installed in a variety of applications in the field of low-viscosity media filtration. The patented OptiFil backwash principle allows filtration of not only finer but more efficient (with fewer losses) media. Likewise, its versatility reliability and low-maintenance efforts are valued by operators in diverse industries.
Lenzing Technik
www.lenzing.com/technik
Booth 8611
Utility management software
Sedaru® from IDModeling transforms static utility business data into living, breathing, real-time analytics for utility intelligence. Apply a smart water/wastewater network as a mission-critical operating platform with findable, shareable and actionable insights across a utility network.
IDModeling Inc.
www.idmodeling.com
Booth 8147
Flow control solutions
Red Valve Company and Tideflex® Technologies offer quality valve products and engineering services for demanding flow control in the toughest municipal and industrial applications. The company's advanced elastomer technology is engineered into every pinch valve, slurry knife gate valve, pressure sensor, expansion joint, and Tideflex® Check Valve.
Red Valve Company Inc.
www.redvalve.com
Booth 2519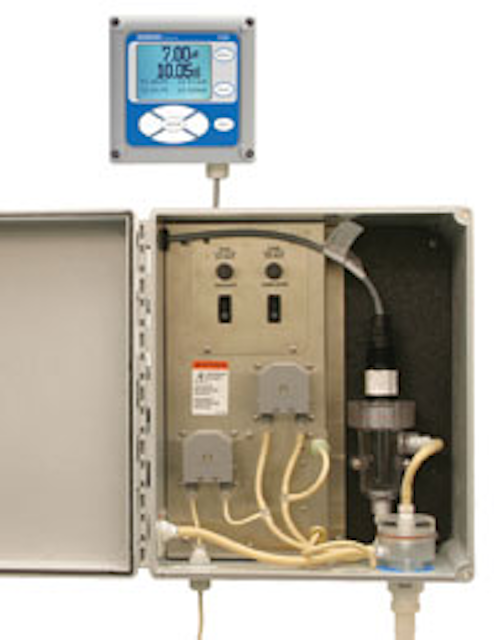 Total chlorine analyzer
Emerson's Rosemount Analytical TCL measures total chlorine in water and consists of a sample conditioning unit, sensor and 1056 analyzer. The conditioning system continuously injects a potassium iodide-vinegar reagent into the sample that reacts with total oxidants, forming an equivalent amount of iodine. The sensor measures the iodine, and the analyzer displays the total oxidant concentration as ppm Cl2. The TCL uses less than six gallons of sample per day.
Emerson Process Management
www.emersonprocess.com
Booth 1829
Self-cleaning water filter
Forsta Filters' 180C (clamp-style) filter boasts a more compact and lightweight alternative to the standard 180 series. The 180C series offers a first-stage coarse protection screen and a second-stage fine screen. It accommodates simple online installation, with the water-saving advantage of using only a single 1" flush valve.
Forsta Filters Inc.
www.forstafilters.com
Booth 8103
Thermoplastic pumps, systems
Vanton's line of thermoplastic pumps and systems are engineered to handle chemicals and waste streams over broad pH range. The company focuses on applications that deal with handling, dosing, collecting, and/or transferring corrosive or abrasive fluids. Vanton representatives will be on-hand at WEFTEC to answer visitors' questions and provide product literature and technical data.
Vanton Pump and Equipment Corp.
www.vanton.com
Booth 2645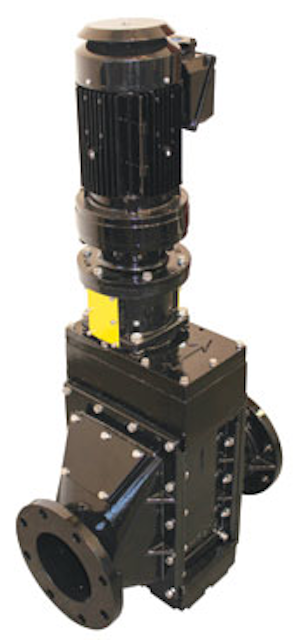 Grinder
Featuring competitive new elements such as a durable ductile iron frame and an improved high-pressure pipe flanged seal, the newly-optimized SEWER CHEWER® grinder from Grundfos is key to efficient and reliable solids conditioning in wastewater and sludge-handling systems. As part of Grundfos's Ready-to-Ship program, SEWER CHEWER grinders are available for rapid delivery, providing a quick solution for raw sewage, wastewater, sludge, and processing waste.
Grundfos
www.grundfos.us
Booth 3429
Grinder
Buildup from flushable wipes and other debris is a challenge. Fight back against ragging and eliminate problems before they enter the pump station with the powerful Channel Monster® grinder from JWC Environmental. The company has over 35,000 installations to date and over 200 grinders designed to fit a variety of needs.
JWC Environmental
www.jwce.com
Booth 4729
Water, wastewater treatment
Meurer Research engineers and manufactures advanced water and wastewater treatment products to solve complex issues facing treatment facilities worldwide. Founded in 1978, MRI has over 50 patents and more than 5,000 installations. The company designs, manufactures and provides after-market customer service for a range of products, including Inclined Plate Settlers, Hoseless Cable-Vac™, Ultra-Scraper Sludge Collectors, Flocculation Systems, Package Plants, and MeurerMBR®.
Meurer Research Inc.
www.meurerresearch.com
Booth 7437
Smart controller platform
Schneider Electric's SCADAPack 535E, the world's first rPAC, is designed to bridge the gap between traditional RTU technologies and today's advanced PACs. The system is 20x faster for use on remote process and machine applications such as small packaged plants for CSO, arsenic removal, septage receiving, and well membrane treatment, in addition to pumping, tower monitoring and canal control. There are also four serial ports, three Ethernet ports and robust cyber-security features.
Schneider Electric
www.schneider-electric.com
Booth 5247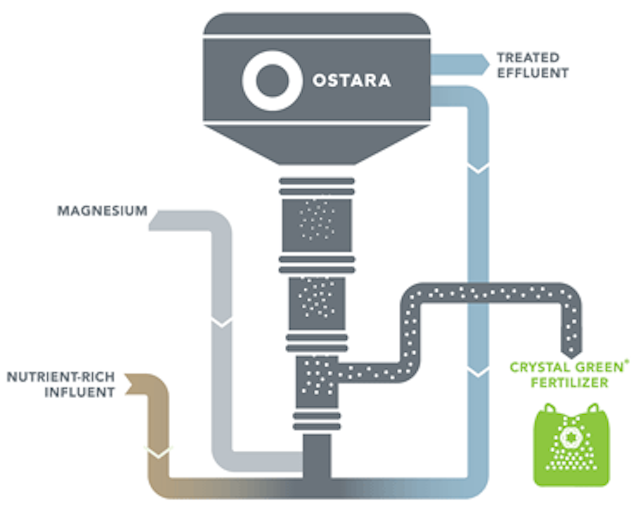 Nutrient reduction technology
Ostara helps wastewater treatment plants cost-effectively reduce the impact of nutrients on their operations and on the communities they serve. By removing up to 90% of the phosphorus and 25% of the ammonia load from sludge dewatering liquid to create eco-friendly Crystal Green® fertilizer, the company's Pearl® process eliminates struvite formation, helps meet nutrient discharge limits and creates a new source of revenue for municipalities.
Ostara Nutrient Recovery Technologies
www.ostara.com
Booth 2811
Protective lining
Sauereisen SewerGard® 210X exhibits compressive strength exceeding 15,000 psi and elongation of 12.9%. Wherever extreme corrosive conditions exist, 210X can be used as a stand-alone lining with high-build capabilities. Manholes subjected to heavy stress represent a typical area where the 210X would be used. The technology is also intended for preserving the concrete and steel infrastructure of wastewater treatment plants.
Sauereisen Inc.
www.sauereisen.com
Booth 2334
Ozone generators
The Primozone® GM1, GM2 and GM3 are the first truly robust ozone generators designed for smaller ozone needs. Based on the Primozone ozone technology used in the larger units, these compact units are downsized without compromising quality, efficiency or safety. With its very small footprint, modular design and high ozone concentration it fits, for example, the generators are ideal for wastewater odor control at lift stations.
Primozone
www.primozone.com
Booth 7304
Remote monitoring system
The Pump Watch remote monitoring system from PRIMEX allows for the management of lift stations and wastewater collection systems remotely via a secure cellular network from a web browser on a PC, tablet or smartphone. The system visually tracks system performance through data logging and critical information trending. Alarms are monitored and service personnel are notified via email or text messaging. Users can monitor data trending 24/7 from the website.
PRIMEX
www.primexcontrols.com
Booth 2739
Turbocompressor
Sulzer's Turbocompressor Type ABS HST 20 offers built-in inlet and outlet air silencers, making it quiet and high-speed, with a noise level rated at less than 70 dBA. It offers wire-to-air efficiency in a direct-drive turbocompressor, made possible from the use of an advanced permanent magnet motor coupled with digitally-controlled magnetic bearings. Included is an intuitive human-machine interface (HMI) and advanced magnetic bearings and bearing control coupled with a self-diagnostic control system.
Sulzer Pumps Solutions, Inc.
www.sulzer.com
Booth 3515
Laboratory products
YSI's TruLab is designed for routine pH and ORP with new IoLine sensors, and its MultiLab is designed for analysis of pH, ORP, BOD, and conductivity with digital sensors. New handhelds include the Pro Series line featuring the most recent release, the Pro1020, as well as the new optical dissolved oxygen handheld, the EcoSense ODO200. In addition, the company offers its IQ SensorNet process monitoring system, with its many updated sensors, including the P 700 orthophosphate analyzer.
YSI, a Xylem brand
www.ysi.com
Booth 4329
Dry chemical feeder
The VF-100 Dry Chemical Feeder from Eagle Microsystems is a versatile solution to chemical feed requirements. Stainless steel construction and direct drive enable the feeder to be durable in the harshest of environments. There are no belts or gears to maintain, and there is no lubrication required. It is available with solution tanks, wetting cones, extension hoppers, dust collectors, and custom controls. The feeder is fully customizable and comes with a two-year warranty.
Eagle Microsystems Inc.
www.eaglemicrosystems.com
Booth 3713
Floor access doors
Bilco Type J-AL floor access doors are constructed with a channel frame for use in exterior applications or in situations where there is concern of water or other liquids entering the access opening. They feature aluminum construction, type 316 stainless steel hardware and engineered lift assistance for easy one-hand operation.
The Bilco Company
www.bilco.com
Booth 3639
Thermoplastic piping systems
IPEX will present its NEW 10" and 12" Blue Brute Fittings, Vortex Flow Insert, Tempest Inlet Control Devices, and Industrial Process Piping Systems at WEFTEC. The company will be conducting product demonstrations, and its representatives will be there to answer questions. IPEX is a supplier of thermoplastic piping systems, providing the North American marketplace with a large and comprehensive range of products available worldwide.
IPEX
www.ipexamerica.com
Booth 2651
Gas shutoff system
Halogen's Hexacon Model III control system has a new OLED information display, and an optional programmable relay interface module provides clear, timely, informational outputs. The new optional second battery allows quicker and more reliable valve closures. The microprocessor system measures and applies a torque of 30 ft-lbs or 50 ft-lbs for test or emergency valve closures for cylinder and ton container valves. With a SCADA option, it provides actuator closure status and error codes.
Halogen Valve Systems Inc.
www.halogenvalve.com
Booth 4817
Volumetric feeder scale
The Volumetric Feeder Scale™ from Force Flow allows operators to accurately track the exact amount of chemical fed and the amount remaining in their volumetric feeder. The heavy-duty platform is pre-drilled to accept and secure their specific feeder stand, and its 80-mm-thick Tuf-Coat® Environmental Armor provides maximum durability in harsh chemical environments. The scale is available with the advanced multi-channel Wizard 4000® digital indicator or any other Force Flow display.
Force Flow
www.forceflow.com
Booth 4819
Static mixers
Statiflo products include pipeline and channel mixers, as well as a new concept in static mixing enabling that entails, for the first time, efficient mixing of chemicals into raw sewage or sludge without the risk of blocking. Further, Statiflo Gas Dispersion Systems are used for reliable, high-efficiency dispersion of ozone for water treatment. Statiflo has supplied locally-produced mixers for pH control, coagulation, blending, and general chemical dosing.
Statiflo International
www.statiflo.com
Booth 7808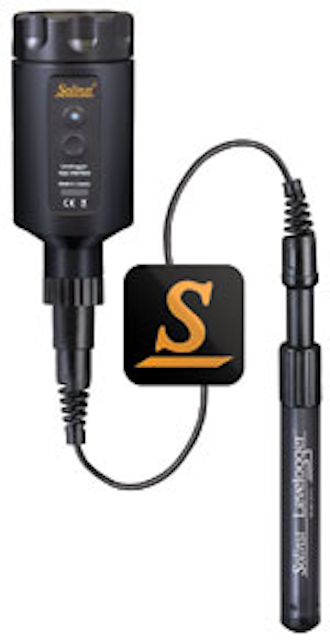 Levelogger device app
The new Solinst levelogger app and app interface provide an efficient and convenient way to communicate with levelogger water level dataloggers in the field, using a smart device. The interface simply threads onto the end of a levelogger's direct read cable and is wirelessly paired with a smart device running the app. Users can start and stop leveloggers, download logged data, view and save real-time data, create and apply saved settings, and program leveloggers.
Solinst Canada Ltd.
www.solinst.com Booth 4805

Wastewater treatment plant
The Headworks Integrated Treatment - Compact System is a modular, compact, wastewater treatment plant that uses proven moving bed biofilm reactor (MBBR) technology to treat wastewater -- with discharge effluents meeting stringent BNR discharge requirements.
Headworks International Inc.
www.headworksinternational.com
Booth 3839
Mechanical flow meter
The Seametrics MJN-Series is an NSF-certified mechanical flowmeter that complies with new federal lead-free regulation. The series is an economical solution for potable water, cooling tower chemical control, industrial water treatment, and deduct metering. These mechanical flow meters use the multi-jet principle, which has been an internationally-accepted standard for many years.
Seametrics
www.seametrics.com
Booth 7937
Electromagnetic flowmeter
The Model 106-SPI-MV from Singer Valve is a single-point insertion electromagnetic flowmeter installed and calibrated in conjunction with a Singer valve to provide an accurate flow rate. It is available for valve sizes from 4" to 36". With no moving parts and a single-piece design, the sensor contains nothing to wear or break and is generally immune to clogging by sand, grit or debris.
Singer Valve Inc.
www.singervalve.com
Booth 7313
Chlorine monitors
Analytical Technology has developed a new monitoring series, the Q46, which is the upgraded version of the Q45 series. The upgrade includes Modbus, Profibus DP, or Ethernet and also offers a third 4-20 mA output option. The Q46H/62 chlorine monitors with the 4-20 mA output and automatic pH compensation enables monitoring of chlorine, pH and temperature. It also includes a universal 90-260 VAC or 12-24 VDC power supply; PID control function assignable to one analog output; and three SPDT relays.
Analytical Technology Inc.
www.analyticaltechnology.com
Booth 7729
Wireless cable replacement
The new Radioline wireless platform from Phoenix Contact offers wire replacement for simple I/O and serial communication. With software-free radio setup, Radioline offers a cost-effective wireless solution where it is too costly or impossible to run a wire. It features simple I/O-to-I/O communication without the need for programming software. Radioline is available in 2.4 GHz and 900 MHz, allowing for applications to span distances from a couple hundred feet to multiple miles.
Phoenix Contact
www.phoenixcontact.com
Booth 7003
Water solutions
Dedicated to the world's most important resource, American Water Works Association (AWWA) provides advanced water knowledge, management and informed public policy. AWWA, in collaboration with its members, provides solutions to improve public health, protect the environment, strengthen the economy, and enhance our quality of life.
American Water Works Association
www.awwa.org
Booth 3953
Valve actuators
Rotork offers electric, low- and high-pressure pneumatic, hydraulic, electro-hydraulic, and gas-over-oil valve actuators that meet requirements for flow control, chemical feed and damper applications, including on-off emergency shutdown, modulating and control-
valve duties. Rotork's third generation IQ range of electric valve actuators includes a large, wide-angle local display that provides real-time asset management data, as well as a secure Bluetooth® hand-setting tool for convenient setup, configuration and commissioning.
Rotork Controls Inc.
www.rotork.com
Booth 1613
Corrosion- and chemical-resistant storage tanks
Assmann Corporation has a full line of corrosion and chemical-resistant tanks and containers. Constructed from virgin high-density crosslink, or FDA-compliant linear polyethylene, the tanks and containers are used to store and transport corrosive and hazardous materials. They provide low-temperature impact resistance, are ultraviolet (UV) stabilized and come in wide range of capacities and colors.
Assmann Corporation of America
www.assmann-usa.com
Booth 3555
Monitoring systems
Telog's wireless CSO monitoring system helps operators report events and duration for each CSO site when they occur, without time-consuming, hazardous site visits. Data is internally recorded and wirelessly transferred to their host computer on a schedule or in response to alarms.
Telog Instruments
www.telog.com
Booth 2613
Diaphragm metering pumps
Neptune Chemical's Series 7000 mechanically-actuated diaphragm metering pumps are designed for water and wastewater applications. Their mechanical design eliminates the use of contour plates on the liquid side of the diaphragm, while the simple, straight-through valve and head design allows for improved flow characteristics. The Series 7000 is self-priming, provides superior performance and has a maximum capacity range up to 300 gph (1,135 L/h) at 150 psi.
Neptune Chemical Pump Company
www.neptune1.com
Booth 1529
Cover, lining solutions
With over 30 years of experience delivering solutions for demanding water and wastewater applications, Geomembrane Technologies has grown to become a specialist in cover and liner systems. The company's team has completed 250+ installations in the industrial, municipal and agricultural sectors to help customers control odors and algae growth, as well as collect valuable biogas.
Geomembrane Technologies Inc.
www.gticovers.com
Booth 2639
Online analysis system
Bürkert's Online Analysis System Type 8905 is designed for waterworks, continuous monitoring of treated and untreated waters, and storage of the most important measurement parameters before water enters the supply network. It is geared toward plant construction companies and water treatment plant operators. In the event of disturbances and/or exceedances, the system responds by interfering with the treatment process or by sending messages to the personnel in charge.
Bürkert Fluid Control Systems
www.burkert-usa.com
Booth 4705
Training, certification programs
The Society for Protective Coatings (SSPC) has over 40 training and certification programs for coatings professionals, more than 100 performance-based standards, and 10 corporate certification programs for contractors and companies. SSPC is a resource for information, training and certification for the protection and preservation of steel, concrete and other surfaces.
The Society for Protective Coatings
www.sspc.org
Booth 2153
Magnetite ballasted treatment
Evoqua's BioMag® and CoMag® Systems infuse magnetite into conventional biological and chemical floc, making it heavier and improving settling. Applied to activated sludge systems, BioMag increases capacity up to 300% without new tankage, provides control over secondary sludge blanket depth, and enables nutrient removal below 3 mg/L TN and 0.2 mg/L TP.
Evoqua Water Technologies
www.evoqua.com
Booth 5129

Pressure isolation ring
Keep pressure instruments safe from clogging by installing an Ashcroft® Type 80 or 81 isolation ring in the pipeline. With the process medium contacting only the flexible inside wall of the isolator, the pressure is translated through a liquid fill to the sensing device atop the ring. To dampen the effects of pulsation, a needle valve can be incorporated, while the exclusive Safe Quick Release™ (SQR) option will permit the harmless, leak-free removal of the instrument for calibration or maintenance.
Ashcroft Inc.
www.ashcroft.com
Booth 4813
Chemical feed accessories
Flomotion Systems' Sigmamotor back pressure valves prevent siphoning and varying rates of dosage from fluctuating downstream pressure. Calibration cylinders enhance chemical feed systems, providing verification of pump flow rates. Gauge guards isolate and protect gauges from harsh process fluids and are compatible with pressures to 150 psi. Pulsation dampeners protect chemical feed systems from harmful effects of pulsating flows. Injection quills ensure dispersion of chemicals away from the pipe wall.
Flomotion Systems Inc.
www.flomotionsystems.com
Booth 2510
Electro-pneumatic positioner
Plast-O-Matic Valves' Series EPP (Electro-Pneumatic Positioner) enables a 4-20 mA control signal to precisely control the position of the actuator. It features a rugged NEMA 4X/IP66 housing for harsh environments. Used in combination with Series ZC characterized and custom profile ball designs, the Electro-Pneumatic Positioner will provide highly-accurate flow rates with virtually no hysteresis, as well as a linearity error of less than 1%.
Plast-O-Matic Valves Inc.
www.plastomatic.com
Booth 3556
Cationic powered flocculants
BASF's Water Solutions business includes products to clarify the raw water used for drinking water production, wastewater stream treatment and sludge reduction, as well as industrial process water treatment and cooling tower and boiler protection. BASF is also a provider of inge ultrafiltration technology, a membrane process used to treat process water, wastewater and seawater. BASF's Zetag®ULTRA series of cationic powdered flocculants provide dewatering at lower dosages and lower operating costs.
BASF – The Chemical Company
www.basf.com
Booth 5551
Universal parts
Moyno is announcing a newly-expanded distribution network, which makes its range of Universal Parts for progressing cavity pumps more easily available throughout the U.S. The range combines quality, reliability and rapid availability, and contains everything customers need to keep their plants and processes operating at peak efficiency. The parts are engineered and manufactured to the most exacting standards and thoroughly tested to ensure outstanding performance.
Moyno
www.moyno.com
Booth 3115
Protective coatings
PPG Protective & Marine Coatings (PMC) provides coatings and coating systems for new and existing water and wastewater facilities. Further, PMC provides a value-added coatings approach to wastewater management systems that provides resistance to the elements, corrosion protection and aesthetic appeal.
PPG Protective & Marine Coatings
www.ppgpmc.com/northamerica
Booth 7345
Gas chlorinator
The REGAL™ Gas Chlorinator from Chlorinators Incorporated is used to disinfect and purify municipal drinking water and wastewater, industrial process wastewater and more. It provides a consistent chlorine residual, eliminating guesswork. The all-
vacuum system virtually eliminates the possibility of gas leaks. REGAL is directly mounted with a strong yoke, and its tough diaphragm is made with corrosion-resistant materials. The Chlorinator is assembled by hand, tested by skilled technicians and easy to maintain and clean.
Chlorinators Incorporated
www.regalchlorinators.com
Booth 8845
Fixed-film system
Brentwood's AccuFAS submerged fixed-film system adds a fixed-growth surface for biomass to provide enhanced biological treatment and increase capacity for municipal and industrial wastewater. Composed of Brentwood's structured-
sheet, fixed-film media, AccuFAS has been designed to optimize airflow and mixing while maximizing contact between the waste stream and biomass.
Brentwood Industries
www.brentwoodindustries.com
Booth 3717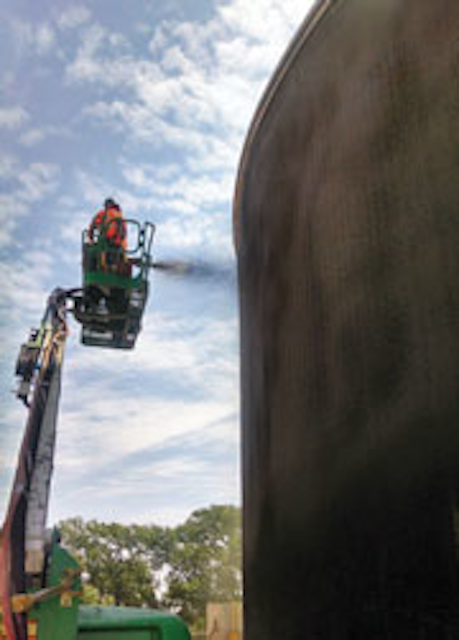 Prestressed concrete tanks
Caldwell Tanks delivers complete design and construction of wire-wrapped prestressed concrete tanks with its team of engineering and construction professionals. These tanks are durable and require minimal maintenance over the structure's life, greatly reducing the maintenance cost and out-of-service time. Caldwell's tanks are designed and constructed to meet AWWA D110 and ACI 372 and are customized to individual project requirements.
Caldwell Tanks
www.caldwelltanks.com
Booth 7207
Data management software
AllMax operations and maintenance data management software provides a database solution to help manage assets, reduce costs and downtime, generate and schedule work orders, and track status and labor. Stored views, graphs and reports help minimize the time from collection to output.
AllMax Software Inc.
www.allmaxsoftware.com
Booth 2807

Electromagnetic flowmeter
Endress+Hauser has introduced the Proline Promag L 400 electromagnetic flowmeter for water and wastewater applications. It has an Ethernet port and built-in webserver for easy data access and configuration via any web browser. The industry-optimized L sensor has drinking water approvals and corrosion protection that allows it to be installed underwater, underground and in saline environments.
Endress+Hauser
www.us-endress.com
Booth 4257
Mag flowmeter
The new FPI-X™ Dual Sensor Electromagnetic Flow Meter from McCrometer delivers accurate and repeatable measurement under extreme flow conditions. The meter's reliably achieves ±0.5% accuracy under the most severe swirling flows. Designed for use in close proximity to cascading or multiple pump arrays, it delivers the advantage of accurate measurement where no flow meter previously could serve.
McCrometer Inc.
www.mccrometer.com
Booth 6737
Metering pumps
EWN-Y series metering pumps from Iwaki America feature the EFS sensor with a new expanded flow range. EFS technology continuously relays the true flow rate to EWN-Y's digital controller. It features a simple set-point control with a display of actual dosing flow rate; sensor availability in two sizes, enabling flow control; a 360-strokes-per-minute pump output for high resolution chemical feed with greater adjustment accuracy; and a 4-20 mA control output proportional to actual pump flow rate.
Iwaki America and Walchem
www.iwakiamerica.com
Booth 1031
Storage tanks
The Sentinel series of bolted steel tanks from Superior Tank is designed for storage of potable water and water used for fire protection. The innovative design of the Sentinel provides specially-designed appurtenances for fire protection application.
Superior Tank Co. Inc.
www.superiortank.com
Booth 2542
Lift stations
Gorman-Rupp has expanded its line of municipal lift stations to include the ReliaSource 8x9 Above-Ground Lift Station. This 100% engineered and manufactured wastewater lift station offers the quality and dependability of the ReliaSource brand but with a smaller footprint and budget-friendly price. ReliaSource lift stations include 100% genuine Gorman-Rupp pumps, controls and enclosures.
Gorman-Rupp Company
www.GRpumps.com
Booth 2528
TOC analyzers
GE Analytical Instruments' state-of-the-art total organic carbon (TOC) analyzers offer simplicity, convenience and analytical performance. The new Sievers M5310 C Analyzer is engineered to optimize raw and finished water monitoring processes. Available in lab, portable and online models, the M5310 C is designed to meet rigorous regulatory requirements, including EPA's Disinfection Byproducts (DBP) Rule. Technology and feature enhancements yield twice-as-fast, two-minute readings and dual-stream efficiency.
GE Analytical Instruments
www.geinstruments.com
Booths 7129, 7137
Cured-in-place pipe renewal
Inliner Technologies provides solutions for deteriorating pipes and culverts ranging in diameter from 4" to 120". Inliner's certified installers are contracted by municipalities and industrial companies to renew storm, waste and process sewer piping. The company has installed over 18 million feet of pipelining in the U.S. and Canada.
Inliner Technologies
www.inliner.com
Booth 2551
Grit classifier
Kusters Water has announced the new ProTechtor series for headworks equipment. Kusters Water Grit Classifiers utilize carefully-sized settling hoppers to provide accurate surface settling rates. The hopper is attached to a discharge screw assembly to remove the settled and washed grit. All ProTechtor series products are manufactured to the highest quality standards at Kusters Zima's factory in Spartanburg, S.C. (ISO 2001:9008 certified) and include a three-year factory warranty.
Kusters Water
www.kusterswater.com
Booth 6136