Resource Spotlight
Collection of reading materials for the municipal drinking water and wastewater markets.
Dec 19th, 2014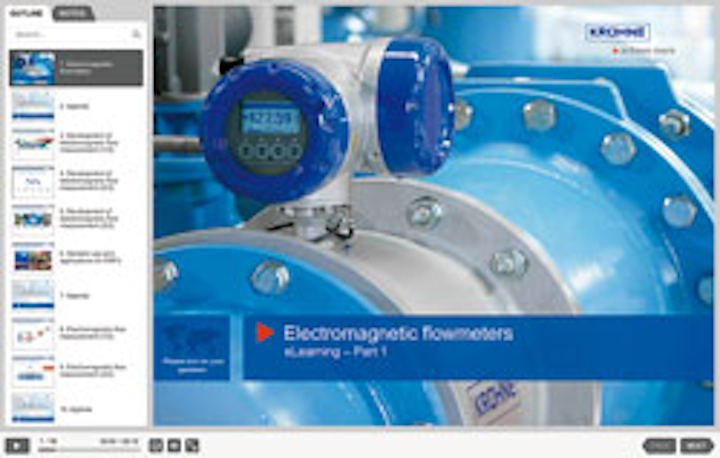 Online learning course
KROHNE offers an online eLearning course, "Electromagnetic Flowmeters," on its learning platform, KROHNE Academy. Participants will find a broad range of topics related to this flow measuring principle in three modules. The first covers the history and general areas of the application, measuring principle and construction of an electromagnetic flowmeter. The second comprises the material selection and special types of electromagnetic flowmeters, sizing and measuring accuracy, and their calibration. The third covers installation and grounding, limitations and advantages, and industries and applications in which they can be used.
KROHNE Inc.
www.us.krohne.com
---
Online store
Chemineer's COMPASS, an online store offering Kenics static mixers, helps customers quickly and easily purchase the proper static mixer for their specific application. Benefits include a self-managed, 24/7 order entry and payment efficiency to speed the ordering process; accuracy in proper product selection; and rapid shipment of the selected static mixer to optimize process uptime. The online configurator allows customers to input the pipe diameter, flow rate and viscosity for the application. Specifications are validated, the static mixer model is selected and the model number is displayed, eliminating guesswork or the need for additional assistance.
Chemineer
www.chemineer.com
---
New website
Meissner's Green Docs have been updated and expanded on www.meissner.com/greendocs.
The launch of Green Docs posted previously-printed product inserts to a new section of the website for 24-hour availability. This update encompasses Meissner's entire portfolio of filter media, including its newest addition, the ALpHA® G filter capsule. Customer cooperation to access and download these e-documents has helped realize the benefit of saving over one acre of forested land, annually. Green Docs provides information and guidance on product specifications, available filter configurations, effective filtration areas, filter integrity testing, and proper product installation.
Meissner Filtration Products
www.meissner.com/greendocs
---
New brochure
Thomas & Betts' (T&B) brochure "Electrical Solutions for Water and Wastewater Treatment Facilities" outlines the company's product solutions for challenges typically encountered in water and wastewater treatment plants. The brochure is organized around product groupings that provide solutions to specific challenges. It also indicates which T&B product lines are designed to address each of these issues, as well as the services and training T&B offers to support many of these lines. The brochure provides product groupings that respond to demands for corrosion resistance; power quality, efficiency and reliability; and continuous operation and sustainability.
Thomas & Betts Corporation
www.tnb.com
---
Green infrastructure guide
The publication "Green Infrastructure Guide for Water Management: Ecosystem-based management approaches for water-related infrastructure projects" is now available for download. The aim of the guide is to raise awareness of the benefits of green infrastructure (GI) solutions for water resources management. It takes a pragmatic approach to water management and shows that GI can provide significant water management benefits and co-benefits, and can also support benefits from existing grey water infrastructure through a mutually complimentary mix of green and gray solutions.
UNEP-DHI Centre for Water and Environment
www.unepdhi.org
---
Product catalog
Pneumatrol has launched a new product catalog that provides a comprehensive overview of the company and its valve and solenoid ranges. The catalog offers extensive technical information on the company's products and provides useful technical reference including hazardous area zone classifications and product marking explanation. To help users choose the desired product, the user-friendly catalog features a color-coded part number section that is easy for users to follow. The 112-page publication highlights Pneumatrol's capability to offer a complete solution to its customers, including product design, project consultation, technical support, and distribution of products.
Pneumatrol Limited
www.pneumatrol.com
---
New website
XP Solutions has announced the release of its new global website. With office sites in the United Kingdom, United States and Australia, with selling partners in China, Japan, Malaysia, India, and Korea, and with a continually growing line of software solutions, this website is a welcome addition for the company and for the professionals who use its software. Now you can find new product information, download software, find training, and more. Further, users can browse regional and front page news, share data and access support and resources.
XP Solutions
www.xpsolutions.com

More WaterWorld Current Issue Articles
More WaterWorld Archives Issue Articles