New Products
Collection of new products for the municipal drinking water and wastewater markets.
Dec 18th, 2014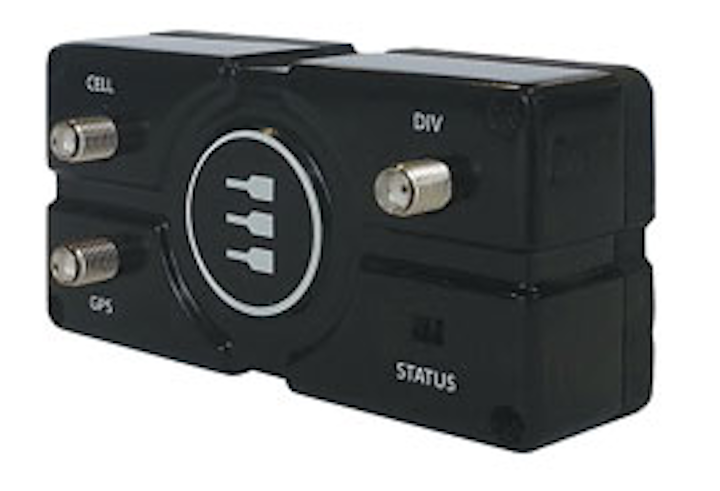 Cellular adapter
Eurotech's ReliaCELL is a rugged, mountable cellular adapter designed to integrate with the Internet of Things (IoT), M2M and enterprise appliances for fast and highly-reliable cellular connectivity. It comes certified and carrier approved to speed time to market, is sealed and rugged to IP67 rating, and can be mounted to any surface. Ready to deploy for products that will be sold globally, the ReliaCELL also allows for easy migration to varying technologies should the product roadmap evolve from 2G to 3G to 4G, ultimately maintaining key system components without incurring significant hardware costs.
Eurotech
www.eurotech.com
---
Centrifugal pump
PowerPrime® Pumps' newest centrifugal pump, the SiteMax™, is designed for a variety of liquid handling applications with available skid or trailer mount options, ultra-portability and easy maneuvering. For extra flexibility on site, it features side-by-side suction intake and discharge connections, and with high-efficiency Kubota engines, it helps manage operating and labor costs. The large 88.5-gallon tank also provides up to 65 hours of continuous runtime. SiteMax features a Venturi or vacuum priming system and is able to prime and re-prime in less than 20 seconds and prime on long suction lengths (more than 100 ft.).
PowerPrime Pumps
www.powerprime.com
---
Pump tube
Blue-White® has introduced a new heavy-duty pump tube, Flex-A-Prene™, available exclusively for the company's Flex-Pro® and Proseries-M® Peristaltic Metering Pumps. Because it offers unmatched tube life, precise flow rate and high chemical resistance, Flex-A-Prene's design cuts down on pump maintenance and related costs. The long-lasting, dual-molded tube withstands high pressures (up to 125 psi) and retrofits onto all Flex-Flo and Proseries-M peristaltic metering pumps. This exclusive clamp-less tube fitting is available with multiple connection fitting types, including 1/2" M/NPT, 1/2" barb fitting, 3/8" OD tube compression, tri-clamp, and quick disconnect.
Blue-White Industries
www.blue-white.com
---
Variable speed controller
PRIMEX has introduced the new versatile Level View™ controller, designed to control two or three constant or variable speed pumps for both pump-up (water) and pump-down (wastewater) applications. A color touch screen HMI can be easily read in direct sunlight and offers the ability to provide on/off level control, speed control, pump alternation, flow monitoring, data logging, alarm logging, and historical trending. An SD card provides for data storage and download. Connectivity options provide flexibility for SCADA/BAC integration as well as a plug-and-play interface to the company's Pump Watch™ web-based monitoring system.
PRIMEX
www.primexcontrols.com
---
Frequency transmitter
Acromag's addition to the TT230 series of space-saving thin transmitters is the TT239 frequency transmitter. Designed to deliver flexibility while maintaining optimal performance, it supports frequency, pulse and pulse-width modulation input signals. Precise configuration is simple with a convenient USB connection to a PC. With a rugged design, an operating temperature range of -40 to +80°C, electrical noise immunity and surge protection, the TT239 is ideal for many applications. The software lets users select whether they measure input frequency or duty cycle, as well as precisely scale input ranges for full resolution.
Acromag
www.acromag.com
---
Pressure relief valve
Total Valve Systems has introduced patented technology in its new model 6820 Total Relief Valve (TRV), a non-reclosing pressure relief valve that can be reset in seconds from the field or remotely. The proprietary system includes the TRV module, actuator and isolation valve, making it a reliable and accurate high-flow relief valve or shutdown device to help prevent downtime and catastrophic accidents. The system does not rely on the prediction of material failures like rupture discs, shear pins and buckling pin devices. No external power is required for its operation, and its performance is not impacted by system backpressure.
Total Valve Systems
www.totalvalve.com
---
New polyurethanes
Sherwin-Williams' new line of fast-drying, high-build, solvent-free polyurethanes are designed for corrosion protection in the water conveyance piping market. The chemical- and abrasion-resistant Poly-Cote™ 110 Fast Set, 110 Rapid Set, 115, and 115FR provide a smooth, glossy finish and offer the hydrophobic properties of an epoxy while maintaining the durability, flexibility and fast cure times of a urethane. All products are NSF certified up to 250 mils. The Poly-Cote line provides optimal film build and aesthetic properties and has a wide range of acceptable dry film thicknesses.
Sherwin-Williams Company
www.sherwin-williams.com
---
Automated microbiology system
Veolia's environmental monitoring technology unit Endetec has announced that its TECTA automated microbiology system has received approval from the EPA for performing regulatory compliance testing for E. coli and total coliform bacteria in drinking water distribution system samples under the Revised Total Coliform Rule and other regulations of the Safe Drinking Water Act. Consisting of the TECTA B16™ instrument and EC/TC™ single-use test cartridge, the system was subject to rigorous third-party testing under an EPA-approved study plan prior to receiving approval under the Alternate Test Procedure. The approval was published in the U.S. Federal Register on June 19, 2014.
Veolia Water Technologies
www.veoliawatertechnologies.com
---
Pressure gauge rubber boot
Ashcroft now offers a protective rubber boot for lower connected types 1000, 1005, 1005P, 1005S, 1005P-XUL, and 1005M-XRG commercial pressure gauges. In addition to the patented shock-resistant PowerFlex™ movement, the boot provides added protection if the gauge is struck while installed or dropped during portable use.
Ashcroft
www.ashcroft.com
---
Rugged handheld computer
Verizon Wireless has granted carrier certification for Handheld Group's Nautiz X4 rugged handheld computer, a fully portable handheld device offering efficient data collection and communication capabilities for fieldworkers. It features high-powered 3G connectivity, 802.11 b/g/n Wi-Fi capability and a powerful data collection. With a 5-megapixel camera and a choice of an integrated high-performance 1D laser scanner or 2D imager, it can quickly capture and convey important data in real time from the field. The Nautiz X4 measures just 6.1 x 2.9 x 1.0 inches and weighs 11.6 ounces, featuring a 3.5-inch sunlight-readable touchscreen display.
Handheld Group
www.handheldgroup.com
---
Multipurpose cleaning truck
Polston Applied Technologies' 360-HD truck is a multipurpose cleaning vehicle that utilizes the Polston Process® and Polston's coined COMBINATION 3 technology (a unique combination of jetter, vacuum and downhole pump) to provide a complete, stand-alone cleaning system for large-diameter lines, digesters, grit chambers, lift stations, water treatment plants, ponds, and lagoons. The truck utilizes four 8" hydraulic pumps (each pumping 2,500 gallons per minute, or GPM), enabling it to pump/separate sand and water at up to 10,000 GPM. In addition, it delivers up to 1,100 horsepower, providing maximum power to each of the components.
Polston Applied Technologies
www.polstonprocess.com
---
GIS platform
Geospatial Corporation has unveiled its newest version of GeoUnderground™, a proprietary cloud-based GIS platform custom designed around the Google Maps API and Google Maps Engine. The technology is a software-as-a-service (SAS) model developed exclusively for web-based multi-users for underground and aboveground infrastructure data management and decision management applications. Solutions built on the Portal enable assigned users to organize accurate 3D pipeline positional information, geo-referenced CCTV, leak detection, and corrosion, and use that data to understand complex business processes, answer questions, solve problems, and plan ahead.
Geospatial Corporation
www.geospatialcorporation.com
---
Ultrasonic flowmeter
Spire Metering's Enduro Series EF12 solar-powered ultrasonic flowmeter provides an ideal solution for flow measurement applications in rural areas where electrical power is not accessible. It has a flash memory that can save the last 512 daily net flow values and the last 128 monthly net flow values. With an optional data logger, it can save large amounts of flow data. For remote areas where cellular wireless service is available, a GSM/GPRS modem can be added to the device so the flow and alarm information can be transmitted to a center office automatically on a preset schedule.
Spire Metering Technology
www.spiremt.com
---
pH/ORP transmitters
Sensorex's TX2000 Intelligent pH/ORP Series Transmitters deliver critical analytical information from process sensors to water treatment plant operators. Designed for use with the company's flat surface technology sensors, the user-friendly TX2000 integrates easily with plant control systems. Influent process monitoring can alert operators to contaminated raw sewage entering the plant, allowing it to be diverted and further treated to avoid process upsets. In plants using biological treatments, ORP measurement is frequently used for process control. Featured with alarm/control relays and current outputs (4-20 mA), the transmitter interfaces with plant SCADA or DCS control systems.
Sensorex
www.sensorex.com
---
Stainless steel enclosures
NEMA 4X stainless steel enclosures from Adalet are used indoors and outdoors to house items such as pilot devices, electronic/electrical controls, instrumentation systems, and pneumatic, hydraulic and machine tool controls. These enclosures are designed to provide protection against dust, dirt, oil, and water. They are ideal for petrochemical plants, sewage plants, marine uses, areas containing solvents, and similar environments where they are subject to frequent high-pressure hosing and generally wet conditions.
Adalet
www.adalet.com
---
Video inspection crawler
Designed to inspect pipes and passageways as narrow as 4", Envirosight's RX95 is an addition to the ROVVER X line of video inspection crawlers. RX95 is based on a compact, maneuverable footprint designed to overcome obstacles, and it incorporates a digital control architecture that makes it infinitely upgradeable. It also offers steerable six-wheel drive for maximum maneuverability; onboard sensors for tilt, roll, pressure, and temperature; and a built-in selectable 412/640 Hz sonde for easy locating.
Envirosight LLC
www.envirosight.com
---
Solids handling pumps
BBA Pumps has introduced a new line of electrically-driven solids handling pumps. These auto prime pumps have a capacity of 100 m3/hour to a maximum of 6,500 m3/hour and offer maximum performance at minimal cost using high-efficiency pumps and IE2 electric motors. In addition to a standard control box and soft starter, the pump sets also come with a frequency converter, ensuring maximum control over the pumping process. Further, by using the GPS monitoring functionality, the pump installations can be controlled and operated remotely from a computer.
BBA Pumps
www.bbapumps.com
---
Spectrophotometer sensors
From Xylem's YSI brand is a new line of UV-Vis UV Spectrophotometer Sensors that measure numerous parameters as part of an IQ SensorNet system. The new spectral sensors can measure a broad spectrum (256 wavelengths for each measurement) for increased accuracy. The sensors are reagentless and have built-in UltraClean® ultrasonic cleaning -- both features enabling lower maintenance requirements over the life of the sensor. YSI also offers single wavelength sensors available for certain parameters, as well as new variations of sensors for Class 1, Div 2 rated zones (explosion proof).
YSI, a Xylem brand
www.ysi.com
---
Motor circuit analyzer
ALL-TEST Pro has introduced its AT5 Motor Circuit Analyzer, a de-energized, non-destructive instrument used to provide complete stator and rotor analysis to detect faults in low-, medium- and high-voltage AC and DC motors, transformers and generators. Extensive and thorough data analysis using proprietary algorithms provides comprehensive health reports on motor health, including bad connections, winding and turn faults, air gap, broken bars, contamination, and ground faults. Testing can be performed from distances of 1000+ ft. from the motor control center for inaccessible or hard-to-reach motors.
ALL-TEST Pro LLC
www.alltestpro.com
---
Fluid management controller
Ingersoll Rand provides touch-and-walk-away automation with the new ARO® Controller. The Controller works seamlessly with ARO EXP Series Electronic Interface pumps and can be integrated with many existing EXP pumps when an electronic interface package is added. The result is a fully automated, multi-pump system for batching and container and tank filling. It can detect leaks, sense and respond to liquid levels, accurately control proportions, control flow-rates, and operate two pumps simultaneously, each with up to two batches. The controller can be programmed with remote triggers customized to the application in which it is being used.
Ingersoll Rand
www.ingersollrand.com
---
Ultrafiltration membrane bioreactor
Koch's PURON® MBR ultrafiltration membrane bioreactor series is an ideal solution for wastewater treatment operators looking to reduce energy, minimize downtime and increase flux in a cost-efficient manner. Its single-header design is ideal for wastewater treatment plants, and its patented module features reinforced PVDF hollow fibers fixed only at the bottom, virtually eliminating the buildup of hair and fibrous materials that typically clog the upper ends of other modules. Solids and particulates remain on the outside, while permeate is drawn through the membrane to the inside of the fibers.
Koch Membrane Systems Inc.
www.kochmembrane.com
---
Infrastructure software
Trimble has introduced the latest version of its smart water infrastructure mapping and work management cloud software, Trimble Connect™ for Water version 1.9. The geographic information system (GIS) centric software-as-a-service (SaaS) adds real-time, centimeter-level horizontal and vertical GNSS accuracy for capturing 3D asset positions. The software leverages Trimble's GNSS rugged mobile devices and Esri's GIS technologies and includes a suite of applications that allows water, wastewater and stormwater utilities to accurately locate, inventory and visualize their infrastructure assets and increase operations and maintenance efficiency.
Trimble Water
www.trimblewater.com
---
Piping management program
Engineered Software's PIPE-FLO® Professional v14.0 is used in the three phases of piping projects: engineering, commissioning and operations. The heart of the program is the piping simulation model, which continually updates as the system evolves. The model allows PIPE-FLO to reflect the operation accurately as new information becomes available and throughout the life of the facility. By integrating even tighter standards into the software and increasing the number of calculations and warning messages, it is easy to improve the accuracy of piping operation modeling.
Engineered Software Inc.
www.eng-software.com

More WaterWorld Current Issue Articles
More WaterWorld Archives Issue Articles