Products & Services: Detectors, Monitors, Recorders
Collection of detectors, monitors and recorders  products and services.
Dec 18th, 2014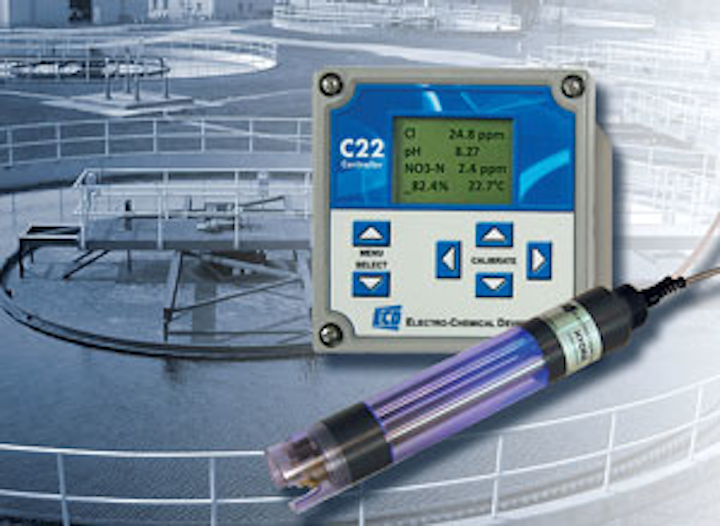 Nitrate analyzer system
The HYDRA Nitrate Analyzer System from Electro-Chemical Devices (ECD) is ideal for nitrate monitoring in wastewater treatment aeration basins. Denitrification reduces the nitrate ion (NO3-) to nitrogen gas (N2) by an anoxic reaction in the same treatment basin or in a separate anaerobic digester. The nitrate as nitrogen (NO3-N) measurement helps optimize the methanol being fed to the digester and provide a trend indication of the total nitrogen in the effluent. The system measures the concentration of dissolved NO3-N in water by using a nitrate ion electrode and a chloride ion electrode.
Electro-Chemical Devices
www.ecdi.com
---
Sludge blanket level detector
Markland's handheld detector, The Sludge Gun®, measures silt or sludge interface levels in clarifiers, tanks and lagoons, and helps provide valuable biosolids level profiles. It allows users to eliminate unnecessary dredging/pumping and monitor sludge bed depth for regulatory compliance and prevention of carryover. The Sludge Gun uses high-intensity, infrared light to locate both sludge blanket and overlying cloudy layer in concentrations ranging from light flocs to thick blankets. It is compact, weatherproof and convenient for boats and catwalks with no calibration required.
Markland Specialty Engineering Ltd.
www.sludgecontrols.com
---
Remote pressure monitoring
Mueller has developed user-friendly and cost-effective technology to continuously and remotely monitor pressure at any point within potable water distribution systems. The technology involves threading a sensor onto a corporation valve to transmit pressure readings. The pressure sensor, typically installed one per district metering area, reports at user-defined intervals via cellular service and a Mueller-hosted secure web server. Alerts are sent when low- and high-pressure thresholds are breached, including negative pressure events and water hammer events. Mueller has created a communications backbone that utilities can integrate into their monitoring systems or use as a stand-alone platform.
Muelller Co.
www.muellercompany.com
---
Online analysis system
Bürkert's Online Analysis System Type 8905 has been designed for the continuous monitoring of treated and untreated waters and storage of important measurement parameters before water enters the supply network. The technology is aimed at plant construction companies and operators of drinking water treatment plants. In the event of disturbances and/or exceedances, the system will be able to respond by interfering with the treatment process or by sending messages to the personnel in charge. With its multiple capabilities, the online analysis system optimizes settings and controls for various process steps.
Bürkert Fluid Control Systems
www.burkert-usa.com
---
Datalogger
CAS DataLoggers and Isodaq have partnered to offer the new Tadpole D GSM/GPRS Data Logger, a rugged IP65 telemetry device designed for standalone water and environmental monitoring in remote sites and in hostile environmental conditions. These battery-operated dataloggers connect to a wide range of single-input digital, analog and multi-parameter SDI-12 sensors. Tadpole's design enables users to fit the device into tipping-bucket rain gauges or slots inside a 50-mm-diameter piezometer tube. By transmitting data at user-set intervals or on alarm activation via GPRS to a telemetry server, the data loggers automatically deliver data directly to the desktop.
CAS DataLoggers Inc.
www.dataloggerinc.com
---
Trend analysis tool
Hadronex's trend analysis tool, SmartTrend™ enables SmartCover® users to receive advisories, informing them of trends occurring at remote monitoring sites in the collection system. Advisories predict trends leading to potential future SSO or CSO alarms, and SmartTrend software preempts reactive and costly alarm responses by enabling a proactive, pre-alarm, planned response. SmartCover is a real-time sewer level monitoring system that monitors wastewater collection systems, generating data for profiling capacity or I/I assessment. Powered by advanced analytical algorithms, SmartTrend assesses trends and sends text or email alerts concerning a developing condition.
Hadronex Inc.
www.hadronex.com
---
Real-time equipment status monitoring
RACO has introduced real-time equipment status monitoring for AlarmAgent.com -- the company's low-cost, wireless, web-based alarm detection and notification system. Real-time features include WRTU health reports, local alarm relays and over-the-air firmware updates. The technology will help save users time and money, as well as achieve the flexibility and peace of mind they need to remotely monitor their pumps.
RACO Manufacturing and Engineering Co.
www.racoman.com
---
Wireless water usage monitoring
WaterSignal has announced the launch of its Generation-5-model wireless monitoring system. The new configuration creates faster connections, expands geographic reach and adds services to help customers conserve water. The system is a self-contained, non-intrusive device that continuously measures water flow in real time and sends data wirelessly to a website portal to view the water consumption by the month, day or hour. If a major leak occurs, it alerts the user by computer or smartphone that an abnormal water spike has occurred.
WaterSignal
www.watersignal.com

More WaterWorld Current Issue Articles
More WaterWorld Archives Issue Articles