Products & Services: Pumps
Collection of Pump products and services.
Oct 21st, 2014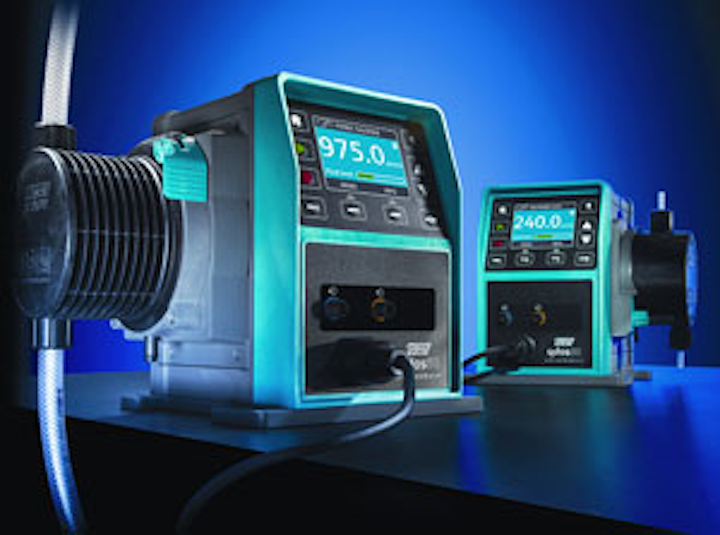 Peristaltic metering pump
Watson-Marlow's Qdos 60 peristaltic metering pump reduces chemical metering costs. It follows the launch of the Qdos 30 pump, incorporating flow rates from 0.001 to 15 gph at 100 psi. It eliminates the need for ancillaries, boosts productivity and cuts chemical wastage due to its accurate, linear and repeatable metering. The pump is ideal for disinfection; pH adjustment and flocculation of drinking water, wastewater and industrial process water; and reagent dosing and metering in mineral processing tasks.
Watson-Marlow
www.wmpg.com
---
Centrifugal pumps
Vanton's Sump-Gard® SGK centrifugal pumps handle flows to 850 gallons per minute (GPM) at heads to 175 ft., making it ideal to handle corrosive, abrasive and hazardous process fluids, wastewater liquids, ultrapure fluids, and slurries across the entire pH range. The cantilevered sump pumps are suited for applications where brief or long-term stoppage of fluid flow may occur, as well as for those where regulations prohibit draining tanks from the bottom. They are available in lengths to 4 ft. (1.2 m), and construction consists of PP, PVC, CPVC, or PVDF.
Vanton Pump & Equipment Corp.
www.vanton.com
---
Grinder pump
The E/One EXTREME grinder pump series from Environment One Corporation is an ideal solution for rocky, hilly, wet, or flat terrain. The technology provides a 10-year average mean time between service calls; no preventive maintenance; and a comprehensive sales and service network. The series features 185 TDH capabilities, superior corrosion protection and expanded communications capabilities. Pump stations include the D-series, W-series and indoor series for a variety of applications.
Environment One Corporation
www.eone.com
---
Electric submersible pumps
Atlas Copco's WEDA electric submersible pumps will make their debut on the American market with a new range consisting of the 04 and 08 drainage pumps, the 04B residual pump and the 04S and 08S sludge/trash pumps. The 04 and 08 are single-phase electric submersible dewatering pumps with maximum flow rate capacities of 66 to 86 gallons per minute (GPM) and maximum heads of 37 to 50 feet. Each of the pumps is available in a 50 Hz and a 60 Hz version. The pump range was designed to improve durability and simplify maintenance.
Atlas Copco
www.atlascopco.com
---
Digital gear pump drive
The Cole-Parmer® Digital Gear Pump Drive for Micropump® A-Mount Pump Head is easy to operate for automated process applications. Simply set time delay between cycles for hands-free dispensing. The batch count function counts down and displays batches completed, while the cumulative volume or totalizer tracks amount dispensed across multiple cycles. Continually view continuous run, timed dispense, copy dispense, and volume dispense on the graphical, multi-language LCD for performance monitoring. Its turndown ratio is 100:1, while the flow range is from 0.612 to 4,212 mL/min.
Cole-Parmer
www.coleparmer.com
---
Diaphragm metering pump
The CHEM-PRO M™ series metering pump from Blue-White features NSF 61 listing; 200:1 turndown; a large, easy-to-read LCD screen that displays the pumps' output rate; a 4-20 mA output standard on all models; a robust #316 stainless steel pump head cover for added strength; and a comprehensive 3-year warranty. The series also features Blue-White's exclusive single-piece DiaFlex™ Diaphragm, manufactured 100% in house of molded Kynar, providing zero delamination or breakdown. Optional advanced communications include: Industrial Ethernet, Modbus TCP, ProfiNet, Modbus, and Profibus.
Blue-White Industries
www.blue-white.com
---
Pumping systems
Gorman-Rupp manufactures high performance pumps and pumping systems for the municipal, construction, water, wastewater, sewage, industrial, petroleum, fire, agricultural, and OEM markets. Pump designs include vertical in-line, end-suction, horizontal split-case and vertical multi-stage pumps. Simplicity, precision balancing and accurate machining ensure long unit life, reduced maintenance costs and minimum power consumption.
Gorman-Rupp Pumps
www.grpumps.com
---
Pump controller
PRIMEX's new versatile Level View™ controller manages two or three constant or variable speed pumps for both pump-up (water) and pump-down (wastewater) applications. A color touch screen HMI can be easily read in direct sunlight and offers the ability to provide on/off level and speed control, pump alternation, flow monitoring, data logging, alarm logging, and historical trending. An SD card provides for data storage and download, and connectivity options provide flexibility for SCADA/BAC integration as well as a plug-and-play interface.
PRIMEX
www.primexcontrols.com

More WaterWorld Current Issue Articles
More WaterWorld Archives Issue Articles