The Good Fight: Innovative Programs Demonstrate Success in the Battle Against Aging Infrastructure
According to the EPA, the nation's drinking water utilities need $384.2 billion in infrastructure investments over the next 20 years. Much has been written about the problems associated with aging water infrastructure and less so about solutions. Fortunately, efforts to address these critical issues are underway.
Feb 3rd, 2014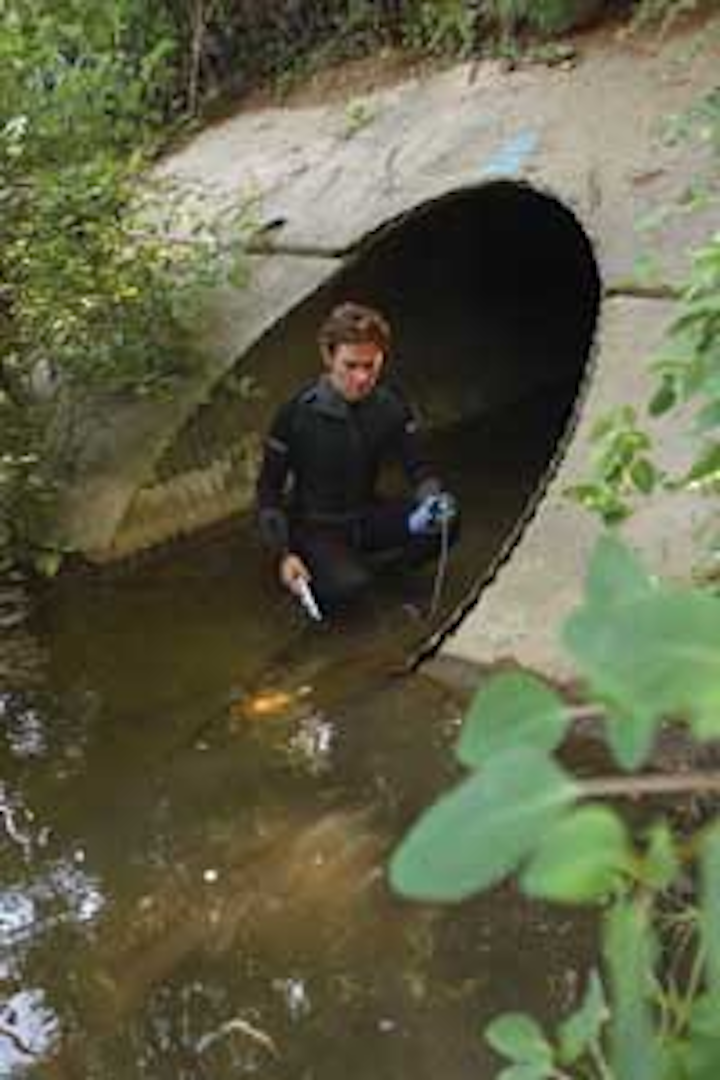 By William Atkinson
In the EPA Office of Water's Fifth Report to Congress, "Drinking Water Infrastructure Needs Survey and Assessment" (April 2013), the EPA noted that, "The nation's drinking water utilities need $384.2 billion in infrastructure investments over the next 20 years (2011-2030) for thousands of miles of pipe, as well as thousands of treatment plants, storage tanks, and other key assets to ensure the public health, security and economic well-being of our cities, towns and communities."
Much has been written about the problems associated with aging water infrastructure; less so about solutions. Fortunately, efforts to address these critical issues are indeed underway.
Virginia Tech
Marc Edwards, the Charles P. Lunsford Professor in civil and environmental engineering at Virginia Tech and a MacArthur Fellow, has achieved international renown for applying the principles of aquatic chemistry to solving problems related to corrosion and drinking water infrastructure degradation. Photo courtesy of Virginia Tech.
One of the "hotbeds" of activity for water infrastructure improvement is Virginia Polytechnic Institute and State University (Blacksburg, Va.), better known as Virginia Tech. "When it comes to water infrastructure, we have grown too accustomed to failure being the norm," said Marc Edwards, professor, civil and environmental engineering at Virginia Tech. Most studies, according to Dr. Edwards, have shown that every dollar spent on research related to how things can be done better (new materials, new installation methods, corrosion control, etc.) has yielded ten to one hundred dollars in return on investment. However, he added, the water industry has never operated under the tradition of research that the transportation industry has, which has led to transformative advances in roads and transportation safety. "The water industry could follow the transportation model and, in the end, save customers a lot of money, and also better serve the public health," suggested Dr. Edwards.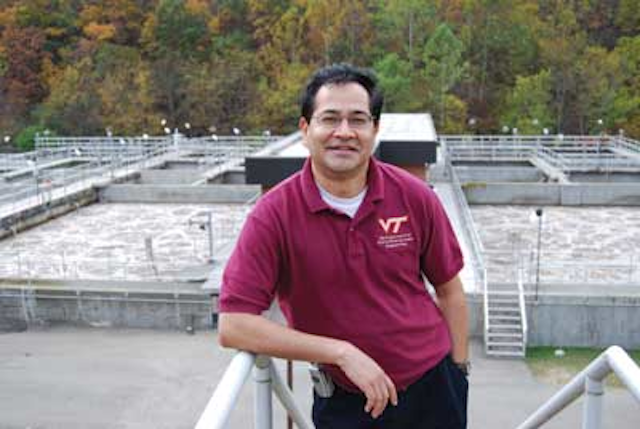 Sunil Sinha, associate professor of civil and environmental engineering at Virginia Tech, has spent his career working on improving water and energy pipeline infrastructure. Photo courtesy of Virginia Tech.
"If the U.S. is to meet important challenges in the 21st century, a new paradigm for the building and retrofitting of critical pipeline infrastructure systems is required, one that addresses the conflicting goals of diverse economic, environmental, societal, and policy interests," said Sunil Sinha, associate professor, civil and environmental engineering, and co-director of the Sustainable Water Infrastructure Management Center of Excellence at Virginia Tech. When Dr. Sinha was at Penn State, he helped to spearhead the PBS documentary, "Liquid Assets: The Story of Our Water Infrastructure," which aired in October 2008. "People take water for granted. They can see roads and bridges collapsing and crumbling. However, water pipes are under the ground, so, as long as the water is coming, they don't see a problem." As a result, Dr. Sinha believes, water has never become a national agenda. It has always been a local issue. However, there are costs associated with this. "If a pipe fails, it is going to cost five to ten times more to fix the problem than to create a maintenance program to rehabilitate pipes over time," he said.
In 2008, Dr. Sinha and Dr. Edwards created the Sustainable Water Infrastructure Management (SWIM) Center of Excellence at Virginia Tech, part of the university's Institute for Critical Technology and Applied Science (ICTAS). SWIM, in conjunction with the Environmental Protection Agency (EPA), GHD Consulting, and the Water Environment Research Foundation (WERF), offers the Sustainable Water Infrastructure Asset Management online non-credit program. The objective of the program is to broaden and deepen the body of knowledge for practicing engineers and improve the practice, elevate the standards, and advance the profession of water infrastructure management. The program contains three courses: Fundamentals of Asset Management, Infrastructure Sustainability and Resiliency, and Strengthening the Asset Reinvestment Decision.
According to Dr. Sinha, one of the most important steps to solving the water infrastructure problem is to have access to a good model that can provide good data, and then be able to interpret that data to make decisions. To this end, in 2010, he developed a National Pipeline Infrastructure Database, which he said is "like a Wikipedia for the drinking water and wastewater utilities, except users do not have editing privileges." Rather, the database is updated by ICTAS. It provides case studies, synthesis reports, lists of vendors, consultants, and contractors on a regional basis who deal in particular technologies. The national database, called WATERID, or the WATER Infrastructure Database (http://waterid.org), ensures a single-point information center for utilities where they can find relevant information that will help expedite the decision-making process for selecting appropriate condition assessment and renewal engineering technologies. WATERID is funded by the National Science Foundation and the EPA.
In addition, Dr. Sinha has been working to develop an integrated water and wastewater pipe management system that uses sensor technologies and non-destructive testing tools. "This research has the potential to change a utility's ability to rate the condition and performance of its pipeline infrastructure system, and to develop a rational repair, rehabilitation and replacement program," he said.
Virginia Tech is also partnering with Carnegie Mellon, Georgia Tech, Louisiana Tech, the University of Puerto Rico, and several international universities to create a National Science Foundation Engineering Research Center on the Smart Pipeline Infrastructure Network for Energy and Water (SPINE). "We hope to serve as a national and international resource for the energy and water pipeline industries, relevant federal, state, and local agencies, and the public," said Dr. Sinha. "Our hub would be dedicated to integrating and coordinating high impact, interdisciplinary research, and would educate the next generation of science and engineering leaders in sustainable technologies."
Pennsylvania American Water

Lake Oneida Dam rehab (Butler County, Pa.). Photo courtesy of Pennsylvania American Water.
One water and wastewater service company taking the infrastructure improvement challenge seriously, and doing so successfully, is Pennsylvania American Water (Hershey, Pa.), a subsidiary of American Water Works, the largest publicly-traded water and wastewater utility in the U.S., serving 14 million people in over 1,500 communities in 30 states and parts of Canada. Pennsylvania American Water itself serves approximately 2.2 million people in 36 counties. It has 54 regulated dams and 121 groundwater well sources, 36 surface water plants, nine wastewater plants, 279 water storage tanks, 253 booster pumping stations, and a distribution system of 10,115 miles of water and sewer pipe, delivering an average of 193 MGD of water.
Between 2005 and 2012, Pennsylvania American Water invested almost $1.5 billion in system improvements. Currently, for example, the company is building new storage tanks and rehabilitating/repainting a number of existing tanks to ensure adequate storage capacity and meet customer demand. "We are also making major upgrades to the Clarion Wastewater treatment and collection facilities," said Kathy Pape, president. "We recently completed dam safety upgrades to reservoirs in Butler County, and completed major upgrades to our Pittsburgh water treatment facilities and Coatesville area water treatment plant."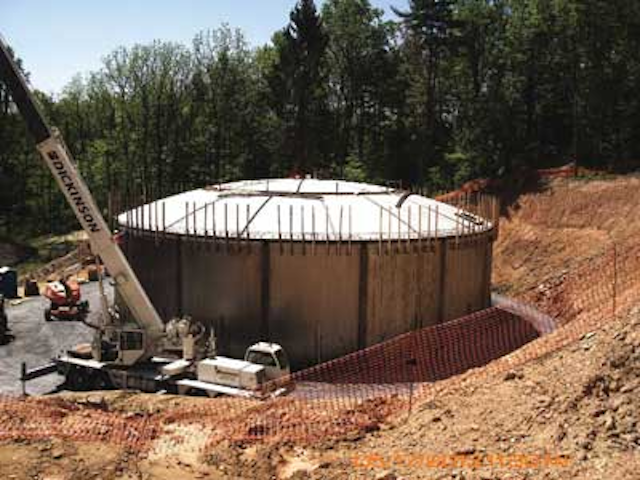 Construction of new water tank (near Hershey, Pa.). Photo courtesy of Pennsylvania American Water.
How does Pennsylvania American Water continue its successful infrastructure improvement program? There are two main keys to success: One is to prioritize projects so that resources are directed toward the most important projects first; the other is to participate in public-private partnerships.
"Our engineering department conducts planning studies that forecast and prioritize necessary capital improvement projects," said Pape. "All capital improvement programs are prioritized within an overall strategic planning process, using drivers associated with various asset management strategies, such as regulatory compliance, capacity, and customer satisfaction, to formulate a five-year Strategic Capital Expenditure Plan." More detailed design engineering is then conducted, and implementation plans are prepared for those projects contained in the Strategic Capital Expenditure Plan. Each year, the team also prioritizes main replacement projects on a statewide basis, using numerous factors to determine investment allocations, such as current and future service needs, condition of existing assets/plants, economic and risk factors, regulatory compliance, and potential coordination with municipalities and other utilities in joint improvement projects.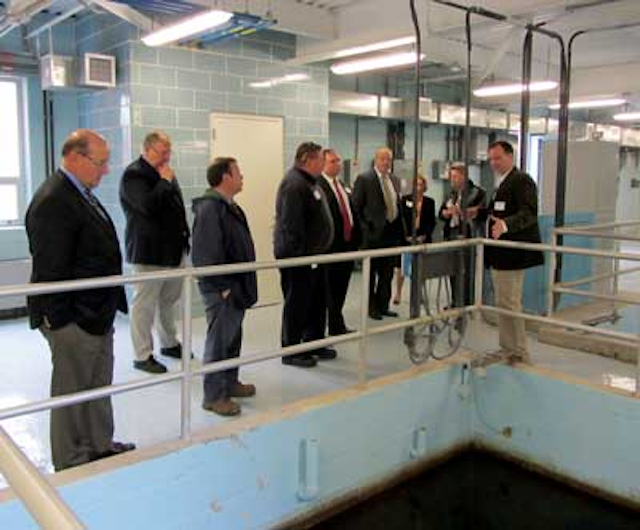 Group tours completion of Rock Run treatment plant upgrade during dedication event (Coatesville, Pa.). Photo courtesy of Pennsylvania American Water.
Pennsylvania American Water also has a strong commitment to the public-private partnership concept. "Our Governor's Sustainable Water Infrastructure Task Force, on which I served, estimated that the Commonwealth needs approximately $36 billion over the next 20 years to address aging water and sewer infrastructure," said Pape. "To meet these challenges, we will need the resources, both financial and human, of both the public and private sectors." Sometimes, according to Pape, a municipality or other governmental entity has access to certain funds which a private entity does not, while a private entity such as American Water, brings expertise, purchasing power, technology, and access to capital that is unavailable to smaller entities. As such, when all entities work together, things can get done.
An example of public-private cooperation occurred in Clearfield County, where Pennsylvania American Water crafted a partnership that brought together funding from the Pennsylvania Infrastructure Investment Fund, the Bureau of Abandoned Mine Reclamation, and American Water to bring public water service to residents who lived for years with contaminated water wells. "More recently, we are bringing water service to many unserved areas of Butler and Washington Counties by partnering our funds with monies from shale gas producers and community capital," she said. "In some instances, communities are combining shale gas impact fees with Pennsylvania American Water's capital and expertise to solve water and wastewater issues."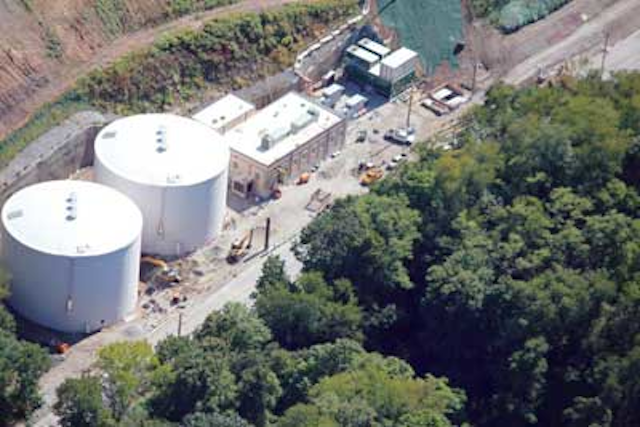 Hays Mine treatment plant/clearwell upgrade (Pittsburgh, Pa.). Photo courtesy of Pennsylvania American Water.
Overall, according to Pape, the key to success in ensuring this partnership-style funding for infrastructure improvement is having a broad-based group of private and public representatives, including civic leaders, business leaders, government officials, and water industry representatives, to review the current state of water and wastewater. "These groups assess where the community would like to be in 10, 20, or 50 years, and then review the various choices of how to get to the desired state and the cost to do so," she said.
New Jersey Utilities Association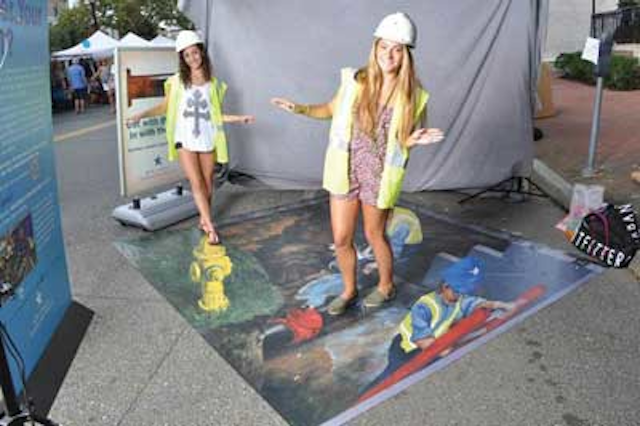 Publicity at community festivals and conferences is key to educating the public on the benefits of infrastructure improvement. Photo courtesy of New Jersey American Water.
According to Andrew Hendry, president and CEO of New Jersey Utilities Association (NJUA), New Jersey's investor-owned water utilities are actively engaged in making significant investments in the state's aging water infrastructure. "Much of that infrastructure is reaching the end of its problem-free life, and our companies recognize that continued investment is critical to the state's economy and residents' quality of life," he said.
Helping utilities in the state recover these investments is the newly-implemented Distribution System Improvement Charge (DSIC). A DSIC is a relatively new regulatory tool that allows for non-revenue producing investments to be funded through modest and interim rate increases. This enables the investments to be funded and made on an ongoing basis with regulatory oversight but without waiting for two to three years and the results of a contested rate proceeding. This type of regulation, first implemented in Pennsylvania, is now being used successfully in a number of other states. "We appreciate that our regulators saw the critical need for establishing DSIC in New Jersey," said Hendry. "However, we also know that an informed customer is our best advocate, so educating customers about the value of water and the need to invest in drinking water infrastructure is an ongoing priority."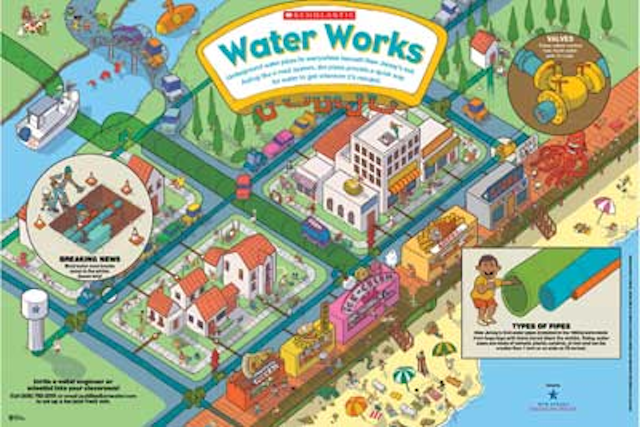 New Jersey American Water partnered with Scholastic to distribute its Water Works poster to 18,000 classrooms.
One example of a member utility making infrastructure improvements is Middlesex Water Company, which has an ongoing program called RENEW. This involves cleaning and lining water mains and replacing pipes, hydrants and valves throughout its water distribution system. The utility selects a different area each year, depending on engineering studies, fire department requests, pressures and flow, etc. It spends about $4 million on the program annually. The utility also regularly conducts large pipe condition assessments to ensure the integrity of its larger transmission mains.
In addition, Middlesex Water utilizes technologies, such as Enterprise Research Planning (ERP) and Geographic Information Systems (GIS), which enable it to better track the condition of its infrastructure. For example, the technology enables the utility to run hydraulic models to track main breaks, identify areas susceptible to breaks, etc.
To gain public support for infrastructure improvement, Middlesex Water made a short video to explain the process, which is available on its website, as well as on Facebook and YouTube sites, and is referenced in bill inserts. In addition, when the utility needs to file for a rate increase to recover expenses from these investments, it posts its rate filing materials on its website, along with links from its social media pages.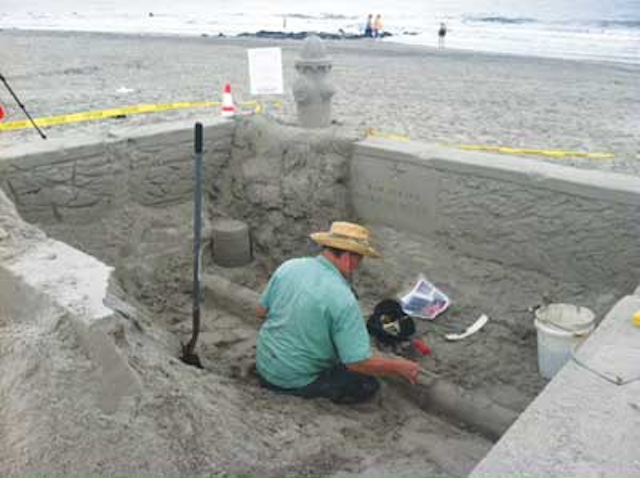 A sand sculpture of a water main break was visited by some 3,000 people and received broadcast news coverage. Photo courtesy of New Jersey American Water.
Another NJUA member, New Jersey American Water, is the state's largest IOU water company. It currently has hundreds of millions of dollars worth of infrastructure projects underway or planned. The effort is called the Community Pipeline Revival (CPR) program. Most of this work is DSIC eligible. However, the utility also engages in multiple efforts to educate the public on the benefits of infrastructure improvement. Efforts include bill inserts about the CPR program, press releases on infrastructure projects, work site signage, publicity at community festivals, and publicity at conferences such as the Conference of Mayors and the Chamber of Commerce Business Exchange. The utility also partnered with Scholastic to get the message into schools. And, perhaps one of the most innovative publicity efforts involved creating a sand sculpture of a main break, which was visited by about 3,000 people and received broadcast news coverage.
About the Author: William Atkinson is a correspondent for WaterWorld Magazine. He has been a full-time freelance business magazine writer since 1976, specializing in infrastructure, sustainability, supply chain, risk management, and safety/health.