New Products
Collection of new products for the municipal drinking water and wastewater markets.
Sep 10th, 2014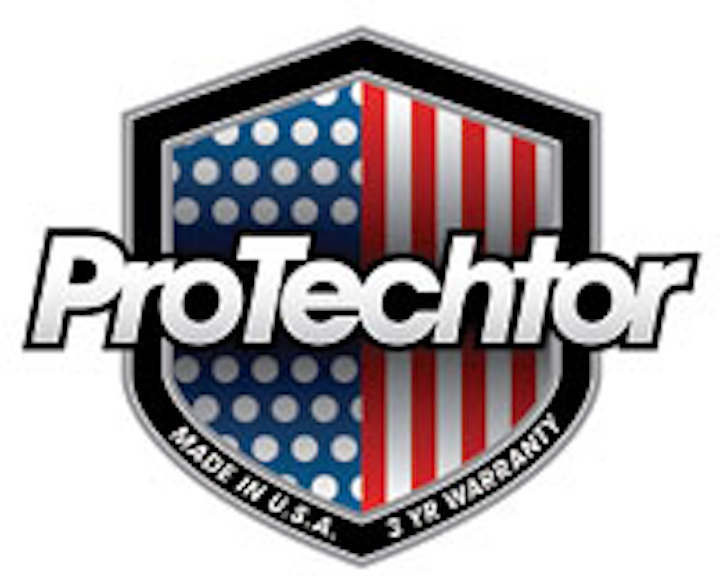 Grit classifier
Kusters Water announced the new ProTechtor series for headworks equipment. Kusters Water Grit Classifiers utilize carefully-sized settling hoppers to provide accurate surface settling rates. The hopper is attached to a discharge screw assembly to remove the settled and washed grit. All ProTechtor series products are manufactured to the highest quality standards at Kusters Zima's factory in Spartanburg, S.C. (ISO 2001:9008 certified) and include a three-year factory warranty.
Kusters Water
www.kusterwater.com
Catalyst update
RACO Manufacturing and Engineering now offers EtherNet/IPTM and Modbus® TCP protocols for Catalyst® -- an integrated system for data and event logging, alarm notification and status checking. With the optional EtherNet/IP and Modbus TCP protocols, Catalyst can easily interface and integrate with more system designs -- including PLCs, SCADA systems and other devices. These communication protocols are just two of RACO's latest product updates.
RACO Manufacturing and Engineering Co.
www.racoman.com
Pipe coupling
Krausz's HYMAX GRIP pipe coupling and flange adaptor featuring patented technology uses universal teeth to restrain all types of connecting plastic and metal pipes. As pressure is applied to the connecting pipes, the HYMAX GRIP actually increases its hold on the pipe. Like the HYMAX, the HYMAX GRIP has a unique hydraulic sealing that allows joining pipes to move up to four degrees on each end of the coupling and still maintain a tight, durable seal. Through dynamic deflection, the technology absorbs a wide variety of fluctuating stresses, making it a durable and secure coupling.
Krausz Industries
www.krausz.com
Stormwater software
Cloudcompli's cloud-based software automates the stormwater monitoring process. This software is used by construction operators, industrial facilities and governing bodies to monitor all project sites and is tailored to the SWPPP, local and federal regulations. The software automatically syncs NOAA data, sends alerts, completes the annual report, and meets the project's specific SWPPP requirements, using the exact document needed regardless of the governing agency.
Cloudcompli
www.cloudcompli.com
Ultraviolet technology
The validated ETS-UV model UVLW 800-watt amalgam from Neptune-Benson provides a high dose of UV light with the lowest possible electrical connection. The amalgam lamps are highly efficient, and the UVLW is suitable for agriculture, landscape, golf courses, urinal flushing, and dust suppression as well as aquifer storage (ASR).
Neptune-Benson
www.neptunebenson.com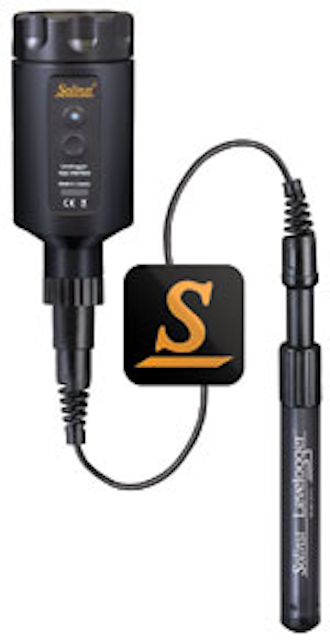 Levelogger app
Solinst's new App Interface for Leveloggers uses wireless technology to connect your Levelogger water level dataloggers to your smart device running the new app. The Interface simply attaches to the top end of your Levelogger's Direct Read Cable. Further, with the Levelogger App, you can download and email data, view and save real-time data, and program your Leveloggers.
Solinst Canada Ltd.
www.solinst.com
Portable meter
The SAM-1™ Smart Aqua Meter from Sensorex is designed for compatibility with both Apple and Android smart devices and measures and records pH, ORP or conductivity values. A powerful handheld water quality meter, SAM-1 delivers accurate analytical measurements in the lab or field for use in environmental, education and industrial applications. It simply plugs into the headphone jack of a smartphone or tablet and easily connects to Sensorex smart analytical sensors.
Sensorex
www.sensorex.com
Grinder pumps
With models available from 1 to 7 1/2 HP, Zoeller offers a broad line of grinder pumps. For the more unpredictable applications, the company has designed the Model 7011 reversing grinder pump, offering twice the service life of a single direction grinder because it utilizes both sides of the cutter blade. These 2-HP submersible grinders feature a hardened stainless steel, star-shaped cutter and use a control panel to reverse directions with each cycle.
Zoeller Company
www.zoeller.com
Ultrasonic flowmeter
The Sonic-Pro® S4 from Blue-White is an inline ultrasonic flowmeter featuring flow measurement technology with no moving parts and no internal liners to wear out. The S4 inline pipe fittings facilitate installation of the meter and are capable of measuring water flow using the transit time method. Optional advanced data communication protocols include industrial Ethernet, Modbus RTU, Modbus TCP, PROFIBUS TPV1, and PROFINET. Downloading datalogging files directly to a flash drive via USB is possible, and dual relays for rate alarms, total alarms or proportional feed control are available.
Blue-White Industries
www.blue-white.com
Dredges
The Barracuda Class dredge from DSC Dredge features a swinging-ladder design and is easily transportable, making it ideal for navigational, recreational or restorative projects such as waterway maintenance and lake revitalization. Offering the option of two front-swing winches, the Barracuda Class is a two-in-one dredge that easily converts from a swing ladder dredge to a conventional dredge without sacrificing portability.
DSC Dredge LLC
www.dscdredge.com
Chemical metering systems
The new series of standard ALPHA chemical metering systems from seepex is designed for simple plug-and-play installations, which are as straightforward as connecting three pipes and plugging into a 115 VAC power source. The systems come in five standard skid configurations: simplex (one pump, wall- or floor-mounted), duplex (two pumps, wall- or floor-mounted) and triplex (three pumps, floor-mounted).
seepex Inc.
www.seepex.com


Rupture disc assembly
Continental Disc Corporation has launched the WMP™ Welded Muffled Plug Rupture Disc Assembly. The Assembly is a single-use unit threaded into a pressure system and is designed to relieve pressure of the process media in an overpressure condition to protect equipment, personnel and the environment from catastrophic failure. It is ideal for applications that discharge to the atmosphere at the rupture disc location.
Continental Disc Corporation
www.contdisc.com