New Products
New products involved in the water industry
Oct 1st, 2015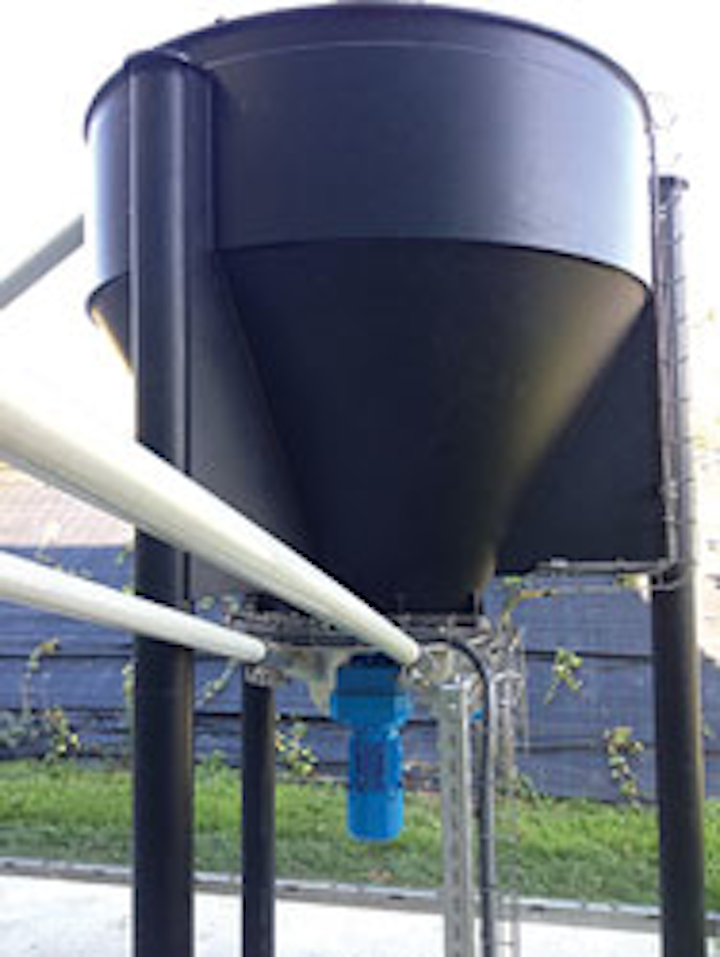 Storage hopper
The ZFP500 storage hopper is ideal for discharging smaller quantities of product delivered in 50 lb bags, such as lime, cement or powdered activated carbon. The unit features an arch-breaking spindle fitted with flexible blades that rotate within the hopper bottom, preventing bridging and blockage. Standard hopper capacity ranges from 50 to 1,500 gallons, and fabrication material can vary depending on the customer's needs. Typical fabrication materials include high-density polyethylene, stainless steel and fiberglass.
Sodimate

Software
Giswater is an open-source project software created to share knowledge in the sectors related to water supply, sewerage systems, urban drainage, and the investigation of flood risks by acting like a linking platform between hydraulic simulation software, spatial database and geographic information systems (GIS) software. Giswater connects water simulation programs to a powerful GIS interface and lays the foundation for full management of water supply systems, sewerage systems, drainage networks, and rivers using web map services, SCADA or customer relationship management systems.
Giswater

Aerator
A powerful new high-efficiency aerator, designed to provide maximum aeration while using only a fraction of the energy required by other models, has been introduced by Airmaster Aerator. The new aerator, the 50 HP Turbo X-Treme Magnum, is a high-efficiency, floating/surface aerator that can pump 12.5 million gallons of water per day. Powered by an energy-saving 50-HP motor, it incorporates a "turbo" blower and a double-sided impeller to achieve high-capacity water movement with maximum aeration and mixing.
Airmaster Aeration

Pressure transient logger
The new GPRS Pressure Transient Logger from Fluid Conservation Systems eliminates the need for manual site surveys to identify water network transients. The fast-sampling data logger triggers a capture window around a transient event and uses GPRS to transmit the data, which lowers costs and prolongs battery life. Specifically designed to combat water hammer, the data logger features sampling rates up to 100 times per second to effectively monitor for damaging pressure spikes, which may only last a fraction of a second.
Fluid Conservation Systems

Conductivity meter
Geophysical Survey Systems Inc. (GSSI) has announced the availability of its Profiler™ EMP-400 multi-frequency electromagnetic (EM) conductivity meter for use in geological investigation, site assessment, groundwater investigation, and other environmental assessment applications. With a user-friendly design and unmatched signal stability, this powerful electromagnetic induction tool allows for reliable and accurate examination of soil conditions and subsurface targets on both small and large scale sites. Featuring a lightweight, environmentally sealed EM instrument and handheld interface with integrated GPS, GSSI's Profiler offers users premium mobility and ease of transport.
Geophysical Survey Systems Inc.

Pump solutions
Environmental Pump Solutions offers complete pump systems, including in-stock control panels featuring unique smart controls designed for ease of use. Its side-slope riser pumps for landfills feature robust HDPE housings for ease of installation and removal, without the breakdowns and problems of wheeled pump carriers. All pumps include environmental-grade motors for longer life. All control panels include circuit breakers for pump and motor protection and have options for flow meter displays, alarm beacons, computer/telemetry operation, and autodialer with cellular service.
Environmental Pump Solutions
www.environmentalpumpsolutions.com

Trenchless cleanout system
LMK Technologies' VAC-A-TEE® Trenchless Cleanout System now meets the newly published ASTM F3097-15 Standard. ASTM F3097-15 is a standard practice for installation of an outside sewer service cleanout through a minimally invasive small bore created by a vacuum excavator. The process begins with locating the service lateral pipe by use of a locatable sewer camera that is robotically launched from the main pipe. Once the lateral pipe is exposed, a self-clamping saddle is prepared with a special adhesive and lowered into the small diameter bore hole until it contacts the lateral sewer service pipe.
LMK Technologies

Horizontal directional drilling software
Subsite Electronics, a Charles Machine Works Company, has introduced TSR mobile software to download horizontal directional drilling (HDD) bore information from Subsite TK Series HDD Guidance System directly to smartphones and tablets. TSR mobile software enables drillers to generate an as-built report as soon as the pilot bore is completed. Information can be sent to and viewed on Android mobile phones and tablets, as well as Windows-based computers and Mac OSX. The software is shipped with each TK HDD guidance system sold.
Subsite Electronics

Smart water software
Trimble has introduced the latest version of its smart water mapping and work management cloud software - Trimble® Unity™ version 2.0. The version adds new capabilities to support complex water, wastewater and stormwater industry asset maintenance planning and work execution workflows; "Bring Your Own Device" GNSS mapping receivers for smart devices; and cloud-based single sign-on integration with Esri ArcGIS Online. It features advanced asset maintenance capabilities that allow utility customers to quickly search and group various types of utility assets into prioritized collections that can be easily assigned to crews for completion.
Trimble

Flow metering sensors
Morgan Advanced Materials has further extended its offering to the utilities sector with the addition of a new range of ultra-wide bandwidth, high-sensitivity, air-coupled ceramic sensors for flow metering. The sensors offer an increase of magnitude in sensitivity compared with alternatives, while maintaining and widening the bandwidth. The development is made using technology similar to that which underpins four-dimensional imaging. These enhanced properties enable metering manufacturers to greatly increase flow measurement accuracy at low and high flow rates, while also reducing power consumption. This allows the products to meet performance requirements.
Morgan Advanced Materials
www.morganadvancedmaterials.com

Stormwater arch
Brentwood has introduced the StormTank® Arch to provide a solution for large-footprint, subsurface stormwater management projects. The Arch offers a cost-effective means of promoting infiltration for commercial and recreational applications, in addition to maximizing developmental space. Commonly installed under parking lots, parks, and athletic fields, the Arch system is capable of storing a large volume of water while maintaining a low profile. It features structural rib end panels and interlocking end corrugates to allow for overlapping and easy installation.
Brentwood Industries

Filter systems
Schaffner EMC has introduced a complete line of integrated active harmonic filter systems that provide harmonic compensation up to the 50th order in real-time. With capacities of 100, 150, 200, 250, 300, 350, and 400 A, operating at 480 VAC (+/- 10%), these standard systems provide reactive compensation and load current load balancing. They are ideal for water and wastewater industry environments with non-linear loads such as variable frequency drives controlling pumps and motors, HVAC equipment and systems, uninterruptable power supplies, and more.
Schaffner

Programmable logic controller
Crouzet Automation has introduced the new em4 nano-PLC with remote capabilities and proven Millenium 3 Smart Logic Controller, both designed to control, measure, monitor, and log data for a variety of water and waste treatment applications. Developed for customers specializing in machine-to-machine technology, the em4 nano-PLC provides a totally integrated solution that allows device connectivity via the internet, without adding additional modules. This complete solution includes the nano-PLC, SIM card and data exchanges, as well as remote access web (em4web) and mobile platforms (em4 app).
Crouzet Automation, a brand of Custom Sensors & Technologies

Portable actuation devices
Italian company F.lli Scapin has presented a brand new set of portable actuation devices, specifically conceived and designed to replace manual work of water sector operators, allowing users to perform easy and fast opening/closing of water valves, penstocks and sluice gates. The Portable Valve Actuators catalogue includes two battery-operated units APB45N and APB60N, and two Honda engine-operated models APS100N and APS140N. These devices, made with light alloys coupled with last generation engines and components, are ideal for water regulation, irrigation and flow control.
F.lli Scapin

Lining system
Stonhard has introduced the newest product in the Stonchem product line, Stonchem 444. UL Approved for potable water storage tanks of 1,000 gallons or greater, the 444 is a spray-applied, 100%-solids, two-component hybrid elastomer lining system designed for vertical application. This highly durable, pin-hole free, immersion-grade waterproof lining is ideal for water and wastewater facilities and reservoirs. Stonchem linings are seamless systems that protect underlying substrates from a broad range of chemicals, including most petroleum-based products, salts, acids, and alkalis.
Stonhard

Sewage pump
Goulds Water Technology offers the 3SD non-clog dual seal with the seal sensor probe sewage pump series. The commercial-grade submersible sewage pump combines dual hard-face mechanical seals with a 300-series stainless steel, keyed shaft motor for defense against environmental conditions. The 3SD features a cast iron, two-vane, semi-open, non-clog impeller with pump-out vanes for mechanical seal protection. The pump is balanced for smooth operation and is capable of running dry without damaging the inner components. The 3SD is certified by Underwriters Laboratories and the Canadian Standards Association.
Goulds Water Technology

Smart photometer
Industrial Test Systems has added automatic calculations for Langlier Saturation Index (LSI) and Magnesium Hardness to its smart device application. Using a smart device as the brains of the eXact iDip® Photometer System™1 allows for limitless upgrade possibilities. The most recent upgrade of the application will provide users with the ability to determine LSI and Magnesium Hardness without doing any written calculations. The device seamlessly interprets data collected by the user and calculates the desired values, and displays the values both on the device and in the application.
Industrial Test Systems Inc.

Water meters
Clark Solutions' new CLXC-P Single-Jet and MJ-SDC Multi-Jet Totalizing Water Meters are an ideal choice for a wide range of sub-metering applications. Available for pipe sizes ranging from 5/8" to 2", these meters are produced in an ISO9001-certified production facility. Each CLXC-P Single-Jet and MJ-SDC Multi-Jet Water Meter is constructed in conformance with AWWA standards C712-10 (Single-Jet) and C708-11 (Multi-Jet) and meets ANSI/NSF 61 for materials safety and ANSI/NSF 372 for lead-free compliance.
Clark Solutions

SCADA software
InduSoft Web Studio v8.0 offers unique, enhanced IoT and interface capabilities for use on a variety of smartphones and tablets, as well as unparalleled revision control and application lifecycle management. Studio v8.0 adds a new runtime, called IoTView®, compatible with operating systems Linux and VxWorks. Allied to the current runtime editions, IoTView provides even more scalability to design solutions with InduSoft Web Studio for deployment on any platform.
Wonderware, by Schneider Electric

Safety railings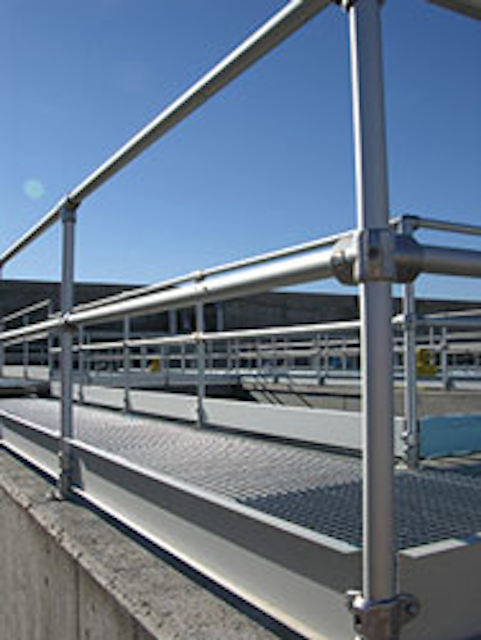 Kee Safety has announced the availability of turnkey systems for the installation of safety railings, walkway gratings and stairs for water and wastewater treatment facilities. Turnkey systems feature Kee Lite® railing components, which are constructed of high-grade aluminum silicon magnesium alloy for strength and corrosion resistance. Since the systems install without welding or drilling, assembled costs can be reduced up to 50% or more compared to welded railings. Kee Lite is lightweight and designed to fit 1" to 2" Schedule-40 pipe sizes.
Kee Safety Inc.

Process controller
Singer Valve has launched the new SCP-TP Process Controller. The SCP-TP is easy to set up in the field, and Singer also offers on-site commissioning assistance and training for utility staff if needed. The controller is designed to complement a dual solenoid control valve and can switch easily between settings for level control, up-stream and down-stream pressure management, flow control, and position control.
Singer Valve

Stormwater software
Advanced Drainage Systems has announced a new online program for designing and estimating the cost of a stormwater system constructed with its StormTech Chambers. The ADS StormTech Design Tool enables engineers, owners and contractors to design customizable underground stormwater management systems. The flexible tool provides the ability for site-specific applications and can be accessed and used through multiple platforms, including smartphones, tablets and other mobile devices.
Advanced Drainage Systems Inc.

Nanotechnology
Dais Analytic Corporation has released Version 4 (V4) of its Aqualyte™ material by adding features and improving the manufacturability of the product. Aqualyte represents the basis for a broad class of materials with unique features precisely managed by engineered processes. Features of the technology include the ability to create hermetic composite membranes possessing excellent ion conduction, high moisture transfer and high molecular selectivity. Dais' engineering process manages these features to offer differentiated products such as ConsERV and NanoClear, which are targeting worldwide needs in the energy and water markets.
Dais Analytic
More WaterWorld Current Issue Articles
More WaterWorld Archives Issue Articles