New Products
Aug 1st, 2015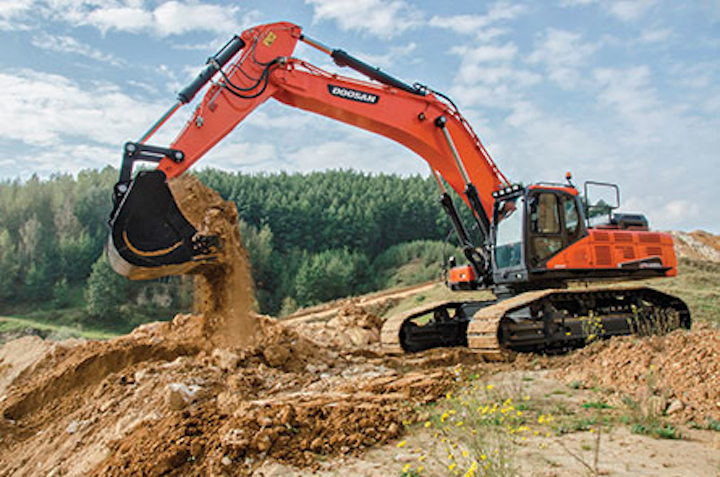 Excavators
The new Doosan DX420LC-5, DX490LC-5 and DX530LC-5 are the company's largest Stage-IV compliant crawler excavators, providing improved performance compared to the previous 'LC-3' Stage IIIB models. The increased productivity is marked in the flagship DX530LC-5 model, where the stability and wide-digging platform are combined with the best-in-class lifting capacities over both the front and side, increased by 12%. The lifting capacities in the DX420LC-5 and DX490LC-5 have also increased by an average of 5%.
Doosan Infracore Construction Equipment
www.doosanequipment.eu

Flood management tools
Schneider Electric has announced new flood management tools now available on its MxVision WeatherSentry Water Edition, a weather management tool specifically designed to help water utilities better anticipate severe weather events. With the new flooding observations and forecasts, thousands of real-time river and ocean water level observations will better inform utilities where high or fast water can impact their operations. MxVision WeatherSentry Water Edition now allows utilities to improve flood preparation and response with its customized alerts and colorized river stage and discharge observations.
Schneider Electric
www.schneider-electric.com

Leak detection
The PermaNet+ remote water leak detection technology from Fluid Conservation Systems is designed to locate water distribution system leaks. Its acoustic leak noise sensor technology provides sensitivity identical to the FCS Permalog+ platform. The sensor attaches magnetically to water pipelines and proactively "listens" for leak noise to occur within the distribution network. PermaNet+ then transmits the acoustic data from the leak noise sensors directly to the cloud using the existing cellular network, with no need for additional repeating infrastructure or time-consuming installation and setup.
Fluid Conservation Systems
www.fluidconservation.com

Transducer
Morgan Advanced Materials has launched a new best-in-class, 2-megahertz (MHz), water-coupled transducer for ultrasonic flow metering, offering improved sensitivity and ring-up time about 3 times shorter than alternative ultrasonic sensors. Customizable for any liquid measurement application from water metering to fuel flow, the sensor provides a high receive signal over a very small area. With a diameter of only 20 millimeters, the new sensor offers space and material savings, while maintaining superior performance.
Morgan Advanced Materials
www.morgantechnicalceramics.com

Information security management system
Badger Meter has obtained certification of its Information Security Management System (ISMS) under ISO 27001 and met the Service Organization Control (SOC) reporting framework of SOC 2. The certification of the ISMS means that it meets the security management standard that specifies security management best practices and comprehensive security controls following the ISO 27002 best practice guide. The ISMS required under this standard defines how Badger Meter perpetually manages security in a holistic, comprehensive way.
Badger Meter
www.badgermeter.com

Curb markers
Curb Markers from das Manufacturing can be applied to just about any flat surface. Stick them on concrete or asphalt with a choice of das adhesive. Permanently mark valves, meters, manholes, or any equipment locations where conventional signage cannot be used. The markers can be customized, numbered and imprinted with variable data, UPC and QR codes. The line offers over 120 stock titles, which are easy to use and easy to locate.
das Manufacturing
www.dasmanufacturing.com

Groundwater monitoring system
The SCADALink SAT100 Groundwater Monitoring System from Bentek is designed for real-time reporting of groundwater levels. With satellite communications, solar-powered operation and well-casing mounting, the system is easily deployed. It can interface to industry standard 4-20 mA or RS485 Modbus Based level sensors. Further, SCADALink's SatSCADA Server provides options for both web browser and smartphone data access or interface to the company's existing SCADA Systems.
Bentek Systems LTD
www.scadalink.com

Mortar
Mortartec Ceramico is a cutting-edge, epoxy-modified mortar from Epoxytec that serves as a highly advanced blend of epoxy technology combined with hardened ceramics and fibers. The result is a smooth mortar application with a hard, sealed surface once cured. Features and benefits include chemical-resistant mortar (surpassing calcium aluminate), rids outgassing up to 95%, and same-day recoat/epoxy top coat (3 hours after applied).
Epoxytec
www.epoxytec.com

Pressure transducer
The new Ashcroft® G3 pressure transducer offers 316L stainless steel wetted material and absolute pressure measurement to fulfill unique OEM sensor requirements. Available in ranges from 0/5 through 0/300 psi and vacuum, the application-friendly G3 is enhanced by a broad choice of pressure and electrical connections and outputs. This compact transducer is specifically constructed to stand up to shock and vibration while providing stable pressure readings over an extended life.
Ashcroft
www.ashcroft.com

Multi-stage pumps
Franklin Electric has expanded its line of VR Series vertical, stainless steel multi-stage pumps that deliver clean water under pressure for a wide range of applications. These booster pumps are now available in nine m3/h sizes with a flow range up to 600 GPM and 750 feet of total dynamic head. Each pump features all 316 stainless steel hydraulic components for optimum durability, efficiency and performance, even in corrosive water applications. Impellers and diffuser stages are fabricated from heavy-gauge stainless steel using advanced welding technology.
Franklin Electric
www.franklinwater.com

Dual-piston pumps
The Scientific Systems Inc. (SSI) versatile LD Class Pump consists of dual-headed, positive displacement piston pumps, delivering unmatched performance for analytical, flash and small-scale preparative chromatography applications. With the patented SSI low dead-volume Pulse Dampener, advanced cam technology and dual piston mechanism, the LD Class provides virtually pulse-free operation. The pumps are designed for high flow rate accuracy and low pulsation required for Analytical Liquid Chromatography (HPLC). Standard fluid path materials are stainless steel and PEEK, in addition to optional titanium.
Scientific Systems Inc.
www.ssihplc.com

Isolation valves
Clark Solutions has introduced its Model CTV-K and Model CTV-R Molded 3-Way Isolation Valves ideal for demanding low-flow applications where minimum size and internal volume are desired. The CTV-K Isolation Valves feature PEEK valve bodies, and the CTV-R Valves feature PPS valve bodies. Both models have PTFE isolation diaphragm materials to allow compatibility with aggressive media. Standard design features include low power consumption, continuous duty cycle, and Perfluor soft elastomeric seals, which handle particulate matter well.
Clark Solutions
www.clarksol.com

Butterfly valves
Center Line® 200 Resilient Seated Butterfly Valves from Crane ChemPharma & Energy are now NSF-61 and NSF-372 certified for potable water and lead-free service. Manufactured in stainless steel and aluminum bronze materials, the valves offer positive bi-directional shutoff, direct mount automation and exceptional performance in both gas and liquid service. These valves feature a phenolic or aluminum-backed cartridge seat and precision-machined parts to ensure years of dependable operation.
Crane Co.
www.cranecpe.com

Level sensor
BinMaster's new PT-500 submersible pressure transducer is an affordable and versatile level sensor that calculates level based upon the amount of pressure being exerted on the sensor from the liquid above it. It can be used in a wide range of liquids including water, wastewater and a variety of chemicals. It is Class-1, Division-1 certified and intrinsically safe for use in hazardous environments. As it has a low current draw, the PT-500 can be used in remote locations and for battery-powered applications.
BinMaster
www.binmaster.com

Hose pumps
Bredel Hose Pumps, part of Watson-Marlow, has added two new models to its APEX range of seal-less, valve-less hose pumps, ideal for chemically aggressive or abrasive applications. Widening the APEX performance envelope to 6,200 liters/hr. at pressures of up to 8 bar, the APEX28 and APEX35 design offers significant capital and operations savings, lowering the total cost of ownership. They are also more reliable than air-operated diaphragm pumps and progressive cavity pumps for these challenging applications.
Bredel Hose Pumps, part of Watson-Marlow Fluid Technology Group
www.watson-marlow.com

Metering antenna
Aclara has introduced a robust through-the-lid antenna that provides a solution for every meter site, reaching 100 percent of meters in pits and vaults while providing exceptionally high-read rates. The antenna offers utilities a flexible and complete solution for installing communications modules in meter pits and vaults. With the unit's exclusive design and advanced technology, utilities can elect to reuse their existing metal lids or replace them with lids that radio frequency signals can penetrate.
Aclara
www.aclara.com

Solids-handling pump
BBA Pumps has announced the launch of the new BA100K, a diesel-driven, 4" solids-handling pump. The unit guarantees high pumping performance combined with a low cost of maintenance and minimal exhaust emissions. This compact, dry, self-priming dewatering and sewage pump has a capacity of over 190 m3/hr (836 GPM) and a maximum head of 22 mwc (73 ft.). It also has a large free passage of 82 mm (3.23") and is driven by a single-cylinder diesel engine with a calculated maximum fuel consumption of 1.75 liters/hr.
BBA Pumps
www.bbapumps.com