Northern Iraq drilling project strengthens local clean water initiatives
Under the United Nations' Oil for Food Programme, Dando Drilling International supplied drilling rigs and trained local people - including women — to drill for their own water in Northern Iraq.
Apr 1st, 2003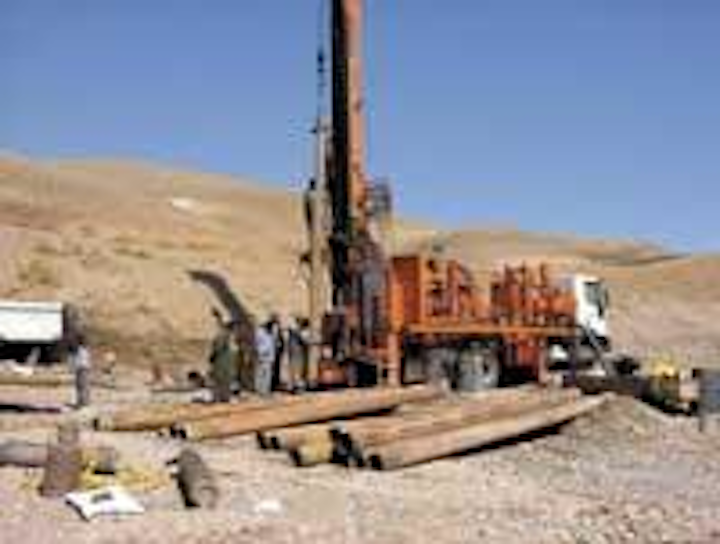 By Martin Fitch-Roy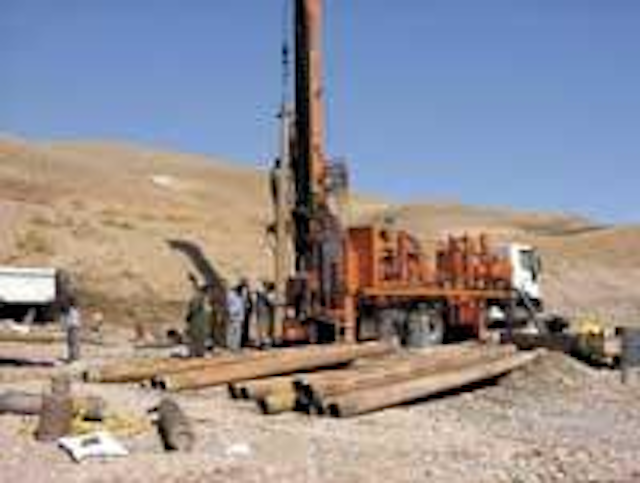 Dando supplied large hydraulic rigs with a pullback of 24 and 30 tons
Click here to enlarge image
Since 2000, the UK-based Dando Drilling International has supplied 18 large rotary drilling rigs and six well servicing rigs under the UN Oil for Food Programme to Northern Iraq, and has operated a drilling school that trained more than 300 students so far. Interestingly, the top graduate is a woman, one of six women that completed training.
Unfortunately, Dando pulled its staff out of the region in mid-March 2003 due to the military conflict in Iraq, but the company plans to resume the project as soon as possible.
The UN asked Dando Drilling International to tender for drilling rigs and equipment to provide the materials for local people to drill their own water wells. This project has helped to solve the water scarcity problem, and has brought other positive changes to villages in the region.
Four years ago, a mother and her four daughters had to queue for two hours a day to collect their household water from a local stream. During the winter, when the stream flooded and became contaminated, the family had no clean water for days at a time.
They live in Aziz Qadir an isolated Kurdish village in northern Iraq, south east of Sulaimaniyah, where 60% of the people survive below the poverty line. Northern Iraq is a very arid region with a significant need for new water sources.
Dando decided that equipment was not the only way in which they could help the people of northern Iraq, so two Dando engineers have been permanently based in the country since 2000 to train local people to drill for their own water. The UN and Dando operate the drilling school. The newly trained crews responded very well to instruction, perhaps because it meant a whole new outlook on their lives and the lives of their families.
The Dando equipment had to be designed for rugged terrain and conditions, and to provide ease of maintenance so that they could be maintained locally because of the conditions in which the machines operate in northern Iraq.
Dando supplied a selection of large hydraulic rigs with a pull back of 24 and 30 tons. Each machine has an air compressor of 900 cfm, 350 psi capacity and an 8-in x7.5-in mud pump. The machines drill wells down to 450 m.
The drilling rigs are using techniques that include Bentonite additives, polymer mud, down the hole hammer drilling and simultaneous casing and hammer drilling. Some rigs are equipped for deep core drilling with both conventional and wire line core barrels.
Before the wells were drilled, daily chores of the northern Iraq people included taking sheep to water. The wells now provide for livestock in addition to people, so the mother and her daughters and other families in Aziz Qadir now have time for new activities, like breeding poultry, so their health and economic outlook have improved.
Having a structure for communities to access training and other resources gives people control of their own development. In 123 villages, 2,500 families are participating in activities to improve health, generate more income and manage natural resources.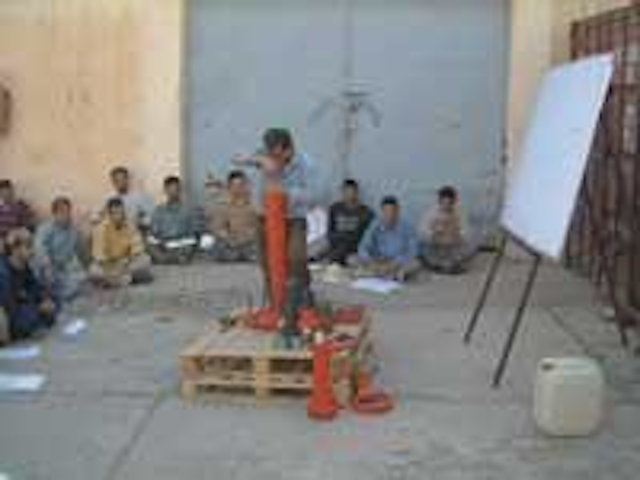 An instructor explains equipment at UN-Dando drilling school in Northern Iraq.
Click here to enlarge image
Families in the villages of Shaqlava, Koye, Harrir and Bacrajo have set up kitchen gardens now that water availability has improved generally in northern Iraq. Like two-thirds of families in Iraq, they largely depend on UN food rations. Last year, they had to travel miles to buy vegetables to supplement their rations. Now, they're growing okra, onions, cress, eggplant and cucumbers not for sale, but the garden reduces their expenses.
---
Author's note

Martin Fitch-Roy is the managing director of Dando Drilling International Ltd, based in Littlehampton, West Sussex, England. For more information, visit the website: www.dando.co.uk.