Roundup
Sulzer Pumps is supplying four booster and four main pipeline pumps to Technip Germany GmbH of Düsseldorf for the Fujairah Water and Power Project in the United Arab Emirates.
Feb 1st, 2003
Sulzer supplies pumps to Fujairah project
Click here to enlarge image
Sulzer Pumps is supplying four booster and four main pipeline pumps to Technip Germany GmbH of Düsseldorf for the Fujairah Water and Power Project in the United Arab Emirates. The pipeline system will transport water produced in a desalination and power plant via the main pumping station to the storage reservoirs located approximately 180 km away. The pipeline system consists of twin steel pipelines with a diameter of 1.6 metres.
Stage 1 of the project covers the construction of pumping equipment and storage reservoirs necessary for an initial throughput capacity of 100 migd. The transmission system in stage 2 will transport 180 migd of water. Additional booster and main pump units, plus the exchange of the impellers in the existing main pumps to suit the new increased head requirements, will increase throughput capacity. Stage 1 will be put into operation in summer 2003.
The main pumping station is located within the boundary wall of the tank farm area, which consists of five tanks with 90,920 m3 each for stage 1 and an area for an additional four tanks with 90,920 m3 each for stage 2. Sulzer Pumps in Switzerland and the product engineering team from Sulzer Brazil developed and designed the pumps to operate under specific conditions:
• site temperature min/max: 1/55ºC;
• site relative humidity min/max: 20/100%;
• pumped liquid temperature min/max 20/40ºC;
• specific content of corrosive and erosive agent.
Sulzer Pumps Ltd.
Winterthur, Switzerland
Hydraulic motor designed for heavy duty applications
Hägglunds Drives launched a new range of hydraulic motors - Compact CB - that is designed for heavy-duty applications such as shredders, feeders and roll mills. The manufacturer based the design on specified needs of users derived from a technical survey in 13 countries. The CB motor can be used with the same accessories as the Compact CA motor. It can be mounted directly on to the driven shaft and be ordered with splines for a close connection to the driven machine.
Mechanical efficiency is approximately 98% and the CB is shock-proof, the manufacturer claims. It provides full torque at any speed from standstill to maximum and can stop instantly. It provides torques up to 280,000 Nm, with displacements from 15 to 52 litres per revolution with speeds up to 125 rpm and rated pressures up to 350 bar.
Hägglunds Drives
Mellansel, Sweden
Self-priming pumps offer flexibility
The P Series self-priming pumps for municipal sewage and wastewater applications were launched as an alternative to submersible pumps used in the industry. The manufacturer offers fifty models ranging from 75 mm to 250 mm in size, with flows out to 750 m3/h and 4.5 bar pressures, and solids handling capability of up to 75 mm.
"Self-priming pumps are increasingly used in municipal markets as they offer an unparalleled amount of flexibility to large-scale users of pumps in various applications," explained General Manager Simon Ruffles of Pioneer Pump. "An organisation that has twelve small sewage lift stations in a city all with various duty points can standardise on our P6 150-mm pump, for example, and set their specific duty points through altering the motor speed by VFD or V belts. This means that the company requires only one set of spare parts for all twelve pump stations and perhaps a single spare pump to keep all pump stations up and running."
Pioneer Pump Limited
Bury St. Edmunds, Suffolk, England
WILO acquires EMU
WILO AG of Dortmund, Germany, acquired EMU Submersible Pumps Group, a move that should enhance Wilo's activities in a market with one of the strongest growth rates in the pump sector. EMU supplies pumps and technical machinery for municipal and industrial water supply in addition to sewage disposal and treatment.
Click here to enlarge image
The group, which includes EMU Unterwasserpumpen GmbH and EMU Anlagenbau GmbH and eleven other associated companies, earned provisional sales of g50 million in 2002.Wilo plans for ambitious growth using its worldwide sales organisation for the sale of EMU's products.
In one of Europe's largest submersible pump installations, EMU submersible pumps protected the city of Hradec Kralove (Königgrätz) in the Czech Republic against flooding by the river Elbe in the summer of 2002. The pump pit has a diameter of 12 metres and is 36 metres deep. The nine pumps, equipped with oil-filled motors, can pump a total of 6,600 litres per second to a manometric height of 36 metres.
Wilo AG
Dortmund, Germany
Mono Pumps solve Shell UK rainwater problem
Mono Pumps' P range vertical progressive cavity, positive displacement pumps solved the problem of pumping rainwater with potential hydrocarbon traces from a pipe track catchment area.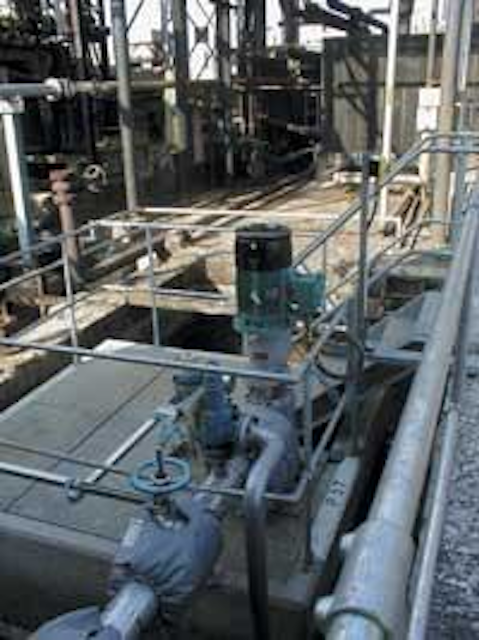 Click here to enlarge image
Shell needed a pump that could handle principally rainwater, abrasive sediments plus a range of hydrocarbon products of varying viscosities, so the company chose the SP082P range from Mono. The pump is operated remotely on automatic level control to periodically empty a new sump chamber as the collected rainwater levels rise. Pumping at a rate of 7.5 dm3/s and operating at 254 rpm, the rainwater is pumped away into an existing site collection system.
The P range vertical pump is designed for low shear, abrasive materials and high viscosity applications.
Mono Pumps
Manchester, England
Low-cost direct-drive plunger pump available
Cat Pumps offers another new direct-drive Plunger pump for the portable cleaning industry. The 3SP30G1I gas model delivers three gallons per minute (gpm) at 3,000 psi while the 3SP35GEI electric model delivers 3.5 gpm at 2,500 psi. Both models are direct-mount flange style pumps with new streamline ribbed crankcases. Its V-packing seals are field-proven to last long under high pressure, according to the manufacturer. Cat Pumps claims its solid ceramic plungers extend seal life and improve overall pump performance.
The compact pressure regulating unloader with adjustment handle, by-pass hose and chemical injector is standard on each pump.
Cat Pumps
Minneapolis, Minnesota USA
In-line gear reducers save space
Click here to enlarge image
Viking Pump's new series of in-line gear reducers, compatible with any positive displacement pump or other equipment needing speed reduction, feature the input and output shaft on the same centreline to save space and improve alignment. All gear reducers in the new series offer double reduction and low noise levels. Gear reducers are available in ten different sizes with ratios varying from 2.6:1 to 35.1:1. Available horsepower ranges from 0.37 to 261 kW, while output speeds range from 50 to 673 rpm.
The gear reducers offer universal mounting with either a solid input shaft, or a hollow input shaft combined with a NEMA C or IEC flange to close-couple to the motor. Direct-mounting eliminates alignment problems and the need for a coupling set and a coupling guard between the motor and the reducer.
Viking Pump Inc.
Cedar Falls, Iowa USA
Dripmaster extends pump life in municipal utilities
Dripmaster, a patented lubrication and monitoring device for oil-lubricated vertical lineshaft pumps developed for Israel's desert climates, is used in hundreds of wells in Israel and is now being introduced to US water utilities. Maintaining a steady and constant rate of lubrication oil drip in a water pump's vertical lineshaft helps extend the pump's working life.
Dripmasters have been in operation for more than on year in Scottsdale, Arizona, USA. Rick Payne, the city water operations supervisor, commented on their application: "These units provided us with a technological solution for vertical lineshaft lubrication and even automatically shuts down a well if the lubrication stops for any reason, preventing the need for expensive repairs. As oil viscosity can change dramatically due to changing weather conditions - very cold weather can seriously increase viscosity, stopping the flow of oil - the Dripmaster will shut down such a well, preventing serious damage to the pump."
Hoffmann and Hoffmann Ltd.
Ra'anana, Israel
Pump handles wastewater challenges
Pumpex Models K60 and K63 non-clogging submersible centrifugal sewage pumps handle pumping solids, fibrous material, sludge and other materials found in sewage, industrial water and other contaminated liquids without suffering failure due to heat generation.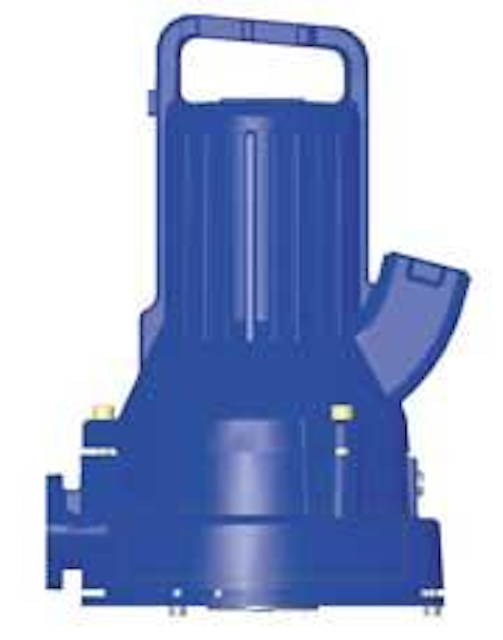 Click here to enlarge image
Both models feature a proprietary motor and pump unit that is constructed as a single, compact unit set into an air-filled, water-tight casing. The motor handles intermittent and/or continuous operation in wet sump installations. Available from 1.3 through 4.7 hp motor sizes, single- and three-phase, the pumps produce flows through 280 gpm and heads of 84 feet.
The K60 and K63 are lowered on guide rails and permanently and automatically mounted to the well bottom when installed in a wet well, which eliminates the need for personnel to enter the wet-well.
The Pumpex re-designed mid-range wastewater pump series feature the closed loop motor cooling system and cartridge mechanical seal, and range in size from 10 to 80 hp with a 4-inch to 12-inch discharge. The closed loop cooling system with its protected, continually circulating water/glycol bath introduced no foreign impurities or debris from the pumped liquid to create problems.
Pumpex, Inc.
Somerville, New Jersey USA