Delivering Clean Water with Clean Energy
Solar-powered pumps are being used to provide water to regions that have little or no grid-supplied electricity.
Dec 1st, 2009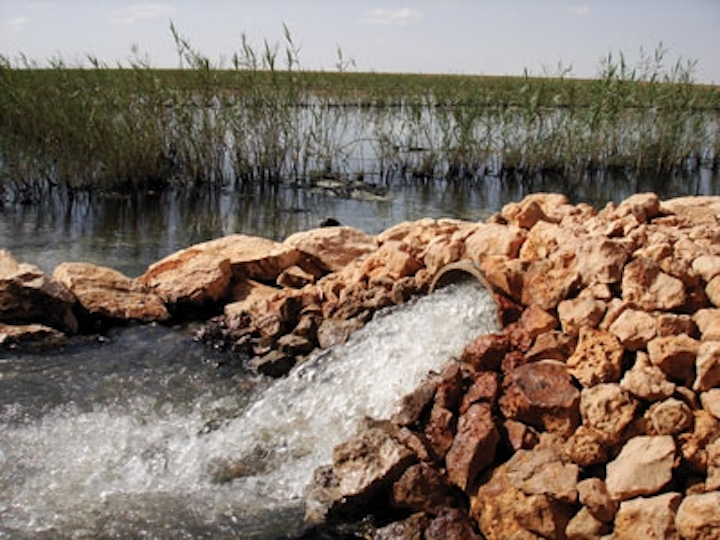 By David Bernell
According to the United Nations Human Development Report, more than 1.1 billion people have inadequate access to clean water. This number is growing, making access to fresh water an increasingly critical problem to be addressed, particularly in developing nations where electrical infrastructure is not available. Innovative solutions to help solve this problem have become a necessity, and one such solution is the Universal Solar Pump Controller (USPC), a unique "gridless" pump-controlling technology that converts solar energy to electricity for powering pumping devices.
The USPC, developed by AeroVironment, Inc. (AV), helps provide water to regions that have little or no grid-tied electricity. In the East African Republic of Uganda, much of the country remains unconnected to the electrical grid, and in the town of Kitgum, more than 300 kilometers north of Kampala, the capital of Uganda, the USPC provides water to the community using solar generated electricity.
The Austrian firm BBM built the solar water pumping stations for the town of Kitgum. AV's USPC was selected to drive the water pumps, and two 10,000-Watt USPC units are now helping to provide Kitgum with fresh water daily. One is installed at the Kitgum Technical Institute, and this system now pumps more than 26,500 gallons of water per day. Another unit is deployed in a system that yields some 15,850 gallons daily at the Y.Y. Okot Memorial College.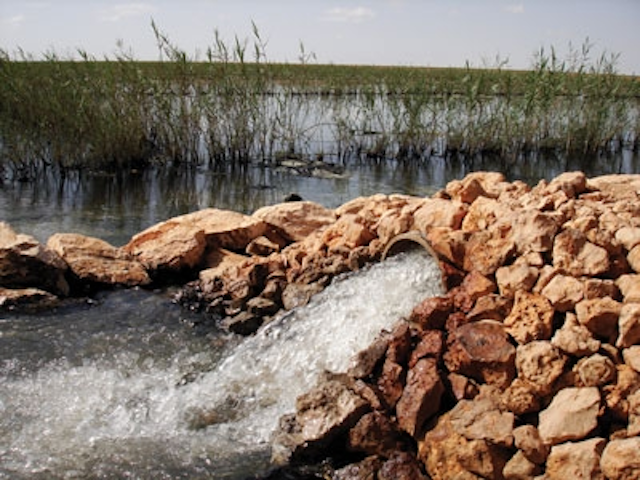 The USPC can be used to drive a single-phase or three-phase AC submersible pump directly from photovoltaic modules.
A third USPC, a 5,000 watt unit, was later installed in Nyapea, Uganda, to provide water to the region's major hospital. While the project was under construction, BBM used the USPC to help train technicians and engineers on the techniques of solar water pumping.
"Maintaining water supply is the biggest problem for all institutions in Uganda," said Norbert Demmelbauer, BBM's project manager on the Nyapea installation. "The USPC inverters were the perfect solution from a design, installation, and operational standpoint. The units are working without the need for maintenance and are making it very easy for users to monitor the well and the water pumping system."
Following on the heels of BBM's Uganda installations, the USPC was adopted for use in the Northeast African country of Eritrea, where 10 solar pumping stations were installed to provide water to communities that lack electrical infrastructure.
The Technology
The USPC originated in 1993, when Coors Brewing Company entered the solar market through a subsidiary called Golden Photon, which sought to create a new, inexpensive solar panel made of cadmium telluride. Golden Photon contracted with AV to build a solar pump controller (SPC). It was envisioned that the technology could be used to pump water for rural towns and villages that had no access to an electrical grid.
After the AV-Golden Photon project concluded, the SPC concept continued, becoming AV's Universal Solar Pump Controller. AV added the U for "universal" after its engineers modified the software to run a multitude of motors with various solar module technologies (thin film or crystalline), offering a major advantage over other solar inverters on the market.
The USPC can be used to drive a single-phase or three-phase AC submersible pump directly from photovoltaic modules. It maintains a constant volts/Hz ratio to allow standard AC pumps to run at lower speeds without distress. This enables easy, soft starts and the efficient use of lower-than-peak photovoltaic output levels over the course of the day with off-the-shelf pumps.
| | |
| --- | --- |
| | The Universal Solar Pump Controller (USPC) converts solar energy to electricity for powering pumping devices. |
The USPC offers variable speed operation, which maximizes system performance by adjusting pump speed to match the available solar power. This allows the controller to maximize the amount of water delivered to the user. In addition, its peak power tracking capability lets the controller constantly adjust for peak output from a solar array; this is important because the voltage and current set points for maximum power vary throughout the day as solar insolation and temperature change.
Adding to its cost-effectiveness, the USPC has a power conversion efficiency of 97 percent, which is higher than many other stand alone or off-grid photovoltaic inverters. Minimum and maximum speeds are configurable, and the controller's power electronics are programmed to automatically shut down in the case of a dry well, clogged pump, or shorted wiring. The controller also has a remote shutdown switch for filling water tanks and a fault-detection LED display.
An additional feature, especially important in a climate like Uganda's, is the USPC's ability to regulate its maximum operating temperature internally. Instead of shutting off at a specified temperature, the unit gradually reduces its power usage. This prevents overheating so that the controller can continue running in very hot weather.
The USPC is also designed to make installation simple. The technology employs a configurable DIP (dual in-line package) switch feature, which lets the installer easily establish settings in the field without software or other sophisticated devices. This significantly simplifies installation in remote settings. Lastly, as it is designed for use in harsh conditions, the controller is enclosed in a rugged, outdoor-rated NEMA (National Electrical Manufacturers Association) 3R steel case.
Closer to the Grid
The USPC can benefit less-developed nations and remote areas anywhere in the world, but it can also serve areas where an electrical grid is available but remote – including in the United States. For example, Culver City, California-based MAP Productions, an alternative energy company, installed USPCs to help provide water to the Tule Elk herd in Northern California.
"The USPCs operate every day – from sunrise to sunset – and are the best solution I've found for pumping water with a standard well pump," said Michael Parsons, the owner of MAP Productions. "Each pump supplies approximately 30,000 gallons of water per day, which would otherwise cost the state about $15,000 a month."
Parsons adds that this allows California to use the savings to pay for feed instead of electricity – a very important factor in the continued survival of the state's last native breeding herd of Tule Elk, whose offspring have been used to repopulate other areas of the Western United States.
For more information about AeroVironment, go to www.avinc.com.
About the Author:David Bernell is Senior Clean Energy Advisor at Think Energy, Inc., a renewable energy consulting firm in Silver Spring, MD, and Assistant Professor of Political Science at Oregon State University.
More Water & WasteWater International Current Issue Articles
More Water & WasteWater International Archives Issue Articles