Norwegian Sea Oil Platform Goes Wireless
Smart wireless solutions from Emerson Process Management improve wellhead and heat exchanger monitoring in crowded environment of StatoilHydro offshore platform.
May 1st, 2009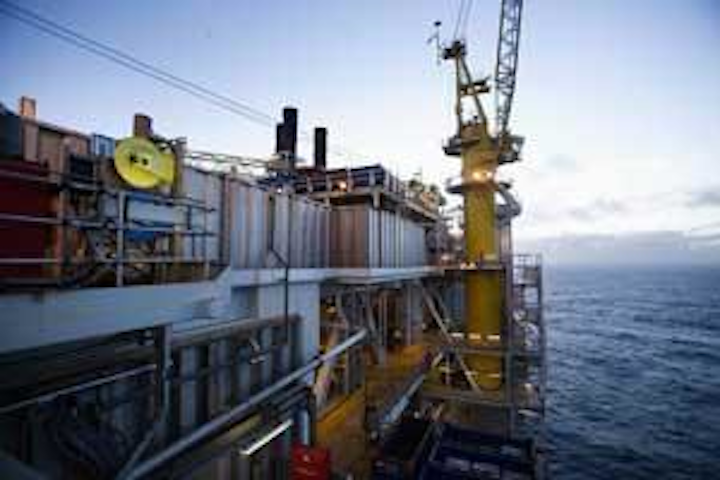 Smart wireless solutions from Emerson Process Management improve wellhead and heat exchanger monitoring in crowded environment of StatoilHydro offshore platform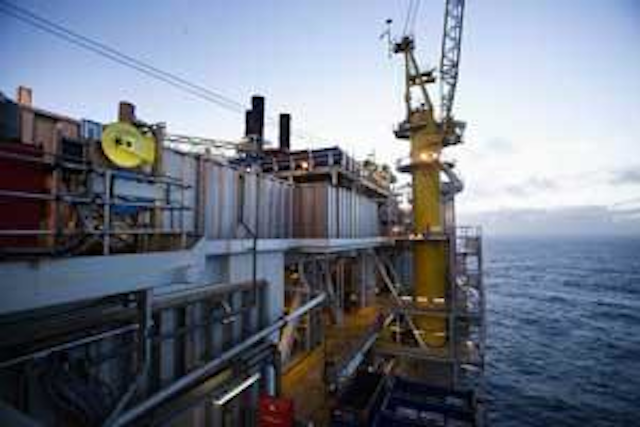 Emerson's wireless solutions have been successfully applied to the Grane platform, which is stationed in the Norwegian Sea and operated by StatoilHydro. [Photo courtesy of Jo Michael, StatoilHydro]
Click here to enlarge image
Emerson Process Management has successfully applied its wireless self–organizing mesh field network to monitor wellhead annular pressure and heat exchanger pressures on the Grane offshore platform. The platform — stationed in the Norwegian Sea off the coast of Bergen, Norway — is operated by StatoilHydro.
Emerson's self–organizing wireless mesh technology is well–suited to the application of wireless technology, enabling remote monitoring and control of processes, including produced water management, in difficult to reach areas. Emerson believes the network on the Grane platform is the first offshore wireless installation in Europe.
"We had some concerns that this new technology would work reliably in the harsh environment of our offshore platform," said Geir Leon Vadheim, chief of instrumentation for StatoilHydro's Grane Operations. "We also needed to address the issue of how we would integrate the data gathered by the wireless gateway into a third party system. As it turns out, the integration was easy and the performance of the Smart Wireless transmitters has exceeded our expectations."
The wellhead area is crowded with metal pipe work, metal walkways above and below, together with other metal obstructions. Despite the challenging environment, as each transmitter was powered up, the devices found the gateway, and the mesh was established. As new devices were added, they quickly and easily joined the mesh. Signal strength and consistency during the operational period has been excellent.
The wireless network enables continuous monitoring of pressures and eliminates the need for daily visits to the wellhead to manually record gauge readings. Continuous monitoring enables unusual readings to be identified earlier and action taken to investigate and rectify faults before they develop into serious problems.
The Smart Wireless network on the platform includes 22 wireless Rosemount® pressure transmitters which replace traditional gauges. Ten pressure transmitters are mounted on a wellhead and used to measure annular pressure. A further 12 pressure transmitters monitor inlet pressure and pressure drop over the heat exchanger. Each transmitter relays data back to the operator consoles in the control room. Installation was quick and easy with a gauge adapter fitting used to allow a direct "screw in" replacement. A wireless gateway was mounted outside the process area on one side of the platform, at a height where it oversees the wellhead area.
"We are delighted with the performance of the Emerson Smart Wireless network in these challenging conditions," said Vadheim. "Following a short training program, our instrument engineers were very confident about adding more wireless devices to our installation as required. These typically take around two hours to install compared with up to two days for a conventional wired unit."
Following the success of this installation, StatoilHydro is planning to install Emerson Smart Wireless transmitters on other offshore platforms it operates in the area.
---
Austin, Texas, USA–based Emerson Process Management, an Emerson business, is a leader in helping businesses automate production, processing and distribution in the chemical, oil and gas, refining, pulp and paper, power, water and wastewater treatment, mining and metals, food and beverage, pharmaceutical and other industries. Contact: www.emersonprocess.com.