Africa's No.1in No.2
Helping people 'do their business' is big business for three African entrepreneurs who have pioneered toilet services in Africa and were recognized recently at a National Press Club event in Washington, DC.
May 1st, 2009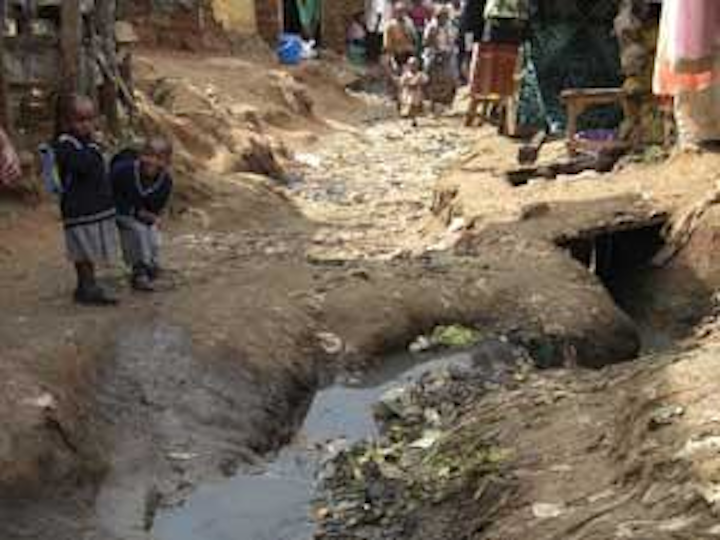 Helping people 'do their business' is big business for three African entrepreneurs who have pioneered toilet services in Africa and were recognized recently at a National Press Club event in Washington, DC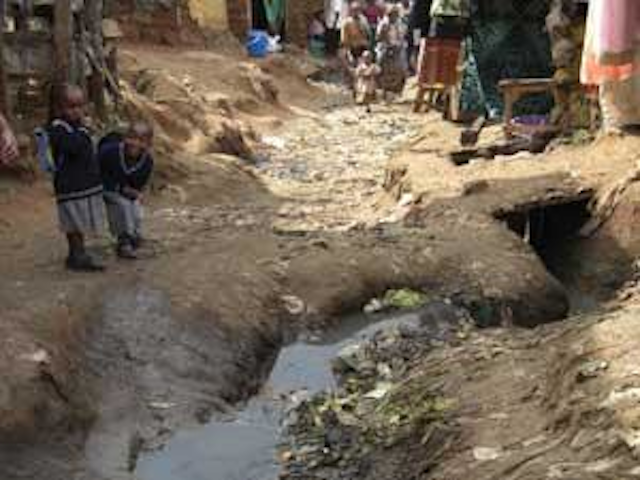 Children play near open drainage of sewers in Nairobi, Kenya's Kibera slum, underscoring the urgency of improved sanitation options in crowded Third World periurban settings.
Click here to enlarge image
Human excrement is serious business. Three African social entrepreneurs, David Kuria, Joseph Adelegan and Trevor Mulaudzi, spoke at the National Press Club in Washington, D.C., in February to share this revolutionary approach to solving the global sanitation crisis. The entrepreneurs speak from experience; each has established lucrative and groundbreaking businesses related to people "doing their business" — and providing the proper sanitation facilities for it often in crowded urban centers of Africa and their periurban suburbs. Their business models, once considered distractions in the traditional policy or charity realm, are proving to be successful ventures. Their innovations are successfully shifting social behavior and improving public health, the environment and the economy. Trevor Mulaudzi, a South African entrepreneur, stressed that "no one wants to use a dirty toilet no matter how poor they are."
Nairobi entrepreneur David Kuria is making the toilet a hot commodity in Kibera, one of the largest slums in Kenya. To increase demand for and maintenance of toilets in the slums, he founded a venture called Ecotact. "Why just do two quick things in the toilet?" Kuria asks. Ecotact builds "toilet malls" that provide bathroom facilities along with shoe shines, food, phone booths and other commercial services.
Each toilet complex is equipped with eight toilets, a water kiosk, a baby changing station and gender separate showers. About 30,000 customers use Ecotact's facilities every day. Corporations now vie for advertising, while the nearby vendors strive to keep the toilets clean. And it's the business model, not charity or education alone, that drives this success.
Lately, the toilet malls have been attracting unlikely champions — a popular comedian who does a stand–up sketch about toilets, the country's beauty queen Miss Kenya, and the nation's Vice President Kalonzo Musyoka himself, who recently stopped in to use the facilities and pose for photos. In a continent where more than six out of every 10 people don't have a sanitary toilet, this new service is removing the taboo around human waste, creating jobs, improving self esteem and making communities enthusiastic about hygiene.
Kuria has recently won several international awards for his work. He's collaborating with Ashoka, Rotary, Global Water Challenge, the Acumen Fund and other social entrepreneurs internationally to scale up his model and combine it with similar innovations. There's promise for it to extend throughout Kenya and the rest of Africa.
For Nigerian entrepreneur Dr. Joseph Adelegan, a civil engineer by training, human and animal waste wasn't waste but an opportunity that shouldn't be wasted. A nearby slaughterhouse had been disposing daily the waste of 1,000 slaughtered cows directly into a local river. Dr. Adelegan designed a bioreactor that digests the waste into biogas that generates electricity and is used for cooking fuel. Local women's organizations sell the fuel at affordable prices for urban poor. The solid waste left over is a cheap and effective fertilizer. His models, named "Cows to Kilowatts" and "Power to the Poor," also reduce emission of methane gas, a potent greenhouse gas. His initiative also has improved the quality of the water that the local community uses for cleaning and bathing.
The successful business model not only tackles the technological aspects of this problem, but — even more powerfully — it has mobilized the community. It has even stirred the Nigerian government, which used to block such initiatives, into action. In 2008, Dr. Adelegan's model was accepted into national policy and will be replicated within other slaughterhouses in Nigeria. Meanwhile, he has also been featured on CNN, awarded prizes from the World Economic Forum and covered recently in Fortune magazine. He's now working with other social entrepreneurs to extend the approach to other African countries.
Famous Kenyan comedian Makhokha (pictured here) and Miss Kenya have both made celebrity appearances at Iko Toilets in Nairobi, Kenya.
Click here to enlarge image
In Johannesburg, Mulaudzi applies many of these same principles in his business, The Clean Shop. A clean toilet is good business for The Clean Shop. It offers schools and large organizations sanitation services, such as cleaning toilets and repairing plumbing in schools, teaching students hygiene lessons. A mining geologist by training, Mulaudzi recalled how he set out on this career path the very day he found children skipping class and defecating in the open because their school's toilet was piled with feces. Now, The Clean Shop employees three hundred people who move in and clean up unusable toilet facilities. They turn them into attractive and dignified places, sometimes with no initial payment or contract.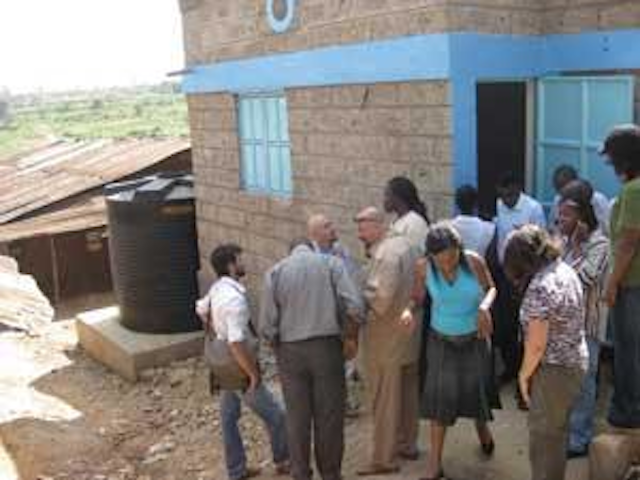 New EcoTact toilet in Kibera slum of Nairobi provides a safe, clean place to tend to oneself, change diapers and even shower — as well as offers phones and other commercial services.
Click here to enlarge image
Mulaudzi approaches the sanitation problem from the perspective of an educator rather than a cleaning contractor. He has used such motivational techniques as requiring that each student bring his or her own roll of toilet paper as the "admission ticket" to the shiny new restroom. In doing so, he builds a sense of pride, dignity and responsibility. It usually evolves into toilet–user demand for clean toilets, which ripples up to change administrative and even government policy. Students in one location even held a protest when Mulaudzi's contract was not renewed; it prompted the administration to reverse their decision.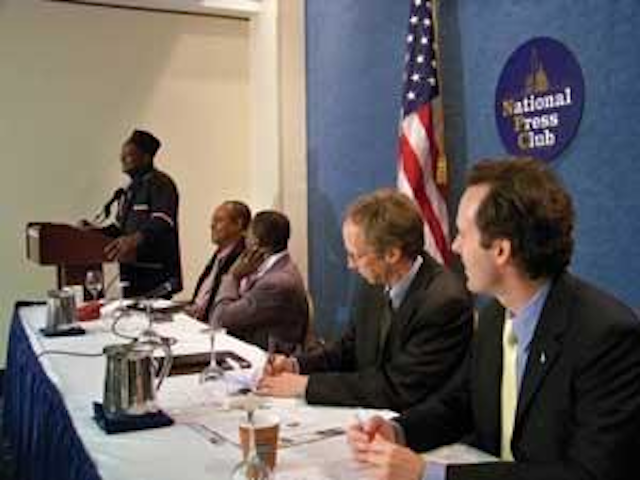 L–R: David Kuria, EcoTact (at podium); Trevor Mulaudzi, The Clean Shop; Dr. Joseph Adelegan, Global Network & Economic Development Research; David Strelneck, Ashoka International project director and environmental program analyst; and John Oldfield, Water Advocates partnership development director.
Click here to enlarge image
Mulaudzi is a finalist in the Ashoka Changemaker's recent global competition for innovative solutions to water and sanitation problems. In addition, he has recently been hosted by the government of Malaysia to discuss transferring the lessons of this model.
These three leading entrepreneurs have been working with other entrepreneurs in Africa to establish a new vision of water and waste management where clean water and facilities inspire public pride which translates to political influence, and where waste management and sanitation deliver public health and environmental benefits through an economically profitable business model.
"It can't be business as usual–real impact needs a new approach that integrates together different approaches to resolving the water and sanitation crisis," concludes Joseph Adelegan.
This article was provided by Water Advocates, a Washington, DC.–based nonprofit organization dedicated to increasing U.S. support for global access to safe, affordable and sustainable drinking water and adequate sanitation. Contact: www.wateradvocates.org