Solar-powered pump system brightens up future for Krygyzstan
Fifty-three villages in the Central Asian republic of Krygyzstan solved one of their biggest problems - clean drinking water - by using solar energy.
Dec 1st, 2004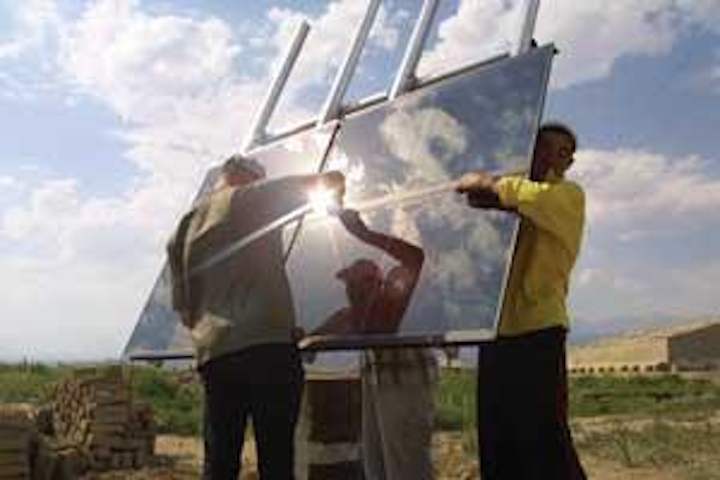 Fifty-three villages in the Central Asian republic of Krygyzstan solved one of their biggest problems - clean drinking water - by using solar energy.
The Grundfos SQFlex solar pumping system now installed in 53 remote villages in Krygyzstan will make life far easier for women and children by providing easy access to clean drinking water. Instead of spending hours walking many miles for drinking water, more time will be available for attending school, tending crops and farm animals.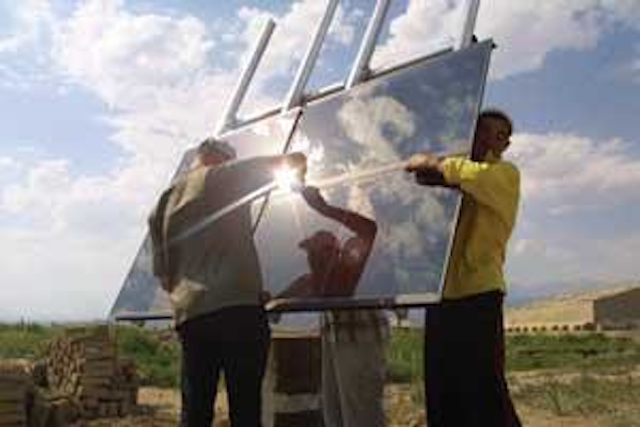 Local people educated by Grundfos installed 53 solar pumping systems.
Click here to enlarge image
The Central Asian republic Kyrgyzstan is a beautiful country in the former Soviet Union, close to the Chinese border. Rolling hills mingles with fertile valleys, vast steppe and barren, wild mountains up to 7,500 metres above sea level. Water is plentiful, especially in the spring after a cold winter's snow, but it quickly disappears into the porous soil and leaves poor inhabitants with no other choice than walking miles for good drinking water.
Most inhabitants are first- or second-generation nomads whose ancestors have lived their lives on the steppes for hundreds of years, moving around in search of pasture for their animals. Today they live in small villages and make their income from small-scale farming, although many of them still move into the mountains with their animals during summer months.
Kyrgyzstan is also a very poor country whose only natural resource is electricity generated from the many streams and waterfalls in the mountains. The country's own electricity supply is very unreliable and expensive, since most power is exported to other Central Asian countries. Thus, electricity is a luxury for poor residents if available at all. Sunshine, however, is plentiful throughout the year, so solar energy offers a cheap and practical solution for pumping water in rural areas.
The United Nations Development Programme (UNDP) and Danish company Grundfos, based in Bjerringbro, organised the project. Instead of only delivering pumps and solar modules, Grundfos took responsibility for the whole project by educating local craftsmen in how to install and maintain the systems.
The pump manufacturer shipped two large containers shipped from Europe with pumps and solar modules in addition to every item needed to install the systems and make them fully operational in these remote areas, such as water pipes, cables and fittings. Even fully equipped tool boxes were included, because most tools can be hard to find even in provincial towns in Kyrgyzstan.
The SQFlex systems installed so far in Kyrgyzstan are all solar-driven; however flexibility is a key issue for remote water supply. For this reason, the SQFlex is also designed for working with wind turbines and power generators, depending on local conditions.
Covering people's most basic needs for water in the most barren and remote areas of the world, the SQFlex Systems have gained a remarkable reputation. UNDP Programme Associate Adilet Abdybekov, based in Kyrgyzstan, explained: "We have chosen this system because it is very reliable and easy to install and maintain for people in rural areas. Grundfos' local representatives in Central Asia are close at hand, so technical backup is never far away."
In the Kyrgyz villages, the easy access to water leaves more time for women and children to cultivate the soil, take care of the animals and go to school. According to Mr. Abdybekov, "It is hard to exaggerate what this means to people. It facilitates their daily village life very much and probably helps reducing the migration of young people to cities where most don't get a job anyway. Now they can stay here instead and get a decent income for their families. It suits perfectly well with UNDP strategies."
Mr. Orozbek Bekturov, the first Deputy Governor in the Issyk Kul Province, added: "This is a great saving. These people are very poor and can hardly pay for electricity. Now they have a constant, free water supply at hand." However, the new water supply represents a new freedom for one young girl in the village. Questioned how she would spend the time saved by having the new water supply, she answered: "I will be playing music."
Author's Note
Carsten Kvistgaard, a photojournalist in Grundfos Group Communication, Denmark, visited Kyrgyzstan in June 2004. The author can be reached at ckvistgaard@grundfos.com.