Restoring water & wastewater systems in Iraq
Water resources expert Alan Palmer of Stanley Consultants recently returned from Iraq and recounts his insights on the first steps taken in reconstruction efforts while working in the US Coalition Provisional Authority's Program Management Office.
Oct 1st, 2004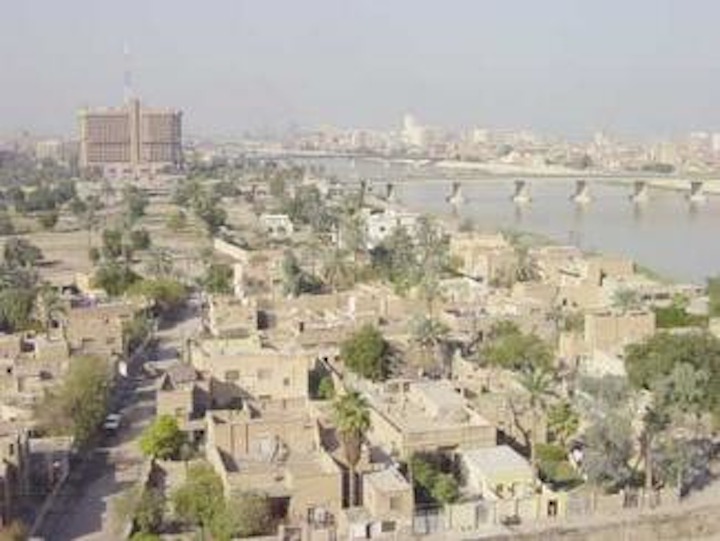 Water resources expert Alan Palmer of Stanley Consultants recently returned from Iraq and recounts his insights on the first steps taken in reconstruction efforts while working in the US Coalition Provisional Authority's Program Management Office.
Throughout recorded history, Iraq has irrigated her land to support whoever was in power at the time. A five-fold increase in population since 1950 stressed the productive capabilities of the historic system, and the Hussein regime left this system close to collapse by the end of the 20th century. The nation's water resource infrastructure remains in desperate need of modernisation, redevelopment and improvement.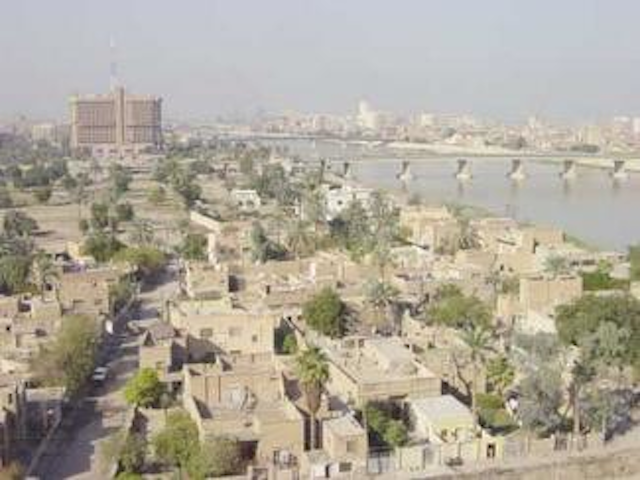 A helicopter view of irrigated lands north of Baghdad.
Click here to enlarge image
The US government committed US$ 775 million to reconstruct portions of the water resources infrastructure, to be planned and administered by the Coalition Provisional Authority's Program Management Office (PMO), now the Iraq Project and Contracting Office, or PCO.
The PCO manages the $18.4 billion appropriated by the US Congress to support the reconstruction of Iraqi infrastructure. This office is responsible for all activities associated with programme, project, asset, construction and financial management of that portion of the construction effort undertaken by the USA.
During the summer of 2003, 15 employees from two US companies -- Stanley Consultants of Muscatine, Iowa and Michael Baker Corporation of Moon Township, Pennsylvania -- were asked to go to Iraq to assist in the reconstruction effort. This multi-disciplined team of engineers were flexible and ready to work in a high-risk environment. Stanley Consultants agreed to provide engineering support under an indefinite delivery/indefinite quantity contract for architect-engineer services awarded by the Transatlantic Programs Center of the US Army Corps of Engineers, and to provide master planning services to assist the US/Iraqi team in the reconstruction of Iraq.
Upon arrival in Iraq, the team joined Retired Admiral Dave Nash and his executive officer to form the Program Management Office (PMO). Its job was to advance the reconstruction effort as quickly as possible while the "permanent" PMO administration was organised. The PMO grew to 150 by the spring of 2004.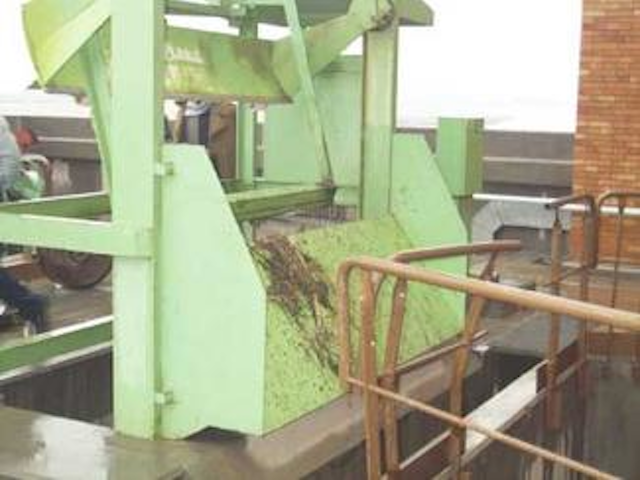 Trash rack at the Jadriya irrigation pumping station, located along the right bank of the Tigris, downstream of Baghdad.
Click here to enlarge image
The $18.4 billion in federal funding is divided into 10 sectors, each aligned with Iraqi ministries. Of this, $775 million is slated for reconstruction of Iraq's water resources inventory, including rehabilitation of the Basra water supply canal, the replacement of numerous pumps and generators, the rehabilitation of existing irrigation and drainage systems, the completion of major ongoing irrigation and drainage projects, construction of rural water supply dams, safety and rehabilitation of existing hydroelectric and water supply dams, and repairs to the Basra canal regulators. Palmer's responsibility was to develop the initial program for the reconstruction of this water resources infrastructure.
Programming these funds constituted a three-phase planning effort - identify, set priorities, scrutinise.
The needs identification process involved extensive meetings with ministry and coalition personnel. No comprehensive database of existing water resources facilities was available after Iraqis looted and burned the ministry building after the start of the occupation. Any edifice to the former regime was a target during this period.
Communications were a big issue; no local phone system remained in operation. A burgeoning cellular system carried over much of Iraq by the time the team arrived, but available phones were scarce. Written communication was not dependable as there were no reliable couriers or mails, and translation services were unreliable. Face-to-face communications were most effective.
Personal contact or "face time," however, requires travel outside of the relative security of the Green Zone. Policy required that flak vests and Kevlar helmets be worn, and armed escorts to protect the engineering team. A minimum escort included two vehicles and four weapons, at least two being long guns. Palmer made over 60 missions outside of the Green Zone during his five-month assignment in Baghdad.
Minimal communications were allowed during the former regime. Plans were scarce and under strict state control. Only plans and reports rescued by dedicated engineers escaped destruction by fires. Most confusing was that projects often had multiple names. Sometimes they were named after the source or receiving streams, local villages or cities, historic figures, and Saddam Hussein. For example, Mosul Dam was known as Saddam Dam. The "Basra Umm Qasr Water Supply Canal" was also referred to as "Loyalty to Leader Canal." One constant was that names were spelled phonetically with accents changing daily.
The team identified over 500 distinct projects across Iraq, including the rehabilitation of 450,000 hectares of irrigated farm land, construction of irrigation and drainage systems on over 175,000 hectares of new or marginally used farmland, construction of nine new water supply dams, repairs to 40 dams and barrages, reconstruction of 55 irrigation and drainage pump stations, lining of water supply canals, construction of drainage canals.
The next step was to set priorities on these projects, a difficult process without any master planning documents. No master planning had taken place for 25 years, and with no planning documents available, there could be no logical order of development. Ultimately, each project was listed on a separate piece of paper and shuffled. All key players were sequestered in a conference room and instructed to order the papers as per their priorities. They were given two days for their final answer and told that there would be no further changes. Of course, further changes were made, but the exercise did work to focus their efforts and give a sense of ownership to the process, making subsequent changes less happenstance.
By this time, the PMO administrative structure was taking shape, and requests for proposals (RFPs) were being developed for the design-build contractors that would actually perform the work. The last major task was to develop rough order-of-magnitude scopes of work for the highest priority projects. Once the contractors were on-line, they would use these scopes as the basis of their individual project negotiations with the PMO.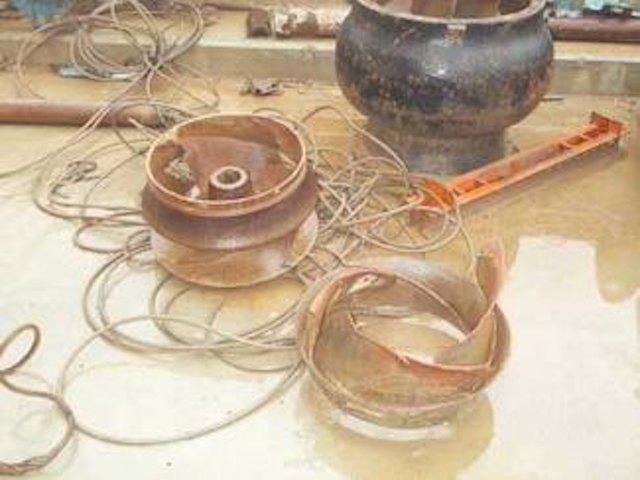 Recently replaced impellers at Jadriya Pump station
Click here to enlarge image
The development of construction cost estimates proved to be the most difficult part of the process. The former regime had artificially controlled the value of its currency, so there was no accurate way to convert between Saddam dinars and US dollars. In addition, the Hussein government had not carried out any substantial improvements to Iraqi infrastructure since 1991, so little cost data was available even if currencies could be converted. In the end, the team worked to get a good handle on quantities, and tempered cost estimates with regional factors based upon prior experience in the Middle East.
The last piece of the estimation puzzle was the assignment of additional costs beyond construction, such as the cost of housing for local and expatriate workers at the more isolated sites. Factors were established for undeveloped design details, escalation or contingencies. Additional costs were estimated to provide adequate security for workers and materials.
Local difficulties went beyond administrative aspects. Soils in the region are highly saline, requiring a distinct and separate drainage system parallel to the irrigation system. Since the drainage system is either incomplete or in a state of disrepair, drainage water enters the surface water system, increasing its salinity. To the south of Baghdad, this situation has resulted in surface waters being too saline to effectively treat. This dire condition has required a raw water supply canal 200 kilometres long to be constructed upstream of Basra to convey treatable water from less saline reaches upstream. One project will repair and complete the lining of this canal, increasing available treatable flows to the southern populations.
Salinity also adversely affects pump station components. The high salinity of surface waters in roughly half of the country require stainless steel components in irrigation pump stations and on drainage pump stations countrywide, greatly increasing their initial construction costs. Sustainable agriculture in Iraq will follow the development of sustainable irrigation and drainage systems. Once completed, the selected projects will increase the large-scale availability of raw water across the agricultural areas of central Iraq. Although water may be supplied to 625,000 hectares, individual farming operations average only 20 to 40 hectares. Local drainage districts must be established and operators must be educated on the ways available water can be used most effectively. The development of salt-tolerant strains will further improve agricultural conditions.
Through the reconstruction of Iraq, the PMO's mission is to allow thousands of Iraqis to gain the modern construction, programme management, and business skills that are essential in today's global marketplace. Reconstruction work is expected to spur economic development in Iraq, strengthening its path to democracy and prosperity. As a result, Iraqis will begin developing the industries required to sustain and further improve the infrastructure required for a modern nation.
Author's Note
Minneapolis-based engineer and water resources expert Alan Palmer recently returned from Iraq, where he worked as one of the founding members of the Program Management Office. For more information, visit www.stanleygroup.com.