Alliance completes sewer bypass in Holland
A new alliance between Pompen Service Holland and Godwin Pumps Ltd combines rental, service, and design expertise to undertake complete bypass for HHRS Hollands Noorderkwartier
Apr 1st, 2004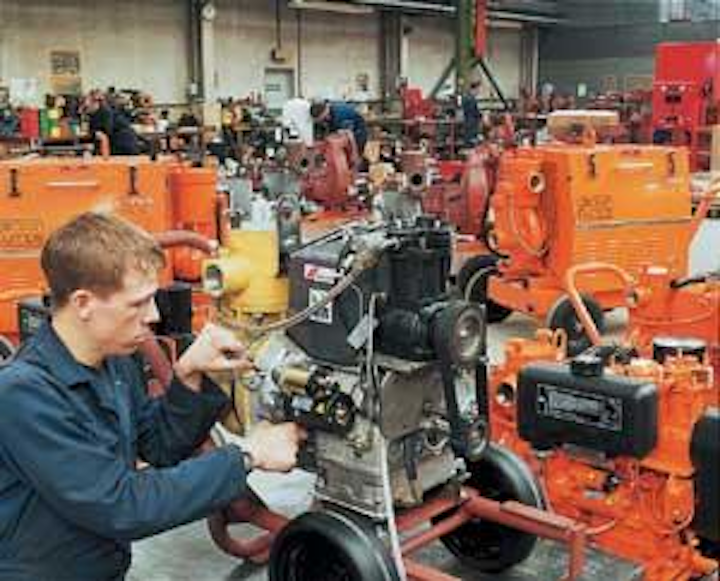 By Maria Holmdal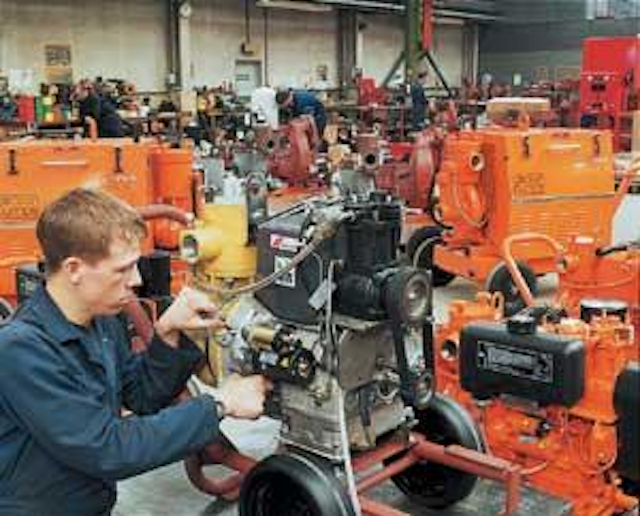 Godwin Dri-Prime pumps are used in a municipal sewer bypass project near Amsterdam.
Photo by Pompen Service Holland
Click here to enlarge image
Pompen Service Holland (PSH), a distributor of Godwin Pumps Ltd, recently completed a municipal sewer bypass project in the suburb of Zuidbroek, just outside of Holland's capital of Amsterdam. The bypass comprises four Godwin 200-mm CD225M/37kw Dri-Prime electric-driven automatic self-priming pumps.
The local municipality, HHRS Hollands Noorderkwartier, needed to totally renovate a sewage pump station. HHRS needed a reliable pump system and rental operating company to bypass a maximum flow of 1750 m3/hr of raw sewage, drainage and rain water from two adjacent areas, around the station and back into the gravity feed line to the main pump station in Beverwijk, five miles away. HHRS is the overall organisation that takes care of all sewage water throughout the Netherlands.
HHRS selected Godwin Dri-Prime pumps to handle a flow of 450 to 500 m3/hr at a total head of 10 metres. Frequency converters control pump speed. Level probes start and stop pumps on an alternating duty / assist / standby basis. The rental commenced in mid- November 2003 and was still operational at press time.
When this particular job ends, HHRS will begin at another location within Holland. Again, plans are to use electric-driven Godwin Dri-Prime pumps controlled by a telemetric system, according to Pompen Service Managing Director Jory van Kooperen.
"In this instance, HHRS has the specific desire to speed up a frequency converter by remote, because of the need to regulate flows," van Kooperen said. "We will mount the frequency converter to a flow meter to speed up the pump when necessary." The telemetric system sends a warning day or night to PSH computers and mobile phones if any flow or mechanical problems occur.
Located in the north of Holland, PSH is a municipal services company that specialises in building sewage pump stations. PSH handles pump station design, pump selection and the comp-lete installation of pumps, pipelines and telemetric systems. Depending on customer needs, PSH can provide service and repairs if necessary through its telemetric system, the Global Standard for Mobile communication - General Packet Radio Service (GSM, GPRS) or on the job site.
Rentals are handled in a similar fashion. Depending on needs, PSH may supply only the pumpset (either electric- or diesel-driven) or take over the complete installation. In the Netherlands' town of Heemskerk, PSH is responsible for the complete installation of the bypass. Together, the pump manufacturer Godwin Pumps representatives John Miller and Graham Carter and PSH rental coordinator Jeroen Bonnet, will handle the entire job from equipment rental through complete installation and dismantle. This job will renovate the entire sewage station.
Godwin Pumps recently added Pompen Service to its worldwide list of distributors. Nestled in the Coln Valley on the edge of the Cotswolds, Godwin Pumps Ltd. has been manufacturing pumps since the end of the 19th century.
In 2001, Godwin Pumps of America, the exclusive North American distributor of the Godwin Dri-Prime pump for 25 years, acquired Godwin Pumps Ltd. "For Godwin, the HHRS bypass is a good opportunity to show local municipal officials how we combine the quality and reliability of our pumping equipment with the rental and service expertise of our local distributor, Pompen Service, to provide the very best solution to municipal pumping needs," said Michael Stone, the managing director of Godwin Pumps, Ltd.
Author's Note
John Miller is the sales director for Godwin Pumps Ltd, based in Cirencester Gloucestershire, UK. Jory van Kooperen is the managing director of Pompen Service Holland, located in Uitgeest, The Netherlands. For more information, visit the websites www.pompenservice.nl and www.godwinpumps.co.uk