US EPA tests arsenic removal technologies
US water utilities must comply with the Environmental Protection Agency's new arsenic standard of 10 ppb by January 2006.
Aug 1st, 2004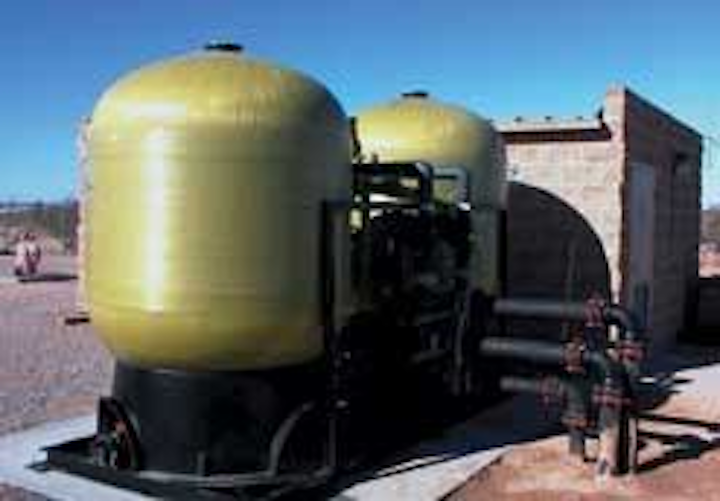 By Rich Dennis, John Simms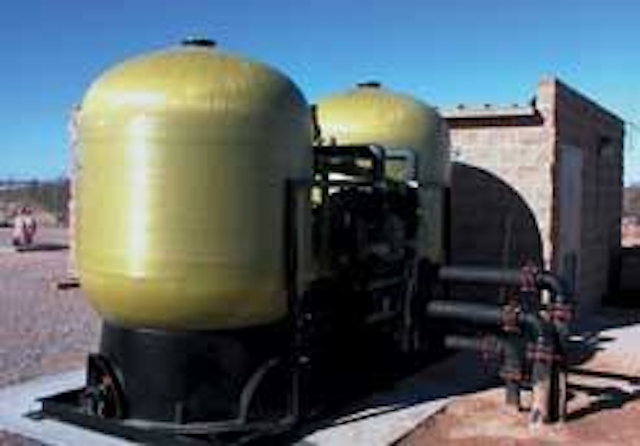 The SORB 33™ arsenic removal system is installed in Anthony, New Mexico.
Click here to enlarge image
An arsenic removal technology, developed in the UK by Severn Trent Water Ltd. in partnership with Bayer AG of Germany, is reducing high arsenic levels for US water utilities in the US Environmental Protection Agency (EPA) Phase 1 Arsenic Demonstration Project.
Six of 12 pilot sites in project are using the SORB 33™ system, provided through Severn Trent Services (STS), based in Fort Washington, Pennsyl-vania. The first US SORB 33 scheme was launched in January 2004 in Anthony, New Mexico at a site managed by Desert Sands Mutual Domestic Water Consumers' Association. Other site locations in Arizona, Maryland, Michigan and New Hampshire were commissioned from February to June 2004. The New Mexico site is the last SORB 33 installation site requiring commissioning.
Many US water utilities protested the EPA adoption of the World Health Organisation recommendation to revise the arsenic standard of 10 parts per billion (ppb). Naturally occurring arsenic, adsorbed from the rocks through which the water passes, is present in some 4,000 sites in the USA, mainly in southwest and northeast states. Utilities supplying water complied with earlier EPA standards of a 50-ppb maximum contaminant level (MCL), but the revised compliance levels that reduced this to 10 ppb MCL represented a quantum leap.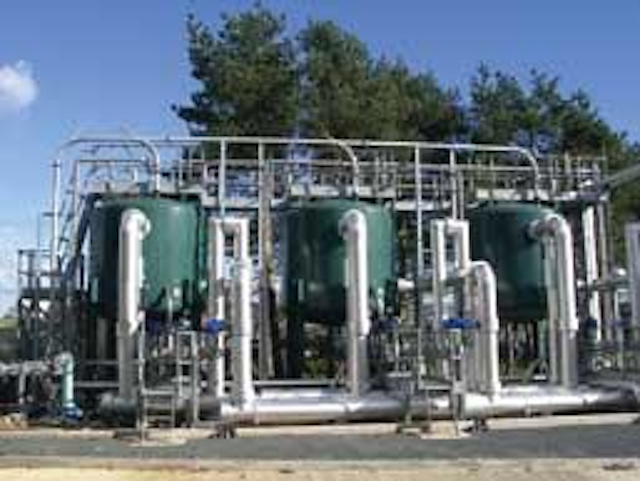 SORB 33™ installation at Chaddesley Corbett Water Treatment Plant (1.4 mgd)
Click here to enlarge image
The revised regulation comes into force in January 2006, so utilities must either find new raw water sources or provide additional treatment in order to comply. Unfortunately, arsenic is one of the more difficult contaminants to remove, and the treatment systems initially recommended by the EPA as Best Available Technologies (BATs) were high in capital cost, high maintenance or had other disadvantages, such as a liquid waste. The BATs listed by the EPA were coagulation filtration, aluminium adsorption, ion exchange and reverse osmosis.
Since most of the affected sites in the US serve small communities or individual groups, the cost of implementing one of the suggested arsenic removal treatment solutions compliance would increase substantially end user costs. Furthermore, few of these smaller utilities have the staff to provide the skilled supervision required to operate these treatment solutions.
The US market needs reliable, economical, simple-to-operate arsenic removal systems, capable of achieving the 10 ppb arsenic levels without incurring the high initial investment and operating costs. The EPA established the National Arsenic Treatment Demonstration Project to aid this search by evaluating potential solutions for small water systems.
The European Union adopted the WHO 10-ppb standard earlier, making compliance mandatory by December 2003. One major UK water utility, Severn Trent Water, which serves an area of 20,725 km2 that stretch across the middle of England, detected traces of arsenic in some of its borehole waters. Facing compliance, Severn Trent Water started searching in 1994 for an economical arsenic removal method that has high arsenic removal capacity, uses a dry medium that is easy to handle, store and ship, and is tough and reliable in performance and results.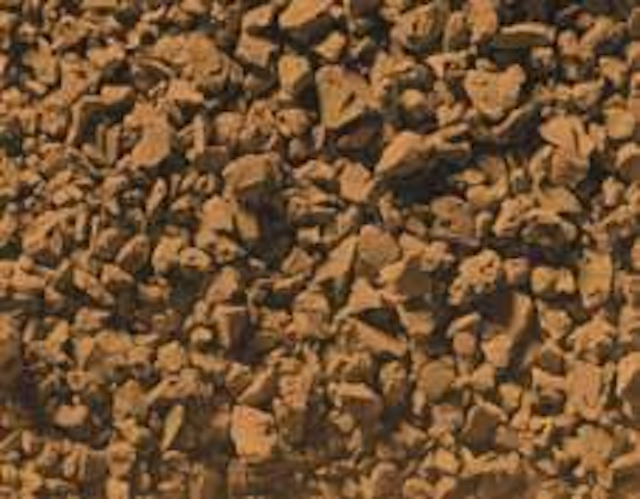 Bayoxide® E33 arsenic removal media
Click here to enlarge image
Adsorption rapidly appeared as the most effective technology, but the question of medium remained. Earlier research achieved promising results on a small scale in Germany using a granular form of ferric hydroxide as an adsorption medium. A follow-up resulted in a cooperation agreement with German chemical giant, Bayer AG, which developed a totally new granular ferric oxy hydroxide in partnership with Severn Trent Water. This collaboration resulted in the evolution of SORB 33 and Bayoxide® E3, a combination of adsorption system and ferric oxy hydroxide medium specifically designed for arsenic removal. Bayoxide E33 is a registered trademark of Bayer AG.
Following intensive laboratory tests, pilot schemes and full-scale field trials, the system is operating at 16 affected sites (with a total of 59 vessels) in the UK. These systems have consistently lowered arsenic levels to less than 3 ppb in some cases for several years. From their experiences, Severn Trent's investigative team gathered an immense amount of data on optimum size and density of the media, adsorption performance, effective hydraulic pressures, backwash intervals etc. which has helped optimise performance and operating costs.
Severn Trent established a lab-based research programme on US waters, focusing on levels of pH, arsenic, silica, phosphate and sulphate in a broad array of waters across the country. A mathematical model to predict media performance was also developed under this programme. Consequently, the Severn Trent Services' SORB33 arsenic removal system, now being used in the USA, has a proven track record supported by a history of laboratory investigations and operational information.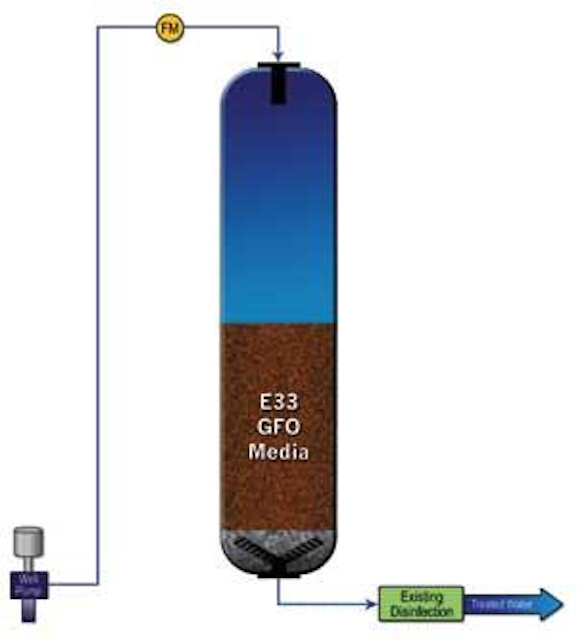 SORB 33 Standard Process Schematic
Click here to enlarge image
The SORB 33 system features several benefits. The only factor that requires monitoring is the pressure drop of water through the adsorbent bed, which can be done remotely. The only regular maintenance required is a periodic backwash to remove fines and loosen up the bed.
Media can last from six months to two years, depending on the quality composition of the raw water. Bayoxide E33 adsorbs arsenic, but can also take in other water contaminants. Under high pH conditions, high levels of vanadium, phosphate and silica can reduce the adsorption of arsenic, which can require more frequent changing.
The system affects the environment minimally. Backwash water contains only medium fines and can usually be discharged to the sewers or returned to the head of the works, to minimise water losses. The dry inert medium can be stored safely without special precautions. The spent ferric oxide medium containing the adsorbed arsenic is also inert and can be disposed as a non-hazardous solid waste to landfill.
Lower in cost than alternative systems, SORB 33 using Bayoxide E33 medium was selected for six of the 12 sites in the first stage of the EPA small-scale demonstration projects. STS and its US partner Adedge are also being considered for more contracts in the second stage programme.
Meanwhile, Severn Trent and Bayer are continuing research and development on the mathematical model and on the medium. Variants of the medium, tailor-made to treat difficult waters, are currently under development and should be on the market in the near future. The process is being tested in several European countries, including France, Italy and Hungary, with several others, notably Spain, to follow shortly.
Author's Note
Separations Manager Rich Dennis of Severn Trent Services is based in Tampa, Florida, USA. Senior Process Engineer John Simms of Technology and Development in Severn Trent Water Ltd. co-authored this article.
---
Water treatment system removes 95% arsenic
The US Environmental Protection Agency (EPA) estimates that as many as 376,000 citizens in 176 communities in the US state of Michigan may be drinking water with arsenic levels higher than the new EPA standard of 10 parts per billion (ppb).
So results reported from an EPA demonstration site in Brown City, Michigan hold great promise for citizens of the state – and for the hope of finding a cost-effective solution to arsenic in small water systems throughout the country. The site is achieving a 95% reduction of arsenic in drinking water.
Brown City, located in the eastern portion of Michigan, is one of 12 sites nationwide chosen to participate in Phase 1 of the EPA National Arsenic Treatment Demonstration Project.
On 22 June 2004, a press conference was held at the Brown City site to showcase the arsenic removal technology being evaluated – the SORB 33™ arsenic removal technology and Bayoxide® E33 media. SORB 33, developed by Severn Trent Services, was designed to reduce arsenic contamination across a range of water treatment systems sizes, and the technology has been commercially proven to effectively and economically meet the stringent new government standards.
According to Separation Manager Rich Dennis of Severn Trent Services, a high level of interest in arsenic information statewide insured a good turnout at the event. "The problem of arsenic in Michigan has been well-covered by the state's media, particularly in eastern Michigan," Dennis said. "About 60 people – including representatives of several Michigan utilities and engineering firms as well as state regulators – attended the tour. And a television station and several newspapers also showed interest in the story."
Prior to application of the SORB technology, tests showed that the Brown City water contained in excess of 20 ppb of arsenic. According to Battelle, the organisation that is monitoring the site on behalf of the EPA, the SORB technology and Bayoxide media are removing more than 95% of the arsenic.