Recycle, Reuse of Produced Water in China's Liaohe Oil Fields
Eco-Tec economically addresses the heavy oil industry's produced water issues via ion exchange technologies.
Aug 1st, 2007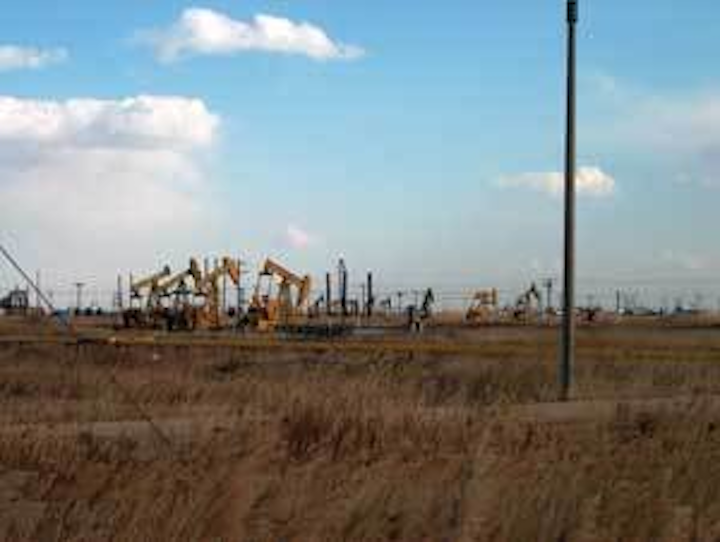 Eco-Tec economically addresses the heavy oil industry's produced water issues via ion exchange technologies.
The Liaohe Oil Fields - the third largest in China - are situated in the lower reaches of the Liaohe River in northeast China's Liaoning Province. China's largest field for heavy oil production, it has 10,000 oil wells and a production capacity of 12.5 million tons a year. The field began to produce oil in the 1960s. Its proven recoverable reserves are over 90 million tons and its controlled-reserves exceed 100 million tons.
This oil, however, requires a lot of water that's heated and used under high pressure for steam-assisted extraction. Produced water, groundwater that comes up with the oil - often in substantial amounts, is a good alternate source to limit an operation's impact on other potable sources in an area. This water has to be treated, though, to make it suitable for such uses or for discharge in an environmentally friendly way. That's important since the Liaohe River Basin serves the urban populations of Jinzhou, Panjin and Yingkou cities - which is 42.2 million for the region as a whole, about half of which live in cities.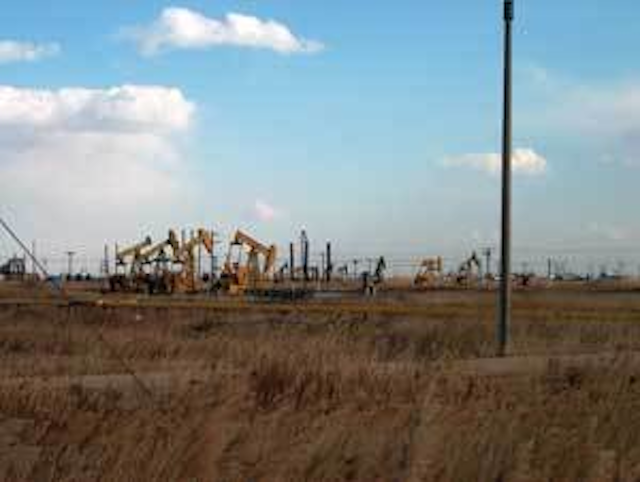 A view of the Liaohe Oil Fields in China where Eco-Tec installed its produced water system.
Click here to enlarge image
Preserving Freshwater
The Jinzhou oil production plant in Liaohe oil fields generates 30,000 m3/d of produced wastewater. Three treatment plants were previously in use operating with processes that included coagulant-flocculant reactors, sand filters and walnut shell carbon filters. The carbon filters are designed to remove oil from the water, as oil is cleaned from walnut shells more effectively than media such as silica sand or anthracite. Of the total flow, half of the produced water was used for injection during oil production, while the other half was injected into abandoned underground wells. There are 36 steam generators at this plant, though, that consume up to 20,000 m3/d of freshwater.
Eco-Tec specializes in assisting industries with economical solutions to reduce environmental impacts and save costs. It addresses produced water issues in the heavy oil producing industry through its innovative RecoPur® EOR Water Treatment System that efficiently treats water for reuse in heavy oil and enhanced oil recovery processes. The objective of incorporating an integrated produced water treatment system for the Liaohe fields was to treat up to 20,000 m3/d of produced water, purify it and reuse it as feed for the steam generators, preserving that amount of freshwater for other uses. Since its installation in 2001, the Liaohe oil fields produced water treatment system has been reliably producing feed water that meets or exceeds requirements. Successful operation of this installation led to a second system that was supplied to another facility in the Liaohe fields, commissioned in 2005. The second location's system was designed to filter up to 14,400 m3>/d of produced water for reuse.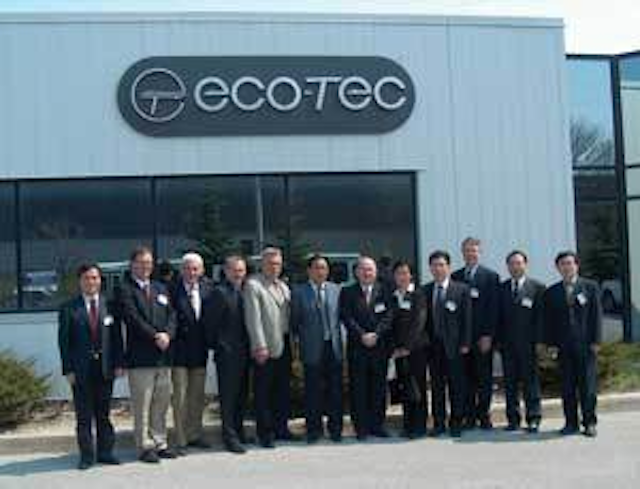 Pajing, China, delegation visiting Eco-Tec headquarters in Canada
Click here to enlarge image
In 2004, delegates from Panjing City, the Panjing Bureau of Foreign Trade and Economic Cooperation, and Liaoning Huafu Environmental Engineering Company visited Eco-Tec in Canada for a first-hand view of the production facilities. "Our experience in China, utilizing produced water filtration, has again proven to be more effective and efficient than conventional technology. Through the success of the two separate systems in China, and multiple applications worldwide, we are confident that our technology provides the heavy oil industry a highly effective and economical produced water treatment system," stated Eco-Tec chairman Dr. Phillip Simmons.
Beyond Oily Contaminants
The large volumes of water resulting from heavy oil production can pose water consumption and discharge concerns while at the same time presenting treatment challenges related to fluctuations in water quality and flow rates, as well as oil concentrations. This produced water treatment system can treat water that exceeds total dissolved solids (TDS) levels of 12,000 mg/L, and reduce hardness levels to below 0.2 mg/L (as CaCO3). The quality of filtrate water enables its economical use in production processes.
To achieve these results, the system integrates various components, such as softeners, demineralizers, and micro media filters depending on the facility's requirements. The system is based on advanced reciprocating flow ion-exchange technology. This technology incorporates counter-current, compressed-bed innovation with resin beds as short as only 6 inches (15 cm) in depth, requiring only 15% of the resin volume needed for conventional ion exchange technologies. The high efficiency of the technology is a result of using less than 15% of the total exchange capacity of the resin, compared to conventional processes that use resin to near exhaustion.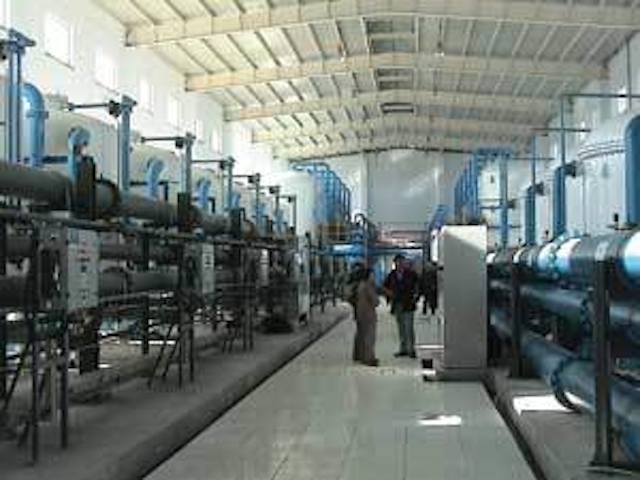 Spectrum Micro Media Filters™ from Eco-Tec in use at oil processing facility.
Click here to enlarge image
Micro-media filtration was a major component used for both Liaohe oil fields projects. Spectrum Plus Micro Media Filters™ handle produced water containing total suspended solids up to 20 mg/L and total insoluable oil up to 20 mg/L. The filters are designed with two media layers, a course upper layer for large particle filtration, and a lower layer of very dense micro media. The media layering combined with the filter's patented backwash process produces large quantities of high quality, reusable water.
The integrated system uses no chemicals, significantly less brine than other systems, and produces little or no waste. It requires up to 60% less space than other options, is compact and skid-mounted, and is fully tested prior to installation, all of which contribute to its economic and cost reduction advantages.
"Our systems are designed from the customer's view. Each system is specifically engineered to address feed water quantity and quality as well as the intended water reuse within the facility. For the heavy oil industry, our approach in the market has been to concentrate on the efficiencies in our equipment and how that translates into problem-solving advantages and cost savings for oil producers," said Eco-Tec President Mike Dejak.
Conclusion
Reliable, proven technology is key to effective recovery, purification, and the reuse of produced water. To date, development and implementation of advanced technology to purify produced water has been environmentally driven. Still, major financial benefits and an excellent return on investment are achievable by utilizing efficient and economical water treatment solutions.
---

Author's Note:
Lisa Hausz is marketing manager for Eco-Tec Inc. Eco-Tec provides integrated technologies based on proprietary advanced ion exchange process, Recoflo®. The Pickering, Ontario, Canada company has provided more than 1,500 systems in over 52 countries. Contact: 905-427-0077, lhausz@eco-tec.com or www.eco-tec.com