Piping Repair specialists ditch their scaffolds
Inversion drum technology broadens CIPP lining installation options for pipe rehabilitation contractors
Apr 1st, 2007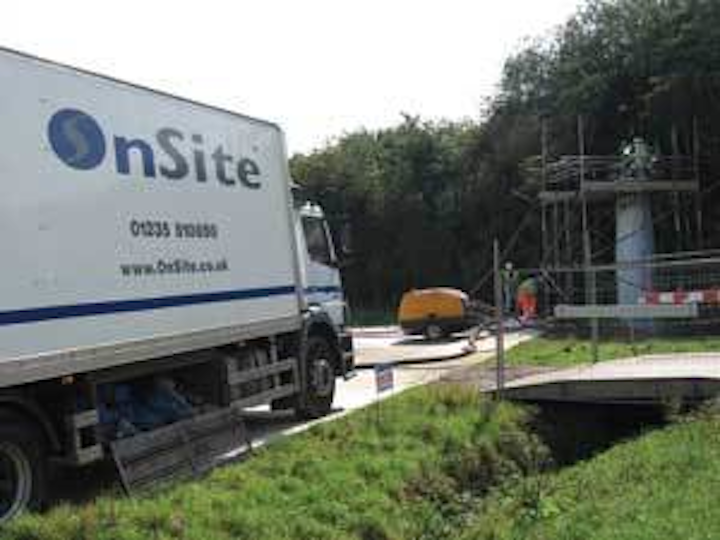 Inversion drum technology broadens CIPP lining installation options for pipe rehabilitation contractors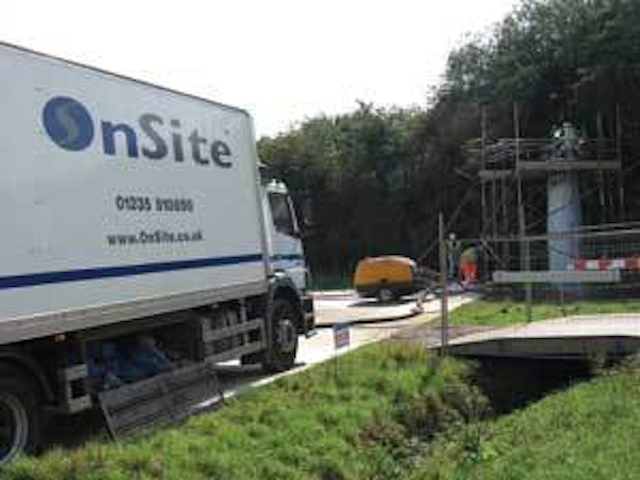 A typical scaffold tower as used for the liner installation on the Twickenham project.
Click here to enlarge image
For 30 years, inversion lining systems for sewer rehabilitation have regularly relied on use of scaffold towers to provide the necessary water pressure to achieve inversion of cured-in-place pipe (CIPP) linings into a host pipe. More recently, with contractor's workloads increasingly requiring access to sites with minimal available surface footprints, both renovation contractors and various manufacturers have looked at development of alternative means of liner installation.
One such manufacturer is German-based epros, a Trelleborg company. epros has an international reputation for its breadth of pipe lining and repair systems including: the DrainPacker (a patch liner), DrainLiner (for the repair of house connections), LCR-Packer (for main/lateral interface repairs), DrainStopper (which offers pipe plugs and test devices), and DrainME-Sleeve (for installing sealing sleeves for large pipes). While the various lining systems have previously used scaffold installation techniques, epros has invested heavily over the past few years in development of a range of inversion drums to meet the growing demand from the renovation industry. Systems available to date include the Mini-type inversion drum and System 5 inversion drum.
The Mini-type drum can operate on pipes of 150 mm diameter for installations of up to 11 m long, at a liner wall thickness of 3 mm. The System 5 drum is designed to handle some of the more heavy duty installations on pipes of up to DN500 over distances of up to 100 m, with liners of up to 10.5 mm wall thickness.
Expanding Capabilities
UK contractor DVS Pipelines Ltd., of Leighton Buzzard, Bedfordshire, part of the Holleran Group of companies, recently took possession of one of the epros System 5 drums as part of an expansion of its trenchless installation and renovation capabilities. In this instance, the new equipment was destined for pipeline renovation work awarded to the company by the @One Alliance (comprising the Anglian Water/Barhale partnership).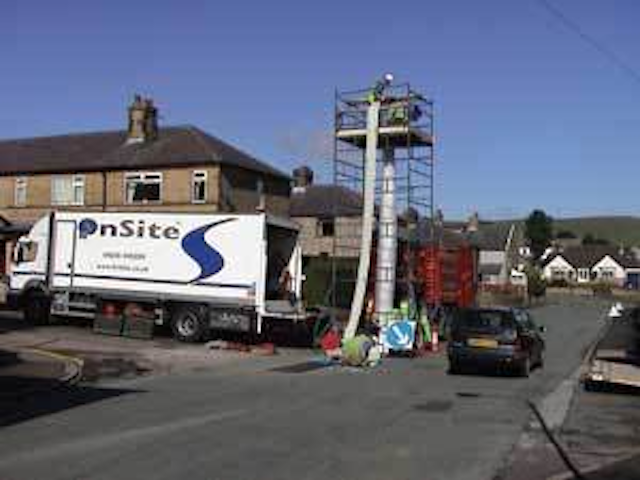 A lining set showing the support vehicles used during the installation and curing process.
Click here to enlarge image
As well as CIPP lining, DVS also offers sewer joint and manhole sealing, spray lining and pipe bursting options across its water and wastewater operations. The company also offers directional drilling and project management services.
Drums vs. Towers
For many lining operations, there are several advantages to using inversion drums as compared to scaffold towers, not least of which is the health and safety aspect. The larger diameter the pipe being lined and/or the longer the installation required, in general, the higher a scaffold tower has to be to achieve the inversion water pressure required, so operatives don't tend to work at ground level. In addition, the higher the tower, the broader the base has to be to ensure stability to maintain a safe working platform. This in turn increases site footprint requirements.
Drums also offer easier site access. With their limited size, they can be used in situations where scaffold towers simply couldn't be erected. The smaller size also means that any particular project can normally be completed with a smaller workforce, bringing with it the potential for cost savings. When empty, the weight of the System 5 drum is 1,450 kg, and is easily maneuvered by just two people. When loaded, the weight of the drum is 4,500 kg in standard operation.
Inversion drums also offer the option to choose between various inversion/cure system types currently available, which scaffold based systems do not. As with several currently available inversion drums, the System 5 can operate by using compressed air to invert the liner through the host pipe. This option allows for both ambient cure and steam cure resins to be utilized where project circumstances either permit or require it. In addition to this, unlike some other units, this system 5 can also be used to invert liners with water, if hot water curing is the desired option.
Whichever option is ultimately used, the use of a drum offers much finer and precise control of the liner inversion operation, both on compressed air and water inversion techniques, a level of control that just isn't possible using a scaffold tower. This, in turn, means there's a much reduced risk of liner failure during the inversion stage of the renovation work.
The System 5 unit can be mounted also on either a truck chassis or on a more basic trailer unit for further ease of transport and/or positioning at site.
Anglian Water Project
The inversion drum recently purchased by DVS Pipelines Ltd. was acquired specifically for projects involving steam cure lining, which the company recently won in the Anglian Water region in the east of England.
The main contractor for the work was the Anglian Water/Barhale @One Alliance. The project in question was located in the Essex seaside town of Southend on Sea. It comprised the lining of some 5.8 km of vitrified clay sewer pipes ranging in diameter from 225 mm to 600 mm, over individual lining lengths ranging from as little as 30 m up to 130 m.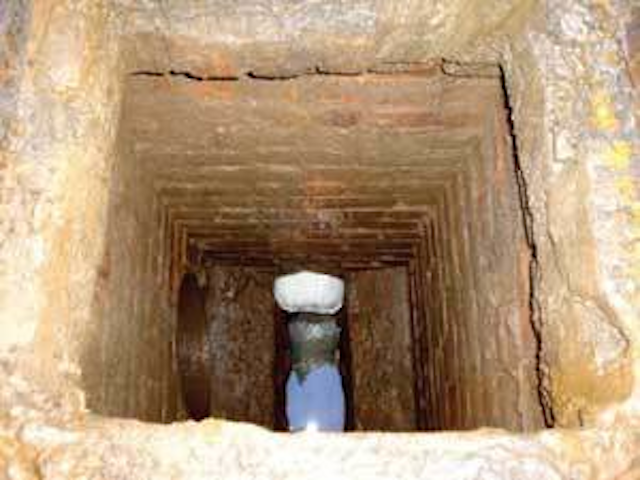 The inverted liner arriving at the terminal manhole on a lining run.
Click here to enlarge image
It was decided to use the new epros System 5 inversion drum to install the required liners using compressed air insertion with the steam cure option. Including a swift mobilization from receipt of the order, the work was undertaken over a 12-week period between 22 January and 15 April, 2007. This timeframe was achieved, at least in part, because of significant savings that can be made on projects such as this when using the steam curing process in conjunction with the inversion drum.
While the drum purchased by DVS wasn't originally set up for use with the steam curing process, the company developed its own technique to allow the steam curing option to be used. This enabled the company to provide its client with a turnkey solution for the work in hand.
According to David Henderson, DVS wastewater contracts manager, "The System 5 inversion drum has a number of advantages over more conventional inversion lining techniques. The system is a quick, easy to use and mobile installation option with a small site footprint. It offers a system with no health and safety issues with working at height and, in conjunction with steam cure process, it provides for both a reduced carbon footprint and less environmental impact, with the reduction of styrene output in the curing water."
Customer Support
As well as manufacturing and supplying its range of lining systems and equipment, epros also provides detailed training for operators and installers across the globe. In the UK, the company is also working closely with The United Kingdom Society for Trenchless Technology (UKSTT) and other utility and pipeline organizations to provide independent operator training which offers City and Guilds qualification courses for hot water, steam and ambient cure lining operations, as well as patch repairs and other related technologies.
Conclusion
Ian Ramsay, epros international sales and marketing director, said, "We were happy to develop this larger size drum system as we were well aware of the health and safety issues surrounding scaffold towers. We have been able to provide something that is not only safer and reduces risk and environmental impact whilst also increasing production rates, productivity and liner control."
DVS' Henderson said, "We were very pleased to take delivery of the first Type 5 inversion drum in Europe. Given restrictions on water usage in the southeast of England through a significant part of 2006 and into early 2007, we are increasingly able to provide a cost effective, environmentally friendly product, mitigating the problems associated with the conventional scaffold tower/water inversion technique."