Pipe Installation & Repair/Leak Detection
Jun 1st, 2007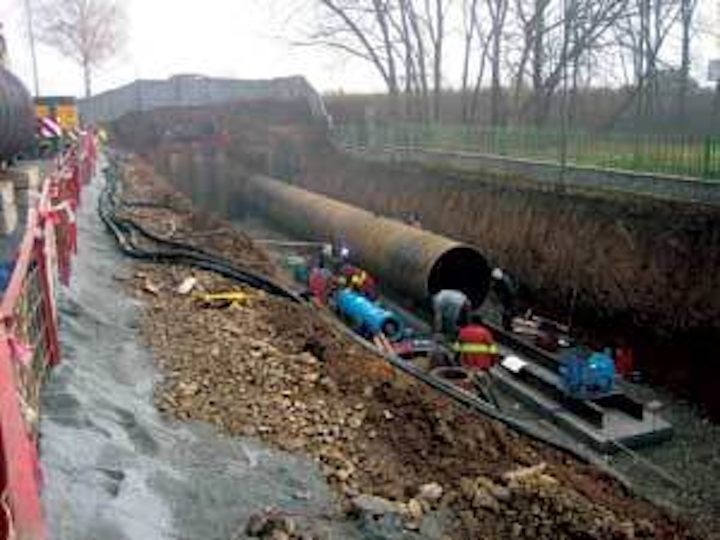 Grundoram TAURUS installs steel pipe below Prague motorway
In December 2006, an 1,800-mm steel pipe with a 25-mm wall thickness was installed beneath a motorway at a 4-m depth and over a length of 46 m for TSK hl.m in Prague, assisted by a Grundoram pipe rammer made by Tracto-Technik GmbH & Co. KG. Dynamic propulsion using this size machine isn't an everyday task and requires careful planning. The service pipe is for use as protection for a draining pipe. The contract for this project was awarded to Tracto-Technik's Czechoslovakian partner, Interglobal DUO S.r.o. and construction company Ekis spol. S.r.o.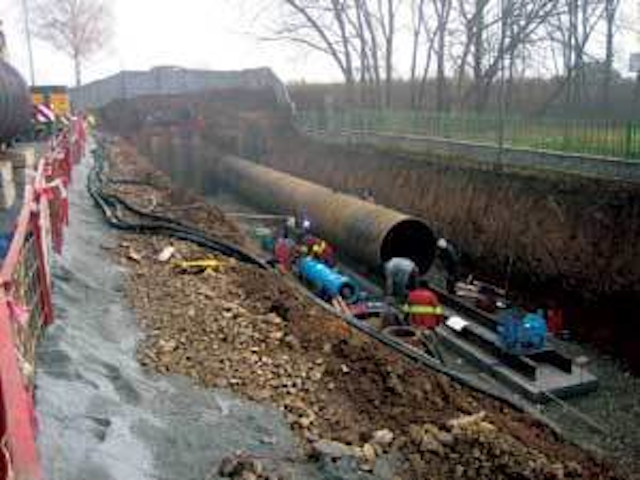 Click here to enlarge image
The steel pipes, each with single lengths of 3 m were already prepared in the factory to form lengths of 6 m each, and welded together onsite forming one pipeline with an overall length of 24 m. Due to the side slope of the motorway the starting pit was excavated at a depth of about 2,5 m and a length of 30 m. A power cable, crossing adjacent to the bore path, had to be re-installed beforehand. A concrete foundation and steel beams were applied as guiding and slide rails for the rammer. The complete pipe length of 24 m was laid out without any problems, due to ideal jobsite surroundings.
The Taurus rammer was applied for this task, which can produce a striking energy of 18.600 Nm and has an own weight of about 4,8 tons. This is the second largest pipe rammer in the world, after the Apollo rammer. The piston with a ton weight is propelled forward by compressed air inside a specially forged machine casing. The maximal air consumption is 50 cbm/min.
After alignment work and fixation of the ram cone at two welding points to the pipe, aided by a crane, the ram and ram cone were lifted into position, tensioned and connected to four compressors. The rammer lies on a starting cradle with a lifting cushion, which allows for a precise machine alignment together with the pipe length. Due to the first stroke impulse the ram cone and the rammer tighten together and there is therefore no need for any re-tensioning.
The propulsion in the ground consisting of clay and pebbles was carried out with a speed of 4-6 m per hour. Soil removal, after completion of the bore, was carried out manually.
TRACTO-TECHNIK GmbH & CO KG
Lennestadt, Germany
Enquiry No.117
SIPOS actuators address water hammer
A booster pump station for East Cherry Creek Valley (ECCV) Water & Sanitation District in Aurora, Colorado, USA, which serves about 50,000 people, required an actuation solution to prevent water hammer. A linear characteristic was essential for flow control from the high volume pump: if this was not achieved, resulting water hammer would potentially damage the station's water system.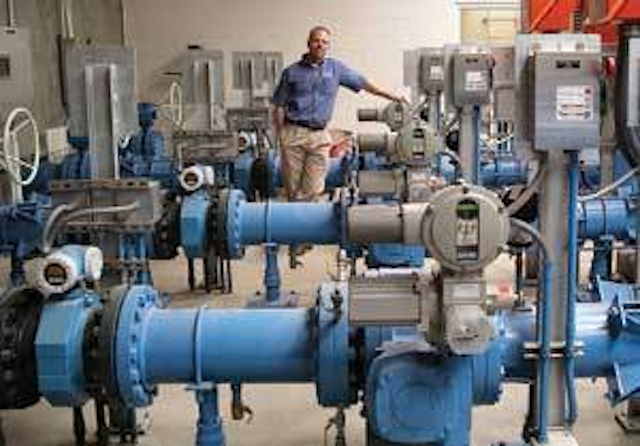 Click here to enlarge image
Due to its variable speed capability, SIPOS actuator technology was identified as meeting the challenges of this application. A 'travel-dependant, adjustable positioning time' function of SIPOS 5 Flash actuators has the ability to generate a linear flow through the ball valve - considered essential for the ECCV application as it enables fine tuning of operating speeds through 10 different positions to prevent water hammer.
Additionally, the SIPOS solution, with a facility to continue operation using a pump station emergency generator, also provides a fail safe actuator option. If a power failure occurs, the actuator will close using power from the generator in emergency mode in different speeds allowing for the system to drain.
SIPOS Aktorik GmbH
Nürnberg, Germany
Enquiry No. 119
Kärcher pressure washers create world's largest drawing
Over 20 years Kärcher has conducted restorative cleaning projects on more than 80 buildings and monuments, including Mount Rushmore in 2005. This time, its team turned its high-powered spray into a "paint brush" of sorts and produced the world's largest-ever drawing - an 8,000 square meter (26,247 sq ft) illustration covering the face of a dam in central Germany!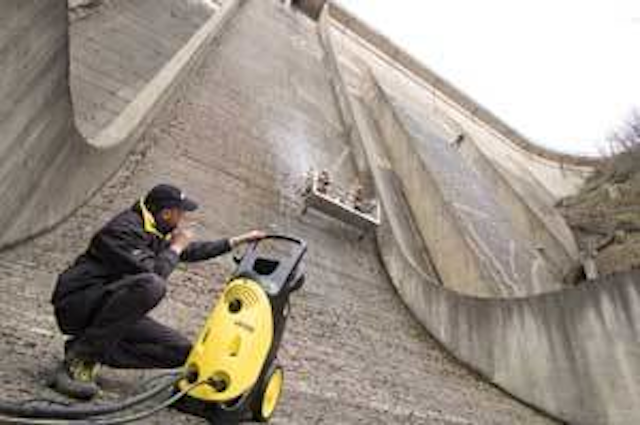 Click here to enlarge image
Following a pattern created on the dam surface by artist Klaus Dauven using a laser beam, the Kärcher experts were lowered over the side of the Oleftal Dam, in Hellenthal, Germany's Eifel National Park, and selectively blasted away the dark build up of dirt, algae and moss. The cleaning left lighter streaks and lines that formed a massive motif featuring many of the animals - including a 15-meter-high (49 ft) squirrel - that reside in nearby forests and game preserves.
The project was completed April 12, just 11 days after it was started. It has already begun to draw thousands of sightseers and will remain in place for many years until algae and moss overtake the sprawling illustrations again.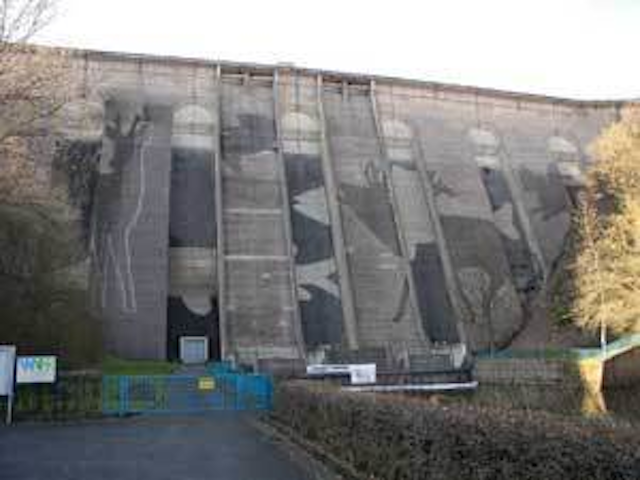 Click here to enlarge image
Kärcher Commercial
A Joint Venture with C-Tech Industries and Kärcher GmbH
Camas, Washington, USA
Enquiry No. 123
Scottish event to focus on pipeline protection
New legislation and growing pressure from the public and special interest groups is forcing pipeline operators to refocus attention on the well-being of their infrastructures. The media is never slow to report environmental issues or problems with utility supplies and hardly a month goes by without news about polluting leaks from hydrocarbon pipelines or unacceptable losses from water mains.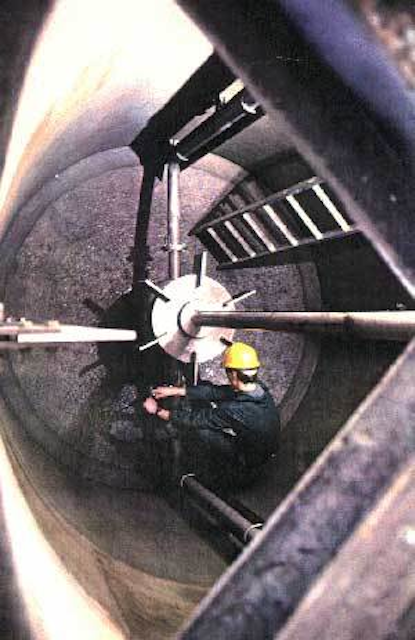 Click here to enlarge image
BHR Group's 17th International Conference on Pipeline Protection will provide the latest information on research, developments and applications in this critical area. The organisers have issued a call for papers for presentation at the conference, which will be held in Edinburgh, 17-19 October.
Established in 1975, the biennial event presents an ideal opportunity for professionals involved in the commissioning, operation and maintenance of pipelines to share experiences across a wide range of applications and conditions. The Technical Committee recognises the pool of knowledge within the oil & gas, petrochemical and water industries and welcomes papers from all sectors. Priority is given to new papers and novel solutions that discuss real applications and experiences.
BHR Group Ltd., Fluid Engineering Centre
Cranfield, Bedfordshire, United Kingdom
Enquiry No. 120
Sea Trucks Group, Wellstream International launch joint venture
West Africa-based Sea Trucks Group, which offers marine services to the oil & gas industry worldwide and the UK's Wellstream International Ltd., have partnered to create Seastream - SURF Solutions, a non-incorporated joint venture between the marine services provider and flexible pipe manufacturer, respectively.
Seastream will provide global flexible pipe-based SURF installation capabilities utilising Sea Trucks latest Jascon new build vessel fleet. These new vessels, based on the successful Jascon 5 design, can perform flexible and rigid pipelay and - combined with significant deck space, craneage and accommodation facilities - will provide a true multi-task platform to execute major projects.
Sea Trucks Group
Lagos, Nigeria
Wellstream International Ltd.
Newcastle upon Tyne, UK
Enquiry No.120
Innovation an 'asset' in Welsh Water alliance project to reduce CSOs
A leading water management solutions provider was recently selected as a supply chain partner in the Dwr Cymru Welsh Water's £1.2 billion investment Asset Management Programme 4 (AMP 4). Part of Dwr Cymru Welsh Water's nationwide five-year scheme to improve and maintain water infrastructure (until 2010), the £630,000 project marked the first time Newport-based Asset International has worked alongside the two strategic partners of the Dwr Cymru Welsh Water South-East Wales Alliance.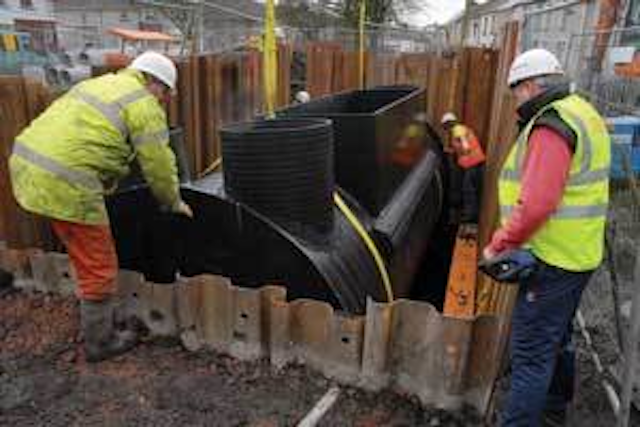 Click here to enlarge image
The partners - project management company AMEC plc, and design consultants Arup - utilised Asset's bespoke manufactured solution, LiteSpeed, in a residential project in Ebbw Vale, as part of improvements to the wastewater system. Fabricated primarily out of Asset's Weholite HDPE pipe system fitted with a Hydro International Hydro-Static Screen, the LiteSpeed product replaced two existing combined sewer overflow (CSO) chambers identified for improvement to meet current environmental legislation.
Designed by Arup, the Weholite product - manufactured by Asset in the UK under license with Finland's KWH Pipes Ltd. - was deemed the best option largely due to its durable, flexible HDPE composition, but also because of a variety of diameter pipe sizes and diverse range of sewer screens, explained Arup civil engineer Nathan Walding: "This is something many pipe system manufacturers are simply not able to offer."
The modular pipe was also endorsed by AMEC, which favoured the product in this particular project, as the chambers could be manufactured offsite and installed quickly. This reduced the environmental impact on the surrounding community, whilst minimising the health and safety risk onsite.
Simon Fisher, AMEC catchment agent, said: "We explored various types of modular systems, ranging from in-situ reinforced concrete, pre-cast concrete, and fabricated steel. At this particular location, the Asset Litespeed chamber was deemed suitable for the hydraulics of the wastewater network and also offered significant time savings. It's a very dynamic product".
Asset International
Newport, Gwent, United Kingdom
Enquiry No. 121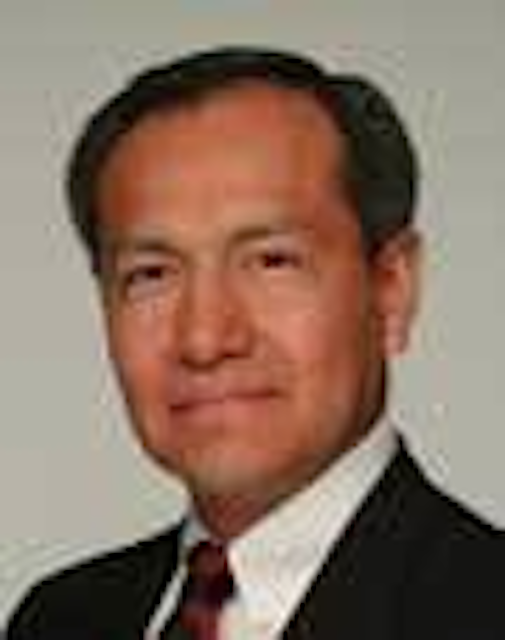 Click here to enlarge image
LAN forms infrastructure pipelines business group
U.S. planning, engineering and program management firm Lockwood, Andrews & Newnam Inc. (LAN) has launched its new Infrastructure Large Diameter (ILD) Pipelines Business Group.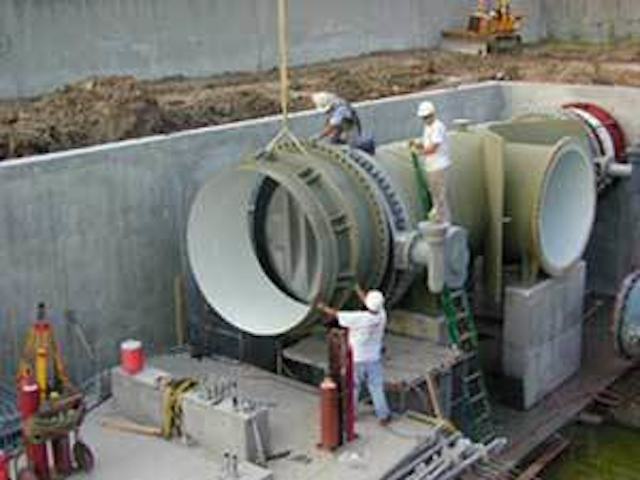 Click here to enlarge image
Formed in March, the ILD group will focus on expanding the firm's national practice in large diameter pipelines and providing specialized service to its clients. Rafael Ortega, P.E., the firm's vice president, will serve as the director of the 50-member group. He's a nationally recognized expert in large diameter pipelines and served as chairman of the American Society of Civil Engineers Pipelines Conference held in Houston.
The ILD group will be responsible for planning, design, condition assessment, problem mitigation as well as program and construction management of all pipelines greater than 36 inches. Some of the large diameter pipeline projects the group currently is working on include condition assessment of a 60-inch, 10,000-foot long water main for the city of Houston, Texas, and design of a 60-inch wastewater force main for Miami-Dade County, Florida.
Lockwood, Andrews & Newnam Inc.
Washington, DC, USA
Enquiry No. 121
Reservoirs Act 1975 gets redrafted by Atkins
Atkins' Dams and Reservoirs business has recently been commissioned by Defra to redraft the publication 'A Guide to the Reservoirs Act 1975'. The redrafting exercise will be carried out over the next year and as part of the process it's intended to consult widely with the profession, particularly panel engineers, owners, the Environment Agency as enforcement authority and Defra lawyers. The new Guide will contain information on the elements of the Water Act 2003 which affect reservoirs and seek to explain some of the problems which people have experienced in interpretation of the Act. The contract will be completed within 12 months.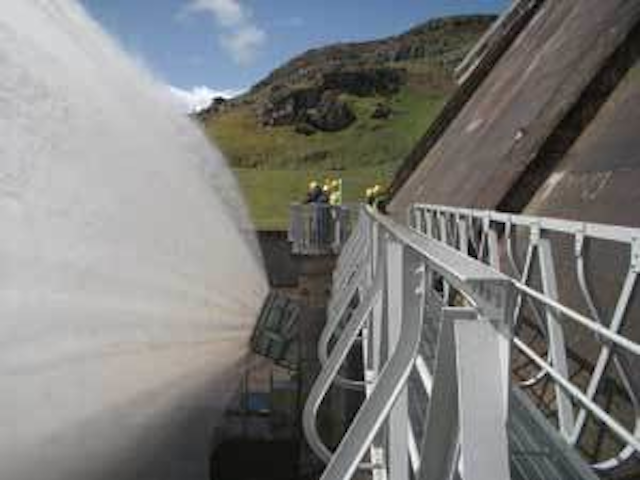 Click here to enlarge image
Atkins Ltd.
Epsom, Surrey, England
Enquiry No. 122
New Borealis pipe grade aids long-term water conservation
Borealis has launched BorSafeTM HE3490-LS-H, a new polyethylene (PE) pipe grade for pressure pipes. This new solution expands the durability of PE pipe systems for water distribution by delivering an easy-to-lay response to the tough installation techniques facing installers and utilities today. In addition, it contributes to precious water savings by eliminating leaks and ensuring long-term performance for utilities and consumers. The United Nations calculated that over 2 billion people face water scarcity, making its conservation one of the most urgent global challenges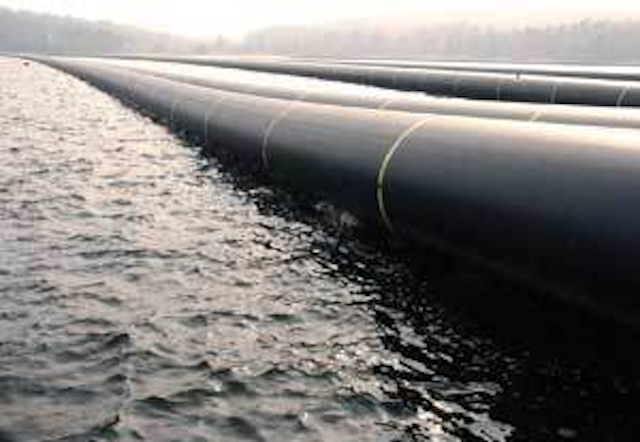 Click here to enlarge image
Borealis AG
Vienna, Austria
Enquiry No. 123