Rising global water prices pay for quality improvements
Water prices increased in 12 of 14 countries, including Australia, Canada, Europe, South Africa, United Kingdom and the United States, according to the NUS Consulting Group's 2001-2002 International Water Report and Cost Survey.
Dec 1st, 2002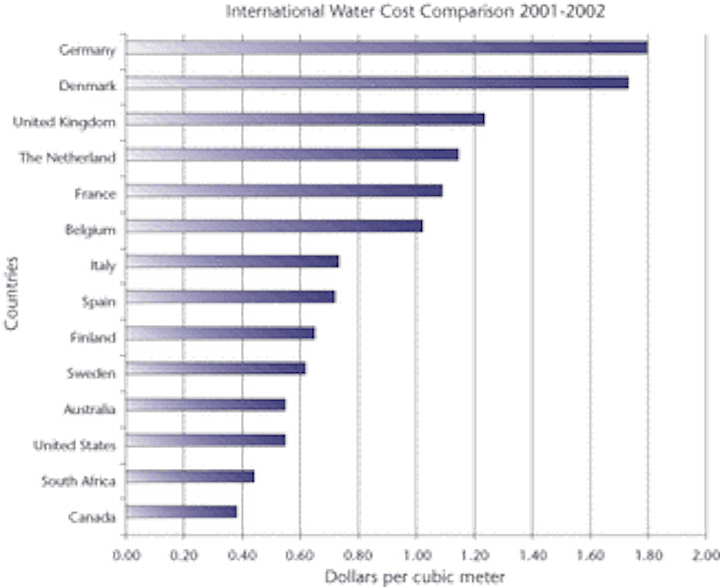 By NUS Consulting Group
Water prices increased in 12 of 14 countries, including Australia, Canada, Europe, South Africa, United Kingdom and the United States, according to the NUS Consulting Group's 2001-2002 International Water Report and Cost Survey. Only The Netherlands reported a slight decrease of 0.5% compared to 2001, while Germany reported no change in pricing, which is good news considering water costs are higher in Germany than in any other country included in the survey.
Most striking, the majority of countries included in the survey reported water prices increasing above inflation rates. By far, South African water prices jumped 20.4% from last year. Unexpectedly high increases in East London and Durban resulted from the South African government's "Free Basic Water" programme, in which more affluent consumers subsidise poorer water consumers. Little press coverage has been given to these increases as local Councils attempt to introduce more equitable social balance by raising prices for basic utility services, such as water.
Two factors account for this global rise in water prices - the need to ensure the quality of supply and increase conservation measures. Residential and industrial users must prepare themselves for higher prices and less secure water supplies due to water scarcity and contamination problems.
European consumers pay the highest water costs of the surveyed countries, and this trend is likely to continue. Germany and Denmark pay the highest prices on the European continent, but many other countries, including the United Kingdom, France, Spain, Belgium and Finland witnessed their water costs far exceeding their national inflation rates.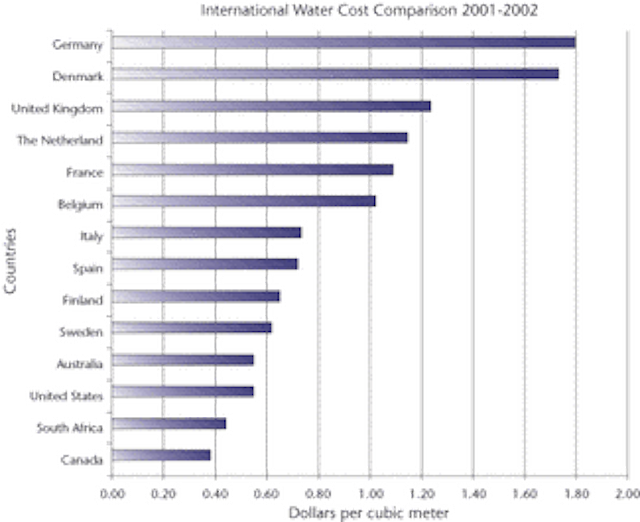 Click here to enlarge image
Strict quality standards enforced by the government account for Germany's high water costs. Consumers, however, are satisfied that their supply is of superior quality. In addition, the water revenues pay for necessary infrastructure upgrades in former East Germany to improve water quality and services.
Danish consumers experienced a minuscule 0.8% increase. Interestingly, water consumption in Denmark has been decreasing in the last few years. The government plans to further reduce consumption from the current 128 litres to 110 litres per person by 2010. Most European countries are focusing on the liberalisation of water supply, but the Danes are primarily concerned with reducing consumption and pesticides, which threaten groundwater supply.
In Belgium, most of the country had little to no increase in water costs, except for Gand, which experienced a 14% increase within the past 12 months. European directives and consumer demands for high water quality standards will mainly contribute to future price increases.
In Finland, water costs increased by nearly 5% last year, catching up after several years of little to no increases. As part of the European Union, the Finnish government is investing in improving water quality and sewage treatment. Quality standards are on the rise throughout the country for water services. Public services, such as water supply, are beginning to reflect a more accurate cost for service.
In Italy, water prices barely changed given inflation, and no change is foreseen in the next 12 months; however prices will have to rise eventually to guarantee water supply for a growing number of regions experiencing water scarcity. The Italian water industry remains in complete disarray after years of inaction and ineffective laws, such as the Galli Law in 1994 and the Matteoli Law in 2001.
New construction and maintenance system upgrades account for double-digit increases in eight US cities including Fort Smith, Arkansas (37.5%) Boston, Massachusetts (24.4%), Dover, Delaware (23.9%), Binghamton, New York (20.2%), Roanoke, Virginia (17.3%) and Los Angeles, California (12.3%). Water increases in Roanoke and Los Angeles will also pay for water conservation measures. Of 51 US cities sampled, the overall increase in the average price of water rose by 4%, reflecting an increase nearly double of last year's rise of 2.2%.
Many US water systems do not meet new Federal Clean Water guidelines and are faced with massive costs in order to meet such regulations. Many areas are faced with severe drought conditions. The US will continue to experience even greater increases in prices as water quality is subject to stricter federal regulations, city systems require improved maintenance and government authorities introduce additional water conservation measures.
Author's notes
The NUS Consulting Group is an independent energy and telecommunications cost control and consulting organisation, based in Park Ridge, New Jersey, USA. Web: www.nusconsulting.com