Technology Roundup: Meters
ABB Water Meters launched InVISION™ technology in its new non-contact absolute encoder register, using optical character recognition (OCR) to read a water meter's odometer digits.
Dec 1st, 2002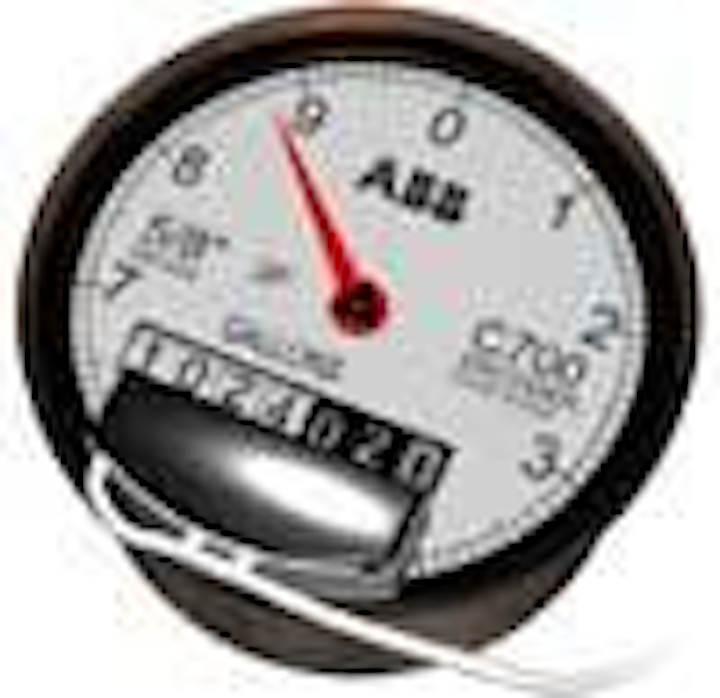 Non-contact encoders uses optical character recognition
ABB Water Meters launched InVISION™ technology in its new non-contact absolute encoder register, using optical character recognition (OCR) to read a water meter's odometer digits. Developed by ABB Water Meters with ABB's corporate research scientists, the company introduced the first absolute encoder to mimic readings taken with the human eye. The absolute encoders with InVISION technology are now available for C700 positive displacement meters.
Powered by interrogation equipment, InVISION reading technology incorporates strategically positioned light emitting diodes that illuminate the meter register's odometer digits for vision. Multiple retinas focus through lenses onto the odometer digits for an absolute meter reading. Virtually 100% error-free readings are passed to the hand-held or automatic meter reading device. Incorporating customer feedback, the new encoder design simplifies installation by replacing screw connectors with a quick-connect, screwless design.
In October 2002, the US city of Fort Wayne, Indiana awarded ABB Water Meters a 12-month US$ 11 million contract to replace ageing water meters in the system and to upgrade 75,000 meters to a Mobile Radio System. ABB will provide project management and supply 65,000 ABB absolute encoder water meters equipped with direct-mount Itron ERT modules.
An additional 10,000 ABB meters now in service will be upgraded to Itron mobile AMR (automatic meter reading). United Metering will install 55,000 new ABB meters with direct-mount ERTs; For Wayne will upgrade 10,000 newer ABB meters to absolute encoders with direct-mounted ERTs and install another 10,000 new ABB encoder meter/ERTs. United Metering, part of United Water (Ondeo Services) is based in Herrington Park, New Jersey, USA.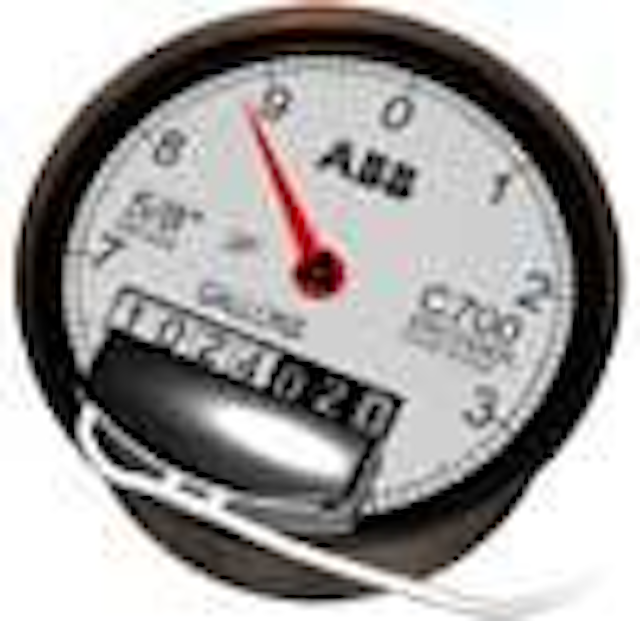 Click here to enlarge image
ABB Water Meters Ocala,
Florida USA
Ultrasonic transmitter measures liquids in tanks
The L2xx series' two-wire, ultrasonic level instrument measures liquid levels in closed or open tanks over a 10-m range. The maximum level range depends on the models. Measurement begins by short controlled ultrasonic pulses that emanate from the unit and are aimed at a reflective target surface. After filtering out the noise, the time taken for the reflective pulses to strike the transducer are converted to linear measurements and conveyed to a remote indicator/recorder as a current value.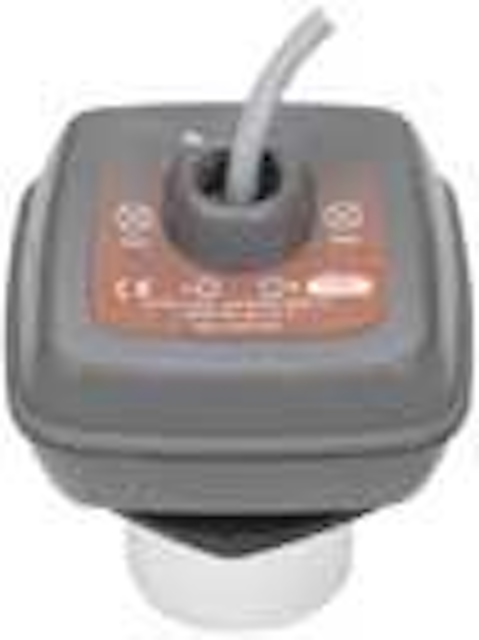 Click here to enlarge image
Normal setup is done using a magnetic key for security. Simply use a target or the actual tank levels and select the required 4 or 20 mA output by holding the key over the zero or span positions on the transmitter.
The L2xx series level transmitters are fully rated to operate in harsh environments where the atmospheres are corrosive or hazardous. Employing a Tefzel™ nose, the unit can be threaded into a two-in NPS opening and sealed. The accuracy of the transmitter is unaffected by temperature changes within specified temperature ranges.
Badger Meter Europa
Donnerstag, Germany
SmartMeter moves into bigger pipes
Severn Trent Services' (STS) solid state SmartMeter can now meter flows in large bore pipelines following an agreement between STS and Yu Cheun of South Korea. Consequently, the agreement will increase domestic metering opportunities for STS in South Korea.
Yu Cheun and its associate company Chung Engineering Ltd. currently manufacture large bore electromagnetic meters, but these normally require a mains electricity connection. The company had been seeking a battery-operated system, but found that most needed the batteries replaced each year. At the same time STS had been seeking ways to extend the application of the SmartMeter technology to larger bore pipelines.
Similar to the SmartMeter, the new by-pass SmartMeter has no moving parts, its batteries can run for 10 to 12 years without replacement and its fluidic oscillation technology ensures total accuracy for the whole period. Hourly data can be held for 12 months or read in real time and a remote access capability makes the by-pass meter useful in isolated situations.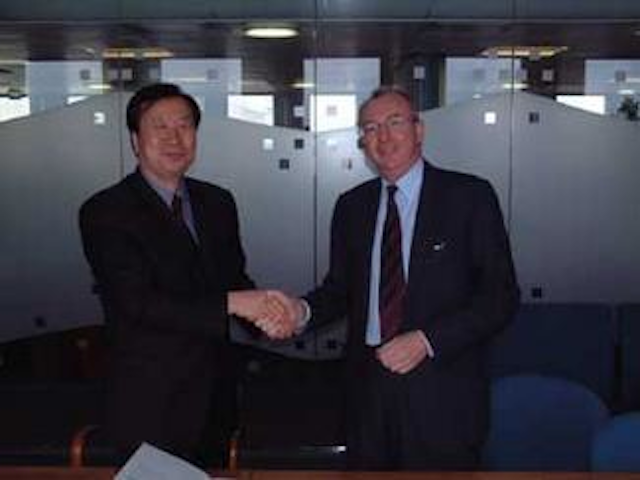 Click here to enlarge image
SmartMeters have been limited to 1/2-in and 2/3-in pipes, but the by-pass SmartMeter will be available in five sizes, suitable for pipes from 4-in to 12-in in diameter.
Severn Trent Services
Fort Washington, Pennsylvania USA
Flexible AMR system enhances reading capability
Meters that are frequently read or are "hard to read" require solutions that bring safe and reliable technology with actual economical return. Actaris Metering Systems developed a new portfolio for Mobile Radio Meter Reading that offers a complete range of equipment - from a radio module up route software and hand-held terminals.
The new Automatic Meter Reading (AMR) program consists of four products:
Meter interface unit CYBLE RF with enhanced reading capabilities.
The RF Master - a radio interface unit that connects to any DOS-based computer.
Easyroute Mobile - the reading software for DOS-based mobile computers
Easyroute host - the route software to manage the transfer of data to the billing software.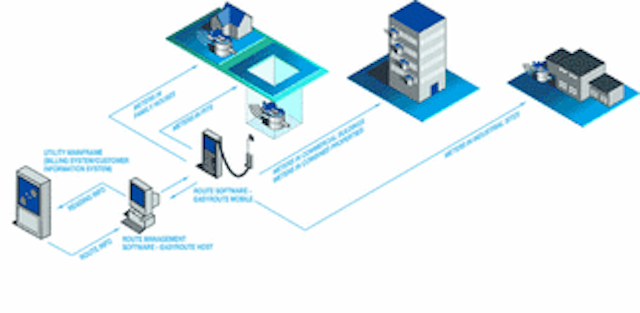 Click here to enlarge image
The modular structure of the system allows maximum flexibility by choosing just the essential system components.
Actaris Metering Systems
Oldenburg, Germany