Stormwater filtration system improves Tampa Bay waters
Twenty-nine million gallons of oil are released into US coastal waters every year. Tampa Bayside Marina is helping to clean up bay waters by testing a new stormwater filtration system that removes hydrocarbons from the water stream.
Oct 1st, 2002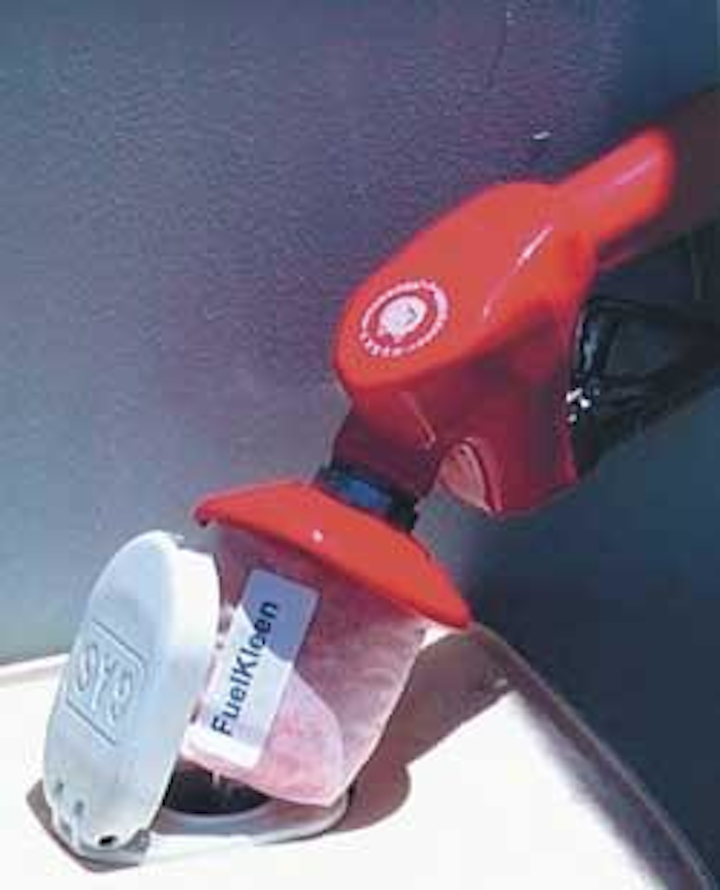 By Dave Hilbig
Thirty years ago, Tampa Bay was so badly polluted that marine life was dying in record numbers. Today, Tampa Bay is second only to the US state of Maryland's Chesapeake Bay as a successful recovery story due to the efforts of hundreds of citizens, scientists and elected leaders to stop the discharge of raw sewage into bay waters. However, bay managers caution area leaders and residents not to stop clean-up efforts. New threats, such as stormwater runoff from lawns, streets and parking lots, are affecting bay water quality.
Tampa Bay Marina, in partnership with Mycelx Technologies of Gainesville, Georgia, USA is addressing these new concerns. Developers Charles Funk and James Meehan decided to protect the local natural habitat and improve Tampa Bay waters when they began refurbishing the facility in 1999.
The marina tested various products developed by Mycelx Technologies in order to meet or exceed all Florida Clean Marina regulations. The patented technology employs the use of the company's proprietary technology that instantly bonds to hydrocarbons to make them hydrophobic and viscoelastic, removing them from the water stream entirely.
According to a recent report issued by the National Research Council of the United States, 29 million gallons of oil are released into US coastal waters each year as a result of human activity. Most of the pollution, 15.6 million gallons, comes from street runoff, industrial waste and municipal wastewater. An additional 1.6 million gallons of the pollution comes from recreational vessels.
Mycelx filters remove pollutants - PCBs, hydrocarbons, chlorinated solvents, and pesticides - from water to below detectable limits in a single pass with almost no (<0.5 psi) pressure increase across the filter all the way to saturation. It permanently inter-molecularly bonds to virtually any substrate. "Mycelx is actually infused - it's not coated - into any substrate from cloth sheets to filter cartridges. Once the material is cured, it retains all of the properties of the Mycelx," said Chief Executive Officer Mack Devine.
Tampa Bayside Marina uses a filtration system that treats all storm-water runoff not only from the marina, but also from an adjacent 5.5-acre industrial area. Until the marina's redevelopment effort, such contaminated water ran freely into the bay.
The stormwater filtration system can be used in car parking areas. A gutter system is fitted into drain units and is combined with the filtration system filled with Mycelx SilaKleen to catch the first flush of rainwater. This first flush contains the highest concentration of oil and gas contamination, but the filtration system produces an effluent clear of sheen, oil, gasoline, diesel fuel, transmission fluids and chlorinated solvents.
Mycelx is also incorporated into two wastewater catch devices, where the run-off from boats, that are unloaded and washed, is filtered through a layer of SMS filter sand and a layer of SilaKleen before draining quickly into the pipes below.
The technology is also being used at the fuel dock, where a device called FuelKleen is in place. This Mycelx-infused fuelling collar instantly absorbs drips and splashes of oil, gasoline and diesel fuel from fuel pump nozzles. This keeps contaminants from hitting the water and causing damage to the bay's fragile ecosystem.
In the dry stack buildings, a number of products are used to catch pollutant drips. Products, installed to keep pollutants from dripping onto otherboats, include Mycelx-infused Smartpads and bags which fit overout-drive units, hydraulic trim tabsand bilge discharge ports.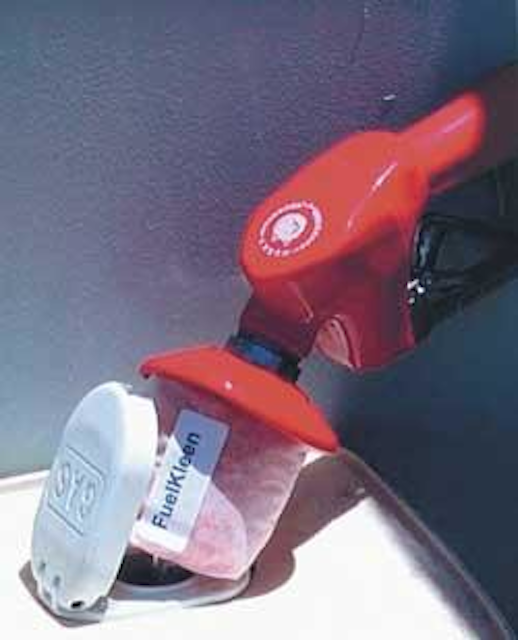 The fueling collar absorbs drips of oil, gasoline and diesel fuel.
Click here to enlarge image
All of the run-off water from the marina and the adjacent 5.5 acres runs into Tampa Bay; however, Mycelx treatment removes hydrocarbon pollution to Below Detectable Limits (BDL), guaranteeing cleaner bay waters.
Author's note
Dave Hilbig is the director of sales and marketing for MYCELX Technologies, based in Gainesville, Georgia, USA. For more information, call +1 888 306-6843, e-mail mycelx@mycelx.com or visit the company's website at www.mycelx.com.