High altitude drilling requires CFM calculations
Chilean contractor solves water well drilling problems for the Chuquicamata mine project, located at an altitude of 4,270 m in the Andean mountains.
Oct 1st, 2002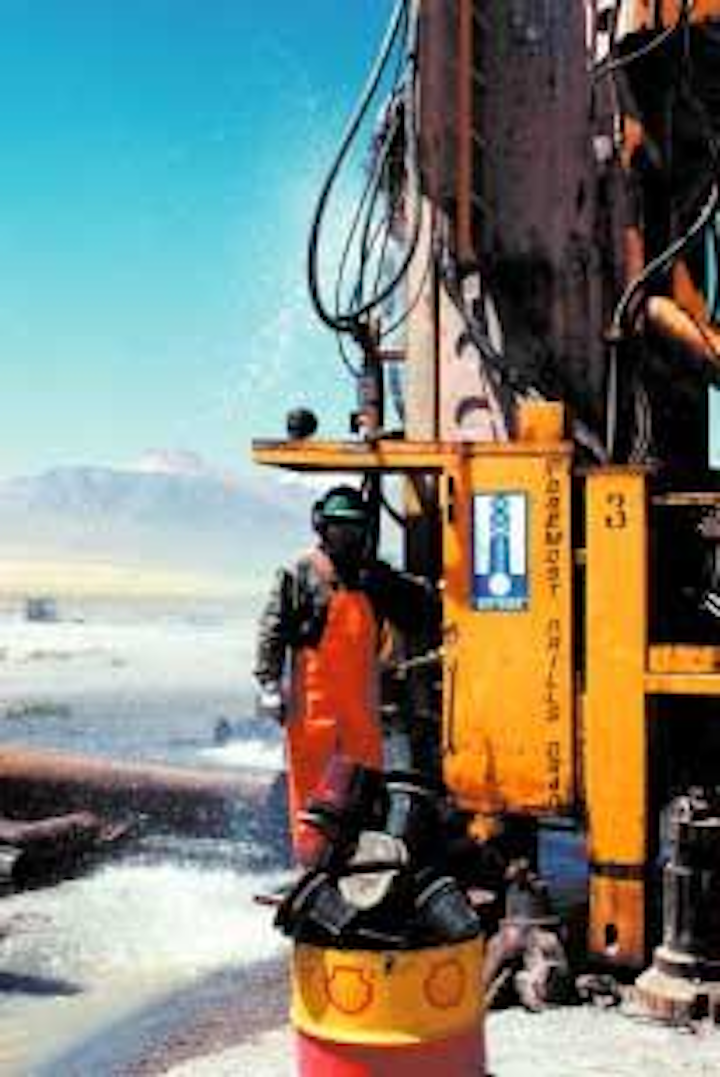 By Ralph H. Leonard
Five volcanoes high in the Andes near Ojos de San Pedro, Chile, have shaped the mountainous landscape for centuries, creating ground formations of volcanic rock and basalt, which significantly hampered water well drilling operations in the area. Recently, however, the Chilean drilling contractor Ingeneria Captagua completed the installation of seven water wells at depths of 250 metres for the Chuquicamata mine in this region in June 2002 by using a non-traditional approach.
Situated 75 miles (120 km) northeast of Calama, Chile, the project presented tough conditions —remote terrain, high altitude and temperatures of -15° C to 15°C. An additional complication was that each well had to be drilled down to 250 metres no matter the amount of water encountered at the top of the hole.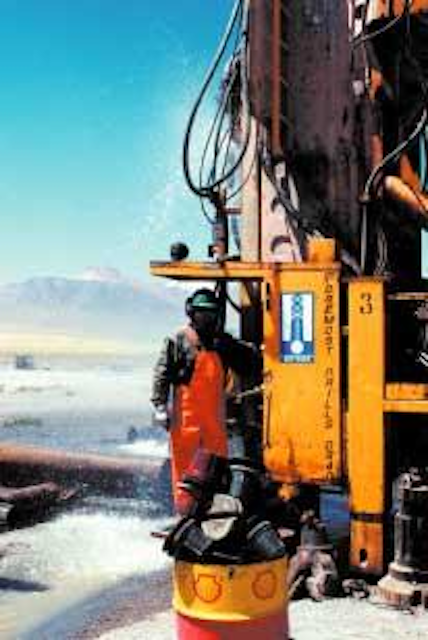 Thiessen SA recommended Numa DTH hammers and bits to drill seven wells for the Chuquicamata project.
Click here to enlarge image
Ingeniera Captagua knew that traditional drilling methods would not work in this environment, so they contacted their Chilean drilling products distributor Thiessen SA to help provide the right tools.
Thiessen SA recommended using the Numa N125 hammer because it provides the appropriate range for the various bit sizes to be used. Addition-ally, the N125 hammer handles high volumes of water or high back pressure and continues to drill down to the target depth. Designed for fast penetration rates in hard rock conditions, the Challenger 125 hammer is used for completing rock sockets, caissons, foundation holes, elevator shafts, exploration drilling, blast holes, water wells or any other rock drilling project.
The installation of this water well required that a series of holes be drilled by telescopic method ranging from 584 mm to 432 mm in diameter to a final depth of 250 m. Much of this drilling was conducted in volcanic rock and basalt but also against water in the hole. Static water was found 18 m down and remained throughout the drilling. The wells were measured to produce over 14,400 litres per minute of water. Baroid drilling foam was used to help get the water and drill cuttings out of the hole.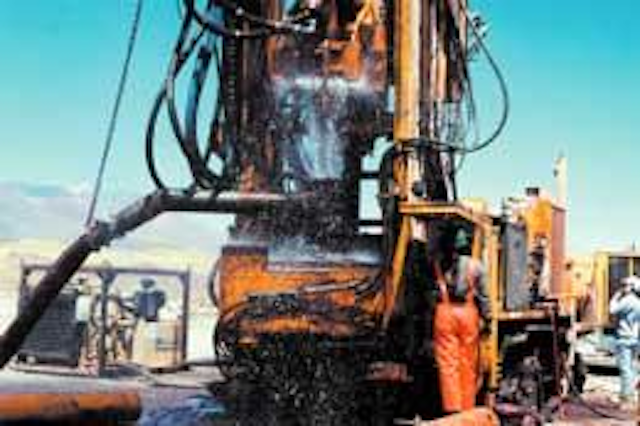 Ingeniera Captagua drilled water wells at 4,270 m above sea level
Click here to enlarge image
High altitude and temperatures affect the molecular structure of air. Since the drilling had to be done at an extremely high altitude, these factors must be considered when analysing the amount of air a hammer needs for a job. An adjustment in CFM (litres per second) must be made to accommodate such changes to provide for fast and efficient drilling. Fewer molecules are found in a given volume of air in high altitudes than in lower altitudes; therefore when a compressor displaces a given volume at high altitudes, the air will be less dense and require more volume than at sea level. A CFM correction factor chart should be used to calculate the appropriate volume of air required for drilling conditions.
In the mountains of Ojos De San Pedro, Ingeneria Captagua drilled at 4,270 m above sea level with an average temperature of approximately 4°C. At sea level, Numa's Challenger 125 requires only 850 l/sec at 13.7 bar. By using a correction factor chart, they were able to calculate a need of 1345 l/sec. When drilling began with the Foremost DR24 rig, Ingeneria Captagua had linked together the rig's Sullair 950/350 compressor with two Atlas Copco 950/350 compressors to provide the correct volume of air. If they had used only the standard requirement of 850 l/sec and not used a CFM correction factor chart, their actual air volume would have been only 520 l/sec, which would not have been enough to properly operate the hammer and lift the cuttings out of the hole.
Author's note
Ralph H. Leonard is the president of NUMA, based in Thompson, Connecticut, USA.