Stockholm to Johannesburg – Symposium advances water and sanitation
Global spotlight on water and sanitation mobilises political support – will it be enough to meet concrete targets by 2015?
Oct 1st, 2002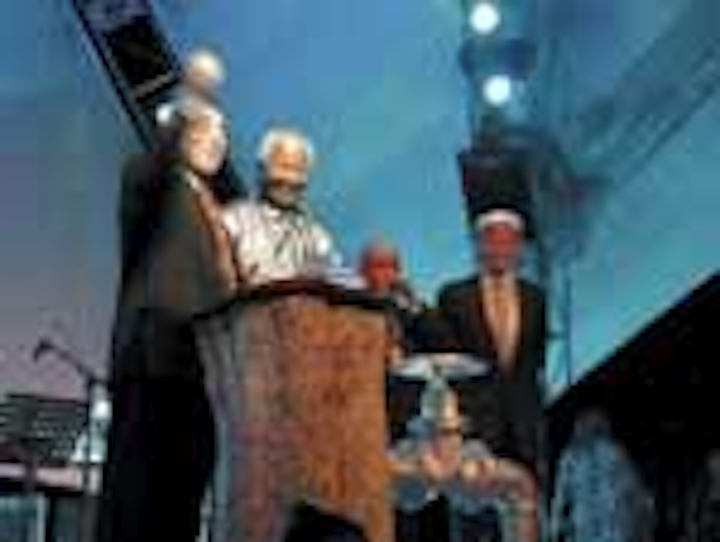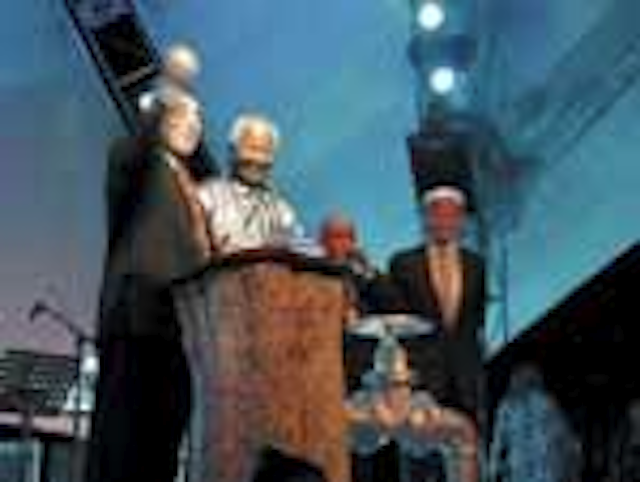 Nelson Mandela and Minister Ronnie Kasrils at WaterDome opening during the World Summit in South Africa.
Click here to enlarge image
Participants at the 2002 Stockholm Water Symposium, including representatives from governments, non-governmental organisations, water professionals, scientists and the business community, sent a strong message to more than 100 Heads of State attending the World Summit of on Sustainable Development, held in Johannesburg, South Africa last 28 August – 3 September.
The Stockholm Statement called for "concrete targets, time-bound measures and action plans to change the way the world manages water. Failure to do so at this Summit will be detrimental for billions of people and for threatened ecosystems for decades to come." The Statement reports that "two million people, mostly children, die each year from water or sanitation-related diseases – the equivalent of a jumbo jet full of children crashing every four hours."
It set forth four basic principles of action in the Johannesburg summit and beyond to guide decision-makers.
• Water users must be involved in the governance of water resources;
• The link between economic growth and water degradation must be urgently broken;
• Urban water services are crucial for urban stability and security;
• Policy, planning and implementation must be based on integrated solutions.
The Stockholm Statement was signed by the Global Water Partnership, International Water Association, International Water Resources Association, Stakeholder Forum, Stockholm International Water Institute, Water Environment Federation, World Business Council for Sustainable Development and the World Water Council.
In Stockholm, Ronnie Kasrils, MP, Minister of Water Affairs and Forestry in South Africa, called for a specific target for the provision of sanitation. This is in addition to the Millennium Development Goal that set a target to reduce by 50% the number of people without access to safe drinking water by 2015. Speaking with experience, the minister claims "we can deliver clean drinking water and adequate sanitation to the people of the world if we truly want to, if we have the political will to do so."
South Africa, a middle-income country, invested US$ 100 million a year to deliver water to more than nine million people in seven years. Seven million more people will gain access to water infrastructure within the next six years, he reported. The South African government realised it was neglecting sanitation when a cholera epidemic spread two years ago, so Kasrils began a ten-year programme to install one million latrines in rural areas. South Africa's remarkable success can be replicated worldwide, he claims.
Water and sanitation fared quite well in Johannesburg compared to other sectors, such as energy. World Summit attendees agreed to reduce by half the number of people without access to safe drinking water and sanitation facilities by 2015. Gourisankar Ghosh, executive director of the Water Supply and Sanitation Collaborative Council, estimated the cost of providing clean water for 300,000 people worldwide every day and providing sanitation facilities for 400,000 per day until 2015 is US$ 11 to US$ 13 billion.
Meeting the 2015 water and sanitation targets require firm political commitment and financial resources. The Stockholm Statement estimated some US$ 25 billion per year to meet the Millennium goal of water for the poor alone -- in addition, greater involvement by the poor, community and stakeholders, including the private sector. Water must be considered a high priority by developing country governments, in bilateral aid and by international financing institutions.
---
Stockholm Junior Water Prize awarded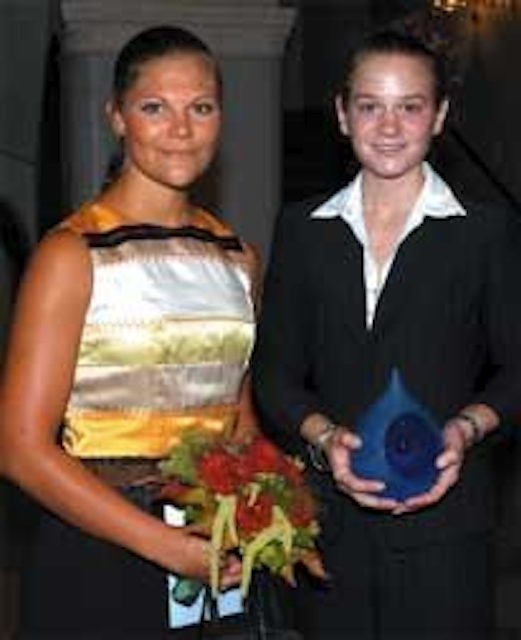 Sweden's Crown Princess Victoria presents Katherine Holt with the Stockholm Junior Water Prize.
Click here to enlarge image
Katherine Holt, an 18-year-old from Williamsburg, Virginia, USA, won the international Stockholm Junior Water Prize for her research on alternatives for cleaning the Chesapeake Bay. Her project, which won the national-level competition in the USA earlier this year, included scientific and business analysis of introducing Asian oysters to clean the water of the Chesapeake Bay. The research investigated how foreign species could be introduced to benefit the Chesapeake while preserving the Bay's native oyster species and meeting national environmental goals.
The Stockholm Water Foundation founded the award and competition; US-based ITT Industries, Inc. sponsors the global program, in which finalists from 22 countries attended this year's competition in Stockholm. China will participate in the 2003 Junior Water Prize competition.