Technologies & Products
Thames Water tested the digital Zonescan-800 system and concluded that the system was able to locate and pinpoint leaks, which remained undetected even when using a leading acoustic logger and leak noise correlator together.
Oct 1st, 2002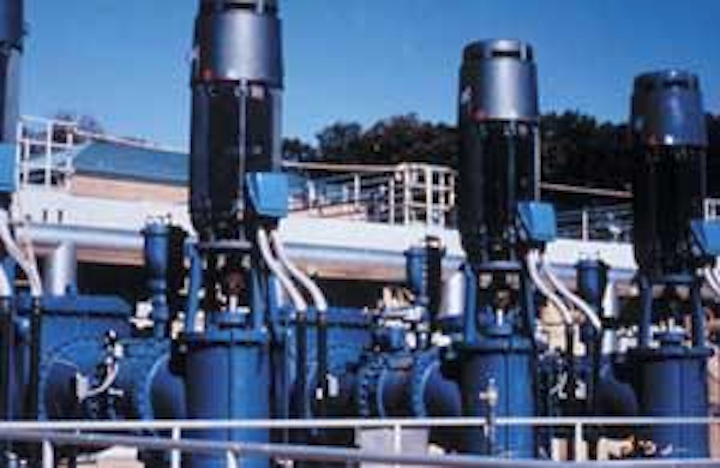 Correlating radio logger pinpoints undetected leaks
Thames Water tested the digital Zonescan-800 system and concluded that the system was able to locate and pinpoint leaks, which remained undetected even when using a leading acoustic logger and leak noise correlator together.
The Zonescan 800 leak intelligence units continuously monitor and analyse noise characteristics within the distribution system and can detect and identify the presence and location of a leak. Once in range of a Zonescan 800 logger, a leak patrol operator will receive automatic notification from the systems voice-embedded software, first identifying the unit before announcing the presence or probability of a leak at that point in the system. If audible confirmation of the leak noise is desired, the operator can listen directly to the leak noise from his vehicle without the need for any physical connection with the loggers.
Once the unit confirms the presence of a leak, the operator selects a neighbouring unit and pinpoints the precise position of the leak between the two units without leaving his vehicle. The data retrieved from each unit is automatically archived in the Zonescan database, and can be used to provide detailed reports for repair teams or a total historic analysis for future distribution system improvement policies. The data can also be integrated with GPS and GIS operating systems.
The Zonescan-800 logger features an integral transceiver (combined transmitter and receiver) that provides the user with interactive communication with any deployed Zonescan units, and a 100-mV transmitter provides clear, uninterrupted reception over greater distances.
Each Zonescan unit measures just 125 mm in length and 40 mm in diameter, and is connected to the water distribution system by a built-in magnetic attachment.
Gutermann International
Zolikan, Switzerland
Pumps designed for RO desalination
Cat Pumps' R-Series 150 Frame positive displacement plunger pumps are available with flows up to 320 gpm. Designed for reverse osmosis.desalination applications with Duplex Stainless Steel heads and valve components and solid ceramic plungers, all pump models are ISO-certified. The R-Series is available as pump only or as a custom-designed power unit. The standard liquid-end construction is Duplex stainless steel or optional 316SSL, and the crankcase is made of spheroidal graphite cast iron.
Cat Pumps
Minneapolis, Minnesota, USA
Vertical turbine pump boosts water to higher elevations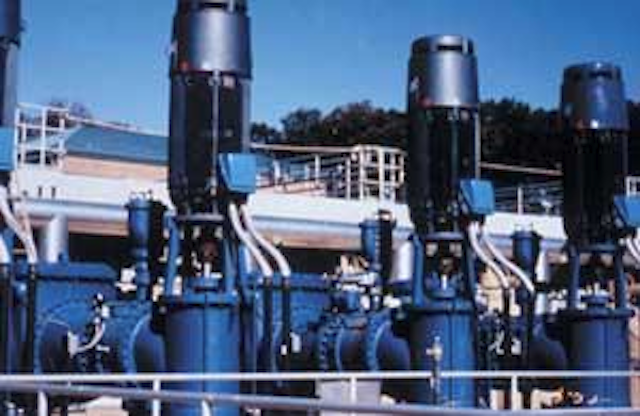 Click here to enlarge image
Patterson's PVT Vertical Turbine Pump, one of the latest additions to its product line of high performance pumps, is designed for clean water applications where water is drawn from a lake or wells and boosted to drinking water treatment facilities or other locations at a higher elevation. It is equally adaptable to other industrial, municipal and power applications, including fire pumps. It can be staged as necessary to meet desired pressure requirements. Minimum floor space is required, and the pump operates in low NPSHA applications. Bowls are 12" through 40" and capable of handling flows in excess of 30,000 GPM. It is available in both above and below ground discharge configurations.
Patterson Pump Company
Toccoa, Georgia, USA
Tests prove pipe liners improve with age
Tests by a leading laboratory on samples taken from a 30-year old Insituform® cured-in-place pipe (CIPP) have shown that contrary to the typical deterioration process, the liner is stronger now than when sampled and tested 10 years ago. The samples were taken from a 46-in by 24-in brick egg-shaped sewer under Riverside Close in the London borough of Hackney. The sewer, an asset of Thames Water Plc, handles domestic and industrial waste.
Independent tests conducted by Bodycote Materials Testing in Bridgwater, UK, used the method of BS EN ISO 178 in accordance with UK water industry specification WIS 4-34-04. Test samples were taken from sidewalls of the sewer in both the one o'clock to three o'clock and three o'clock to five o'clock positions, each reflecting a different degree of exposure to effluent across the structurally critical area. The results show that the flexural modulus of these samples - the key measure of liner strength - exceeded the current specification by 50 percent.
"Real world experience mirrors scientific findings," explained Insituform Technologies' UK managing director Jon Newton. "We have done extensive accelerated life testing at Louisiana Tech University in the USA that indicate our liner should exceed 50 years of service under normal use - the JCBs can stay away from Riverside Close until some time after 2021 and perhaps much longer."
Insituform Technologies
Offet, West Yorkshire, UK