Product Review: Water Storage
Compiliation of products and news announcements focused on water storage

Sep 1st, 2012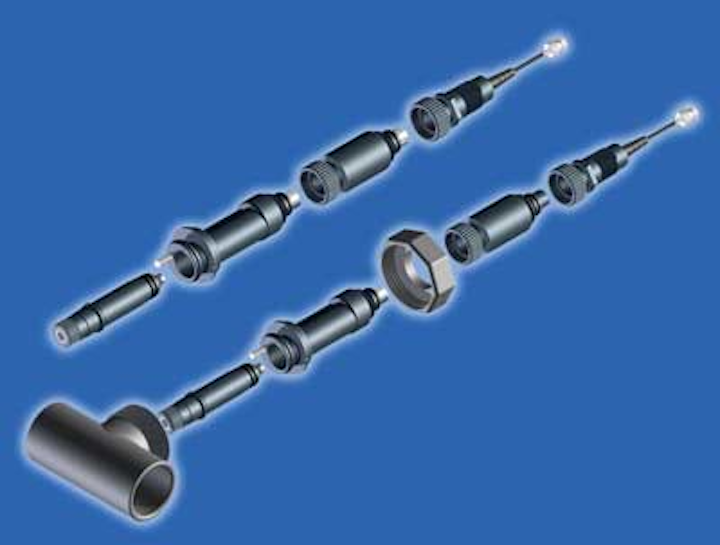 Open tank mounted electrode
The S8000 Modular pH Sensor Platform from Sensorex is available as a submersion mounted sensor system for open tanks and vessels as part of water and wastewater treatment applications.
Designed for measurement in wastewater treatment tanks, the S8000CD pH electrodes are fully submersible and are available with rugged mounting hardware with threads to attach standard couplers as well as pipe to protect the cables from chemical attack. Sensorex said the combination of a flat surface self-cleaning pH sensor with modular mounting hardware and optional electronics delivers precise measurement with reduced maintenance.
The same Sensorex S8000 pH/ORP electrode can also be used for in-line mounting applications to measure pH, HF resistant pH, ORP (REDOX) or low ionic pH. Sensorex's next-generation double junction ERP technology provides a complex path to protect the reference in the presence of interacting ions such as proteins, silver and sulfides that interact with silver or chloride. High temperature reference gels also protect against thermal breakdown. www.sensorex.com
Storm sewer modular storage tank
Work is underway on Northern Ireland Water's storm sewer improvement scheme in the Dundonald area as a result of increased residential development.
Approximately £600,000 has now been invested in the scheme, which will improve the sewerage infrastructure for the Millreagh development and reduce the risk of flooding from the Enler River.
The new modular storage tank is a unique sustainable drainage system and this is the first time this technology has been used by NI Water, and throughout Northern Ireland. This will also result in a more efficient, environmentally friendly process. This process will also speed up the construction of the storm tank when compared with more traditional concrete materials. www.niwater.com
Elastomeric lining to reduce cracking
There is a solution to the combined threats of UV, weather, chemical and expansion-contraction problems on water storage solutions: an engineered elastomeric lining system. This can be applied to primary and secondary containment structures ranging from wastewater facilities to protecting livestock ponds from chemical infiltration.
The engineered elastomeric lining is noteworthy for its long service life, ability to "bridge" joints and cracks in concrete, imperviousness to UV light and harsh chemicals, and ease of installation. The Elasti-Liner system from KCC (Houston, TX) is a leading line of engineered elastomeric lining products that is applied by brush or roller to concrete substrates and directly over expansion and control joints.
Past installations for the firm include the elastomeric formula as a lining of a large, 4-ft. containment dike for an 18,000 sq. ft. tank farm holding highly-corrosive phosphoric acid in Chicago Heights, IL. The elastomeric product line can be used to bridge cracks up to one-eigth inch as the polymers are cross-linked and act like coiled springs that expand and also contract as concrete moves. www.kcccontrol.com
GEOlight stormwater attenuation tanks
Stormwater management solution provider SDS has won a contract to provide an attenuation system for the new Twickenham Academy, a college specialising in sports and digital technology in England.
Due to the area of catchment, an attenuation tank has been installed to hold stormwater in times of heavy rain and release it via a vortex flow control into the main storm system.
SDS supplied and installed the attenuation tank using its GEOlight units, with a storage capacity of 200 m3. The provided system consists of two manholes (inspection chambers) connected by a length of perforated distribution pipe which feeds the storm water storage reservoirs on either side formed from GEOlight. This is post-consumer PVC waste diverted from landfill.
The distribution pipe is normally from 225 mm up to 500 mm diameter, generally covered in a trench filled with draining material such as 15/25 clean graded stone, free from fines. The reservoirs and distribution pipe are wrapped in a waterproof membrane, such as butyl, to prevent water seeping into the surrounding ground.
The top of each reservoir has a vent which is connected back to the upstream manhole. A geotextile or 10 mm mesh geogrid is laid between the distribution pipe and GEOlight to prevent the units being clogged by the draining materials. www.sdslimited.com
Composite trench panels as alternative to metal and concrete
Fibrelite has launched its new A15 load rated 50mm depth trench panels available in sizes from 800mm to 1600mm long, incorporating recycled glass fibres into the design. The composite covers provide an alternative to metal and concrete access covers and are suitable for access to sewage systems, underground pipework and drainage networks. The covers are inert so will not corrode, are not electrically conductive and have low thermal conductivity, according to the manufacturer. The covers have a guaranteed "lifespan of 15 maintenance free years" and are fully lockable. www.fibrelite.com
Glass-fused-to-steel tanks for power station water
The Medupi Power Station is a new dry-cooled coal fired power station being built in the Limpopo province of South Africa. When completed, the power station will have six high pressure boilers each powering an 800 Mega Watts (MW) turbine, producing 4800 MW of power and will be the largest dry-cooled coal fired power station in the world.
The boilers require extremely highly purified water, requiring the removal of all dissolved organics and suspended solids. The water is subject to many purifying processes including ultrafiltration, reverse osmosis, and electrodialysis to achieve the level of purity required by the boilers. During and after the treatment process, the water would be contained in 19 storage tanks which must retain the integrity of the quality of the water, and not allow any impurities from the tank coating to enter the water stream which could affect the operation of the high pressure boilers. The extremely tight parameters for the water quality specified a maximum silica content from the tank shells of < 1 ppb and for operating temperatures between 30 oC and 90oC. For such demanding containment requirements, PERMASTORE® Glass-Fused-to-Steel bolted tanks were chosen ranging in capacity from 85 m3 to 5,000 m3. The tanks were supplied via Permastore's local Distributor in South Africa. www.permastore.com