Technology Round-up: Computer Software
Collection of product and new announcements focused on computer software

Sep 1st, 2012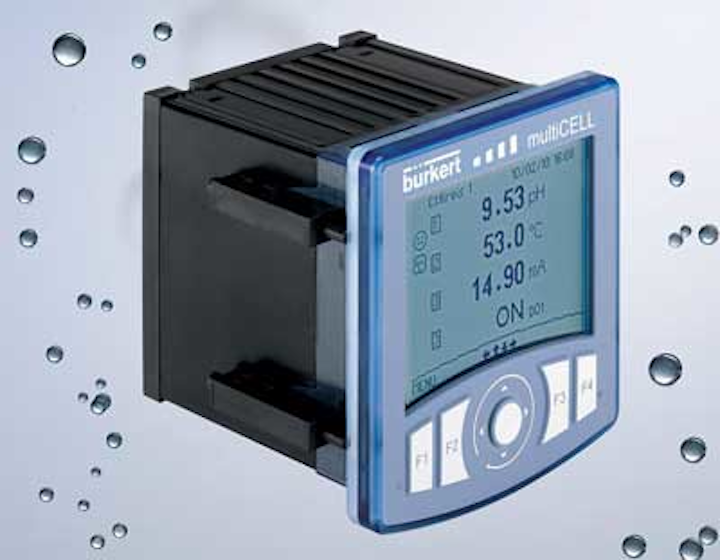 New signal input board for multiCELL transmitter
The modular multi channel multiCELL transmitter/controller 8619 is an individually adjustable measuring system with extended functionalities that can be used with a wide range of different types of sensors.
The fluid technology specialist Bürkert is now expanding the modular system with a new signal input board that can be used for direct connection of up to two additional flow sensors via the digital inputs and two additional measurement devices of various types via the analogue inputs.
The multiCELL transmitter/controller type 8619 is ideal for many applications in areas such as water treatment or the production of foods and pharmaceuticals. The system consists of an extensive featured basic unit whose functions can be individually enhanced as needed by adding hardware boards and software modules. The new signal input board improves the system by further increasing the number of possible applications, since it is now possible to connect almost any sensor available on the market to the 8619.
Texan utility implements energy saving software
In a move to achieve significant energy savings, along with increased efficiency of water network operations, El Paso Water Utilities (EPWU) – responsible for water supply to El Paso City in Texas, and parts of the surrounding County including the large Fort Bliss military base – has begun implementing Derceto's Aquadapt energy management software.
Supplying more than 800,000 users in the desert climate of El Paso requires balancing groundwater from 150 wells with seasonal surface water supply from the nearby Rio Grande. Water flows through four water treatment plants, three wastewater treatment plants and one water reclamation plant.
Successfully meeting the challenge of maintaining supply – through droughts and with a ten-year population increase of around 20% – has earned EPWU a strong reputation for innovation within the water engineering community. EPWU implemented the first PC-based supervisory control and data acquisition (SCADA) system implemented by a major US water utility, introduced new technology to detect leaking water mains.
Mass flow transmitter
Endress+Hauser has introduced the Proline Promass 100 transmitter that can be combined with industry-specific sensors, materials and finishes.
The Promass 100 measures mass flow, volume flow, density, viscosity, concentration, and temperature with accuracy up to ±0.05%, and with immunity from process and environmental influences. All measurements are fully traceable as the flowmeter is certified on calibration rigs accredited to ISO/IEC 17025.
The flowmeter is approved for operation in Zone 2 and Class 1, Division 2 hazardous areas; and with the intrinsically safe Modbus output, it is approved for Zone 1 and Class 1, Division 1.
The wide range of industry-optimized sensors ensure accurate measurement and compliance with guidelines and regulations in different industries, according to the manufacturer.
The Promass S 100 for the food and beverage industries conforms to all 3-A, EHEDG and FDA requirements. It provides a gentle, non-invasive measurement of the product without causing shear force. It is also drainable and withstands CIP/SIP cycles with immediate return to normal operation, including high pressure or steam jet cleaning.
www.us.endress.com/promass-100
SCADA educational software update
SCADA provider InduSoft has launched a special educational version of its InduSoft Web Studio v7.1 for students and researchers at higher education institutions all over the world.
The goal of the program is to provide students a complete SCADA/HMI package that enables them to develop real-world applications, without limits on development time. This enables students to experiment and innovate while creating the types of actual projects they encounter in the work world.
The aim is that by developing a special educational version of InduSoft Web Studio v7.1, the company can review feedback from people who are learning SCADA/HMI application development for the first time. A thorough range of testing was performed in the development of the educational version of InduSoft Web Studio, as well as the creation of special licensing.
The nduSoft Web Studio program has been used throughout the world from the University of Texas to colleges in Canada, the Philippines and the Netherlands.
Particle/water analysis software
Laboratory instrumentation manufacturer Fluid Imaging Technologies, Yarmouth, Maine has introduced VisualSpreadsheet© V3.0 particle analysis software.
The addition is a companion to the company's FlowCAM® particle imaging and analysis system that automatically detects, images and identifies particles and microorganisms. VisualSpreadsheet V3.0 features new custom graphing functionality that allows users to create custom scattergrams and histograms by choosing the variables on the x and y axes from a menu of the system's 32 different measurement parameters without rerunning the sample.
Permitting the size, length, width, perimeter, roughness, intensity, fluorescence and the other parameters to be quickly switched both during and after processing, VisualSpreadsheet V3.0 provides access to more than 1,000 different combinations for segmenting and evaluating the data from new perspectives that were previously unavailable on any type of analysis instrumentation.
Ideal for laboratory managers, process engineers, quality control managers, research scientists and others, VisualSpreadsheet V3.0 comes installed with the FlowCAM instrumentation.