Water Leakage? Look to the Clouds
With utilities losing up to 30% of their water supply through leakages, non-revenue water continues to plague the industry, despite the promise of "smart water grid" solutions.
May 1st, 2012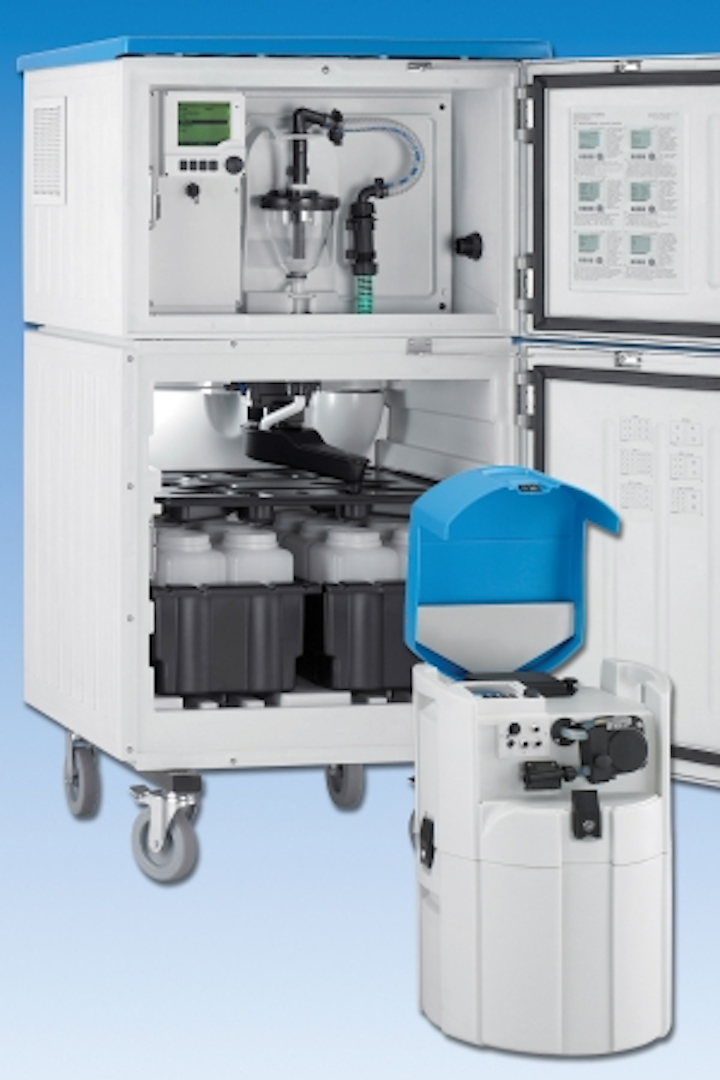 With utilities losing up to 30% of their water supply through leakages, non-revenue water continues to plague the industry, despite the promise of "smart water grid" solutions. Israeli start-up TaKaDu claims its cloud-based, mathematical led software solution holds the answer. Tom Freyberg speaks to the company founder to find out more.
To get a visual image of the financial damage leakages can cause, it's important to compare the water sector to others. Imagine an agricultural wheat producer and distributor. Now imagine all of the effort required to grow crops, prepare, harvest and sort the wheat. Now imagine for every four lorries full of wheat sent off to customers, one lorry goes missing; it disappears on route and the lost money from the missing wheat cannot be recuperated. It's a logistical nightmare. And certainly one any CEO or CFO of a company would take seriously. Yet this is the equivalent loss – 25% - experienced on average by water utilities every single day.
World Bank estimates suggest that on average up to 25-30% of a utility's water is lost in the network as non-revenue water (NRW). Small leakages may not sound like a big deal to the industry outsider, yet worldwide this is estimated to cost $14 billion per year to utilities. That's a lot of money and a lot of missing wheat…sorry water.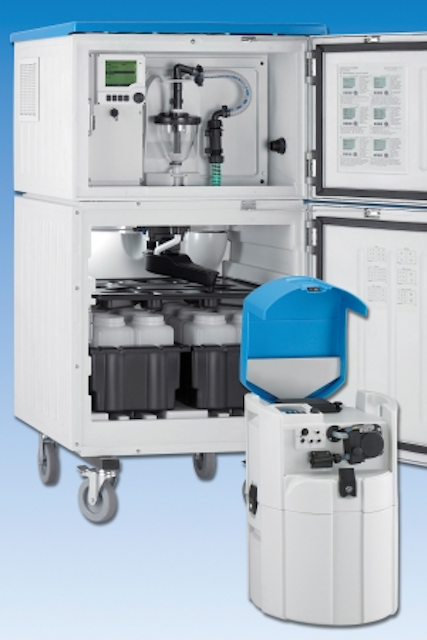 TaKaDu CEO Peleg believes utilities can cut NRW by 50%
In developing countries, about 45 million cubic meters are said to be lost daily through water leakage in the distribution networks – enough to serve nearly 200 million people. More important is the World Bank suggestion that reducing developing countries' NRW could generate an additional $2.9 billion every year.
As a result the market potential for "smart water grid" solutions – monitoring, detecting and reducing leakages – is inevitably growing. Industry analysts Frost & Sullivan detailed in the October-November issue of WWi magazine that in Europe alone, smart water metering is expected to attract investment of $7.8 billion by 2020. And with strong government support for smart water metering, the European market is estimated to grow to $13.4 billion over the same period.
With such monumental water savings available from reducing water leakages, companies are working with utilities to address the problem. Yet the 'new kid on the block' – a three year-old Israeli startup called TaKaDu – is winning headlines for integrating the water sector with "cloud computing".
The idea is that this solution works alongside utilities' existing infrastructure. Information from flow and pressure meters, GIS and SCADA systems, for example, is collated, "mathematically cooked", as founder and CEO Amir Peleg describes it, and turned into "practical real-time picture and priorities".
Describing how the system works, Peleg says that utilities can use a web interface to effectively see where leaks take place. The revolution, he says, is the ability to send repair teams to identified leaks in the middle of the night, in the winter, to fix them while nobody will notice. This compares to waiting till the morning and a phone call from an irate customer.
Technology Facts: Network Monitoring
TaKaDu says that data from utilities' water networks is often 'noisy' and difficult to analyze, with many utilities having only a few points of measurement within the network.
Water Network Monitoring takes existing data from the distribution network, including sparse and noisy data, analyzes it using algorithms and mathematical models and figures out the "normal behaviour of the network".
The firm then looks for anomalies, including network flaws such as leaks, open valves and faulty equipment. Once an event is identified, hydraulic and mathematical processes are applied in order to establish the event's exact type, location, and magnitude. The utility can then be notified by multiple interfaces, including web, email, or SMS on mobile phones.
At the end of March Portuguese water utility Águas de Cascais (AdC) announced it had rolled out a Water Network Monitoring service from TaKaDu. AdC holds the concession for the supply of water and wastewater for the Municipality of Cascais, with over 1,300km of drinking water mains. In terms of cost to a utility, TaKaDu charges €7.80 per km/per month. So for a utility rolling this out across a 10,000 km network, the maximum monthly fee would amount to €78,000. This figure doesn't include a discount for a utility buying network kilometers in bulk. For the municipality of Cascais, on the smaller scale, it could be paying just over €10,000 per month.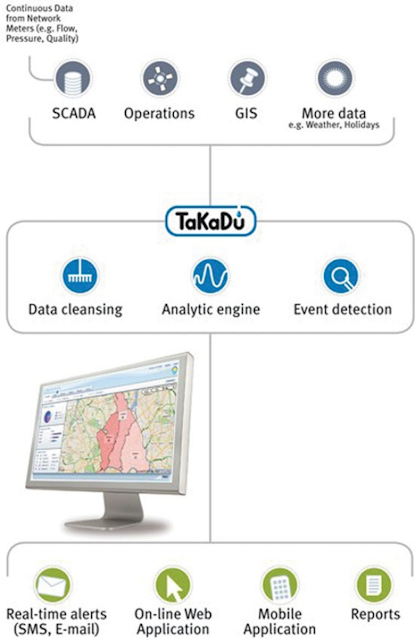 A web interface identifies where leaks take place
"We are providing a monitoring service that can be viewed as a 24/7 watchdog," founder and CEO Amir Peleg tells WWi.
"By offering cloud computing, we provide an ongoing service and being in that position we can show that it is an OPEX charge. As an OPEX charge, the ROI [return on investment] is already there from day one. It's not like you need to buy equipment upfront that costs £5 million and need to wait three years for the payback. That's the beauty of the model of cloud computing and software solutions. You don't need to invest any capital expenditure to start with at all."
AdC may have been the first utility in Portugal to adopt this solution but elsewhere it's catching on. TaKaDu is even helping Londoners to save water. After UK utility giant Thames Water tested the system on 3,000 km of mains, it extended the company's detection engine's reach over the whole 10,400 km length of its urban mains network. While this scale of contract would suggest a monthly cost of just over €80,000 for the utility, Piers Clark, commercial director at Thames Water confirms the outgoing is not this much.
The detection engine was reported to have identified minor leaks up to nine days earlier than Thames Water's existing systems, and picked up major bursts as much as 3.5 hours more quickly.
Speaking to WWi, Clark says: "We've been working with TaKaDu for over two years now and its been an important part of a suite of solutions. It's not the only tool Thames Water uses, as leakage is a very complicated challenge to overcome."
In March Thames Water announced another solution it had turned to - TrunkMinder devices, designed to detect tiny underground leaks on big supply pipes before they develop into big bursts. Sensors fit onto trunk mains at 750-metre intervals, monitoring vibro-acoustic patterns caused by water running through the pipes. Data is then analysed and compared to previously collected data. Any deviations then indicate a leak on a pipe, which triggers an alarm, reportedly "pin-pointing the problem to the nearest metre".
Clark adds: "People think of the water industry as low tech whereas actually utilities are operating very complicated networks. This requires people and solutions with an understanding of the complex mathematical models needed to keep these networks effective."
Interestingly, with these two major utility contracts under its belt, you would think TaKaDu has recruited a team of water sector experts. Think again.
Peleg is proud of the fact his team of 35 staff came from Israel's "high-tech" sector, not water. He says the team aims to bring the best breed of smart analytics to the water sector by applying methods that didn't exist before in water, but existed in security, IT and telecommunications.
Elsewhere, he has been working closer to home – with Hagihon, Jerusalem's Water and Wastewater Works Company in Israel. Serving 800,000 people with 1,200 km of water mains, Hagihon was facing challenges preventing water losses, maintaining water quality and reducing operational waste as a result of "faulty meters".
Following the installation of TaKaDu's algorithm, non-revenue water is now estimated at 12%. Explaining how the system fits into a utility, with an estimated installation time of two weeks, Peleg says: "If you have enough data and enough meters, you don't need to buy the software, you don't need to license, you don't even need to buy a server.
"You just need to connect our remote web service to your SCADA system and from then on the software will generate its value by definition, once you pick up leaks and you save water and repair costs, energy etc."
As well as Europe, the company has now reached Australia and Latin America, and is on the brink of announcing its first contract in Malaysia, WWi has learned, and well as a second in the UK.
Meanwhile, Aguas de Antofagasta operates a concession for the distribution of Chile's water to the Antofagasta region and supplies five cities water through 1,100 km of water mains. With the annual NRW rate in Chile averaging 35%, the utility was facing challenges with asbestos mains installed decades ago but becoming brittle and prone to leaks today.
With TaKaDu, each 100 repairs result in a 5 liters/sec decrease in nightflow, (previously the decrease was 2 liters/sec for each 100 repairs), and the utility is now recording a NRW rate of 23%.
So is there a limit to the amount of utilities TaKaDu can sign up to its cloud system? "There is no limit," says Peleg stoutly. "We all sit on the cloud, which has an infinite number of servers and computing power. Infact, the more the merrier." Clearly, tackling the ongoing challenge of non-revenue water and wasting such a precious resource means a lot to the CEO.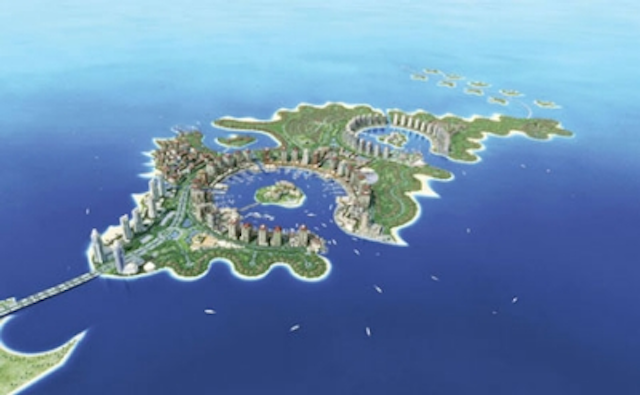 Costly: World Bank estimates suggest that NRW worldwide costs utilities $14 billion pa
"I say that among our customers we can achieve a reduction of NRW between 20% and 40%," he says passionately. "You can easily generate a reduction of 20% and it sounds a lot but for me it's only the beginning. I really want my customers to witness a 50% reduction."
A bold vision, certainly, especially applying a mathematical model to an industry, without an industry experienced team. Yet with contracts being extended and signed across Europe, not to mention in Latin America, Australia and soon to be Asia, it seems Peleg and his team of hi-tech experts are doing something right. And such innovation applied successfully to other sectors should be welcomed by the water sector.
The concept of cloud computing may be taking its time to trickle fully down to this industry but TaKaDu has found a way to apply it in a way that's easy to understand. The World Bank estimate of leakages costing the sector $14 billion may well be startling, but it seems every cloud does indeed have a silver, or gold in this case, lining.
Author's note: Tom Freyberg is chief editor of WWi magazine. For more information or to contact TaKaDu, please email WWi at tomf@pennwell.com.
More Water & WasteWater International Current Issue Articles
More Water & WasteWater International Archives Issue Articles