Oman Spreads its Roots
Oman's Nimr oil field was generating nearly a quarter of a million cubic meters of wastewater everyday. Reed bed treatment technology from Germany is set to treat 40% of this amount by the end of this year, as well as recover salt to sell on the Omani market.
Mar 1st, 2012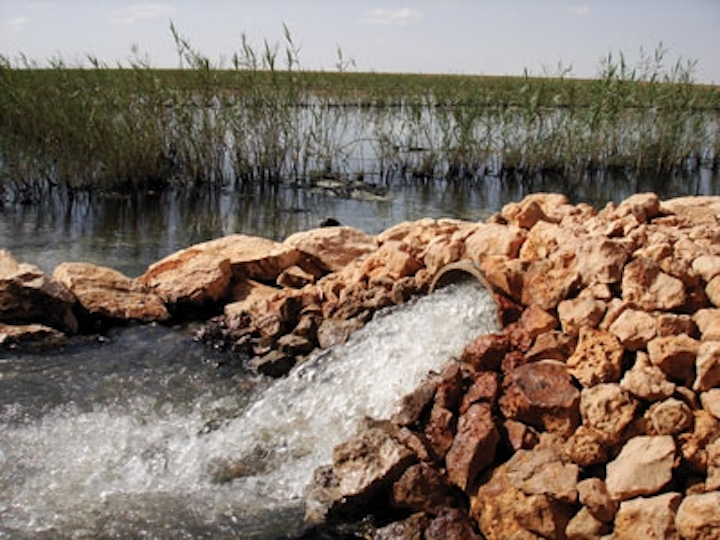 Reed Bed Water Treatment Plant to Expand
Oman's Nimr oil field was generating nearly a quarter of a million cubic meters of wastewater everyday. Reed bed treatment technology from Germany is set to treat 40% of this amount by the end of this year, as well as recover salt to sell on the Omani market. Jeremy Josephs investigates how the project is expanding.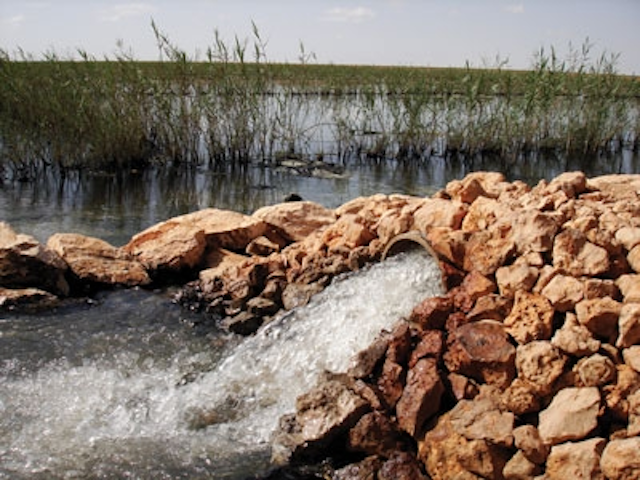 Nature's filtration: following oil and water separation water is distributed over a polishing wetland where it is channeled through a wetland of four wetland terraces on a gravity feed of over 2.3 million m2 area
Dr Roman Breuer is a man with a mission. From his offices at the Bauer Group's HQ in Schrobenhausen, Germany he set about constructing the world's largest commercial reed bed treatment plant for oil-polluted water at the Nimr oil field in the Sultanate of Oman.
Petroleum Development Oman (PDO) had chosen the medium sized Bavarian engineering and construction group over four other major international players in the industry, including French conglomerate Veolia. It was the successful completion of a tender process that had taken over two years. This was the beginning of a DBOOT contract (Design, Build, Own, Operate and Transfer) destined to run for at least two decades.
It was as well that the German Investment and Development Corporation (DEG) was to hand with a 70% funding package - without which Bauer would have been unable to see through completion of the proposed 235 hectare site.
"That's about the size of around 450 soccer pitches", Dr Breuer helpfully points out.
Reed bed history
Reed bed applications are not new; they can be traced back to the 1970s. Many of the concept's forefathers were based in Germany, a country at the forefront of the green movement long before it became fashionable. What was innovative, though, was the introduction of two new and rather taxing interrogatories into the wetland equation: if it worked for sewage - could it work for oil-contaminated water? And could it be upscaled from a modest pilot project of 1000 cubic metres per day to over 50 times that amount?
"People kept asking me 'but do these plants grow here'?", he recalls, "to which I would say "what do you see as you exit from Abu Dhabi international airport when you look to the right?" Because there they were - growing naturally - without me doing anything. But seeing and believing are two different matters. They remained unconvinced that it could work as a technological solution. It was a constant battle to overcome their natural conservatism. That said to some extent it's entirely understandable because nothing on this scale had ever been attempted before."
Oilfield wastewater issues
Many lay people labour under the misapprehension that oil simply gushes up to the surface, ready to be barrelled up and exported. But it does not. At the Nimr oil field only a tenth of production is crude oil – with around 250,000 cubic metres of contaminated water being generated daily.
Prior to the Bauer Group project the oil-polluted water was simply being injected back into the water table below. Now almost 20% of this water is being treated by the massive reed bed water treatment plant – and this is due to be increased to double that amount by 2012.
The composition of the produced water from the oil field is brackish, with total dissolved solids ranging between 7000 ppm (parts per million) and 8000 ppm. The plant layout includes a pipeline which enters the WTP system and leads to an oil and water separator. Water is then distributed over a polishing wetland facility where it is channelled through a wetland of four wetland terraces on a gravity feed of over 2.3 million m2 area. The final stage of the process is evaporation ponds used for salt recovery for use by the oil field for drilling operations.
The consequence of this has been a significant reduction in the Nimr oilfield's environmental footprint – the project has been able to recover as much as 155 barrels of oil per day from the produced water.
Since the project's initiation over 53,000 barrels of oil have been recovered from the produced water stream.
Dr Breuer explains: "From the client's perspective the project not only ends up paying for itself and they can actually end up making a profit. It's a win-win situation. Although convincing decision makers in a naturally conservative industry and in the Middle East to boot is quite another matter."
Finding recycled water markets
Dr Breuer says the engineered works facility will eventually be able to remove and crystallise sodium chloride, with a view to it re-emerging as table salt to be sold on the Omani market. It's another plus for the project's carbon footprint - previously most salt was being trucked in from abroad. Given the positive credentials and savings of the project so far, are there no disadvantages to the system?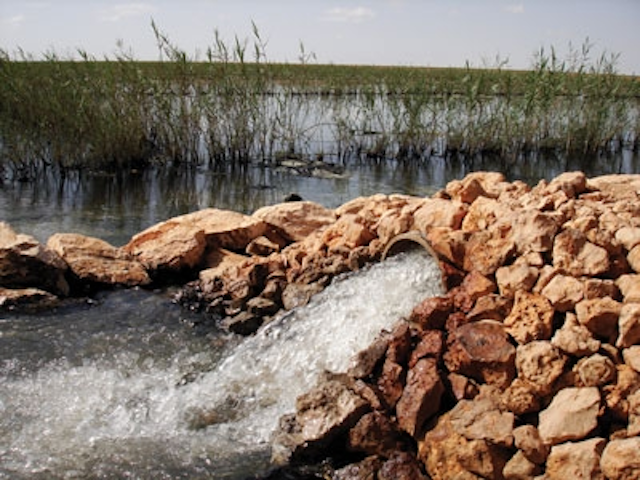 Expansion: Bauer says it aims to roll out the reed bed application to not just the oil and gas industries, but also for municipal applications as well
"No", replies Dr Breuer bluntly. "That would not be an accurate statement. There is one thing I am not happy about at all. The fact that most of the recycled water is currently being evaporated off. We are going to see if date palms can be grown or if we might be able to produce animal feed.
"But it's painful for me to see treated water being simply evaporated off, I have to admit, salt or no salt. This is everything to do with our location – we are pretty much in the middle of nowhere – 300 km away from a big city and with 700 km to Muscat piping is clearly not an option. There is a permanent trade off between concept and location."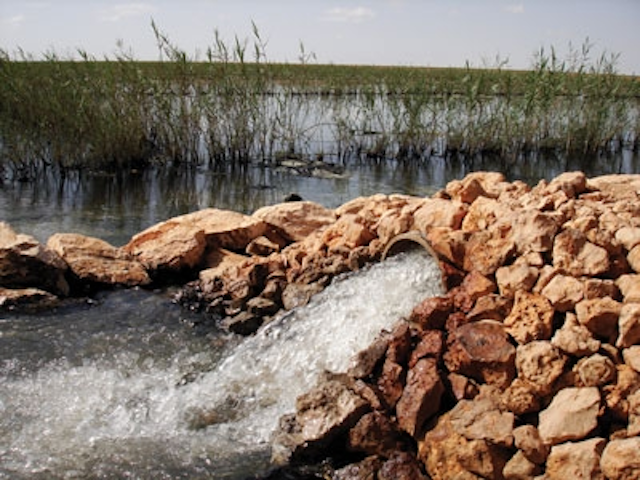 Grass roots: Dr Breur says that the reed bed plants were growing naturally in Abu Dhabi and a skeptical audience required convincing that it could be used as a technical solution
In practical terms this means that Bauer's Nimr WTP project is never going to be replicated in London or Paris. Nor is any degree in geography required to know that in most of Europe there is simply not the space.
"But look around Las Vegas? What do you have? Space. Look around most African cities. What do you have? Space," he says enthusiastically. "So we want to continue rolling out this application elsewhere. And I don't just mean in the oil and gas industries. It can have municipal applications too. It definitely has a future because we are saving energy. It also fits with addressing issues of water scarcity. It could also work in the chemical industry – any effluents, in fact, which contain organic contamination – so we are not ruling out looking into the food and beverage industry too."
Uphill battle
Dr Breuer adds that most of his time and energy now goes into marketing, with the Oman reference helping.
"Ask anyone in the business about getting people to sign up, especially in the current climate, and they will tell you that it's an uphill battle. Still, whoever said that introducing new and innovatory solutions would be a walk in the park? The wetlands community is a small one. All you need is the space. And a client who is willing to think outside of the box and to go for it."
Attila Bodnar, for one, is receptive to these arguments. Hardly surprising on the grounds that his company, Organica, has delivered reed bed solutions to the Hungarian market.
His view is that constructed wetlands have certainly earned their place in sustainable development solutions. His concern, however, relates to the issue of space. "When there is no space constraint, this is clearly a viable option. We have to consider though that the urban population will increase by 1.5 billion in the next 15 years. Which means that the future of humanity, in my opinion, will play out not in the deserts of the Middle East but in the cities."
Gilian Cadic, a French water science engineer based in Montpellier, designed his first WWTP with reed bed filters back in the early 1990s in the mountainous region of Savoy.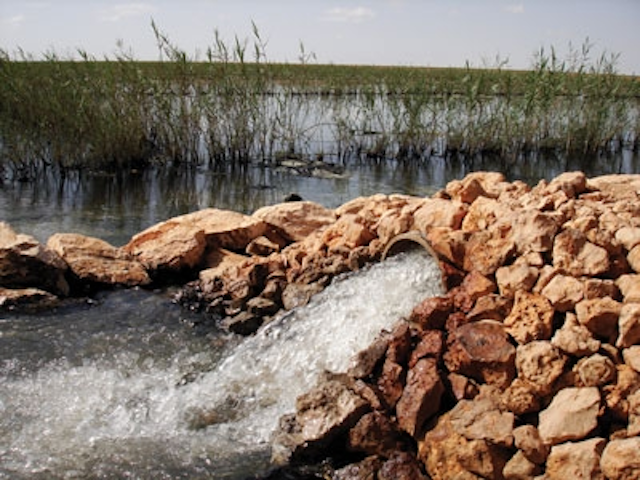 Pipe dream: the plant layout includes a pipeline that enters the WTP system and leads to an oil and water separator. The project has been able to recover up to 155 barrels of oil per day from the wastewater
He argues that it's their simplicity in terms of maintenance which makes the system so attractive and is very happy to see how their various applications have evolved during the course of the last twenty years.
"From the deserts of Oman to the valleys of the Alps, there clearly remain many exciting opportunities waiting to be discovered with this technology in respect of these wonderfully rustic plants," he says.
Dr Roman Breuer, meanwhile, is heading back to Oman, a country he has come to know well and according to international indices, one of the most developed and stable countries in the Arab World. For his massive reed bed filtration system continues to expand and there is much work to be done.
More Water & WasteWater International Current Issue Articles
More Water & WasteWater International Archives Issue Articles