Egypt's Iron Lady of Water
The head of Egypt's Alexandria Water Company has successfully risen through the ranks to become a leading authority in the industry.
Mar 1st, 2012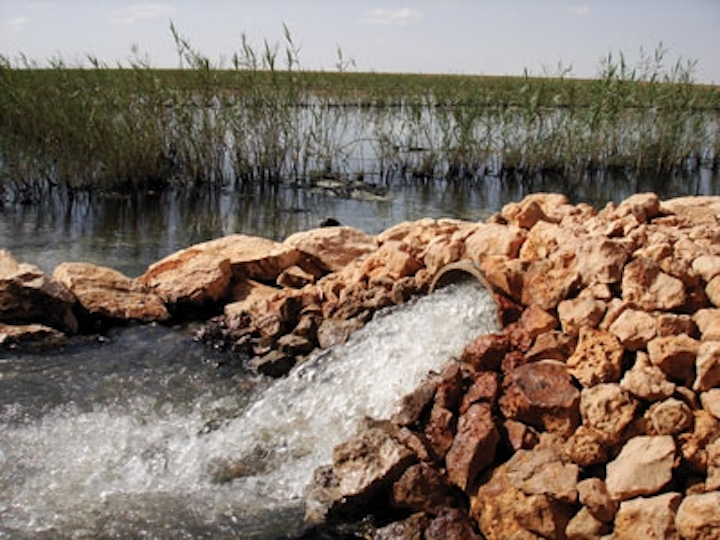 And how she increased tariffs
The head of Egypt's Alexandria Water Company has successfully risen through the ranks to become a leading authority in the industry. Here Nadia Abdou talks exclusively to Jeremy Josephs about revising tariffs to cover water production costs, protecting Egypt's water facilities through civil unrest and transboundary water agreements.
The formidable Nadia Abdou declares: "I am a Muslim woman and my first love is to God." Such a declaration immediately throws her interviewer off track. But quite clearly calls for further elucidation. Does family not come first?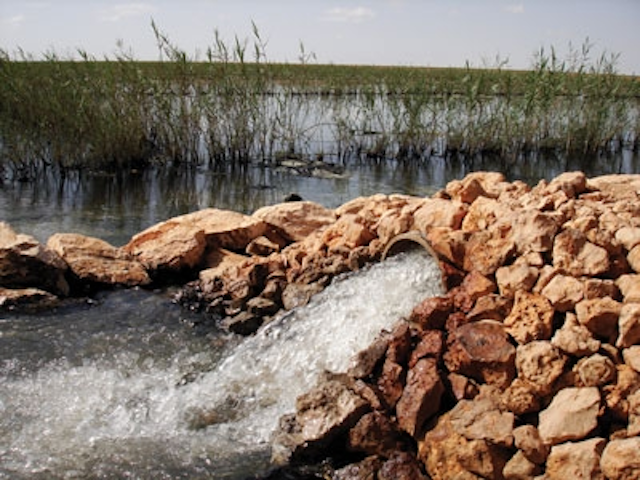 Alexandria has helped urban Egypt increase its piped water supply between 1990 and 2006 from 89% to 99%
"No, I am telling you that my first love is to God. But do you know what my second love is? And to which I am devoted even more than my own family. It's to my work. I just love my work and the world of water."
Whereupon Nadia Abdou, Egypt's premier lady of water, rattles through an impressive and remarkable career path, the theme of which is an uninterrupted and meteoric ascent up through the Egyptian water ranks and, latterly, beyond.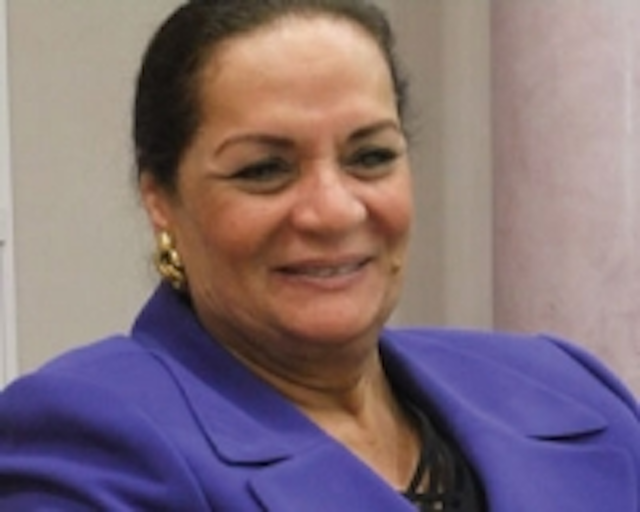 Rise to the top: Nadia Abdou became the chairperson for the whole of the Alexandria Water Company in 2002, after starting as a lab technician 30 years earlier
Born and bred in Alexandria, Egypt's second largest city with a population of over four million, Abdou graduated in chemical engineering from the historic city's (it was founded by Alexander the Great, from which it takes its name, way back in 332 BC) Faculty of Engineering. She was immediately recruited by the Alexandria Water Company (AWCO) working for three years as a lab technician.
The chairperson of the WWTP where she was working asked her to oversee the operation management of the filters and sedimentation, a role which she carried out while simultaneously obtaining a further diploma in sanitary engineering. She then became the manager of a new WWTP in Alexandria. Then the general manager of operations for all of Alexandria's WWTPs. Then general manager for laboratories. Then general manager for all Alexandria's water projects. Then vice chair for technical affairs. Ending up as the chairperson for the whole of the Alexandria Water Company – a role she has held since 2002.
"That might sound all rather breathless", she adds helpfully, "but bear in mind that this took place over a period of three decades. I was lucky in that I got transferred from one activity within the company to another – and there is no substitute for hands on experience. During this time I of course also got to know everyone – this is very important in our culture – I was also manager of a committee for tenders in addition to being an employees' representative."
It's a story made all the more remarkable if you remember to place it within the context of the role of women and women's rights in the Middle East. This prompts the question to ask whether or not had encountered discrimination in her relentless rise to the top.
"I am not going to turn round and say to you that discrimination against women does not exist", she says. "That would be wrong and inaccurate. But what I would say is that when a lady sits with hundreds of men and they can see that she is sincere, hard-working honest, disciplined and fair - then they are less likely to discriminate. It's the same with me now. I have promoted women within my organisation – of course. But I will never promote a person simply because of their sex. God never says 'it's a man, it's a woman' – we are both human beings. What matters is who can do the job most effectively. So my experience is that you can cut through discrimination via personal behaviour and example."
For Abdou, the proof of her success has been in the voting. She was a key mover behind the creation of the Arab Countries Water Utilities Association (ACWUA), helping to draft its constitution. The Association's first consultative meeting was held in Cairo in September 2006.
Mostly male delegates from Jordan, Syria, Lebanon, UAE, Palestine, Bahrain, Kuwait and Oman unanimously agreed for Abdou to be their first president. She remains a speaker of that body's general assembly to this day. This in turn has led her to become involved in a new UNESCO International Hydrological Programme (IHP) project on groundwater governance. The project's objective is to increase awareness on the importance of sound management of the world's groundwater resources in preventing and reversing the global water crisis.
It would be a mistake to conclude, however, that it's a happily ever after story when it comes to Egyptian – even Alexandrian - water. That is not to criticise Egypt's undoubted achievements - an increase of piped water supply between 1990 and 2006 from 89% to 99% in urban areas and from 39% to 82% in rural areas. The key aspect to remember here, and as Abdou is keen to point out, is that this has been achieved in the face of one of the most rapid and sustained population growths in North Africa – Egypt had around 20 million citizens back in the 1950s and now boasts over four times that amount.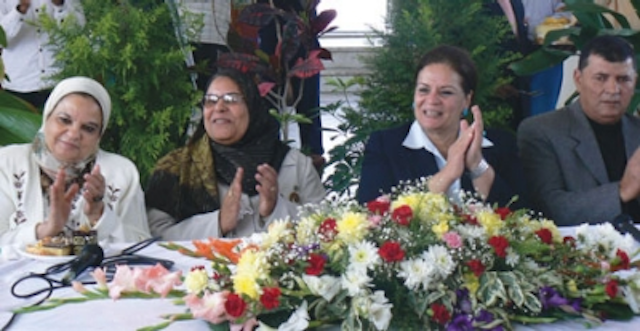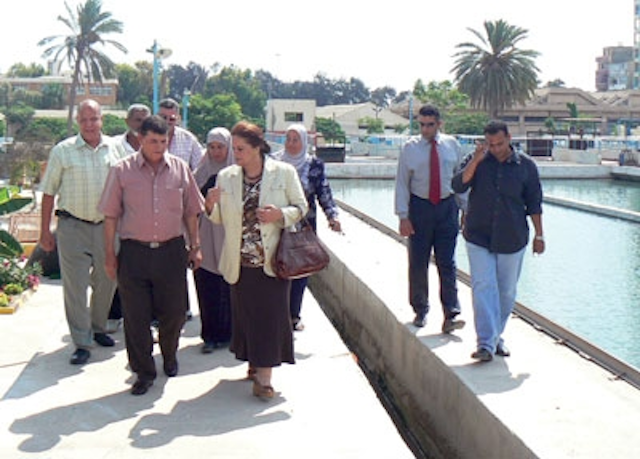 The Alexandria Water Company recuperates the cost of water production, together with wastewater charges, through a slab tariff of leaving the first 10 cubic meters at a low price and doubling the cost for anything over 30 cubic meters
Still, although the city of Alexandria has a more than respectable record when it comes to sanitation, only about one third of the broader population at large is connected to sanitary sewers. And it is partly because of such low sanitation coverage that some 17,000 children die in Egypt each year because of diarrhoea. Of course one hesitates to challenge the somewhat daunting Abdou but this surely suggests that now is not the time to be sitting on one's laurels.
"No, I agree with you entirely", she says. "We have made good progress in the last 30 years. I am proud of that and, without wishing to blow my own trumpet unduly, my role in that. But success is not what you have today. Success, to me, is all about how you hold on to it, how you maintain that momentum and how you move it forwards."
What about the issue of low water tariffs in the Middle East? "Now you have raised a subject which is close to my heart", she says. "Traditionally in the Middle East water has been cheap – very cheap – and as such its not always been respected as a resource that should be respected, even cherished. Things changed for us a while ago in respect of maintaining a very generous grant we were receiving from Germany. They said to us that if we cannot recover our costs – then that would be the end of aid for the Alexandria Water Company. As you can imagine, that rather concentrated minds. In the event it was a good thing. What we did, with the agreement of the governor of the city – was to leave the first 10 cubic metres at a low price, above that level it is higher, then after 30 cubic metres its double the initial price."
For the AWCO the results have been transformational. Although these figures do not represent the cost of the water – they come very close – the missing element being made up by a surcharge for sewerage. The outcome of such tariff restructuring has been that the AWC is now - "thank God", as Abdou puts it – the only water board in Egypt which not only covers all of its expenses but in addition generates a profit too.
True, the city stood at something of an advantage when compared to others in that Alexandria is fortunate to host 40% of Egypt's industry (cement and iron) and 50% of its petrol industry too. "And I took a decision to make very high tariffs for industry," she adds.
So, a tough businesswoman then? "Yes, I am. Tough. But fair."
Her iron qualities emerged not so very long ago when renegotiating water tariffs with Coca Cola. The Egyptian currency - the pound - subdivides into 100 qirsh and the drink company were very happy, thank you very much, with their rate of 80 qirsh for one cubic meter of water. Abdou was not. And she is not a person, one soon comes to realise, with whom you would wish to cross , on the not unreasonable grounds that you are unlikely to emerge victorious.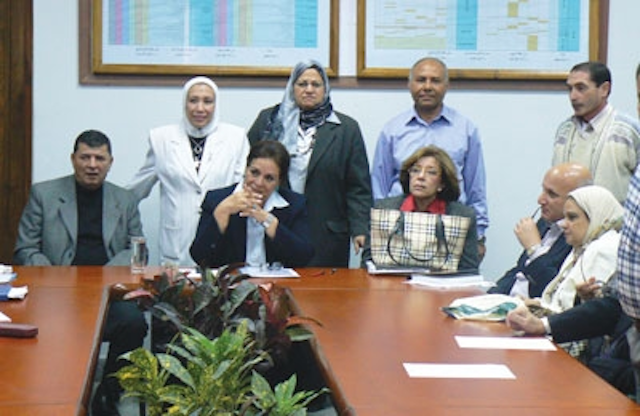 "I said no. I am going to make it three pounds. To triple it. They cried out. They cried long and hard. They huffed and puffed. They said they would leave. I said you 'do as you see fit. But that's the price – take it or leave it. But do bear in mind that 1 cubic metre of water means 6000 bottles of Coke for you. Eventually they said could the new pricing structure begin as from next financial year, to which I said yes, and every year it goes up by 25 qirsh. Most of their product is our water, so why on earth should we not benefit from it?"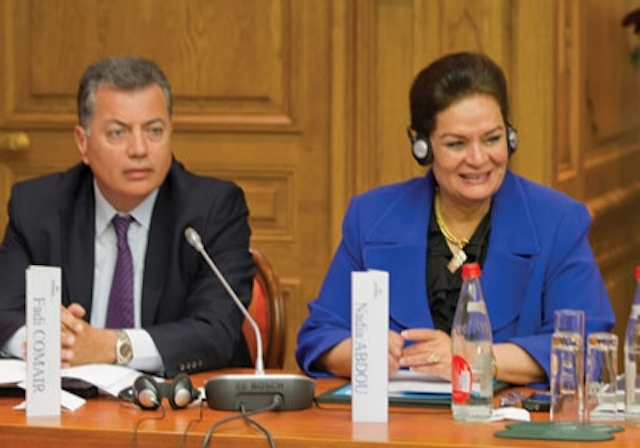 Abdou is fascinated by politics and during last year's period of civil unrest, she worked until 10pm every evening visiting AWC branches. Company employees were so loyal to the firm they actually went out to physically guard water treatment facilities
Just a few weeks ago it was the first anniversary of the Egyptian revolution which saw Egypt's Hosni Mubarak doing a Nelson Mandela in reverse and going from president to prisoner. But no degree in Middle Eastern studies is required to know that the revolution remains a work in progress, as various competing interests (Islamists, intellectual and members of the military for the most part) jockey for pole position.
So what has this period of turmoil and unrest been like for Nadia Abdou to live through? And what are the implications for the water industry in Egypt? To say that this has raised a delicate subject would be something of an understatement and one can sense, almost immediately, that the atmosphere has changed. She is more tense – almost edgy.
It was the most remarkable time to live through, she reveals. Things are now unsettled, there is a feeling of uncertainty – but overall it's a good thing. "There is still so much to do in the water industry as I was explaining a while ago. But now we don't have a president, we don't have a parliament, we don't have local officials. So, as you can imagine, this makes big infrastructure projects – like sewerage networks – almost impossible to achieve. That said I am confident that we will get things right. We Egyptians will overcome these challenges."
She also reveals that throughout the revolutionary period she was working until 10 o'clock every evening. Contacting people, talking to people, listening to people, she explains, visiting all of the water boards' areas and branches. Why? Because there were no police. Volunteers were directing the traffic.
But most impressively of all her employees were so loyal to the AWCO that they actually went out to physically guard the WWTPs – keenly aware of what had taken years to build and develop could be destroyed within a matter of hours. Another positive aspect of the revolution, in her view, is that it will provide a new dynamic and momentum to Egypt's hitherto stalled relations with the Nile transboundary countries. "We were allocated 55.5 billion cubic metres a year back in the 50s – but that is clearly insufficient for our current needs. So we need to make political progress in our relations with Sudan and other upstream countries. I would anticipate inter-governmental relationships to improve in this field and this too can be a positive thing, especially for us in Alexandria who are at the northernmost tip of the Nile."
A political future for Abdou? "Who knows", she replies. "I am fascinated by politics, of course. It is impossible to disassociate water from the world of politics as everyone knows. So to be able to play a fuller role in that domain would obviously be tremendously exciting and worthwhile. That said, now is clearly not the time."
These political considerations convince me that the parallels and similarities with Britain's first female prime minister – Margaret Thatcher - are stronger than ever. So I thank Nadia Abdou for her time and wish her every success in respect of her future challenges. And I reach to turn off my digital recording device. "Just a minute", she complains, "you haven't asked me about my life as a wife and a mother. About my family."
Yet didn't Abdou say earlier that other topics remained closer to her heart?
"Don't be ridiculous. You mustn't take everything I say so literally. Come, look, let me show you pictures of my children and grandchildren. Gorgeous, aren't they."
More Water & WasteWater International Current Issue Articles
More Water & WasteWater International Archives Issue Articles