Salting Out The Caribbean
With "floating populations" as a result of seasonal tourism, many Caribbean islands face strained water systems. Bonaire is developing its desalination capacity - is this a sign of market activity and opportunity on the islands?
Nov 1st, 2015
With "floating populations" as a result of seasonal tourism, many Caribbean islands face strained water systems. Bonaire is developing its desalination capacity - is this a sign of market activity and opportunity on the islands?
By Jeremy Josephs
When it comes to the quest for fresh water in the midst of a harsh and unforgiving maritime environment, English poet and philosopher Samuel Coleridge wrote: "Water water everywhere, nor any drop to drink".
Was he thinking of the 7000 individual islands which constitute the Caribbean with a population of 40 million population who inhabit the 28 island nations? Certainly not. Yet the juxtaposition between masses of sea and little drinking water seemed eerily relevant last summer when drought swept across the Caribbean from Puerto Rico to Cuba to St Lucia.
As crops of coconuts, cashews and oranges withered and reservoirs dried up, it threw into particularly sharp relief the desperate need for the islands to become fully self-sufficient in terms of meeting their ever increasing water needs. One obvious solution is to boost desalination - with many islands already boasting their own small installations. So is it a case of desalination or bust?
Hato expansion project
In Bonaire - a special island municipality of the Netherlands in the Leeward Antilles and situated just 80 kilometers north of Venezuela - its full-steam ahead on the desalination front.
Island Utility WEB Bonaire recently selected GE Power and Water to supply its Procera water filtration package for a seawater desalination plant expansion project in Hato. The new facility will supply 21,600 m3/day of desalinated water to meet the growing clean water needs for the island's 17,500 residents and business.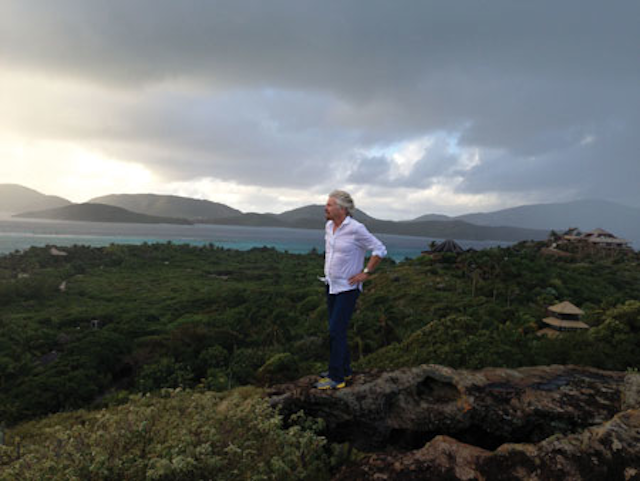 Entrepreneur: Sir Richard Branson privately owned Necker Island includes a 246 m3/day desalination plant
Head north east and you will find yourself on Sir Richard Branson's privately owned 74-acre Necker Island - part of the British Virgin Islands and just north of Virgin Gorda. Since the island also functions as an exclusive resort its water needs are high.
And precisely why the charismatic chairman of the Virgin group installed a desalination system some time ago, and where chief engineer Adam Simmonds oversees the conversion of Caribbean Sea to up to 246 m3/day of usable water for the island.
Illegal connections
A short hop - some 150 kilometres southeast and you arrive in picturesque Sint Maarten - an island in the northeast Caribbean and just 300 kilometres east of Puerto Rico.
The island is 40% Dutch and 60% French in terms of the division of its territory and jurisdiction, a reflection of its colonial - and contested - past. As a premier cruise destination the Dutch part of the island (58,000) receives over twice its entire population each year - and referred to locally as its 'floating population'.
While this of course benefits the local economy in terms of tourism it puts further and additional strains on its existing 21% deficit in respect of being able to meet water demand. Add to that the fact that water quality is poor, pipe corrosion widespread, network coverage far from complete and non-revenue water (NRW) high because of extensive leakages and illegal connections.
It soon becomes apparent that given the right leadership and political will there could be many quick wins before even putting the issue of desalination on the table. Certainly this was the approach taken by the Inno-Tech Consultant group in its Water and Sanitation Master Plan for Sint Maarten.
It suggested that the abstraction of groundwater could meet 10% of future demand, subsurface infiltration gallery technology could be introduced and a redesign of the local Mullet Bay pumping station could reduce operating. energy costs by 2.5 times.
Next stop Cuba
With the American embargo having been lifted, Cuba is in the news and for all the right reasons. The Pope's recent visit was similarly highly successful. "Love poverty the way you love your mother," His Holiness Pope Francis told a congregation at a cathedral in Havana. Precisely what he meant by that is unclear, but what is crystal clear is that approximately 26% of Cuba's population live in poverty, the equivalent of 11.2 million people.
This is of course reflected in the island's troubled water sector which though characterised by a high level of access has a limited quality of service.
Legacies from communism abound - until 1997 there was no water tariff at all. But now in the handsome but crumbling capital city of Havana the residential water tariff is fixed at 1 Peso (US$0.04) per cubic meter - one of the lowest water tariffs in Latin America - although hotels and embassies are billed at US$ 1 per cubic meter.
In Havana NRW runs at a massive 50%, with half of the 330 million cubic meters supplied simply unaccounted for. Now, it just so happens that the US' very first desalination plant was built at the country's oldest overseas naval base at Guantanamo Bay.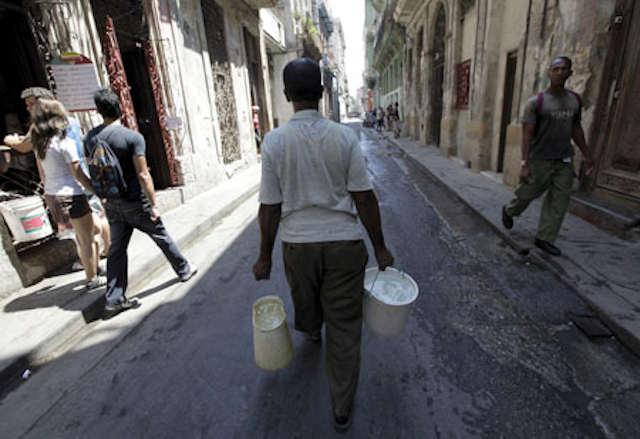 Water tariffs in the Cuban capital city of Havana are one of the lowest in Latin America
After Fidel Castro's brother, Raul, cut off the base's water supply in retaliation for the Cuban Missile Crisis, Guantanamo Bay went full steam ahead and became entirely self-sufficient, desalinating 12,870 m3/day. That said, there are no plans on the table to introduce further and additional desalination plants on the island. Spanish company Aguas de Barcelona (Agbar), operates as Aguas de la Habana, and provides water and sanitation services in 12 of the capital's 15 municipalities under a 25-year contract signed in 2000, although the infrastructure itself remains publicly owned.
Angel Simón Grimaldos, Agba's executive chairman and its current president elect, has been anxious to strike a satisfactory balance between new Obama-inspired Cuban business opportunities on the one hand and his company's ongoing commitment to CSR (corporate social responsibility) on the other.
"It is worth emphasising the support provided to the city of Santiago de Cuba in its endeavours to restore the historic centre, and the efficiency and quality of the workers of Aguas de la Habana has been widely recognised," he points out.
Civil defence
The award-winning Cuban blogger Yoani Sanchez recently reminded us that Cuba didn't escape last summer's drought. The country was obliged to put its civil defence system on alert as damaged agriculture left more than a million people relying on trucked-in water. From its famous cigars to sugar, vegetables, rice, coffee and beans, the drought left one in ten residents waiting for government tank trucks to survive in record summer heat.
As Sanchez also pointed out, these hardships simply laid bare decades of water mismanagement, with little irrigation of farm land and existing systems being both outdated and inefficient.
It is worth glancing south towards Jamaica which similarly benefits from a glorious tropical setting and bountiful fresh water supplies, but whose water infrastructure also happens to be creaking at the seams.
The most interesting question therefore, surely, is how to successfully shape the Caribbean islands' water future? Is it through desalination alone?
In the Global Water Partnership's (GWP) 2014 technical focus paper entitled "Integrated water resources management in the Caribbean - The challenges facing Small Island Developing States" - it concluded that progress is unlikely to come about unless and until 'brokering' actions, which call for different approaches for different countries, comes to be both recognised and implemented.
Coleridge's The Rime of the Ancient Mariner is an unhappy tale. Let us hope that the leaders of the Caribbean's 28 island nations - no matter what their political orientation or past - embrace the concept of making wise decisions relating to their own water futures. Because the truth is that there is indeed water, water everywhere, with many a drop to drink.
Jeremy Josephs is a freelance contributor to WWi magazine. For more information on this article, email: tomf@pennwell.com
More Water & WasteWater International Current Issue Articles
More Water & WasteWater International Archives Issue Articles