Sun Shines on Saudi's Renewable Desalination
Nov 1st, 2013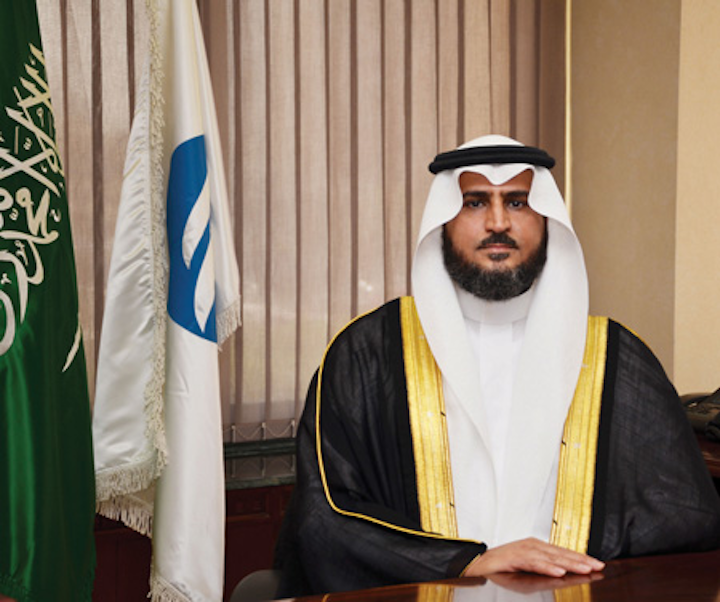 SWCC Governor to Spearhead Solar Energy Movement
Saudi Arabia is responsible for 18% of the world's desalination capacity. Behind this amount and 28 desalination plants is the Saline Water Conversion Corporation (SWCC). Governor of the organisation, H.E. Dr Abdulrahman Al-Ibrahim, speaks exclusively to WWi magazine about plans to increase current solar powered desalination capacity by ten times and privatisation progress.
Tianjin, China may well have played host for this year's IDA (International Desalination Association) World Congress yet there is a clear influence from the Middle East.
Minister of Water & Electricity in the Kingdom of Saudi Arabia, H.E. Abdullah A Al. Hussayen delivers a keynote address highlighting stark statistics regarding water scarcity and the sanitation crisis across the world.
He says that "building better desalination plants could help bring water to the masses and help avert world catastrophe".
Calling for a new award to recognise water conservation, H.E. Al. Hussayen then focuses his efforts on energy demands of desalination. One facility in Jeddah used to consume 9.8 kilowatt hours per cubic metre (kWh/m3) but today consumes less than 3 kwh/m3, he says.
Not long after the keynote address, the IDA announced its new president for the 2013-2015 term. Dr. Abdullah Al-Alshaikh, deputy governor for planning and development of Saudi Arabia's Saline Water Conversion Corporation (SWCC) is to take over the role from Dr Corrado Sommariva from ILF Consulting Engineers.
As well as engineering and service providers from Saudi Arabia exhibiting in Tianjin, SWCC was clear to send out a strong message about its single handed contribution to the global desalination industry. In total, the Kingdom of Saudi Arabia (KSA) is responsible for between 18-20% of desalination supply globally.
The organisation is responsible for 28 plants along the west and east coasts, as well as other independent and private production plants such as Shoebah 3, Shiqiq 2 and Jubail plants.
In the 2012 annual report, SWCC says that total water export rose by 7.8% compared to the previous year and total water volume averaged 955 million cubic metres.
The man responsible for all of this capacity and ultimately, the production of drinking water in the largest desalination market worldwide is H.E. Dr. Abdulrahman Bin Mohammed Al-Ibrahim, governor of SWCC. WWi magazine had a chance to speak with H.E. during the IDA World Congress. Below is an extract from the interview with the full, exclusive video interview available online.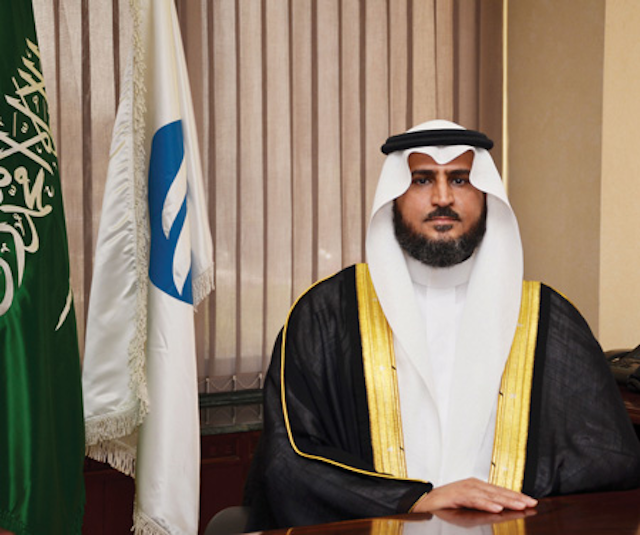 H.E. Dr Abdulrahman Al-Ibrahim, governor of SWCC, says progress in RO pre-treatment has improved opportunities for membrane desalination in Saudi Arabia
Water and Wastewater International (WWi): Congratulations on SWCC's deputy governor for planning and development, Dr Abdullah Al. Alshaikh being elected as the new IDA president. What does this signal for KSA's desalination capacity worldwide?
H.E. Dr Abdulrahman Al-Ibrahim (AA-I): We possess many desalination capacities in the Kingdom compared to worldwide. Currently we possess more than 18-20% of the worldwide capacity of desalination. We are number one in that regard.
However, we do not produce technology that is equivalent to that kind of capacity available. Our ultimate goal is to be able to reach a time where we will be able to export technologies equivalent to our capacities that we possess in the Kingdom of Saudi Arabia.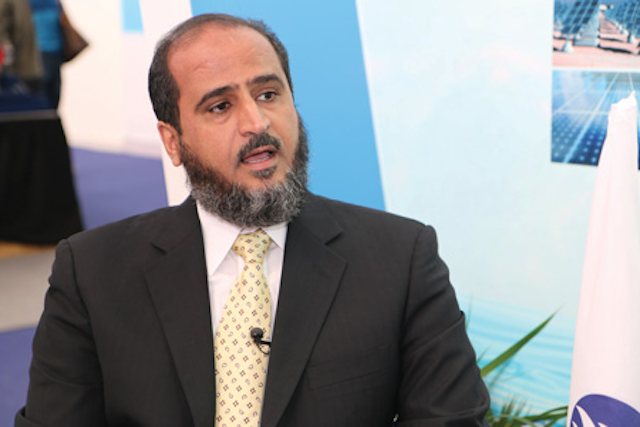 Dr Abdulrahman obtained his B.Sc in Mechanical Engineering from the King Abdulaziz University, Jeddah
We should be able to join hand to hand with international elite organisations such as the IDA. With my colleague Dr Al. Alshaikh as the new president and previous board member - we will be able to use this platform as a vehicle towards providing information to all desalination members.
The driver for our industry is not limited to not just supply the needs of my people's water demand. It goes beyond that. We believe in Saudi Arabia that water is needed for every living species in the world. We would love to have the information of how we should desalinate water efficiently, effectively and wisely for it to be made available for every human being and creation on earth.
To export the technology, to export the know-how, to tell people what the efficient way of how we should operate and how we need to be operating our plants today and the future is part of our mandate in Saudi Arabia as the new Saline Water Conversion Corporation.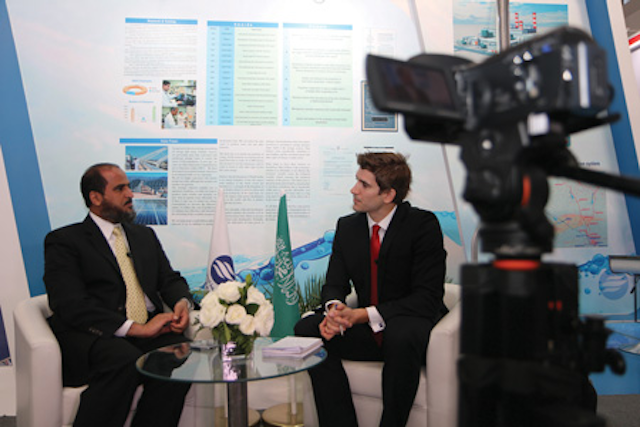 SWCC's H.E. Dr Abdulrahman Al-Ibrahim tells WWi's Tom Freyberg that his organisation is aiming to increase efficiencies to operate like a private company. He said privatisation is a "roadmap" and is a long procedure
WWi: What desalination lessons can be learned in China from the Kingdom of Saudi Arabia?
H.E. Dr Abdulrahman Al-Ibrahim: After 30-40 years of experience in Saudi Arabia of operating the plants, limiting our scope to just producing water for the people is extremely inefficient. Currently we are doing huge integration for the whole chain of operation, including the distribution centre, including the reuse sector and including the industrial sector.
In Saudi Arabia we are no longer interested in importing black boxes. This is my recommendation for China. They should not import black boxes to operate inside of China. They need to rely on their industry to have a major share of how they should build the desalination industry. Not only that but also it goes beyond the construction. It involves the operation, maintenance and skills of operators.
WWi: Since you've been Governor, you've set out ambitions for SWCC in terms of improving efficiencies. Tell us what you have achieved so far?
H.E. Dr Abdulrahman Al-Ibrahim: There have been multiple ambitious and strategic goals that we were able to improve since the day I was able to join the SWCC. I came into an elite and very hard working environment. We realised we had to improve the efficiency of our operation. I can name one specific project in that regard.
The Yanbu 3 project took a while to be awarded with a specification that didn't have much attention to energy efficiency. With the awarded contractor and consortium we managed to increase the efficiency by 10% with a very small amount of premium investment required. That 10% has caused a saving nationwide more than the capital cost that we made for the contractual agreement.
WWi: On the topic of energy savings, KSA is spearheading a move to integrate more renewable energy into its desalination plants?
H.E. Dr Abdulrahman Al-Ibrahim: The other achievement that we were able to proceed with further is the introduction of renewable energy in the desalination industry, across the Kingdom. We believe that the whole desalination industry is meant for a sustainable development. Part of the sustainable development element is to be able to look at sustainable fuel. We do have an abundance of renewable energy available in the Kingdom, as well as geothermal.
Part of the programme for implementing renewable energy in desalination is currently with the National Research Institute of Saudi Arabia in King Abdulaziz City for Science and Technology (KACST). We are collaborating with them on a plant that will see 30,000 m3/day desalinated water produced and powered by photovoltaic cells. We want to go beyond that – 10 times that value – 300,000 m3/day renewable. We can go for thermal, we can go for photovoltaic, we can go with wind, and we can go with geothermal as well. So multiple opportunities are available to enrich our energy portfolio across KSA.
WWi: What about water conservation?
H.E. Dr Abdulrahman Al-Ibrahim: As part of the integration with the distribution sector – we need to put our hands together. As much as we can become more efficient and produce more water, we need to work with the distribution sector on the way we manage the water.
There has been a tremendous amount of efforts in this regard. For example a campaign to give distribution saving kits in every household, industry and all the commercial sector. We are able to preserve the amount of water that has been inefficiently utilised. Data has been provided to all as a benchmark to show people how efficient they were.
We went also beyond potable water when we were able to convince the government that we were able to also rationalise the utilisation of water for other resources, like industrial and agricultural.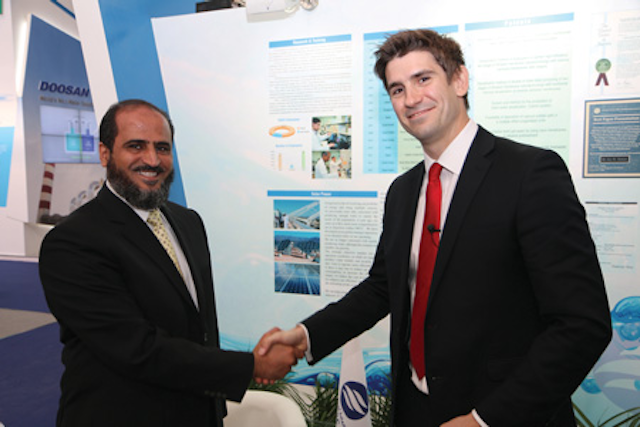 Partnerships for progress: SWCC is implementing a renewable powered desalination programme with KACST, the governor told WWi magazine
WWi: A typical arrangement of desalination in the Middle East is a combination of power and water plants. SWCC is responsible for 28 desalination plants, with the majority thermal. What are the opportunities for membranes and will there be more of an adoption into RO (reverse osmosis)?
H.E. Dr Abdulrahman Al-Ibrahim: With the more mature environment of our electricity sector and the more advancement in our technologies we are looking more carefully that our speciality has to be efficiently produced water, as well as producing electricity.
We're shifting gears towards selecting a technology that is able to obtain both factors: energy efficient and therefore the membranes are catching up.
The other factor is the reliability – we need to have the membrane or thermal plant that is reliable, and able to produce in the Gulf Area – the water is not as clear as it is in the North part of the Red Sea area. Tremendous obstacles are faced with RO.
Efforts from my team with pre-treatment experience have meant we have seen advancements. At any rate, membrane technology is catching up in Saudi Arabia.
Our ultimate goal is to be able to produce more water for less, and more reliable water. Therefore I can see that membrane technology is catching up. If we decide to go for thermal we need to be very wise and need to go with very advanced technology.
WWi: Tell me about the privatisation progress of SWCC's assets?
H.E. Dr Abdulrahman Al-Ibrahim: Privatisation is a strategic choice that the Kingdom of Saudi Arabia adopted 10 years ago.
It was decided that water was one of the sectors that needed to be privatised. After five to six years of privatisation progress, there was a more comprehensive evaluation on why we should privatise and what is the ultimate goal.
Our ultimate conclusion is that privatisation is a vehicle towards a more sustainable department. The ultimate goal is sustainability. Sustainability is not limited to my area of water development but a comprehensive sustainable Kingdom.
Therefore we are ultimately going towards what is called a more efficient operation, more easy and more reliable operation as well as more attractive environment.
Our current efforts are to change the Saline Water Conversion Corporation from a government entity into a more corporatized entity, comparable with the private sector. This is a migration towards a more advanced state than we are currently in. This is part of why we have developed our strategic plans are now we have our policies and we have our KPIs (Key Performance Indicators).
We have our targets that need to be achieved and know exactly where we stand now and what we need to achieve at the end of the year 2013 and even till 2015. Privatisation is a roadmap - it's a very long procedure.
WWi: So the idea is customers are feeling the benefit of private sector efficiency and operation but from a government entity?
H.E. Dr Abdulrahman Al-Ibrahim: It's not the prospective of looking at privatisation for someone else to take on the burden. It's a partnership between the government and the private sector towards a more advanced venture.
WWi: As part of that journey to privatisation, what opportunities exist for companies such as pump suppliers, membrane manufacturers, pipes and valve companies?
H.E. Dr Abdulrahman Al-Ibrahim: I would recommend that the Kingdom of Saudi Arabia, specifically in the desalination sector, and the water sector, and the power sector have changed a lot during the past 10 years. We're extremely eager to have partnerships in our operation.
We're not interested in what's called "hit and run" – companies coming over for a specific project and then going back. We want to have a long-term partnership. I always tease companies that come to my office looking for an opportunity. I always ask them do you have a return ticket? If they say "yes", then I say you have no more business with me. You need to have a one-way ticket. You need to live in the country. You need to be able to grab the future and we reap the benefit together instead of a short-term project.
Currently we have opened the doors to our plants to all investors. We say ok, even though that we are currently operating inefficiently, we can put hands together as an energy company and look at opportunities how we can conserve our energy and be able to utilise this current energy to produce more water and more energy or utilise it for other purposes.
By changing the mind of only producing water, now we have assets that we can utilise more.
Tom Freyberg is chief editor of WWi magazine. For more information on the article and SWCC, email: tomf@pennwell.com. The full video interview will appear on www.waterworld.com/world-regions.html