Water metering in Africa gains momentum
Despite the multiple benefits of the technology, the uptake of water meters in Africa has been slower than expected. Why is this? This article looks at some of the challenges and water utilities that have managed effective metering solutions.
Mar 1st, 2016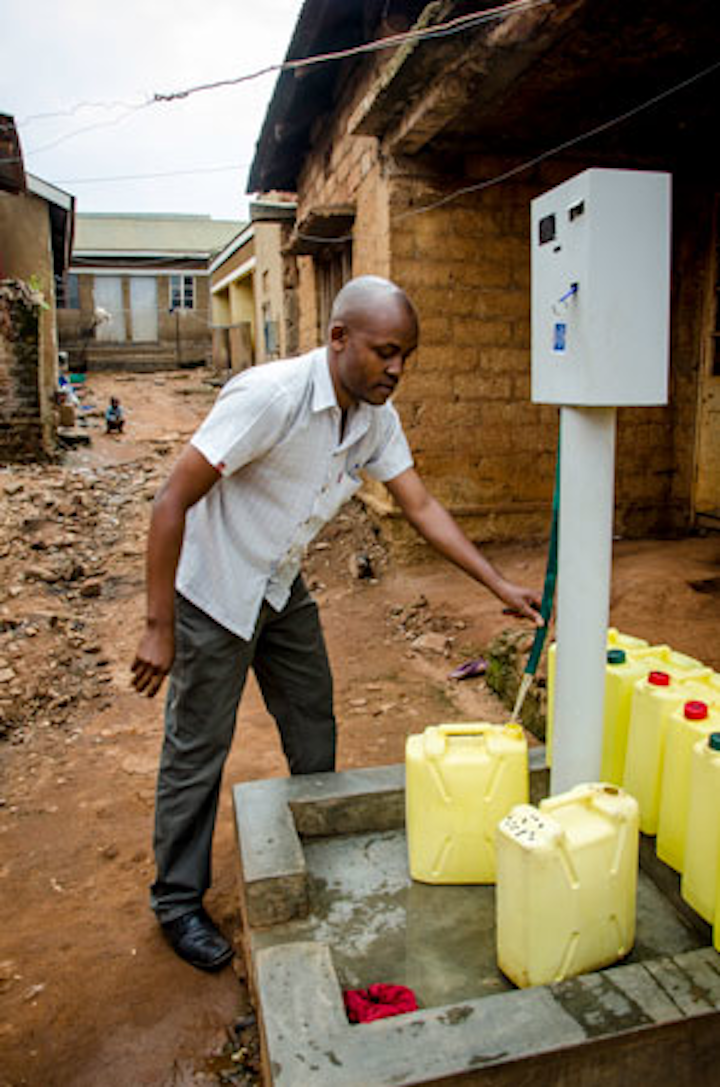 Despite the multiple benefits of the technology, the uptake of water meters in Africa has been slower than expected. Why is this? This article looks at some of the challenges and water utilities that have managed effective metering solutions.
By Shem Oirere
As water utilities in Africa race against time to ensure increased access amid an increasing population, constrained water supplies and high levels of poverty, it has become imperative for the continent's water service providers to know how much water they have at their disposal and where it goes to effectively deal with unaccounted for water and avert a supply crisis.
There is a growing trend among Africa's water utilities to embrace water meters to effectively determine how much water is available for commercial distribution to bulk and individual consumers.
Some analysts and many of the utilities believe that with correct meter selection, sizing, installation, reading and maintenance the problem of unaccounted for water can be effectively solved.
"There is a strong financial logic for water metering globally and more so in Africa where utilities need to introduce and improve integrated water management systems and dramatically enhance their own financial sustainability," says Chris Heymans, senior water and sanitation specialist at the World Bank.
Speaking to WWi during an interview in Nairobi, he says that for water utilities to effectively price the commodity, they require "quantification of inputs and demand". He says "A utility needs to have data on its supply and consumption to be able to charge customers more realistically for the service they consume and water metering makes such pricing possible."
Slow Uptake
Despite the potential of metering to enable utilities to price water and the immense interest in the technology, the uptake of meters in Africa has been rather slow.
"Water metering coverage in Africa is generally low although it varies country to country," says Sam Huston, associate, Water Resources and Infrastructure at US-based Tetra Tech.
"There is a general consensus on the need for metering despite progress towards establishing metering systems being slow," says Huston, who provided technical assistance and oversight for pilot metering in South Sudan and Nigeria.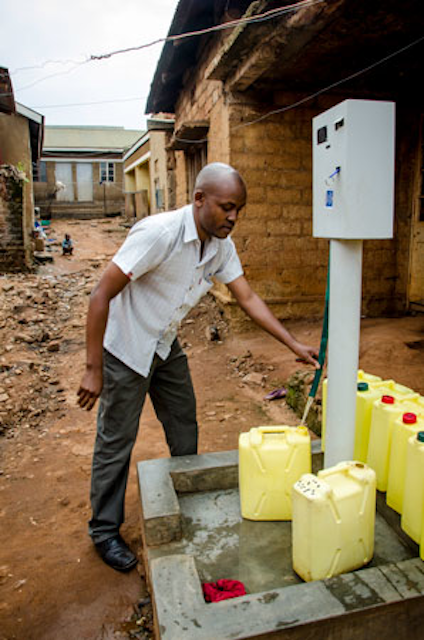 Slow progress: The main challenge with metering in Africa has not been technological but resistance to the notions that people should pay for water at all
"The drive towards improved operational performance and the need for financially sustainable cost recovery systems are the main drivers of metering programmes in Africa," he says.
Experts have identified several reasons why many water utilities in Africa have been slow at introducing metering, including the slow innovation related to the controversies over the very principle issue of payment for water.
According to Heymans, who in 2014 led a study on prepaid water meters in eight Africa utilities, the real issue where metering has been challenge "is not about metering in its own right, but rather about resistance to the notions that people should pay for water at all".
"Concerns over metering have been associated with the implications for the increasing trend of recognising water as a basic right and payment is seen as potential barrier to access," he adds.
Utility Progress
Some of water utilities that have installed and managed effective metering solutions in Africa include the Department of Infrastructure, Water and Technical Services in Namibia's capital city Windhoek, eThekwini in Durban (South Africa) and SONES (Senegal). Other utilities across Africa have installed meters with different levels of success.
Windhoek City's water department has one of the best managed integrated water management programs in sub Saharan Africa and delivers services for 24 hours every day. It has a rigorous water metering system, leakages are contained in time and public awareness of water use has been effectively promoted.
The city has one of the most successful wastewater recycling programmes over the last 40 years, which together with the metering system has enabled the utility to recover costs from large water consumers.
Windhoek has introduced consumption-related, progressive water pricing through introduction of block tariffs, which reduced water wastage especially during dry conditions.
"Clearly therefore, the success in Windhoek has involved metering and a payment culture, but as part of a wider management, pricing and financial diligence," adds Heymans.
The quantification of water enables the utilities to accurately measure and price the water and distinguish large consumers from those who use less.
Going South
In South Africa utilities receive general national grants as part of the normal fiscal system that enables them to provide for basic needs - which for water is defined as six kilolitres of water per a month, per household, for free of charge. The more effective and successful utilities have introduced innovations to their metering systems to help quantify and address this policy commitment, and also to help them manage the demand and payment for water more effectively.
One example is Durban City's eThekwini, which won the prestigious Stockholm Water Week Industry Prize in 2014. The utility introduced innovations to use meters to compel customers to pay, including flow meters that get switched into low pressure mode when customers fail to pay their bills. The meter limits the amount of water to a household by lowering the quantity that flows through the valves to very small quantities that would add up to the volume the utility is obligated to, but no more.
Durban's revenue generation and other efficiencies have been cited by several studies on Africa utilities as being one of the most effective. The city has increased the free minimum water allocation to nine kiloliters per month, instead of the national policy requirement of six kiloliters. In recent times, technological advances have sparked a number of new innovations by Africa water utilities to deal with the challenges of metering (and revenue collection) more effectively.
The use of pre-paid meters, which for utilities holds the promise of a remedy for low collection rates and inadequate income to meet service expectations, is the most prominent of the innovations.
Healthier Cash Flows
With pre-paid meters, the water utilities have no risk of arrears or debt, as customers pay in advance for a specified amount of water. The meters are said to enhance the prospect of healthier utility cash flows, more revenue to fund wider coverage, and the resources to reverse or pre-empt a downward spiral that makes tariff increases unlikely.
A study by the World Bank in 2014 found out that although there has been criticism that pre-payment precludes poor people from access to water, "there have been interesting and more nuanced evidence on the overall effect of prepaid meters and the response of poor customers to them".
The study which focused on prepaid water in Kampala (Uganda), Nairobi and Nakuru (Kenya), Lusaka (Zambia) and Mogale City (South Africa), found that the concerns about prepaid meters were more about the technology not being consistently reliable. "This has naturally made people even more agitated since they were thereby denied water for which they would already have paid," says the World Bank's Heymans.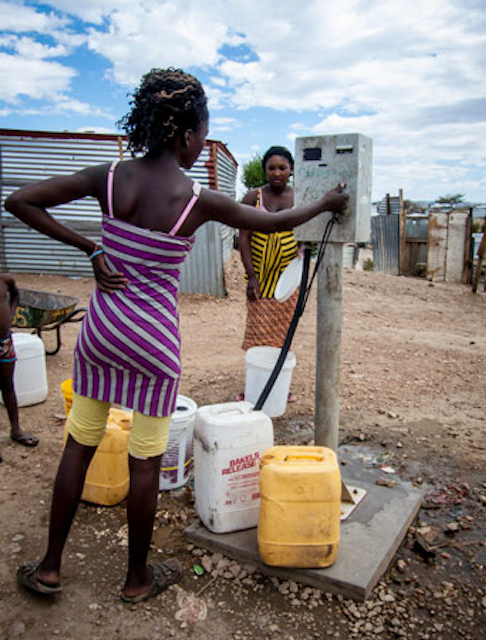 Mobile phone technology is allowing customers to take photos of meter readings to prove correct data
He adds: "However, household surveys for the study in these cities also indicated that many poor households perceive pre-paid water meters to enable them to track and manage their household expenses more predictably, reducing the risk of high inaccurate bills after consumption or surprise cut-off when they miss payments."
Increasing demand for water metering in Africa has attracted a number of water meter suppliers raising concerns about the quality of the products and still there is no clear solutions to the problem.
There is a view that water regulators may be best placed to develop and impose standards, but not all countries have independent regulators, and those who do have many other capacity challenges to have to deal with.
Some have suggested that it may be best to get water meter suppliers to form some sort of association which ensures there is always a stamp on the water meters that confirms it has been supplied by one of the association's members.
For integrity purposes, the challenge would be that such an association should have a third party to guard against creation of supply cartels or monopolies.
European Technology
Despite the concerns over influx of meter suppliers, Denmark-based Kamstrup A/S, which is active in the Africa market, says the demand for intelligent water meters in the continent is on the rise.
Speaking to WWi magazine, Jesper Daugaard, senior vice president, global marketing says that Africa requires water meters that are "maintenance free and reliable in the long-term" because of the hard conditions under which many of the water utilities operate.
"Intelligent metering is much more than securing accurate and efficient billing as it provides the possibility to discover waste in the grid/supply system and guide investments and maintenance focus on the areas of the grid/supply system where the return of investment is highest," he says.
By sending alerts and logs that are communicated by a built-in radio system, Daugaard adds that intelligent water metering enables water service providers to improve customer service by detecting areas with no water supply, leakages or water pipeline bursts.
Daugaard says Kamstrup manufactures and supplies residential and industrial water meters with the European measurement instrument directive (MID) approval "and we believe this approval will in most cases be accepted by the water utilities in Africa".
Kamstrup is involved in a water metering project in Lephalale South Africa and would soon be piloting an intelligent metering project in Nairobi. The company is also working similar projects in Ghana and Nigeria where it says "water utilities are ready to invest to benefit from the intelligent water metering solution".
Linking To Mobile Phones
Technology has been critical in ensuring that the meter readers provide accurate information on the reading they do. Apart from customers who fail to pay, several utilities have also had problems ensuring that meter readers report accurate meter readings. There have been anecdotal reports that some meter readers might have simply entered data without actually reading the meters on the premises. GPS technology has enabled eThekwini to track the exact location of meter readers which reduces this risk.
Mobile phone technology has also opened up new possibilities. In Kenya, water utilities in Nairobi and Nyeri have started issuing meter readers with utility mobile phones, which they use in taking photos of meter readings to prove they read the meter correctly.
A variation on this innovation now being developed allows water consumers to read the meter themselves by simply sending an iOS photo of the reading to the utility.
The introduction of GIS has also enabled utilities to easily see water pipes, which houses are linked to the water supply system, the population of a city and other related information.
In African cities, this is still largely underdeveloped, but World Bank experts say that they have preliminary evidence that better performing utilities such as in Dakar, Durban and Nyeri have been able to overlay critical pieces of information which have begun to make the management of systems, and actual extensions of services to poor people, easier to achieve. For this reason, other cities such as rapidly growing Nairobi are in the process of developing improved GIS capacity and data.
Despite the huge interest in water metering in Africa, Heymans concludes by saying "no meters including prepaid water meters, offer a magic solution to water supply challenges and utility problems unless they are accompanied by proper planning and getting the fundamentals of utility management right".
He adds: "Utilities need to do many other things, over and above metering, such as getting their pricing correct, improving revenue collection and monitoring, being credible and reliable in the services they deliver, and also keep political interference out of daily utility management, while sustaining institutionalised lines accountability to policy makers and customers."
---
Shem Oirere is a freelance contributor for WWi magazine, based in Kenya.
More Water & WasteWater International Current Issue Articles
More Water & WasteWater International Archives Issue Articles