The Middle East: The New Space Race for Renewable Desalination?
A fifth company will be joining the existing four desalination technology trials in Ghantoot, Abu Dhabi to push current desalination technologies and achieve low energy consumption rates. What's the latest progress with the project? Tom Freyberg reports
Mar 1st, 2016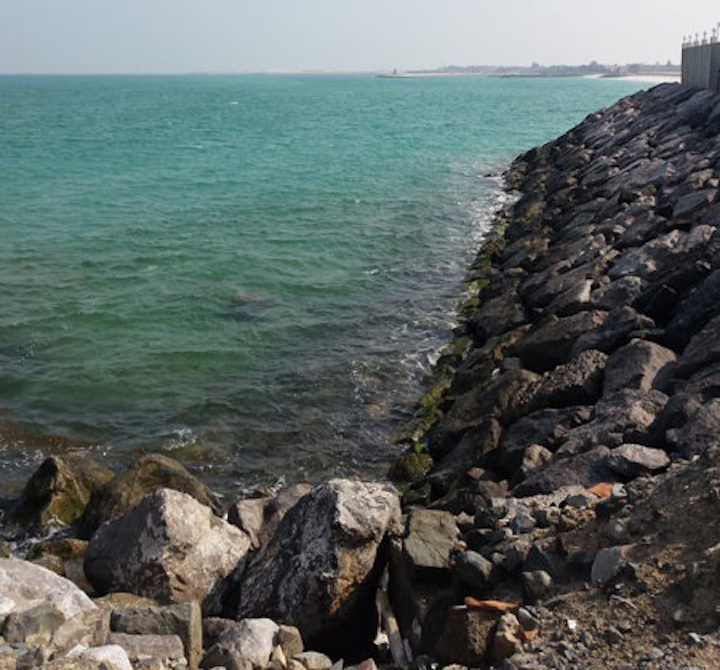 A fifth company will be joining the existing four desalination technology trials in Ghantoot, Abu Dhabi to push current desalination technologies and achieve low energy consumption rates. What's the latest progress with the project? Tom Freyberg reports
Much like the space race of the 1960s between the United States and Russia, the Middle East has its very own technology contest going on. Rather than competing on rocket technology to launch mankind into space, this modern race instead focuses on the coupling of renewable energy sources, such as solar power, with desalination processes.
Last year saw the Kingdom of Saudi Arabia and United Arab Emirates (UAE) Abu Dhabi announce renewable desalination plans.
Saudi Arabia quite literally put a large peg in the ground with a 60,000 m3/day solar powered desalination plant announcement, to be located in Al Khafji City in North Eastern Saudi Arabia.
Spanish company Abengoa, which has a history in solar, is working with Advanced Water Technology (AW) - a water solutions company based in Riyadh, as the commercial arm of KACST (King Abdulaziz City Science and Technology), owned by Taqnia, a technology investment company.
Meanwhile, although the Emirate state of Ras Al Khaimah may be late to the game, Utico Middle East and Spanish energy firm Group Cobra signed an agreement to develop a 100,000 m3/day solar desalination plant. A separate tender will handle the supply of solar panels to the $195.7 million project, which will eventually supply water to the Federal Electricity & Water Authority. The project is expected to become fully operational in 2018.
Size isn't everything
Rather than focusing on size, Abu Dhabi has started small scale desalination trials in Ghantoot that aim to push existing technologies. Four companies were originally selected to set up plants: Spanish firm Abengoa, French companies SIDEM-Veolia and SUEZ and US company, Trevi Systems.
While initial plans suggested the site would demonstrate the coupling of solar power with desalination technologies, this was not the case in the end. Much like the initial plans for Masdar City compared to the delivered reality, Ghantoot has been scaled backed in vision compared original ambitions. Working in Tandem with Masdar, the aim across the four small plants is to achieve energy consumption of 3.6 kilowatt hours per cubic metre (kWh/m3).
Visiting the Ghantoot site as part to the Abu Dhabi Sustainability Week, I got to see the four plants in action. Sited together in a small area, the plant is almost like a small scale international competition - pitting Spanish, French and American companies to achieve the best results.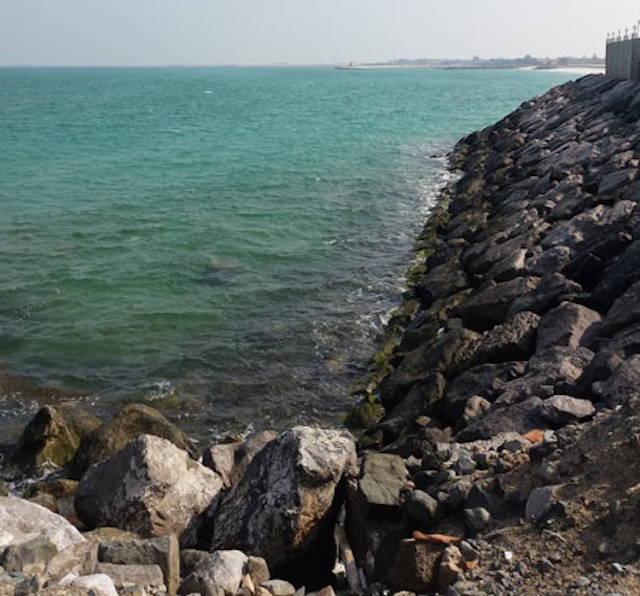 Coastline along from the Ghantoot site
The SIDEM-Veolia project is 300 m3/day and currently achieving 4 kWh/m3 after nearly a year in operation.
"Reverse osmosis technology exists but still needs a lot of power so we are trying to do better," says Cecile Cabrieres, deputy project manager.
The key differentiator of this set up, according to Cabrieres, is the energy recovery device, recirculating pressure back into the beginning of the treatment cycle. She says for this you usually need booster pumps but this isn't the case in the Veolia set-up. The deputy project manager also says they are hoping to increase the life of membranes.
Getting smart on UF modules
Meanwhile, a stone's throw away and fellow French competitor SUEZ is producing 100 m3/day using between 3-3.6 kWh/m3. Using Dow membrane modules, as all the sites appear to be, the SUEZ project uses its Smartrack system, which it says can accommodate ultrafiltration (UF) modules from various suppliers.
Loïc Daniel, process engineer for desalination, SUEZ, says: "We want to get more information about what UF can achieve. In a real, full scale plant you can't push the system as hard as we can here."
Meanwhile, the Spanish effort at Ghantoot is producing a larger quantity of water - a total of 1,060 m3/day at the Abengoa section. The process uses a hybrid system consisting of reverse osmosis (RO) in combination with a membrane distillation system. The aim here is to optimise the membrane distillation part of the project to treat brine. Energy usage at the site is currently 3.4 kWh/m3.
Fifth element
Perhaps unexpected is the late inclusion of French engineering company Mascara to deliver a fifth energy efficient desalination plant. The project will include a 30 m3/day, small scale solar powered desalination plant that will use eight reverse osmosis (RO) elements provided by Dow.
Speaking to WWi magazine in Abu Dhabi, Marc Vergnet, president of Mascara says he is expecting the project to consume 2.8 kWh/m3, which is significantly smaller than the aim of 3.6 kWh/m3 from Masdar for the other four desalination projects. The Mascara project will be the first in Ghantoot to connect solar power to the desalination process and is expected to be up and running by May. Speaking onsite at Ghantoot, Dr Alexander Ritschel, senior manager at Masdar, says: "Desalination plants in the UAE are mainly thermal and aged. There needs to be a transition to membrane-based desalination technology, which is more efficient than thermal processes installed sometimes up to 40 years ago."
Finding future desal: Dr Ritschel from Masdar with the intake for the previous four desalination plants behind
Ritschel says the five trial plants will run until 2017, with the aim to find out "how the desalination plant of the future will operate".
Commenting on the new solar development, he said it's designed to operate off-grid for remote locations, such as islands.
Treated water from the Mascara trial will be disposed to the sea at this stage, Vergnet confirms, until they have enough data to develop the plant on a larger scale.
He also said that, interestingly and perhaps controversially, that Mascara is hoping to "avoid pre-treatment" ahead of the RO membranes and the project will be intaking the water from a borehole, which will act as a "natural filter" for the seawater.
Forward osmosis
The final installation is a 50 m3/day forward osmosis (FO) pilot plant from US company Trevi Systems, which uses thermo-solute draw solution to create the osmotic pressure needed to desalinate water. The process works by using waste heat to cause a phase separation of the 'draw solute' from the water, producing water and concentrated draw solute.
However, the FO trial in Abu Dhabi has been delayed, according to John Webley, chairman and CEO of Trevi Systems.
Speaking to WWi magazine, he says the plant has been ready to go but they've been waiting on Masdar to commence operation due to problems with "common infrastructure". He says: "The programme is three years but we're already two years into it - they got delayed with the tender process so everything slipped."
Webley is confident the plant would start operation in early 2015.
"The big problem when introducing new technology is scale," he tells me. "First we made a 1 [m3/day] and then Masdar asked if we can make a 50 [m3/day]. Maybe I'll have to go to a 500 m3/day or a 1000 m3/day and some stage you're classed as big enough."
So is the Ghantoot a proving ground for the next generation of desalination technology? In theory the premise is great: scaled down plants where existing technology can be coupled, tweaked and pushed in different ways that would be unaffordable to achieve in a full scale plant should they go wrong. The reality is the plants, in their current state, are basically running as conventional RO systems.
Just like the space race of the 1960s, efforts are speeding ahead between Middle Eastern nations to get the first large scale, solar desalination plant up and running and come back with operational data.
The US moon landing has since been attacked by conspiracy theorists for being a hoax. Hopefully after three years, results from Ghantoot will prove the efforts from the partners worthwhile and will help desalination plants of the future reduce energy consumption.
---
Tom Freyberg is chief editor of WWI magazine, for more information email: tomf@pennwell.com
More Water & WasteWater International Current Issue Articles
More Water & WasteWater International Archives Issue Articles