Looking Back at Water: 2015 Year review
Ahead of the relaunch of the Arup Water Yearbook 2015-16, Dr David Lloyd Owen provides a whistle-stop tour of the global water industry over the last year. With a move away from the "top five" dominating companies to more localised players, how is this impacting the market?
Jan 1st, 2016

Ahead of the relaunch of the Arup Water Yearbook 2015-16, Dr David Lloyd Owen provides a whistle-stop tour of the global water industry over the last year. With a move away from the "top five" dominating companies to more localised players, how is this impacting the market?
What has been going on since 2000 and especially over the past three years? There were 325 contracts for the 1988-2000 period noted in the 2000 edition of the Water Yearbook against 1,380 for 1982-2012 in the 2012-13 edition. In this edition, 1,903 contract awards and transactions have been identified between 1987 and 2015, which involve a total of 2,081 separate contracts. As of 2015, contract awards, flotations and privatisations were identified covering 1,052 million people. In 2012, 971 million people were identified in the survey, compared with 335 million in 2000.
A global figure for Public-Private-Partnerships (PPP)
Service extension is a significant factor, since in 112 contracts where post-award service extension has been noted, it accounts for 77.8 million people.
Population growth and urbanisation data is difficult to qualify, but updated wherever possible and this may still be an understatement by 5-10 million. Smaller players are likewise hard to systematically quantify. Examples of local PPP in Cambodia have been noted, while 880,000 people are served by the 18 members of Uganda's Association of Private Water Operators.
PPP growth
At first glance, this appears to be a notably consistent and successful series of forecasts. That impression in fact resembles a swan's serene progress down a river. Look under the surface and you will see a pair of legs paddling in every direction. Earlier forecasts placed a considerable emphasis on the Americas being a powerhouse of growth for PPP, driven by concessions in atin America and by outsourcing contracts in the USA.

In fact, PPP has managed to keep up with population growth in North America and while PPP expanded in Latin America, this was a notably patchy process with high profile setbacks for example in Argentina and Bolivia. In contrast, fifteen years ago, PPP in countries such as Russia and India would have been seen by many as not occurring in the foreseeable future. In their differing ways, they are now active markets.
A more fragmented world
Back in 2003, there were five companies that accounted for 73% of the global market in terms of numbers served under PPP. One of the top five has sold off most of its water activities (RWE), one has been split into two (SAUR, now SAUR and Bouygues) and one (Aguas de Barcelona) acquired by one of the leading two (Suez Environnement). Both Suez Environnement and Veolia Environnement remain global leaders. Today, they command a 24% share of the global market, while the current five largest companies account for 35% of the population served.
We have seen a move away from a world dominating 'top five' to two players with a genuine global presence (Veolia and Suez) and then a plethora of local, regional and international players. Beijing Enterprises Water's place as by some way the third largest in the world in population terms is testimony to that change.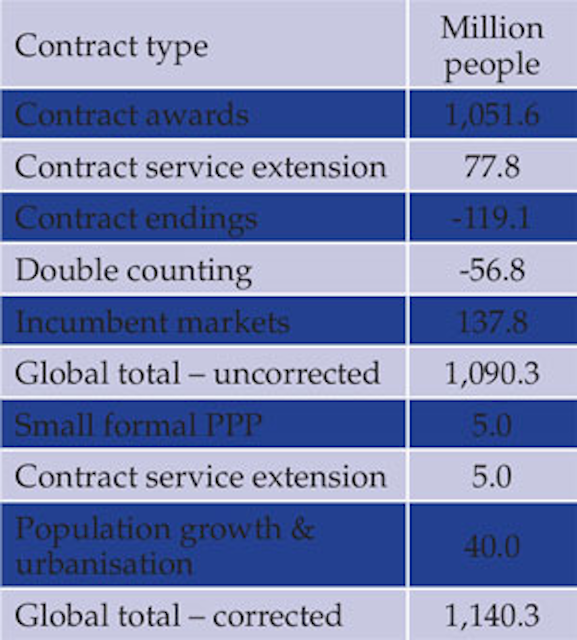 Contract awards to 332 companies have been identified, 162 of which have an entry in the yearbook. Of the 884.9 million people covered by the top 50 players, 548.1 million were served in the company's home country and 336.9 million in other countries. Due to contract cross holdings and multiple ownerships, these numbers are higher than the actual number of people served by the underlying contracts.
The next 112 companies covered a total of 198.7 million people, 150.3 million in their home markets and 48.4 million internationally. While the Top 50 companies covered an average of 17.4 million people, the second tier companies covered 1.7 million people. The Top 50 companies also tend to have more international activities, with 38% of their contracts taking place in other countries against 25% for the second tier companies.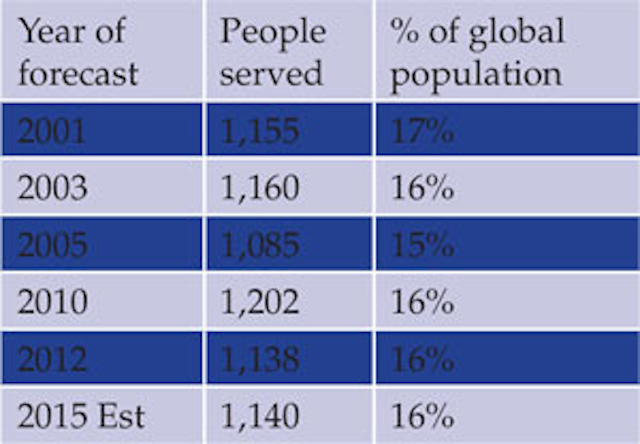 In addition, there are 169 companies in the contract database. While the 1,836 contracts awarded to the 162 listed companies covered 992 million people, or an average of 0.54 million people per contract, the 58 million people served by the 254 contracts held by smaller players serve an average of 0.23 million per contract.
Perspective on contracts awarded
The tables compare contract awards to national companies (based and operating solely within one country), regional companies (companies operating within a region) and international players, who operate in a variety of markets.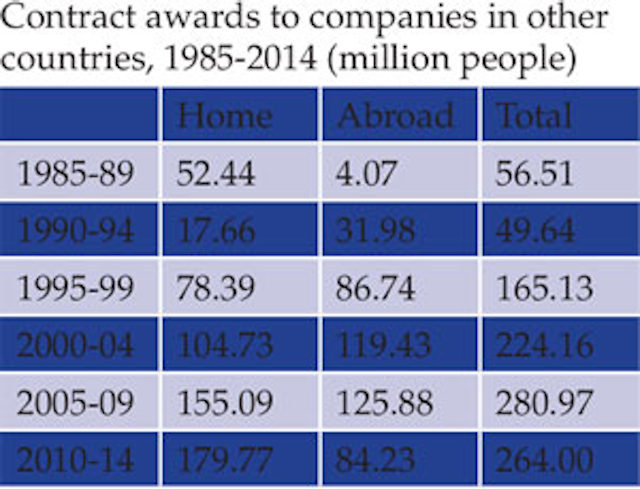 In relative terms, the peak period for international contract awards was in 1990-2004, with a slight majority continuing from 1995-2004. Since then, there has been a steady shift towards awards in a company's home country. For water and wastewater contracts the 1990-94 period was dominated by a number of major contracts awarded to international operators. Since then, combined contracts have tended to be awarded at home.
The regional companies had a limited impact in 1990-99, which has grown as companies have developed their presence focusing on Latin America, China (especially companies in Malaysia Singapore) and in South East Asia. A number of European regional specialists have also emerged, many concentrating on the Central & Eastern European market.
Contract losses
Of all contract awards identified to date, 12% (in population terms) have ended for good reasons as well as for ill. An incomplete understanding of international contract risk management remains as one of the sector's characteristics.
A total of 120 contract losses covering services to 119.1 million people have been identified. A contract loss is defined here as a PPP contract that has been in effect handed over from a private operator back to a municipal or state operator. It does appear that international companies have a prominent role in contract endings. This partly due to international companies offering an attractive target for various political imperatives that may not actually be concerned about water or wastewater services.

The more services offered, the greater the degree of customer contact is involved. This in turn increases the degree of political and regulatory risk. The more capital intensive a contract is, especially when it involves direct contact with customers, the greater the currency exchange risk.
Indeed, little progress has been made in meeting the challenge of enabling hard currency debt to be funded by soft currency tariffs in a sustainable manner. The fact that 12% of all contracts awarded to date in population terms have ended (for whatever reason) highlights the need to be able to monitor how a contract has progressed after its award and entering into service.

When you exclude contracts that ended after their expiry, it turns out that 8.9% of contracts have ended prematurely. That is a significant risk factor.
While 43% of international and 45% of regional company contract endings were due to unilateral cancellations, this was the case for 28% of national company contracts. The proportion of contracts ending at their expiry is at 20-23% pretty similar for all three company types.
Market Entries since 1989
Between 1989 and 2015, 75 market listings have been identified, 45 being flotations of state held entities, 24 privately held companies and six have been spun off from their parent companies. Of the 45 floated between 1989 and 2012, one (Glas Cymru) is a not for profit entity, four have been taken private, eight bought by other utilities, two bought back by the state and 30 are still listed. A total of 22 of these flotations were in Europe, three in Latin America, one in North Africa and 19 in Asia, including 13 in China. Of the 24 private sector companies gaining a market listing in 1991-2015, one was taken private, three acquired by utilities or companies entering the sector and 20 remain listed. 21 of these IPOs are for companies based in Asia. Of the six spin-offs, in 2001-2013, two were acquired by utilities and four are still listed.

Companies based in OECD member states dominated the company entries until 2007. Since 2011, there have been roughly equal numbers for developed and advanced developing/developing economies. Mergers and reclassifications have affected companies in the OECD more than in the rest of the world.
Mergers and acquisitions
Mergers and acquisition activity in the sector has been intense over the past 18 years, reflecting how ownership changes as strategies and perspectives change.
A total of 150 corporate transactions have been listed here, which have taken place since 1997. These transactions are primarily in the water sector and involved at least USD10million being paid for their stakes.

Bids where no financial data is available have been excluded. A considerable number of smaller transactions (typically 20-40 per annum) have also been recorded, especially in the US, where regulated utilities 'tuck in' privately-owned small water systems near to their own systems, in order to expand their customer base and benefit from economies of scale.
David Lloyd Owen is managing director of consultancy Envisager.
Yearbook Update
The launch of inDepth, the Arup Water Yearbook 2015-16 marks the resumption of the Pinsent Masons Water Yearbook series, which ran from 1999 to 2012. As before, contracts typically cover at least 5,000 people and have to be of at least five years in duration. Contract awards in France, the USA or Spain were not included due to the lack of available information and the sheer number of local contracts covering 50-5,000 people awarded in each year.
More Water & WasteWater International Current Issue Articles
More Water & WasteWater International Archives Issue Articles