Water recycling application An Irish and UK first
Waterford Crystal tests innovative electrocoagulation technology at Irish facility to reduce industrial wastewater by up to 90%.
Dec 1st, 2008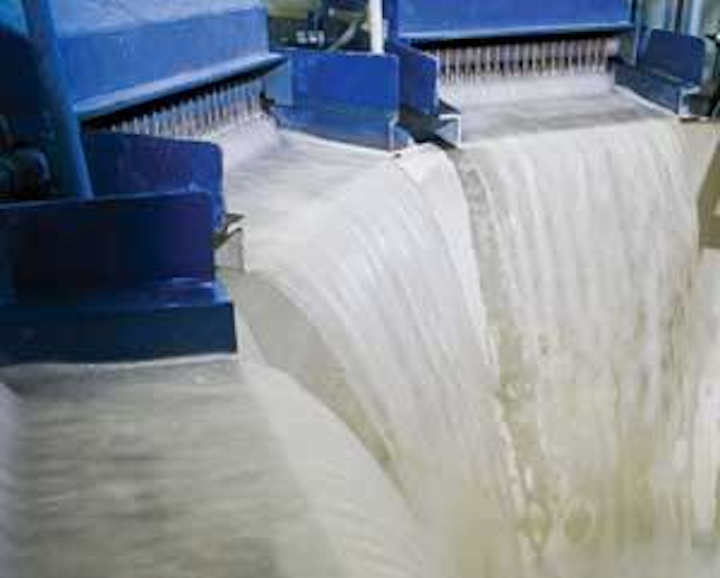 By Declan Costigan
Waterford Crystal tests innovative electrocoagulation technology
at Irish facility to reduce industrial wastewater by up to 90%.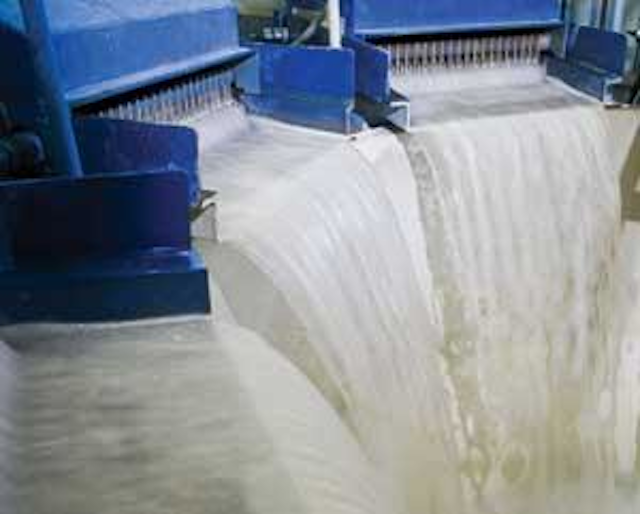 Coagulated water flowing through electrocoagulation cells (with aluminium electrode plates) into the central receiver
Click here to enlarge image
Enva has announced the creation of a breakthrough electro-coagulation application, which is unique to Ireland and the UK, and offers the potential to reduce industrial water consumption by as much as 90%.
At the core of this technology is an electro-coagulation process, which brings about the coagulation (change into a thickened mass) of suspended and dissolved particles in water by applying an electric field, which binds these particles together forming larger particles that will settle out of the water. After a complex series of chemical processes to coagulate and flocculate (separate a solid from a solution) suspended solids, the addition of polyelectrolyte completes the flocculation and leads to separation of clear water and flocculated aluminium hydroxide and suspended solids.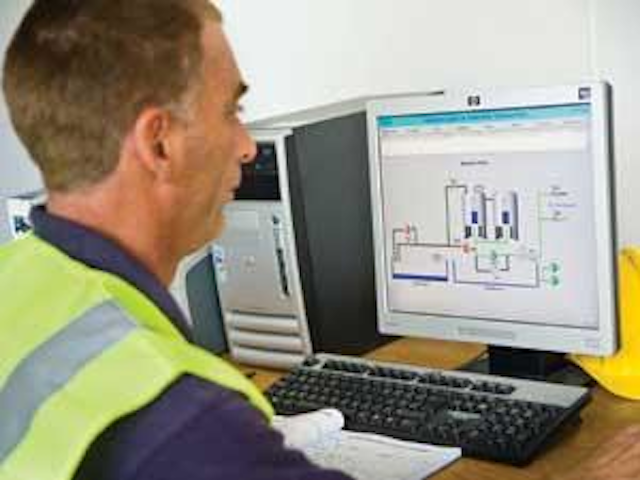 Control screen for centralised operation of wastewater treatment plant, incorporating electrocoagulation system
Click here to enlarge image
The Enva electro-coagulation process is a very intensive process, which operates in a very compact electrolysis cell. In a plant commissioned with Waterford Crystal, the cell only occupies about 100 litres. However, it contains about 20 square metres of electrodes and allows a contact time as long as 20 seconds for the solution being treated. The current passing through the cell is matched to the water flow rate through the cell in a ratio which is determined through technical expertise.
Although electro-coagulation has been around for a very long time (about 100 years), there are very few commercial applications, even though there have been many attempts. Dr. Frank Holland of Enva notes that "We suspect that poor electrochemical engineering has caused many previous attempts to fail and this has hindered the commercial application of electro-coagulation. Our system was designed by an electrochemist who has had 40 years experience in electrochemical cell design, so sound electrochemical engineering has been applied to the design of the cell system. This includes the uniform distribution of the water being treated within the cell, uniform distribution of the electricity within the cell, and in particular highly engineered electrical contacts to the electrodes ensuring good contact for the life of each electrode".
He continued: "Another problem encountered in applying electro-coagulation is electrode fouling or passivation, which causes the process to fail, and is also time variable and water quality variable. Therefore, we developed a computer controlled technique, which can be tuned to the properties of the water being treated so that passivation is prevented, while the process gives continuous operation of the electrodes".
The cell design was conceived by Enva's electrochemist after a very extensive study of previous electro-coagulation research. During the initial trial process, a 100 Amp electro-coagulation test rig was installed in Enva's laboratory and assessment were carried out on various effluents. An 8,000 Amp electro-coagulation cell system was then designed for Waterford Crystal and following this, a single 1000 Amp cell was run as a pilot plant using the wastewater from Waterford Crystal. With the aim of meeting the target design parameters of the water for recycling purposes, the pilot trials tested the electro-coagulation cell system in terms of flow rate, electricity input, conductivity of the solutions, voltage requirements, current reversal frequency and time, and polyelectrolyte additions. The electrodes in the pilot cell were run to destruction to test the efficiency of the cell design and in particular the electrical contacts to the electrodes which performed superbly.
In terms of the potential for reducing industrial water consumption, Dr. Holland outlined that this depends on the application. He added: "For example a laundry must have its final rinse with fresh water, so a volume of perhaps 25% would have to be disposed of, and therefore the reduction would be 75%. Equally where very high purity water is needed throughout most of the application, recycling is reduced, and the key benefit in such cases of electro-coagulation is clean up of the water prior to discharge. But for those instances like Waterford Crystal where the water could be routinely reused again and again, our studies show that the water saving could be up to 90%".
Commenting on the commissioning of this plant, Finbarr Pyne, Technical Development Director at Enva added: "Not only does this system clearly demonstrate the fruits of our approach towards continually investing in research and development, it also reinforces the depth of expertise at our disposal, and which is required to deliver innovative world-class environmental solutions towards minimising and reducing the rate of resource depletion by society. A wide range of skills were required for this project including electrochemistry, electrochemical engineering, chemistry, plastics engineering, mechanical engineering, electrical engineering, computer software engineering".
Initial indications suggest that this system — which has been patented by Enva — has the potential to offer significant environmental and cost benefits for sectors such as steam cleaning, pressure washing, textile manufacturing, metal plating, meat and poultry processing, commercial laundry, mining operations and municipal sewage system plants.
In all cases, Enva can provide preliminary assessment of feasibility of treatment process and costs, along with laboratory testing of effluent at its Cork facility.
---

Author's Note:
Declan Costigan is technical development manager for Enva, of Portlaoise, County Laois, Ireland. Part of the Environmental Division of DCC plc, Enva traces its history to 1972, when Atlas Waste Oil was set up to collect waste oil primarily from the automotive industry. It was bought by DCC in 1987 and has steadily grown with further acquisitions such as Envirotech and Shannon Environmental Services. Contact: +353 21 4387200, dcostigan@enva.ie or www.enva.com