Water, sanitation funding not in short supply
Despite a global credit crunch, global finance authorities have approved a number of projects in the past few months.
Dec 1st, 2008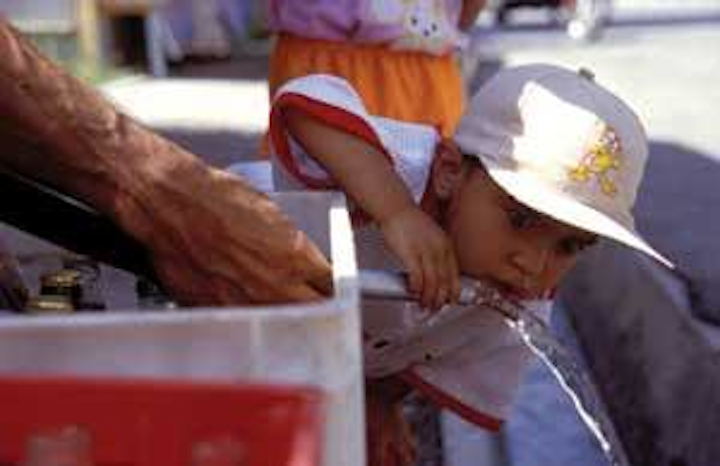 By Carlos David Mogollón, Managing Editor
A child drinks from a public water fountain in Shahimardan, Uzbekistan. The ADB approved a $30 million loan to help provide clean water and sanitation services to the southern province of Surkhandarya, along with a $1.5 million grant from the ADB-administered Multi-Donor Trust Fund and $8.5 million from the national government.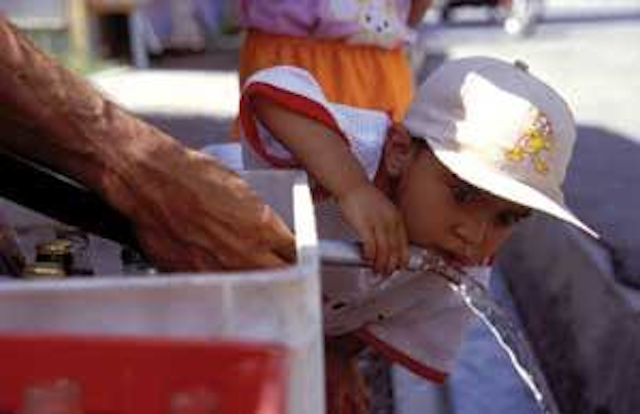 Despite a global credit crunch, global finance authorities have approved a number of projects in the past few months.
Click here to enlarge image
Following are recent notices for water and sanitation projects supported by the World Bank, Inter-American Development Bank (IDB) and Asian Development Bank (ADB):
World Bank spans globe
The World Bank approved a US$190 million International Development Association (IDA) grant for the Urban Water Supply Project (PEMU) in the Democratic Republic of Congo. PEMU, for its French acronym, seeks to sustainably increase access to potable water in select urban areas and improve effectiveness of REGIDESO, the national water utility. Today, only 22% of the population, or 11 million people, have access to safe drinking water in the country. Three cities — Kinshasa, Matadi and Lubumbashi, which account for 72% of REGIDESO's revenue, 79% of its active customers, but only 38% of its infrastructure network — were chosen for investments under the project. Other donors are financing investments in secondary cities.
Other World Bank approvals include:
A US$149 million IDA credit to Bangladesh to support improvement of water supply and sanitation services in Dhaka, one of the fastest growing megacities in the world with a population expected to reach nearly 22 million by 2025 — up from 12 million today.
A €60 million loan and a US$6.4 million Global Environment Facility Grant to Croatia to help combat pollution along the country's coast.
A US$63 million project launch in early November to prevent raw sewage from spilling into residential areas of the Gaza Strip as part of an initiative by Mideast envoy Tony Blair long delayed due to a standoff between Israel and Hamas.
A US$40 million — half grant and half credit — to the Nicaraguan government for the Greater Managua Water & Sanitation Project (PRASMA, for its Spanish acronym) to provide access to a reliable water supply to 150,000 more people and improved sanitation services to 120,000 more people, most living in very poor neighborhoods.
A US$20 million credit for added financing on the Armenia Municipal Water & Wastewater Project to support scaling up of government activities for water system improvements.
ADB targets Asia
Building on aid in 2004 and 2007, a $998,000 regional technical assistance grant via the ADB-administered Water Financing Partnership Facility (WFPF), a trust fund contributed to by Australia, Austria and Norway — and joined recently by Spain, was approved to support ongoing knowledge-sharing on water resources in Central Asia and strengthen institutions' capacity to manage them. This involves regional initiatives covering the Amu Darya and Syr Darya river basins — which crisscross Afghanistan, Kazakhstan, the Kyrgyz Republic, Tajikistan, Turkmenistan and Uzbekistan, and support most agricultural output in the Aral Sea basin — as well as the Chu and Talas river basins.
Other ADB approvals include:
A $500 million multi-tranche loan package — the first installment for $50 million — boosting Indonesia's efforts to clean up the Citarum River, often called the world's most polluted river and which provides 80% of Jakarta's water supply.
A $200 million loan for the Songhua River Basin Water Pollution Control & Management Project that covers half the total estimated project cost of $396.3 million to reduce pollution and improve clean water supply from the third largest river basin in the People's Republic of China.
A $100 million loan to the Uzbekistan government for the Water Resources Management Sector Project to concentrate on irrigation and drainage upgrades in the Zarafshan River Basin and Fergana Valley.
A $59.78 million loan and $23.22 million Asian Development Fund grant to rehabilitate and expand neglected and overstretched water and sanitation services in key urban centers in Sri Lanka's Northern and Northwestern Provinces.
A $45 million loan for the Qingdao Water Resources & Wetland Protection Project to build or upgrade wastewater, sewerage, and flood management facilities. The government of Jiaozhou city in the municipality — which suffers from serious pollution and flooding — will contribute counterpart funds equivalent to $60.8 million.
An additional $30 million grant to complete a project to provide cleaner drinking water and better sanitation services to 1.5 million people in the provinces of Chui, Jalal-Abad, Osh, and Batken in the Kyrgyz Republic.
IDB aids Latin America
Colombia will consolidate and accelerate water and sanitation service expansion efforts with an IDB Programmatic Policy-based Loan (PBL) for US$250 million. The loan is tied to an effort to reach universal service coverage in cities and sharply reduce the gap in rural coverage by 2019. Under current operations, Colombia intends to increase urban water service from 94.5% to 97.8% in 2011, and in sanitation from 90.1% to 93.2%. This would mean 3.2 million and 3 million more people, respectively, due to the reforms.
Other IDB approvals include:
As follow-up to a $100 million 2007 PBL loan, a $130 million credit to Peru that's part of an effort to support the government's Water and Sanitation Sector Reform Program — "Agua Para Todos."
An initial loan of $43 million to Uruguay's National Water Supply & Sanitation Administration to expand sewers in Ciudad de la Costa and build a new effluent treatment plant to serve coastal areas in the Department of Canelones — with a total of $80 million available for the project.
Grants of $20 million for Haitian government agency FAES, a social investment fund, for efforts including building community water systems, as well as $15 million for potable water and sanitation projects in five key cities and urban drainage upgrades to mitigate tropical storm flooding.
Financing of $34 million to Bolivia for a watershed-approach program to build 33 community irrigation systems nationwide.
A $14 million loan to Venezuela for a program to sustainably manage the Caroní River watershed.